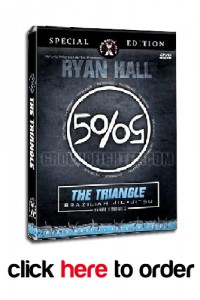 Ryan Hall is a remarkable BJJ practitioner with a list of achievements longer then his legs. The lanky BJJ'er owns one of the most exciting games in the business and has proved this at numerous events with and without the gi throughout the world. In this Ryan Hall Triangle DVD Instructional he shows one of his primary weapons.
Ryan Hall Triangle Instructional
The Highs
Ryan is an incredible coach. Much like "Cyborg" Abreu on his Tornado Guard instructional, Hall takes alot of his time explaining the positions to maximum detail. He starts off the 2nd DVD with a very interesting lecture on how to break your opponent's posture and the use of angles, with some unique and insightful points worthwhile to both the experienced and beginner. All 3 DVD's have triangle techniques and concepts which are an added bonus to anyone's game, but the thing that shines through the most in this instructional is Ryan Hall's ability to get this fantastic message across. He is a gifted coach, and for all those who have English as their mother tongue, it is an added bonus not to have anything slip away in the translation.
The Lows
This website is all about BJJ, and this DVD is not. It is about Nogi (submission wrestling), though you can lay your heart to rest, many of Ryan Hall's Nogi concepts and ideas can be adapted to Kimono work (but not all). Another bummer regarding this DVD is that according to "my sources" the original 4 disc Triangle set had more material to it, which is a bit anoying.
The Verdict
This is a very good BJJ instructional by all accounts. Yes, this is all about the triangle and unlike many other DVD's it does not run through a wide variety of positions. But that does not necessarily work against it, in my opinion it actually increases it's value. There is enough material here to cover a wide spectrum of Brazilian Jiu Jitsu practitioners, from beginners to advanced, and I feel this is a great opportunity of adding something of value to your BJJ instructional collection. Top of the shelf material!
You will find this instructional available to buy HERE.
The Instructional Contais:
Vol. 1 – The Triangle as a Position
1. Introduction (Posture Is Everything)
2. Proper Locking Technique
3. Securing The Perpendicular Angle
4. Finishing The Choke: Stomp And Curl
5. Structure And Force Principles Explained
6. Managing Distance And Angle
7. Quick Review
8. Alternative Configuration #1: The Switch Figure.Four
9. Alternative Configuration #2: The Reverse Triangle
10. Alternative Reverse Triangle Attacks
11. Defeating the Roger Gracie Defense
12. Skill Drill #1: Hip Explosion Drill
13. Skill Drill #2: Standard/Switch/Reverse Triangle Flow Drill
14. Posture/Pressure/Rotation Recognition Drill
15. Alternative Finishes #1: Punch In Neck and Karate Chop
16. Alternative Finishes #2: Trapped Arm Keylock And Armlock
17. Alternative Finishes #3: Trapped Arm Wristlock
18. Alternative Finishes #4: Off-Arm Crush And Kimura
19. Alternative Finishes #5: The Oma Plata
Vol. 2 – Angles, Mechanics, and Entries
1- Explanation Of Fifty/50 BJJ Triangle Methodology
2. The Importance Of Angles
3. Posture Breaks And Angle Maintenance #1: Double Swim Inside, 2-on-1
4. Posture Breaks And Angle Maintenance #2: The Hinge Principle
5. Skill Drill: Posture And Angle Control
6. Closed Guard: Tap.Through Triangle
7. Closed Guard: Tap Through Triangle (Cont.)
8. Closed Guard: Kick-Through Triangle
9. Closed Guard: Shin Smash Triangle
10. Closed Guard: Hip Bump Triangle
11. Closed Guard: Flower Sweep Triangle
12. Closed Guard: Armlock To Triangle
13. Closed Guard: Oma Plata To Triangle
14. Closed Guard: Guillotine To Triangle
15. Closed Guard: Kimura To Triangle
16. Half Guard: Overhook To Triangle
17. Half Guard: Granby Underneath To Triangle
18. Half Guard: Armdrag To Triangle
Vol. 3 – Advanced Guard Attacks and Top Control
1. Sitting Guard: Kick Through Triangle
2. Inverted Guard: Standard Triangle
3. Inverted Guard: Reverse Triangle
4. Inverted Guard: Against Standing Opponent
5. Back Control To Triangle
6. Back Control To Reverse Triangle
7. Mounted Triangle
8. Side Control Triangle
9. Knee-On-Belly Triangle
10. Reverse Knee-On-Belly Triangle
11. Modified Flying Triangle From Open Guard Top