BJJ Heroes is a website catered to Brazilian Jiu Jitsu practitioners and fans interested in the history of the sport and its main figures. The website provides historical, practical, fun and informative content with an active fan base dedicated to the BJJ lifestyle.
BJJ Heroes is regularly referenced and promoted as a trusted source across the main BJJ, MMA forums and communities as well as leading industry websites including Bloody Elbow, BJJ Legends, Wikipedia and Bleacher Report to name only a few.
The website is spread in 5 different sectors:
Wiki Style Database (detailed profiles about fighters, coaches and teams)
Lists & Results (top 10 lists and detailed results of important tournaments)
Lifestyle (history and relevant cultural information on the habits of BJJ'ers)
Interviews (interviews with BJJ professionals about current topics)
Tips (nutrition/strength and conditioning/gear/injury prevention)
 Furthermore:
| | |
| --- | --- |
| Facebook | BJJ Heroes also has a fan page on Facebook with over 100,000 likes, this has been achieved with no promotions, no fan buys, no marketing work, just plain 100% true likes. |
| Analytics | Visitors to bjjheroes.com result in over 500,000 thousand hits per month! |
| Growth | BJJ Heroes has had growing traffic every year since its release and the readers are spreading far and wide. |
| Consistency | The website also releases 4 to 10 new articles every week regarding any one of the aforementioned topics. |
Audience
BJJ Heroes has a strong male following with 93% of our fans being men between their early 20's and mid 30's. Below are a few more details regarding the gender, age group, location of our readers.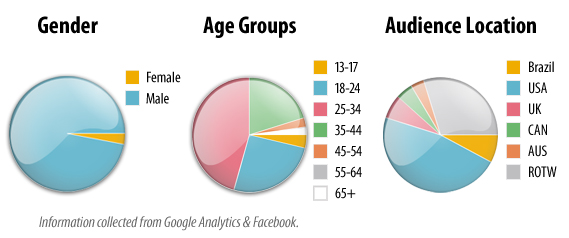 If you are interested in working with BJJ Heroes and interacting with our dedicated and active BJJ community we have a variety of advertising offers available. Feel free to use the contact form below and we will be happy to provide you with our advertising price list and to answer any questions you may have about getting the most from working with us and our community – the largest dedicated BJJ community online, If you are interested in working with BJJ Heroes we have a variety of advertising offers, feel free to ask us some more questions or request an advert price list, you can do so by emailing us to: [email protected] .