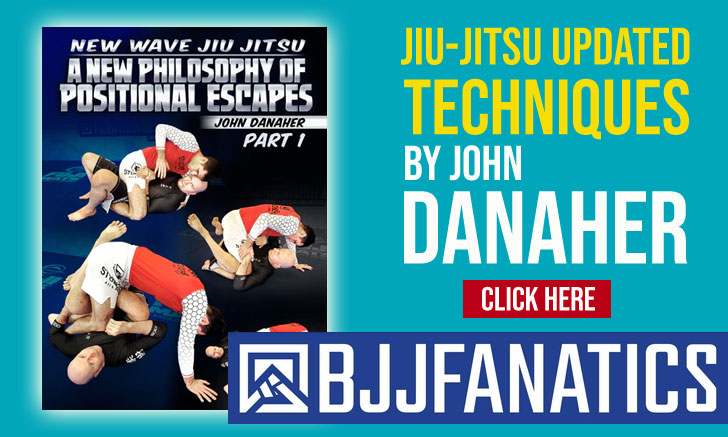 Copa Pódio was one of the pioneering professional jiu jitsu promotions to emerge, one that raised the profile of grapplers such as Leandro Lo, Joao Gabriel Rocha, Tim Spriggs, Rodolfo Vieira, Victor Honório, Travis Stevens, Felipe Preguica and many others.
Going strong for the past 5 years, the Brazilian based organisation is set to produce its 2017 middleweight champion (88 kilogram / 194 pounds). For that effect Copa Podio has rallied a varied group of athletes with an unusual number of brown belts, mixed in with an established black belt and a few very promising prospects who will battle in Manaus, capital city of Amazonas this weekend.
Copa Podio has made a habit of releasing 'wild cards' in the past, including at this year's lightweight edition where the Scandinavian brown belt Espen Mathiesen made his mark by reaching the final of the GP. This 2017 middleweight platoon follows this same trend being the most heterogeneous list to date, with grapplers ranging from lightweights to super heavyweights (who can make the weight cut thanks to weigh-ins being the day before) and competitors with very distant levels of experience.
Another key element of the event will be the teams challenge, another popular segment of Copa Podio, which will match athletes from two rival Brazilian states: Mato Grosso (Pantaneiros) vs Amazonas (Caboclos). This duel between neighbours has laid the ground for a historical match between Xande Ribeiro and Roberto Cyborg – two legends of our sport.
COPA PODIO CARD
Copa Podio Manaus – Middleweight GP
Data: August 12, 2017
Venue: Arena Esportiva Amadeu Teixeira – Rua Loris Cordovil – Manaus – AM
Schedule/Starting Time:
18:30 (Manaus Time)
17:30 (Brasília Time)
15:30 (Los Angeles Time)
18:30 (New York Time)
23:30 (London Time)
Opening Match:
Victor Coyote (Manaus) vs Fernando Toshio (Goiânia)
Team Challenge : Caboclos vs Pantaneiros
Alexandre Ribeiro (AM) vs Roberto Cyborg (MS)
Fernandinho Vieira (AM) vs Marcel Gonçaves (MS)
Eduardo Inojosa (AM) vs Paulo Azambuja (MS)
André Júlio (AM) vs Adley Lobato (MS)
Grand Prix (88 kg - 194 lbs):
NEGRO RIVER GROUP (BLACK)
KYWAN GRACIE
Rank: Black Belt
Team: Roger Gracie Academy
Usually Competes At: Middle/Medium-Heavyweight
Kywan is the son of the historic Marcelo Behring with Kirla Gracie (daughter of Gracie JJ founder, Carlos Gracie), who was recently promoted to black belt (December 2016) by Roger Gracie – a coach with whom the Gracie-Behring has been training for a long time in London, UK. Known for his Gracie style of grappling, a 'back to basics' approach, Kywan is not known as a full time competitor, and comes in as an underdog to the Grand Prix.
WILLIAM DIAS
Rank: Black Belt
Team: Brazilian Combat
Usually Competes At: Middleweight
William made quite an impression during the Copa Podio 'Kangaroos vs Vikings' season, showing why he is regarded as one of the top black belts in Australia today. Originally a student of Rodrigo Feijao in Brazil, Dias has been living in Australia for quite some time, coming in relatively unknown to most of the fans on the other side of the globe (us included). He will be an interesting riddle to see develop in this tournament.
HUGO MARQUES
Rank: Black Belt
Team: Soul Fighters
Usually Competes At: Lightweight
One of the most recent black belts in the sport's international circuit, the highly praised Marques will be debuting his new rank at Copa Podio. A competitor who likes to push the pace and out speed/muscle his opponents, Hugo will have a steep incline to climb given that he will be the smallest athlete in his group – a challenge he will most certainly embrace, as he has done with so many others throughout his career.
TOMMY LANGAKER
Rank: Black Belt
Team: Kimura/Nova Uniao
Usually Competes At: Middleweight
Another highly praised competitor who will be making his black belt debut this weekend at Copa Podio, and another challenger who loves to push the pace and be the aggressor. Langaker made of the open guard a weapon of choice during his brown belt campaign, a tool he has been sharpening at his team's HQ in Natal – North of Brazil. There he also had a chance to acclimatize to the blazing heat of Northern Brazil, something that will likely play a big factor in this Grand Prix.
DJ JACKSON
Rank: Black Belt
Team: Team Lloyd Irvin
Usually Competes At: Middleweight
DJ Jackson will be the man to beat at Copa Podio's Grand Prix, he is the most experienced on the roster, hard to score on, composed and an intelligent competitor who trains in one of the toughest gyms in the world. Usually in a tournament of this nature Jackson would have to battle against bigger/stronger opponents who could somewhat tarnish his favouritism, this is not the case this year as the majority competing are of this same weight category or smaller. Given all these reasons, we expect Jackson to start this race in the pole position.
SOLIMOES GROUP (BROWN)
FELLIPE TROVO
Rank: Brown Belt
Team: Ushirobira JJ
Usually Competes At: Super-Heavy
Mentioned by BJJ Heroes recently as one of the rising stars in Sao Paulo's jiu jitsu scene, Trovo is an entertaining competitor with plenty of killer instinct and a very technical grappling style – one not commonly seen in large size athletes. Crafty and experienced (this is Trovo's 3rd year at brown belt), Fellipe has medalled in all the top IBJJF tournaments and is expected to be a tough problem to solve for any higher ranked challenger.
RUBEN "CAVEIRA" LEMOS
Rank: Brown Belt
Team: Gracie Barra
Usually Competes At: N/A
We know very little of this challenger. He was the winner of Copa Podio's African Trials earlier this year in Angola, trains at the local Gracie Barra affiliate and competes mainly in the European circuit, having medalled in the IBJJF Roma and Poznan Open(s).
FELLIPE ANDREW
Rank: Brown Belt
Team: Zenith
Usually Competes At: Heavy
One of the revelations of 2017 in the brown belt division, Andrew conquered his first major international title – the IBJJF Pans, after 3 consecutive years winning the Brazilian Nationals at purple and brown belt. Fellipe is lanky but strong and likes to finish his matches, a style that will likely please fans of technical heavyweights.
GUSTAVO "BRAGUINHA" BATISTA
Rank: Brown Belt
Team: New School Brotherhood
Usually Competes At: Medium-Heavy
In our eyes, if Jackson has a slight edge in this Grand Prix, he will likely have in Braguinha one of his toughest challenges. Batista can match Jackson's power, being also very talented from both the bottom and from the top (though it is unlikely that Gustavo will be able to play much from the top against DJ). A very complete and competent grappler, expect Braguinha to make it out of the group stages and pose a serious threat to the podium spots.
JONNATAS GRACIE
Rank: Brown Belt
Team: Atos
Usually Competes At: Light
Another wild card thrown in the mix by Copa Podio's promoters, Jonnatas was also mentioned in our recent 'hot prospects' article as one of the rising talents in the sport. Although this call to represent Atos at a reputable professional event may have felt premature to some – particularly given his natural weight class, Gracie proved he was 2017's top purple belt by winning the IBJJF Worlds in both the light and the open weight division. He has since earned the rank of brown belt, and will be testing the waters with his new belt this weekend, this being his debut at brown belt.
Special Match (Sub-Only):
Isaque Bahiense (Alliance) vs Espen Mathiesen (Kimura/NU)