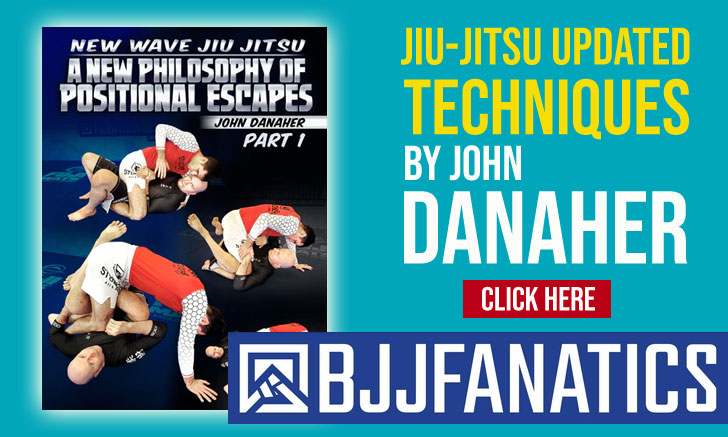 One of the most heated and debated rivalries the jiu jitsu community has seen in recent times is about to get settled, and fans have Polaris Jiu Jitsu Invitational to thank for its conclusion. We are, of course, writing about the much anticipated match between Dillon Danis and Garry Tonon – two of the most polarizing competitors in our sport, who have been battling against one another through their social media accounts for quite some time. Both US East Coast grapplers met back in 2015, at the ADCC in Sao Paulo – Brazil with Tonon taking the win via heel hook, so expect Danis to come in more focussed than ever.
This exciting superfight will be held in submission only rules with a possible judges decision (if no tap is accomplished within the 15 minute duration of the match), but the Polaris 5 card has plenty more on offer for jiu jitsu fans in London. Below is a comprehensive list of the matches available at the Polaris 5 jiu jitsu event:
POLARIS 5 JIU JITSU, FULL CARD
If it wasn't for two of the main event matches, the co-title of the event could have easily been 'United Kingdom versus The World', the reason being there will see plenty of British talent on display at the Polaris 5 event, proof of how much the sport has developed in the country over the past few years.
Event: August 19 (Saturday)
Start: 5pm (UK Time)
Stream: UFC FightPass
FFION DAVIES (CF24) vs ELVIRA KARPPINEN (10th Planet Tampere)
NO-GI Match / 62 kilogram
Starting the hostilities are two rising talents in jiu jitsu's female division and a battle between Wales and Finland. Although more commonly seen competing with the gi, Ffion is coming off a brave performance at the latest EBI, where she went toe-to-toe against one of the most accomplished grapplers of our time (Talita Alencar). The Welsh student of Darragh O'Connaill will have her hands full against a no-gi and submission only expert Elvira Karppinen.
RIVER DILLON (Carlson Gracie) vs MIHA PERHAVEC (East Coast JJ)
NO-GI Match / 89 kilogram
Perhavec returns to Polaris to face another rising talent of Carlson Gracie's UK squad. Known for his leg attacks – something he's been working on with the Danaher Death Squad ahead of this match, the Slovenian grappler Miha is not adverse to the gi, this much was shown by his recent gold medal at the IBJJF Spanish Nationals. Ahead of Perhavec is one of the most accomplished brown belts in England, someone who has been pointed out as being among the hottest prospects in the sport – IBJJF European Open medalist River Dillon.
JAMIE SCOTT (10th Planet London) vs TUOMAS SIMOLA (Lahden Gentai)
NO-GI Match / 86 kilogram
Another battle between the UK and Finland, though this time the 10th Planet flag is held by the Brit. Scott is the head coach of 10P London and competes mainly in the neighbouring sub-only circuit, while Simola is a brown belt competitor and promoter, founder of Crest – one of the top sub-only pro tournaments in Scandinavia. Tuomas likes to wrestle and play from the top, Jamie is a traditional 10th Planet guard player – classic style clash ahead.
VALMYR NETO (VN Team/Checkmat) vs MASAKAZU IMANARI (Imanari JJ)
NO-GI Match / 66 kilogram
This has all the ingredients to steal the show at Polaris 5. Two very accomplished grapplers with different styles and backgrounds. Neto is a talented black belt from Brazil who has been residing in the United Kingdom for almost 10 years, representing his own brand and also Checkmat. While Neto is a more traditional jiu jitsu competitor, well rounded and positionally sound (with a preference for the ½ guard both on top and bottom), the Japanese Imanari is a wilder grappler – known for his disregard for positional play. A submission hunter through and through.
Many feel (us included) that Neto has lacked a big stage from where to showcase his true talent to the world, this will certainly be an excellent platform for that effect, given the name Masakuzu holds in the fighting community and the prestige Polaris carries today.
BRADLEY HILL (Gracie Barra) vs TOMMI PULKKANEN (Hilti BJJ)
NO-GI Match / 83 kilogram
Hill is one of the rising talents in England and a black belt under Braulio and Victor Estima who's been truly pushing to test his skills in all grappling rules for quite some time. He likes to hunt for submissions and his jiu jitsu is solid both on his back and from a top position, while Finland's Pulkkanen is known for his 'Stagetti BJJ' style – crazy dexterity, lots of berimbolos, 50/50 and scrambles.
Expect Hill to be the stronger athlete and likely the hunter in the match, with Tommi playing more from his back waiting for his opening.
SAMANTHA COOK (Checkmat) vs VANESSA ENGLISH (Gracie Barra)
GI Match / 64 kilogram
Two of England's most accomplished athletes, Sam Cook (who will be debuting at black belt at Polaris 5) competes out of Fight Zone London (Checkmat) under the guidance of top coaches – Marco Canha and Jackson Sousa, while Vanessa's tuition is handed by another high level instructor at Gracie Barra, Victor Estima – two of the strongest camps in Europe. Both competitors are known for their guard work although the styles in which they play these games differs, one of the most interesting factors in this duel will be witnessing which will prevail.
Cook will also be defending England's flag a the ADCC in September, having won the European trials earlier this year.
ROSS NICHOLLS (Roger Gracie Academy) vs OLIVER TAZA (Tri Star/Renzo Gracie)
NO-GI Match / 76 kilogram
A great rematch between one of England's finest, Roger Gracie black belt Ross Nicholls and Danaher Death Squad's rising star Oliver Taza. The two met earlier this year at an England sub-only event with the victory falling on Taza by heel hook, so expect Ross to come with his lesson well studied in order to battle the Canadian's powerful leg entanglements.
AJ AGAZARM (Gracie Barra) vs LLOYD COOPER (Combat Base)
GI Match / 78 kilogram
Agazarm comes in as the clear favorite against Yorkshire's own Lloyd Cooper. Lloyd earned his black belt rank this year shortly after winning the IBJJF European Open in the Master 1 division, and will be the least experienced of the two. On the other hand, Cooper will be the largest grappler on the mat, one who regularly competes at medium-heavy, against the well known Agazarm who regularly competes at lightweight and will be participating in the ADCC next month at 66 kilograms.
CAOL UNO (Uno Dojo) vs VITOR 'SHAOLIN' (Nova Uniao)
NO-GI Match / 72.7 kilogram
Epic no-gi match between two legends of the fight game, Uno is a two time UFC title contender and a former ADCC runner-up while Shaolin is among the best lightweights to have ever graced the sport. Vitor will be the favourite here, having a very submission oriented game versus Uno's strong wrestling base and sub-defence. Whichever way this goes, expect a great show for the fans from this match.
PHIL HARRIS (Gym01) vs BRAD PICKETT (Team Titan/Legacy BJJ)
NO-GI Match / 66 kilogram
Former mixed martial arts (MMA) fighter Phil Harris is returning to Polaris against another former MMA standout in Brad Pickett. We can't say we know too much about each of these contestant's games, but they come in with UFC credentials so expect their grappling to be legit.
DAN STRAUSS (Mill Hill BJJ) vs JAKE SHIELDS (Scrap Pack)
NO-GI Match / 90 kilogram
Another very interesting match-up between two ADCC veterans. Strauss, AKA the Raspberry Ape is a black belt under Nick Brooks and somewhat of a jiu jitsu celebrity in the UK thanks to his podcast, grappling credentials and colourful personality. Shields on the other hand, is one of the most grappling sound MMA fighters to have ever graced the octagon, having wins over huge names – including Demian Maia and Dan Henderson.
Shields starts the match as the favorite but expect the Mill Hill BJJ No-Gi coach to be no push-over, as he is always a game competitor who thrives on beating the odds.
DILLON DANIS (unaffiliated) vs GARRY TONON (Renzo Gracie/DDS)
NO-GI Match / 81.6 kilogram
A lot has been invested in this match, one the fans have been calling for over the past 12 months. Free agent Dillon Danis hasn't had a good competitive year and could be seen as the underdog against Tonon who is coming of a submission victory over Shinya Aoki.
Both athletes live for the scramble and give preference to the top game, so expect this battle to be fought from the feet, though none is fond of stalling – this being one of the key points that make this such an interesting clash.