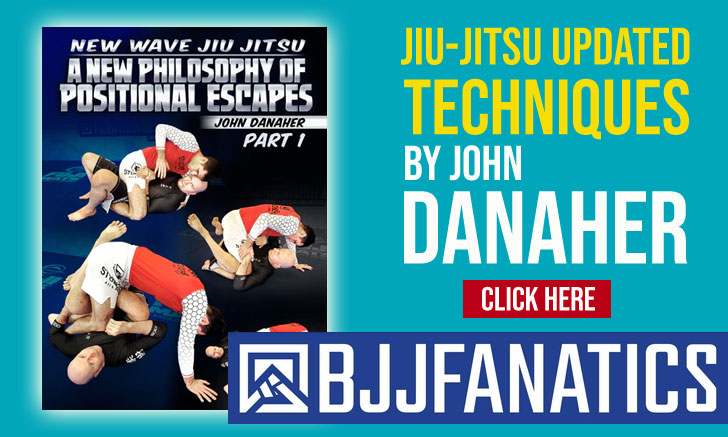 In a male dominated sport such as jiu jitsu it is uncommon to see females in leading roles and when considering the odds of spotting one in a country riddled with male chauvinism such as Brazil, those chances are considerably lower. Now add to this equation the fact that the woman in question is not a black belt and the gym she runs is one of the most respected academies on the planet, then it would be safe to assume we are facing incredible odds and an extraordinary person. Luckily our sport is prone to bringing the best out of people and Gabriela Fechter is a fantastic example of this.
Born in São Paulo, Brazil, Fechter started her sporting career through gymnastics, an activity she practiced as a child, during her teens and into adulthood before deciding to make a career out of jiu jitsu (2014). Her path in BJJ started at the age of 15 when, after a spinning lesson, Gabriela was drawn to the sound of a grappling class that was taking place at her gym.
From her very first class Gabriela's then coach, Mr. Cleudon, recognized the potential of his student, communicating to Fechter his belief that it could one day lead her to a world title. Although highly motivated by her coach, Gabriela prioritized her school, gymnastics training and her work as an acrobat for a local circus company, relegating jiu jitsu to a 2 to 3 scheduled sessions per week. This changed in 2013: "As a purple belt I decided to center my attention towards a Uni degree in Physical Education. With more time to train BJJ I started focusing on my goal of one day competing at the [IBJJF] World Championship" – said Gabriela to BJJ Heroes in an interview on August 2018.
In ramping up her training for a world title challenge Gabriela started competing around the country, then meeting Ricardo "Rico" Vieira, the co-founder of the Checkmat team and owner of the Fight Zone Academy in Rio de Janeiro – a place where Vieira developed high level athletes such as Jackson Sousa, Alan Finfou, Douglas Rufino, Thiago Sá, Jonata Gomes, Catherine Fuhro Perret and Marina Ribeiro to name a few. Seeing the talent in Fechter, Rico invited the São Paulo native to train with his team, an offer accepted by Gabriela who then transferred her school credits to a university in Rio.
Under the guidance of coach Ricardo, Gabriela's jiu jitsu career truly took a turn for the best with gold medals at the CBJJ Brazilian Nationals (2017 purple featherweight + absolute, 2018 brown featherweight) and IBJJF World Championship (2017 purple featherweight and 2018 brown absolute). During this period Fechter did not limit herself to competition: "As soon as I moved here [Rio de Janeiro] I followed Rico wherever he went. He was an incredible source of knowledge and I was able to study his coaching methods from up close. I love to study and I was eager to learn, so this was an amazing opportunity to watch his method and also his pedagogy."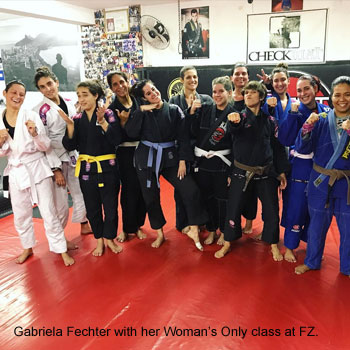 It was at Fight Zone that Gabriela started her career as a coach, first being tested by her instructor during training: "Ricardo would often ask me to explain the day's position in class. After he would correct me, explain that 'you should have shown this little detail' or 'you are explaining too quick', etc" said Fechter. Slowly she was allowed to show positions also to the advanced students which propelled her to ask permission to start a all female class. An idea that materialized on August 2017.
When head coach Ricardo Vieira moved to Portugal, on December 2017, he left his gym in the capable hands of Gabriela and three other black belt students, with Fechter taking control of the busy 8:30 pm schedule and a large portion of the school running duties. The task was (as far as we know) unprecedented, a female colored belt leading a major jiu jitsu academy in the Zona Sul of Rio de Janeiro, an area that used to be labeled The Mecca of Jiu Jitsu.
The level of the task did make Fechter nervous, but she did not shy away from the challenge: "My biggest fear was the reaction of the senior members of the academy. I was unsure how they would react because I am just a brown belt and I didn't want to step on anyone's toes." said Gabriela, who soon understood she was more respected that she realized. "I've always trained on every schedule, 7am, 10:30am, 12pm, 4pm and 8pm, so I knew everyone well and I think people did indeed value me. I wasn't one of those who says they want it, but isn't willing to go the distance. They saw me every day on the mats, training in pain, crying, exhausted, but I am always here." She went on to conclude that "I guess I was already there, helping out anywhere I could, clearing doubts about positions and helping at the tournaments. I conquered my place among them like this, working hard on the mats".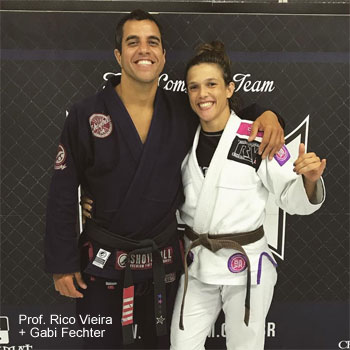 Even though Master Ricardo Vieira is always a phone call away, still sets the curriculum and pays attention to the classes from a distance through webcams, Gabriela's unique position is incredibly demanding and scrutinized. As such, when a senior black belt pays a complement or asks Gabi to be on his corner at a tournament, the information/request is always received with a great degree of satisfaction and flattery: "I am very thankful when I get asked to be on a black belt's corner, 'you know my game, you know a lot about strategy and you can challenge the ref. as you know the rules very well' I've been told (…) I think also the fact that my voice is so different from that of the usual BJJ crowd, which is mainly men, makes it easier for the athlete to channel in on my instructions".
The bond felt with her students and peers has been a huge part of Fechter's life and a reason why she is dead set on staying in Brazil. "I really care for this group, I love knowing about their lives and love to take part socially. If someone misses class I will often message them to know if they are OK. I really love this opportunity, it is one of the things that keeps me closer to Brazil. I have no intentions of leaving because of them. They have lost Ricardinho, I don't want them to lose me as well. I know many are more of higher rank than me, but I love this workgroup. This is a privilege and an honor, even more so because it is a woman on the lead… and that woman is me! (laughs) No words can express the my gratitude for this role".
A coaching position, particularly one at a busy, high level gym such as Fight Zone could lead one astray from the tournament scene, but for those fans of watching Gabriela Fechter compete, rest assured this turn towards coaching has not phased her ambitions of one day becoming a black belt world champion: "The competition training is at 10:30 am and I make sure I am always there in a student capacity. There is a lot I want to do in the sport and I am not relinquishing that part of my career." said Fechter, who believes she is well prepared to tackle both tasks: "My Master, Ricardo, he prepared me very well for this. He was super careful and guided me really well, set me up for success."
Although the success of female coaches in jiu jitsu is not unheard of, with women such as Leticia Ribeiro and Angelica Galvão being at the forefront of well known American gyms. Today, brown belt Gabriela Fechter is paving the way for female equality in BJJ in a traditionally more hostile environment, working from the ground up at the very source of our martial art. With her traits and the support of her team, the work being done at Fight Zone may lead to a revolution in the social hierarchy seen today in our sport.
Find Gabriela on Instagram @gabrielafechter
Fight Fight Zone RJ on Instagram @fightzonerj