Craig Jones is an Australian grappler and Brazilian jiu jitsu black belt under Lachlan Giles who competes for the Absolute MMA Academy in the sport's international circuit. An International Brazilian Jiu Jitsu Federation (IBJJF) World No-Gi Champion (2015 at purple belt) and a 2x ADCC Trials champion, Craig Jones turned many heads his way at the 2017 ADCC finals by submitting the tournament's 88 kilogram #1 pick Leandro Lo. Jones' would later cement his status as one of the best grapplers of his generation by reaching the semi final of the tournament.
Craig Jones Jiu Jitsu
Full Name: Craig Jones
Nickname: N/A
Lineage: Mitsuyo Maeda > Carlos Gracie > Helio Gracie > Carlson Gracie > Orlando Saraiva > Paulo Streckert > Thiago Stefanutti > Lachlan Giles > Craig Jones
Main Achievements:
ADCC Asian & Oceania Trials Champion (2014/2016)
Polaris 185 lbs Champion (2018)
Polaris 205 lbs Champion (2018)
SUG 5 Superfight Winner (2017)
EBI 11 3rd Place (2017)
Kasai 2 185lbs 3rd Place (2018)
Main Achievements (Colored Belts):
IBJJF World No-Gi Champion (2015 purple)
AFBJJ Pan Pacific Champion (2014** purple)
NAGA World Champion (2014 purple)
UAEJJF Abu Dhabi Pro 3rd Place (2016 brown)
* Absolute
** Weight and absolute
Favorite Position/Technique: Open Guard
Weight Division: Meio Pesado (88,30 kg / 195.0 lbs)
Team/Association: Absolute MMA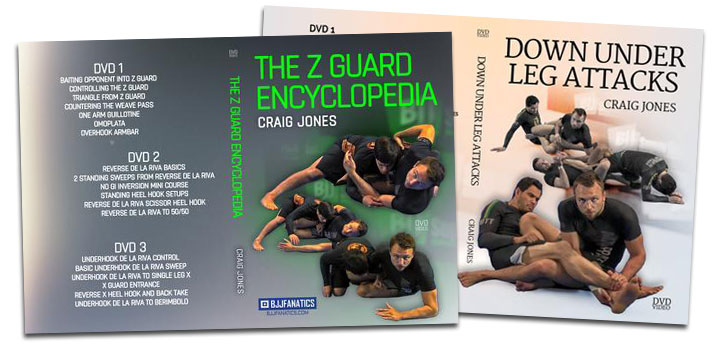 Craig Jones Biography
Craig Jones was born on July 17, 1991 in Adelaide, South Australia.
Growing up Jones was a very active kid, playing a variety of intensive sports such as Australian rules football and basketball while also briefly training in taekwondo and judo. His interest in rough playing activities was a sign of Craig's frame of mind, who as a teenager turned to mixed martial arts (MMA) and by the time of his 15th birthday dreamt of becoming an Ultimate Fighting Championship (UFC) fighter.
With the UFC in his sight Craig joined his cousin Matt Jones' BJJ academy (2006), a gym called ISOHEALTH. It was under Matt's guidance that Craig started making a name for himself in Australia's national grappling circuit, this before joining the Maromba Academy in Melbourne (later named Absolute MMA), as a purple belt, where his tuition was then picked up by Lachlan Giles.
On December 2015, after an epic performance at the IBJJF World No-Gi Championships, Jones earned his brown belt. It was also around this time that Craig became a regular BJJ instructor. One year later Lachlan Giles promoted Craig to black belt.
While climbing the ranks of jiu jitsu, competing regularly national and internationally, Craig Jones also managed to graduate with a degree in Behavioural Science (Psychology).
Craig Jones Grappling Record
25 WINS
BY POINTS


BY ADVANTAGES




BY SUBMISSION




BY DECISION




BY PENALTIES




BY DQ



19 SUBMISSIONS WINS
#214eb8
Inside heel hook
32
6
#5AD3D1
Outside heel hook
16
3
#fad11b
Flying triangle
5
1
#ff9124
Terra footlock
5
1
11 LOSSES
BY POINTS


BY ADVANTAGES




BY SUBMISSION




BY DECISION




BY PENALTIES




BY DQ



2 SUBMISSIONS LOSSES
Craig Jones Fight History
Criag Jones Heel Hook Technique

Craig Jones Grappling Industries Final (2016)