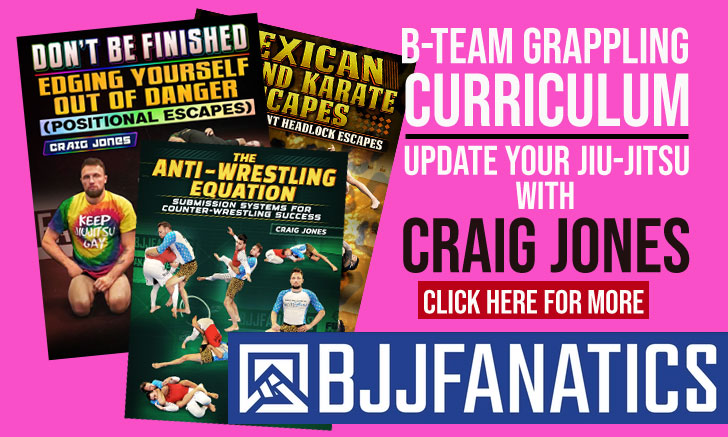 Francisco Fernandes Júnior, commonly known by his nickname: "Chiquinho de Cuiaba", is a former Brazilian Jiu Jitsu world champion of the famed Gracie Barra academy. Being from a family with strong connections to Jiu Jitsu (his father trained with Rolls Gracie and his sister is the also world champion Luzia Fernandes) Chiquinho de Cuiaba became one of the top grapplers of his generation, earning numerous tournaments such as the Brazilian National title and World Championship, he was also involved in a controversial decision by the IBJJF at the Pan American Championship in 1997 (more details on the biography section).
Chiquinho de Cuiaba Jiu Jitsu
Full Name: Francisco José Pessôa Fernandes Júnior
Nickname: Francisco was born in Rio de Janeiro, but moved to the city of Cuiabá in the state of Mato Grosso when he was a child. Fernandes would visit Rio de Janeiro to train at the Gracie Barra with his father regularly, and every time he walked through the doors of the GB gym, the owner, Carlos Gracie Junior would salute them jokingly "Chicão e Chiquinho de Cuiabáá!" (translating to: Big Francisco and Little Francisco of Cuiabá"). The name ended sticking and persisted throughout Francisco's career.
Lineage: Mitsuyo Maeda > Carlos Gracie Sr. > Helio Gracie > Carlos Gracie Junior > Francisco Fernandes
Main Achievements:
World Champion (2005 black belt, 2002 brown, 2000 purple, 1999 weight & absolute, 1998 absolute)
Brazilian National Champion (1993, 1994, 1995, 1996, 1999 weight & absolute)
Pan American Champion (1999 weight & absolute)
Southeast Brazilian Champion (2009 absolute)
Desafio Brasil vs USA Champion (2003)
World Silver Medallist (1997 adult blue belt, being 15 years old)
Southeast Brazilian Silver Medallist (2009)
Favorite Position/Technique: Top pressure.
Weight Division: Pesadissimo (over 100kg/221lbs)
Team/Association: Gracie Barra
Francisco Fernandes Junior of Gracie Barra, AKA Chiquinho de Cuiaba Biography
Francisco Fernandes Junior was born on the 15th of April 1982 in Rio de Janeiro, Brazil, though he moved to Cuiabá, capital of the state of Mato Grosso, when he was 10 years old. Francisco's father had trained with Rolls Gracie and was a black belt in BJJ, so when Chiquinho reached the age of 4 his dad enrolled him in the Carlson Gracie kids program. Francisco stayed at Carlson Gracie school for a very short period of time moving to Paulo Maurício Strauch in Copacabana.
Francisco earned all his junior belts from Master Paulo Maurício Strauch, his blue belt however came from his dad who encouraged Chiquinho to compete in the adult divisions when he was 15 years old, as he could not compete the adult division with his green belt, Francisco Fernandes senior gave Chiquinho the blue.
On the Pan American Jiu Jitsu Championship of 1997, Francisco Fernandes lost his blue belt semi final in a very controversial decision against a local fighter (Reno Abihai). Although he could not go through to the final, at the time the federation allowed the competitors to pay 100 dollars for the organization to re-avaluate the score through video analysis. After checking the footage the federation agreed in writting to give the victory to Chiquinho de Cuiaba, although he never got to fight for the title.
Although Chiquinho de Cuiabá was never really graded in Judo, he practiced the Japanese art of throwing quite extensively since the age of 10, training with the best Judo teams in Rio de Janeiro such as Vasco da Gama and Flamengo. Unlike his sister, Luzia Fernandes, Francisco never persued a career in Judo and prefered to stick to BJJ. Through his Judo training, he spent time learning with several important Judo figures in Brazil such as Sensei Hatiro Ogawa, Georges K. Mehdi and Sensei Pedro Luiz Sinohara, Fenelon Oscar Muller as well as Leopoldo Lucca.
In 2000 Francisco Fernandes Junior moved back to Rio de Janeiro, he was already training with Gracie Barra at the time, and all belts from purple to black (2003) where awarded by Carlinhos Gracie, the head of the Gracie Barra team.
In 2009, after a long layoff due to stomach surgery, Francisco Fernandes returned to competition, earning a silver medal at the Southeast Brazilian Championship in his weight division and a gold medal at the open weight.