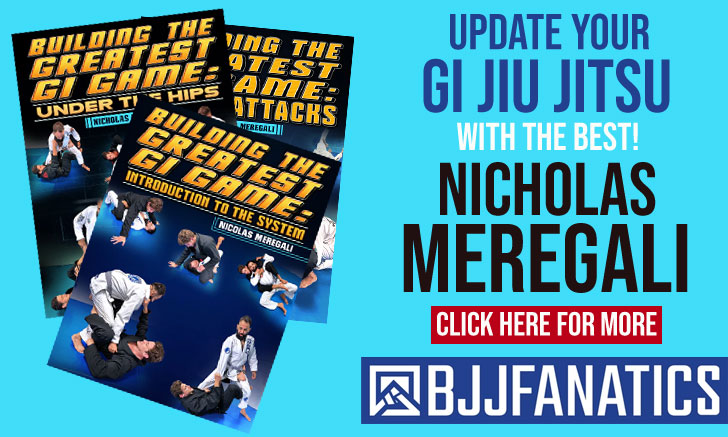 Sebastian Brosche is a Swedish-born yoga enthusiast and a Brazilian jiu-jitsu black belt under Eduardo Rios, being also one of the top grappling competitors of his generation in the European jiu-jitsu circuit. Brosche is well known for his website (Yoga for BJJ), a pioneering platform used by thousands of BJJ practitioners, which advocates yoga and its benefits for grapplers by displaying a series of programs specifically designed to help these practitioners.
Sebastian Brosché Jiu Jitsu
Full Name: Andreas M. Sebastian Brosché Jonsson
Nickname: N/A
Lineage: Carlos Gracie > Helio Gracie > Carlson Gracie > Ricardo Libório > Eduardo Rios > Sebastian Brosché
Main Achievements:
IBJJF World Champion (2010** purple)
IBJJF European Open Champion (2011 purple, 2010 blue)
UAEJJF World Pro Trials Champion (2011 purple)
IBJJF European Open Championship Runner-up (2015 brown)
IBJJF World Championship 3rd Place (2014/2013 brown)
IBJJF European Open Championship 3rd Place (2015* brown)
UAEJJF World Pro Championship 3rd Place (2013 brown)
* Absolute division
** Absolute weight and absolute
Favorite Position/Technique: Step-over Pass
Weight Division: Peso Médio (82,30 kg / 181.5 lbs)
Team/Association: Frontline
Sebastian Brosché Biography
Sebastian Brosche was born on July 5, 1984 in Umeå, Sweden.
Brosche was introduced to judo at the age of 7, immediately falling in love with the sport. He continued training the Japanese combat style well into his adulthood, conquering a second-degree black belt (Nidan) in the process.
In 2007, at the age of 23, Sebastian decided to add submission wrestling to his training routine. In an interview given to BJJ Heroes in February 2017, Brosche explained why he transitioned to grappling: "I realized after trying BJJ a few times that this sport was what I had been looking for. Judo was the only option when I was young, but as BJJ started growing in Europe it was natural for me to do the switch. The rules in jiu-jitsu are much more favorable to me than those of Judo, as you can get really far with technique and flexibility rather than strength and explosiveness."
Peter Blackwell of Checkmat Sweden was Sebastian's very first gi coach, and the instructor who graded Brosche with his blue belt. After his experience with Blackwell Sebastian moved to Oslo – Norway, where he continued his training under the watchful eye of Eduardo Rios – founder of the Frontline academy.
Many years of judo and jiu-jitsu had left Sebastian's body torn with serious back pain by 2011. After meeting Stine Hegre that year, his future wife and an expert in yoga, Brosche started practicing that ancient Indian discipline. The increased yoga training allowed him to improve his grappling tremendously, both through increased dexterity and from the overall health benefits that it brought.
During this process of reinventing health and his habits, Sebastian turned towards a plant-based diet, becoming one of the first vegan full time athletes in jiu-jitsu. In the same aforementioned interview Brosche mentioned that unlike the "stereotype of vegans, I do not believe that mosquitoes should have the right to vote. Rather, I think it's obvious that every living thing that can feel pain has a right to a good life." – referring to the harsh environment in which factory-farmed animals are kept, as the main driving force behind the switch to a healthy vegan diet.
One year into his regular yoga sessions and Sebastian Brosche started sharing a few videos of his newfound knowledge in yoga, relating it to others who he believed could also improve their grappling through this method. Although filmed with very rudimentary hardware at that stage, the premise spread like wildfire, leading Sebastian and Stine to purposely create a yoga program specifically designed to incorporate the benefits of yoga in jiu-jitsu. To broadcast their knowledge the couple started an online site adequately named: Yoga for BJJ. The first of its kind, bringing a valuable resource to grapplers across the globe.
Working on his jiu-jitsu in parallel with his yoga, Sebastian Brosche continued his prolific grappling campaign on national and international circuits, being mentioned as one of the Top BJJ Brown Belts of 2015. After 4 years in the brown belt division, with multiple medals at the IBJJF World and European Championships, Brosche was promoted to black belt (December 2016).
Brosche website: yogaforbjj.net
Cover photo by Callum Medcraft of BJJ Style.
Sebastian Brosche Grappling Record
19 WINS
BY POINTS


BY ADVANTAGES




BY SUBMISSION




BY DECISION




BY PENALTIES




BY DQ



11 SUBMISSIONS WINS
#d1212a
Scissor choke
9
1
#f58822
Cachecol choke
9
1
#224aba
Choke from back
9
1
22 LOSSES
BY POINTS


BY ADVANTAGES




BY SUBMISSION




BY DECISION




BY PENALTIES




BY DQ



11 SUBMISSIONS LOSSES
#d1212a
Choke from back
18
2
#f58822
Flying triangle
9
1
Sebastian Brosche Fight History
ID
Opponent
W/L
Method
Competition
Weight
Stage
Year
11493

Rodolfo Bonfim

L
Pts: 2x2, Adv
European Open
ABS
R1
2017
11583

Davi Ramos

Davi Ramos
L
Armbar
European Open
82KG
8F
2017
12212

Renato Cardoso

Renato Cardoso
L
Armbar
Pan American
88KG
8F
2017
13999

Adam Wardzinski

Adam Wardzinski
L
RNC
Copenhagen NoGi
ABS
F
2017
14135

Alec Baulding

Alec Baulding
L
Points
London FO
88KG
SF
2017
14142

Arya Esfandmaz

Arya Esfandmaz
L
Footlock
London FO
ABS
4F
2017
15195

Jaime Canuto

Jaime Canuto
L
Armbar
Munich Open
82KG
F
2018
15197

Jaime Canuto

Jaime Canuto
L
Pts: 10x0
Munich Open
ABS
SF
2018
16804

Uros Domanovic

L
Points
German Nats
ABS
F
2018
18905

Pedro Palhares

L
Loop choke
European Open
82KG
R1
2019
18948

Renan Marcel

L
Footlock
European Open
ABS
R1
2019
19523

Alexandre Molinaro

Alexandre Molinaro
L
Pts: 0x0, Adv
Budapest Open
76KG
F
2019
19540

Tommy Langaker

Tommy Langaker
L
Choke from back
Polaris 9
85KG
SPF
2019
19860

Renato Cardoso

Renato Cardoso
L
N/A
Rome Open
ABS
SF
2019
19867

Luca Anacoreta

Luca Anacoreta
L
Flying triangle
Rome NGO
85KG
F
2019
20636

Hugo Marques

Hugo Marques
L
Referee Decision
World Champ.
82KG
R1
2019
22430

Henrique Moreira

L
N/A
Amsterdam Open
ABS
SF
2019
22434

Luan Carvalho

Luan Carvalho
L
Points
Amsterdam NGO
85KG
F
2019
22753

Italo Moura

Italo Moura
L
Choke from back
Dublin Open
82KG
F
2019
22763

Sean Coates

L
RNC
Dublin NGO
ABS
F
2019
22879

Jaime Canuto

Jaime Canuto
L
Pts: 2x0
NoGi Worlds
79KG
4F
2019
23108

Max Lindblad

Max Lindblad
L
Pts: 7x2
European Open
82KG
R1
2020
11578

Bradley Hill

W
Pts: 3x2
European Open
82KG
R1
2017
12206

Gotrell King

W
Kimura/choke
Pan American
88KG
R1
2017
15192

Eduardo da Silva

W
Scissor choke
Munich Open
82KG
4F
2018
15193

Ilke Bulut

Ilke Bulut
W
RNC
Munich Open
82KG
SF
2018
15196

Luca Caracciolo

W
Ezekiel
Munich Open
ABS
4F
2018
16803

Eldar Rafigaev

Eldar Rafigaev
W
Points
German Nats
ABS
SF
2018
16805

Wolfgang Heindel

W
Ezekiel
German Nats
82KG
F
2018
19522

Bence Romanek

W
Cachecol choke
Budapest Open
76KG
SF
2019
19846

Marcos Costa

Marcos Costa
W
N/A
Rome Open
82KG
SF
2019
19847

Yan Cabral

W
Choke from back
Rome Open
82KG
F
2019
19856

Marcos Costa

Marcos Costa
W
N/A
Rome Open
ABS
4F
2019
19864

Jacopo Pasquini

W
Points
Rome NGO
85KG
4F
2019
19866

Marcos Costa

Marcos Costa
W
Points
Rome NGO
85KG
SF
2019
22428

Perttu Tepponen

Perttu Tepponen
W
N/A
Amsterdam Open
ABS
4F
2019
22432

Petr Mamaev

W
Darce choke
Amsterdam NGO
85KG
SF
2019
22760

Petr Mamaev

W
Submission
Dublin NGO
85KG
SF
2019
22761

Jamie Paxman

W
Kimura
Dublin NGO
85KG
F
2019
22762

Thomas Alban

W
Submission
Dublin NGO
ABS
SF
2019
22871

Marco Aurelio

W
Pts: 10x8
NoGi Worlds
79KG
R1
2019
Sebastian Brosche vs Kit Dale (2013)

Sebastian Brosche vs Viking Wong (2016)