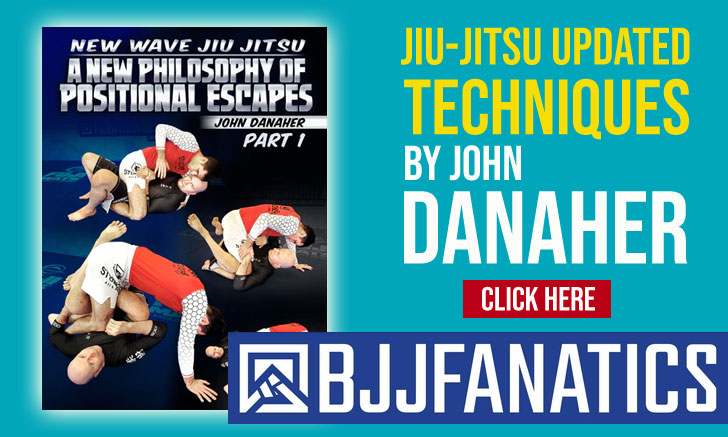 Jake Shields is well known for his career as a professional mixed martial arts (MMA) fighter, an occupation he built with a style strongly reliant on his  Brazilian Jiu-Jitsu (BJJ) and Wrestling skills, a combination Shields labeled: "American Jiu-Jitsu". A Cesar Gracie black belt in BJJ, Shields achieved numerous medals in grappling before turning his career focus towards cage-fighting, having achieved a gold medal at the Pan American Championship as well as a bronze medal at the ADCC, defeating the famous Leonardo Santos for 3rd place. In MMA Jake Shields fought in two different weight classes, defeating legends such as Hayato Sakurai and Dan Henderson on his way to the Strikeforce middleweight title.
Jake Shields Jiu Jitsu
Lineage: Mitsuyo Maeda > Carlos Gracie Sr. > Robson Gracie > Cesar Gracie > Jake Shields
Main Achievements:
1st Place IBJJF Pans (2005 purple belt)
3rd Place ADCC (2005)
Weight Division (BJJ): Peso Medio (82kg-181lbs)
Favourite Position/Technique: Sweep Single  Takedown and Guillotine
Team/Association: N/A
Jake Shields Biography
Jake Shields was born on the 9th of January, 1979 in Mountain Ranch, California – United States. He grew up somewhat isolated, living in the Sierra Nevada Mountains where he was home-schooled by his parents most of the time. Living out in the mountains, Jake shields and his brothers developed a great love for the outdoors and for adventure sports, mountain biking, caving, and snowboarding were amongst their day to day activities it was also here, at the early stages of his life that Jake developed his love for Vegetarianism.
Shields got into wrestling when he started attending middle school, following the footsteps of one of his older brothers. He competed throughout middle-school, high school and college. In the late 1990's he started training kickboxing at the SLO Kickboxing Academy in San Luis Obispo, California, where he met future UFC all of fame, Chuck Liddell. It was also then that Jake Shields started his MMA career, getting paid $200 to fight.
He joined the San Francisco State University on a Wrestling Scholarship while caring for his newborn baby daughter, and started really focussing on his MMA career. He joined the Cesar Gracie gym by chance, as it was very close to his house, and there he met a group of people that would change his life, Gilbert Melendez and Nick Diaz. Nick Diaz brought his younger brother Nate Diaz and the 4 would form a tight camaraderie that would last for years to come.
In 2005 Jake had one of his best BJJ competitive years. Reaching the gold medal at the purple belt division in the Pan American championships and later that year reaching the semi-final of the worlds most prestigious submission grappling event, the ADCC (Abu Dabhi Combat Club) where he defeated 4 times World Cup Champion, Leonardo Santos.
Living with a young daughter in one of the Worlds most expensive cities (San Francisco) took its toll, and Jake had to find fights consistently in order to survive, going against the wishes of his family who wanted Jake Shields to find a normal job. The fact that Shields is regarded as a conservative fighter did not help him get decent pay when compared to the more exciting fighters in the division who would more recklessly "slug it out". It wasn't until he was called to fight at the Elice XC in 2007 that he made his first decent paycheck.
Jake stayed with Elite XC being undefeated in the organization. He was later contacted by Strikeforce, another up and coming MMA organization. Fighting for Strikeforce he reached the Middleweight Championship, defeating the legendary fighter Dan Henderson by unanimous decision for the title. One of Jake Shield's highest career moments would be blemished by a fight that occurred only moments after his hand was raised while still on the cage. Jason Miller, a fighter Jake had defeated only 5 months before the Henderson fight came up on the cage to challenge Shields for a rematch. The tight unite that is the Cesar Gracie camp did not like the way Jason introduced himself, and a big scramble occurred live on television. The fight was separated, but a big stain remained in Jake Shields highest moment to that date.
As the Dan Henderson fight was the last in Jake Shields's contract with Strikeforce, he moved to the UFC where he dropped again to the Welter Weight division, the weight division where he first started his MMA career.
Today Jake Shields calls his style of fighting American Jiu Jitsu, a fluid mix of BJJ and Wrestling, picking up the best of both worlds.
Jake Shields Grappling Record
13 WINS
BY POINTS


BY ADVANTAGES




BY SUBMISSION




BY DECISION




BY PENALTIES




BY EBI/OT



2 SUBMISSIONS WINS
10 LOSSES
BY POINTS


BY ADVANTAGES




BY SUBMISSION




BY DECISION




BY PENALTIES




BY EBI/OT



3 SUBMISSIONS LOSSES
#86e620
Inside heel hook
33
1
Jake Shields Fight History
ID
Opponent
W/L
Method
Competition
Weight
Stage
Year
1181

Pablo Popovitch

Pablo Popovitch
L
Pts: 5x0
ADCC
77KG
SF
2005
1475

Marcelo Garcia

Marcelo Garcia
L
Guillotine
PSL: X-Mission
ABS
SPF
2006
1483

Saulo Ribeiro

Saulo Ribeiro
L
Pts: 2x1
LA Sub-X
ABS
SPF
2006
4375

Leandro Lo

Leandro Lo
D
---
World Expo
ABS
SPF
2013
9411

AJ Agazarm

AJ Agazarm
D
---
Polaris 3
82KG
SPF
2016
13861

Abdurakhman Bilarov

Abdurakhman Bilarov
L
Pts: 5x0
ADCC
99KG
E1
2017
15168

Craig Jones

Craig Jones
L
Inside heel hook
Polaris 6
84KG
SPF
2018
19545

Rafael Lovato

Rafael Lovato
L
Referee Decision
Polaris 9
92KG
SPF
2019
22800

Romulo Barral

Romulo Barral
L
Referee Decision
Third Coast III
86KG
SPF
2019
23515

Richie Martinez

Richie Martinez
L
EBI/OT
SUG
ABS
SPF
2020
23739

Brent Primus

L
EBI/OT
SUG 14
94KG
SPF
2020
28721

Renato Canuto

Renato Canuto
L
Armbar
3CG Underdogs
84KG
SF
2021
1172

Diego Sanchez

W
Pts: 6x0
ADCC
77KG
R1
2005
1177

Cameron Earle

W
Pts: 3x0
ADCC
77KG
4F
2005
1183

Leonardo Santos

Leonardo Santos
W
RNC
ADCC
77KG
3PLC
2005
6217

Roberto Satoshi

Roberto Satoshi
D
---
Metamoris 5
ABS
SPF
2014
10394

Lyoto Machida

W
Heel hook
F2W + MP
ABS
SPF
2016
10599

Chris Lytle

W
EBI/OT
SUG 3
ABS
SPF
2016
12984

Dillon Danis

Dillon Danis
W
EBI/OT
SUG 4
88KG
SPF
2017
13661

Daniel Strauss

W
Referee Decision
Polaris 5
90KG
SPF
2017
14188

Murilo Santana

Murilo Santana
W
Referee Decision
F2W 51
88KG
SPF
2017
14559

Gilbert Burns

Gilbert Burns
W
EBI/OT
SUG 6
ABS
SPF
2017
15165

Kit Dale

Kit Dale
W
Referee Decision
F2W 62
ABS
SPF
2018
20466

Austin Vanderford

W
EBI/OT
SUG 8
88KG
SPF
2019
28715

Eric Alequin

W
Points
3CG Underdogs
84KG
R1
2021
28719

Pat Downey

W
Referee Decision
3CG Underdogs
84KG
4F
2021