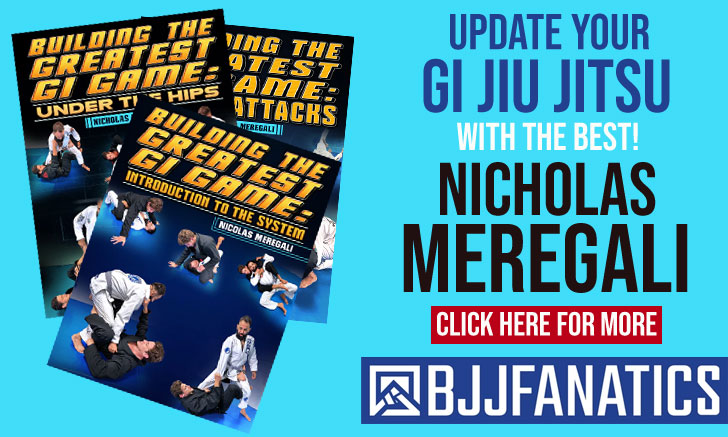 An amazing event to jump-start this year's IBJJF calendar. Counting over 3400 athletes in the brackets, the 2015 edition of the Jiu Jitsu European Open Championship brought an avalanche of spectators to the Casal Vistoso (Lisbon) venue making it look jam packed.
There was a lot of momentum going for a few black belt newcomers who seemed willing to take on the veterans at one of jiu jitsu's most prized tournaments, but as the adult divisions started shaping up, the 3 fighters who truly stood out were Andre Galvao (Atos), Igor Silva (GFT) and Tarcisio Jardim (Checkmat), all 3 seasoned competitors.
If Andre Galvao was already regarded as the favorite to win the competition in his weight division and the absolute, a few doubted the drive of Silva and Jardim. Boy were they wrong! The GFTeam and Checkmat power houses put on an incredible display of attacking jiu jitsu, always seeking the submission, showing why the big boys are more fun to watch in this sport.
In the women's adult division, the spectators favorite was certainly MacKenzie Dern. The omoplata wizard put on a show in every fight, and although she took home "only" two silver medals, she has all the reason to be proud of her efforts. Against Michele Nicolini at her weight category final Dern fought a fast paced fight losing due to a questionable guard pass, which may (or may not) have been secured for less than the required 3 seconds. In the final of the absolute Dern fought the inevitable Gabi Garcia who looked gigantic in comparison, almost twice the size. Again Dern fought her heart out, almost choking Garcia with a back choke, lifting the crowd. Garcia eventually escaped the attack and placed an attack of her own, submitting Dern.
2015 European Jiu Jitsu Champions
Below are the champions of this years BJJ Euro Open (male division), for the full results of the men and women, please keep scrolling down.
Men's Galo: Caio Terra
Men's Pluma: Miyao Brothers
Men's Pena: Márcio André
Men's Leve: Michael Langhi
Men's Médio: JT Torres
Men's Meio Pesado: André Galvao
Men's Pesado: Erberth Santos
Men's Super Pesado: Lucio Lagarto
Men's Pesadíssimo: Igor Silva
Men's Absolute: André Galvao
BJJ European Results (Male)
| Winner | Looser | Method | Weight | Stage |
| --- | --- | --- | --- | --- |
| Luis Finocchio | Takahito Yoshioka | Choke | Absolute | Rd 1 |
| Diego Ferreira | Jordi Lloveras | Bow and arrow | Absolute | Rd 1 |
| Jose Junior | Caio Silva | 8x4 | Absolute | Rd 1 |
| Howon Jung | Samuel Monin | 4x2 | Absolute | Rd 1 |
| Nic Ruben | Choi Choi | 9x2 | Absolute | Rd 1 |
| Christian Rodrigues | Tyrone Gonsalves | Adv. | Absolute | Rd 1 |
| Alexandre Vieira | Okan Bulut | n/a | Absolute | Rd 1 |
| Henrique Lima | Alan Oliveira | Toe hold | Absolute | Rd 1 |
| Andre Galvao | Gabriel Rosberg | Choke from back | Absolute | Rd 2 |
| Thomas Johannessen | Luiz Finocchio | Choke | Absolute | Rd 2 |
| Victor Silverio | Vinicius Nascimento | 6x0 | Absolute | Rd 2 |
| Renato Cardoso | Jose Junior | Botinha | Absolute | Rd 2 |
| Charles Negromonte | Sebastian Lecoq | Submission | Absolute | Rd 2 |
| Tarcisio Jardim | Howon Jung | Submission | Absolute | Rd 2 |
| Pedro Souza Moura | Jarkko Makela | Submission | Absolute | Rd 2 |
| Lucio Rodrigues | Nic Nikolaisen | Submission | Absolute | Rd 2 |
| Pedro Peres | Paulo Oliveira | 7x2 | Absolute | Rd 2 |
| Felipe Bueno | Christian Rodrigues | Choke from back | Absolute | Rd 2 |
| Bruno Cuppari | Takashi Haguihara | 2x0 | Absolute | Rd 2 |
| Igor Silva | Alexandre Vieira | Cross choke f/ mount | Absolute | Rd 2 |
| Maksymilian Wisniewski | Raimo Posti | 27x0 | Absolute | Rd 2 |
| Henrique Lima | Thiago Sa | Submission | Absolute | Rd 2 |
| Jurandir Conceição | Tero Pyylampi | 2x0 | Absolute | Rd 2 |
| Andre Galvao | Thomas Johannesson | Armbar | Absolute | Rd 3 |
| Erberth Santos | Victor Silverio | Pts 0x0, Adv. 3x1 | Absolute | Rd 3 |
| Renato Cardoso | Charles Negromonte | 2x0 | Absolute | Rd 3 |
| Tarcisio Jardim | Pedro Moura | Choke | Absolute | Rd 3 |
| Lucio Rodrigues | Pedro Peres | 2x0 | Absolute | Rd 3 |
| Felipe Bueno | Bruno Cuppari | 7x0 | Absolute | Rd 3 |
| Igor Silva | Maksymilian Wisniewski | Choke | Absolute | Rd 3 |
| Jurandir Conceição | Henrique Lima | Armbar | Absolute | Rd 3 |
| Andre Galvao | Erberth Santos | North south choke | Absolute | 1/4 final |
| Tarcisio Jardim | Renato Cardoso | Pts. 0x0, adv | Absolute | 1/4 final |
| Lucio Rodrigues | Felipe Bueno | 2x2, adv. | Absolute | 1/4 final |
| Igor Silva | Jurandir Conceição | Submission | Absolute | 1/4 final |
| Andre Galvao | Tarcisio Jardim | Armbar | Absolute | Semi f. |
| Igor Silva | Lucio Rodrigues | Choke from back | Absolute | Semi f. |
| Andre Galvao | Igor Silva | Injury | Absolute | Final |
| Caio Terra | Masaaki Todokoro | 10x4 | U57kg | 1/4 final |
| Andrea Verdemare | Gabriel Rosberg | Pts 2x2, Adv | U57kg | 1/4 final |
| Koji Shibamoto | Takahito Yoshioka | 2x0 | U57kg | 1/4 final |
| Nicolas Gaillard | João Pedro Rodrigues | 2x2, Adv. | U57kg | 1/4 final |
| Caio Terra | Andrea Verdemare | Choke from back | U57kg | Semi f. |
| Nicolas Gaillard | Koji Shibamoto | Triangle | U57kg | Semi f. |
| Caio Terra | Nicolas Gaillard | Choke from back | U57kg | Final |
| Simone Franceschini | Julian Gaillard | 6x2 | U64kg | Rd 1 |
| Lucas Dantas | Jordy Peute | Choke | U64kg | Rd 1 |
| Luis Lopes | Hideyuki Yamada | Decision | U64kg | Rd 1 |
| Simone Franceschini | Dai Yoshioka | Pts 0x0, Adv. 2x0 | U64kg | 1/4 final |
| Joao Miyao | Lucas Dantas | 8x4 | U64kg | 1/4 final |
| Paulo Miyao | Luis Lopes | Calf slicer | U64kg | 1/4 final |
| Thomas Lisboa | Baruc Barrios | Pts 6x6, Adv 2x0 | U64kg | 1/4 final |
| Joao Miyao | Simone Franceschini | Bow and arrow | U64kg | Semi f. |
| Paulo Miyao | Thomas Lisboa | 11x0 | U64kg | Semi f. |
| Masahiro Iwasaki | Tuomas Tammiletho | 8x0 | U70kg | Rd 1 |
| Eric Satge | Gabriel Oliveira | Choke | U70kg | Rd 1 |
| Thiago Bravo | Jonathan Thomas | Submission | U70kg | Rd 1 |
| Kim Terra | Sergio Gonzalez | 5x2 | U70kg | Rd 1 |
| Jedrzej Loska | Gabriel Furley | Choke from back | U70kg | Rd 1 |
| Guilherme Neves | Rodrigo Dias | Pts 2x2, Adv | U70kg | Rd 1 |
| Marcio Andre | Masahiro Iwasaki | Decision | U70kg | 1/4 final |
| Gabriel Marangoni | Johnnathan Thomas | Footlock | U70kg | 1/4 final |
| Kim Terra | Jedrzej Loska | 9x4 | U70kg | 1/4 final |
| Gianni Grippo | Guilherme Neves | Bow and arrow | U70kg | 1/4 final |
| Marcio Andre | Gabriel Marangoni | 4x2 | U70kg | Semi f. |
| Gianni Grippo | Guilherme Neves | Bow and arrow | U70kg | Semi f. |
| Marcio Andre | Gianni Grippo | Advantages | U70kg | Final |
| Diego Ferreira | Carlos Varona | 5x0 | U76kg | Rd 1 |
| Thibaut Olivier | Ugo Gaillard | Submission | U76kg | Rd 1 |
| Alex Cabanes | Douglas Barcelos | Choke from mount | U76kg | Rd 1 |
| Felipe Thiago Silva | Lucas Ramos | 5x0 | U76kg | Rd 1 |
| Arbi Muradov | Ilke Bulut | Penalties | U76kg | Rd 1 |
| Luiz Finocchio | Neven Borcic | Advantages | U76kg | Rd 1 |
| Choi Choi | Fawel Ricaurte | Armbar | U76kg | Rd 1 |
| Zach Adamson | Aleksandar Milicevic | 3x0 | U76kg | Rd 1 |
| Thibaut Olivier | Diogo Ferreira | Decision | U76kg | Rd 2 |
| Michael Langhi | Alex Cabanes | 21x0 | U76kg | Rd 2 |
| Bruno Amorim | Felipe Thiago Silva | North south choke | U76kg | Rd 2 |
| Sandro Vieira | Ilke Bulut | 2x0 | U76kg | Rd 2 |
| Gabriel Rollo | Sebastian Calloud | Submission | U76kg | Rd 2 |
| Oliver Geddes | Luiz Finocchio | kimura | U76kg | Rd 2 |
| AJ Agazarm | Choi Choi | 14x0 | U76kg | Rd 2 |
| Rafael Pereira | Zach Adamson | Submission | U76kg | Rd 2 |
| Michael Langhi | Thibaut Olivier | 12x0 | U76kg | 1/4 final |
| Sandro Vieira | Bruno Amorim | Pts 2x2, Adv | U76kg | 1/4 final |
| Gabriel Rollo | Oliver Geddes | 9x0 | U76kg | 1/4 final |
| Rafael Pereira | AJ Agazarm | 4x2 | U76kg | 1/4 final |
| Michael Langhi | Sandro Vieira | 4x0 | U76kg | Semi f. |
| Gabriel Rollo | Rafael Pereira | Armbar | U76kg | Semi f. |
| Michael Langhi | Gabriel Rollo | Decision | U76kg | Final |
| Mathias Ribeiro | Aurelien Pagnard | Toe hold | U82kg | Rd 1 |
| Eduardo Rios | Darragh O'Connail | Cross choke | U82kg | Rd 1 |
| Caio Silva | Leonardo Aguirre | Decision | U82kg | Rd 1 |
| Marcos Tinoco | Alexandre Vieira | Submission | U82kg | Rd 1 |
| Ermis Dimitropoulos | Sebastian Lecoq | Submission | U82kg | Rd 1 |
| Jaime Canuto | Jordi Lloveras | Armbar | U82kg | Rd 1 |
| Thomas Oyarzun | Igor Dantas | Choke | U82kg | Rd 1 |
| Victor Silverio | Youngam Noh | 2x2, Adv | U82kg | Rd 1 |
| Nic Nikolaisen | Jaouad Karbal | 4x2 | U82kg | Rd 1 |
| Eduardo Rios | Mathias Ribeiro | Bow and arrow | U82kg | Rd 2 |
| JT Torres | Caio Silva | Choke from back | U82kg | Rd 2 |
| Marcos Tinoco | Ermis Dimitropoulos | Submission | U82kg | Rd 2 |
| Victor Silverio | Thomas Oyarzun | Advantages | U82kg | Rd 2 |
| Davi Ramos | Nic Nikolaisen | Choke | U82kg | Rd 2 |
| Luca Anacoreta | Vinicius Nascimento | Triangle | U82kg | Rd 2 |
| Francisco Iturralde | Paulo Schauffler | 14x0 | U82kg | Rd 2 |
| JT Torres | Eduardo Rios | 14x0 | U82kg | 1/4 final |
| Jaime Canuto | Marcos Tinoco | Decision | U82kg | 1/4 final |
| Davi Ramos | Victor Silverio | 2x0 | U82kg | 1/4 final |
| Francisco Iturralde | Luca Anacoreta | Choke | U82kg | 1/4 final |
| JT Torres | Jaime Canuto | 4x0 | U82kg | Semi f. |
| Davi Ramos | Francisco Iturralde | 2x0 | U82kg | Semi f. |
| Samuel Monin | Raimo Posti | Triangle | U88kg | Rd 1 |
| Bruno Cuppari | Radoslaw Turek | Decision | U88kg | Rd 1 |
| Julien Silva | Okan Bulut | n/a | U88kg | Rd 1 |
| Andre Galvao | Samuel Monin | Armbar | U88kg | Rd 2 |
| Martin Aedma | Christian Rodrigues | Bow and arrow | U88kg | Rd 2 |
| Rodrigo Fajardo | Bruno Cuppari | Triangle | U88kg | Rd 2 |
| Damir Salina | Jarkko Makela | 6x2 | U88kg | Rd 2 |
| Renato Cardoso | Julien Cazier | Submission | U88kg | Rd 2 |
| Thiago Braga | Gareth Neale | 5x2 | U88kg | Rd 2 |
| Thiago Sa | Julien Silva | Bow and arrow | U88kg | Rd 2 |
| Max Carvalho | Tyrone Gonsalves | Pts 0x0, Adv | U88kg | Rd 2 |
| Andre Galvao | Martin Aedma | Choke | U88kg | 1/4 final |
| Rodrigo Fajardo | Damir Salina | Submission | U88kg | 1/4 final |
| Renato Cardoso | Thiago Braga | 4x2 | U88kg | 1/4 final |
| Max Carvalho | Thiago Sa | Triangle | U88kg | 1/4 final |
| Andre Galvao | Rodrigo Fajardo | Choke | U88kg | Semi f. |
| Renato Cardoso | Max Carvalho | 7x0 | U88kg | Semi f. |
| Andre Galvao | Renato Cardoso | 4x0 | U88kg | Final |
| Henrique Lima | Jurandir Conceição | DQ | U94kg | Rd 1 |
| Rodrigo Silva | Maksymilian Wisniewski | 15x0 | U94kg | Rd 1 |
| Howon Jung | Frederico Amiuna | 8x0 | U94kg | Rd 1 |
| Erberth Santos | Henrique Lima | Submission | U94kg | 1/4 final |
| Vitor Toledo | Johannes Wieth | Armbar | U94kg | 1/4 final |
| Tarcísio Jardim | Rodrigo Silva | Decision | U94kg | 1/4 final |
| Antonio Antonioli | Howon Jung | Decision | U94kg | 1/4 final |
| Erberth Santos | Vitor Toledo | Armbar | U94kg | Semi f. |
| Tarcísio Jardim | Antonio Antonioli | Footlock | U94kg | Semi f. |
| Karim Khalifa | Gilberto Cerqueira | Armbar | U100kg | 1/4 final |
| Lucio Rodrigues | Thomas Johannesson | Submission | U100kg | 1/4 final |
| Felipe Bueno | Helvecio Penna | 8x0 | U100kg | 1/4 final |
| Chris Bowe | Felipe Bueno | Advantages | U100kg | Semi f. |
| Lucio Rodrigues | Karim Khalifa | Choke from back | U100kg | Semi f. |
| Alan Ferreira | Thomas McMahon | 15x10 | O100kg | Rd 1 |
| Igor Silva | Alan Ferreira | Choke from mount | O100kg | 1/4 final |
| Gabriel Lucas | Takashi Haguihara | Armbar | O100kg | 1/4 final |
| Ricardo Evangelista | Pedro Moura | Toe hold | O100kg | 1/4 final |
| Jose Junior | Leo Davila | Submission | O100kg | 1/4 final |
| Igor Silva | Gabriel Lucas | 11x2 | O100kg | Semi f. |
BJJ European Results (Female)
| Winner | Looser | Method | Weight | Stage |
| --- | --- | --- | --- | --- |
| Venla Luukonen | Samela Leite | 14x2 | Absolute | Rd 1 |
| Shanti Abelha | Ana Carolina Schmitt | 0x0, adv | Absolute | Rd 1 |
| Anna Mayne | Anne Toupet | 2x0 | Absolute | Rd 1 |
| Dominyka Obelenyte | Amanda Loewen | 13x0 | Absolute | Rd 2 |
| Laurence Fouillat | Maria Gonzalez | Wristlock | Absolute | Rd 2 |
| Shanti Abelha | Venla Luukonen | 2x0 | Absolute | 1/4 final |
| Gabi Garcia | Anna Louise Mayne | Armbar | Absolute | 1/4 final |
| Dominyka Obelenyte | Janni Larsson | 6x6, adv | Absolute | 1/4 final |
| Mackenzie Dern | Laurence Fouillat | Ezekiel | Absolute | 1/4 final |
| Gabi Garcia | Shanti Abelha | Choke | Absolute | Semi f. |
| Mackenzie Dern | Dominyka Obelenyte | Decision | Absolute | Semi f. |
| Gabi Garcia | Mackenzie Dern | Clock choke | Absolute | Final |
| Ana Carolina Schmitt | Chelsea Bainbridge-Donner | 5x0 | U58kg | 1/4 final |
| Michele Nicolini | Ana Carolina Schmitt | Toe hold | U58kg | Semi f. |
| Mackenzie Dern | Laurence Fouillat | Toe hold | U58kg | Semi f. |
| Michele Nicolini | Mackenzie Dern | 9x8 | U58kg | Final |
| Angelica Galvão | Yasmine Wilson | 11x4 | U64kg | Semi f. |
| Anna Louise Mayne | Maria Dolores Asensi | Armbar | U64kg | Semi f. |
| Angelica Galvão | Anna Louise Mayne | 2x0 | U64kg | Final |
| Amanda Loewen | Shanti Abelha | 2x0 | U69kg | Semi f. |
| Janni Larsson | Anne Toupet | 5x0 | U69kg | Semi f. |
| Janni Larsson | Amanda Loewen | 4x0 | U69kg | Final |
| Andrea Souza | Gretchen Zoeller | 2x0 | U74kg | Semi f. |
| Ida Hansson | n/a | 12x0 | U74kg | Semi f. |
| Ida Hansson | Andrea Souza | Advantages | U74kg | Final |
| Gabi Garcia | Samuela Leite | Armbar | O79kg | Semi f. |
| Venla Luukkonen | Samuela Leite | 20x0 | O79kg | Semi f. |
| Gabi Garcia | Venla Luukkonen | Americana | O79kg | Final |