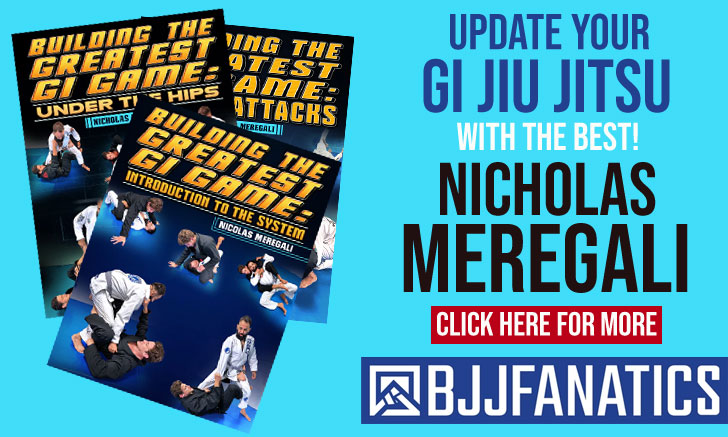 DECEMBER 17, 2016 Marked the first edition of the Studio 540 Superfight Series, a jiu jitsu promotion hosted by Robert Zeps, owner of the Studio 540 academy in Solana Beach – California, where the event was held.
The event held 3 highly anticipated 'submission only' matches, where all forms of grappling finishing holds were allowed and none of the standard BJJ points were accounted. The matches had set time limits (1 hour in Pena x Ryan and 30 minutes in the remaining matches), after which – in case of no submission, the athletes would proceed to a "sudden death" type draw also known as EBI Overtime Rules.
Below are the full Results of Studio 540's Superfights:
Kennedy Maciel defeated Nicky Ryan on overtime – fastest submission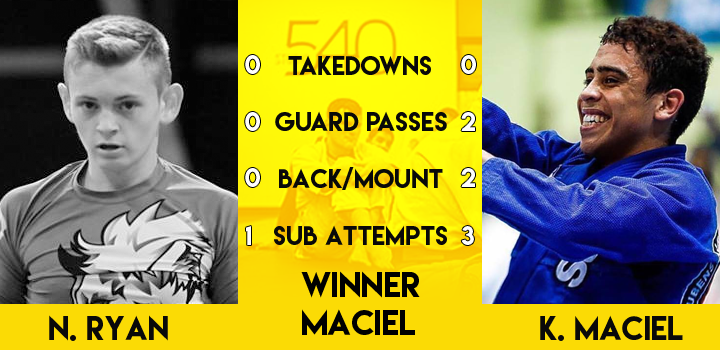 Complete dominance by Rubens Charles son who was on the offence throughout the 30 minutes of the match. Little "Cobrinha" passed the guard on two occasions spending the about 10 minutes on north south position, then transitioning towards the back where he remained for another 10 minutes looking for chokes and armbars. Ryan kept his composure and defended well throughout the match, taking it to overtime.
In the overtime Maciel took the win by submission (triangle) in the first round.
Garry Tonon defeated Kim Terra by way of guillotine (18 minutes into the match)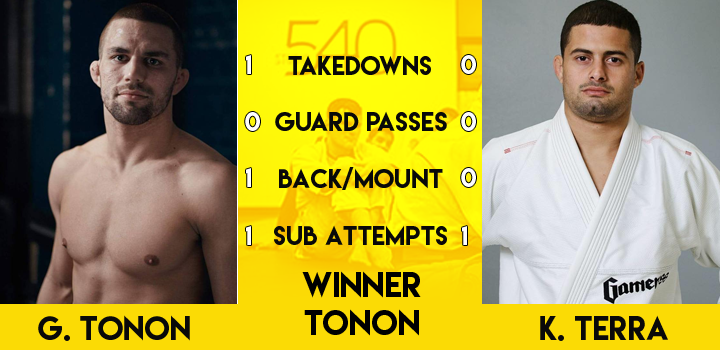 Great match! The two had very nice exchanges of leg controls, back attempts and submissions in a very well rounded, fluid exchange of grappling. In the end Tonon accomplished a strong kimura trap style control, a setup he has used before to achieve that same guillotine.
Felipe Pena defeated Gordon Ryan by RNC (39 minutes into the match)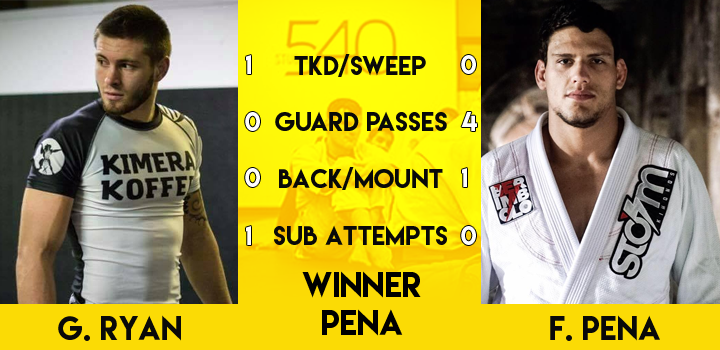 Exhausting match between two high level competitors. Pena was positionally dominant, though Ryan pushed the pace for most of the match, trying to get into leg entanglements, some of which Pena used to scramble and attempt back takes of his own.
Pena used the knee slide pass successfully, and established 4 solid passes before getting his match ending back control with which he forced Ryan to tap. A very decent performance from Pena who had no prior experience in submission only type events. In the end Felipe challenged Ryan to a match with the gi, Pena's preferred grappling environment.
Banner photo by Flo Grappling.