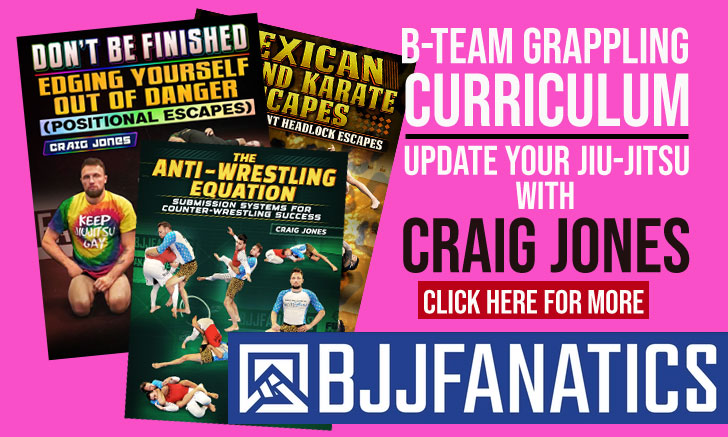 For many, the Master's division of jiu-jitsu is one of the most fascinating categories in our martial art's competitive environment. One where a recent black belt may come across a legend of our sport at any given tournament, someone with multiple world titles and/or 15+ years worth of black belt experience. This habitat often produces its own set of heroes, late-bloomers who became celebrated competitors in BJJ despite their age, a group from which names such as Cosmo Dias, Brian Beauchamp and Joel Gingery spring to mind.
Today we focus on one black belt who easily fits this parameter, Sonya Plavcan, a very special kind of 50 year old with 4 International Brazilian Jiu-Jitsu Federation (IBJJF) World Masters titles as a black belt, achievements she conquered after undergoing a grueling hip replacement surgery.
Sonya's upbringing wasn't unlike that of many others. Born in Kankakee, Illinois, Plavcan (then Barton) spent her childhood in Northern West Virginia where she competed in gymnastics, later moving to a dairy farm in southern Wisconsin.
Although not competition minded, Sonya did enjoy practicing a variety of sports prior to jiu-jitsu, from whitewater kayaking and mountain biking to bodybuilding. After college, Sonya started working as a chemical engineer while teaching fitness classes on the side, during the height of the cardio-kickboxing era. The trend of combining striking with aerobics let Plavcan to martial arts: "The gym where I was teaching at asked me to teach a cardio kickboxing class. I decided to start taking traditional muay Thai classes at a martial arts academy because I wanted to make sure anything I taught was true to the art and also safe." Plavcan told BJJ Heroes. This interaction would quickly lead her to BJJ: "There was a class going on in the other room of the MT academy. I had no idea what it was, It just looked to me like a bunch of guys wrestling around on the ground wearing some sort of karate uniform! It was 1999, and BJJ was not really well known in the Midwest. One day my Muay Thai coach asked me if I had ever thought of trying jiu-jitsu because he thought I would be good at it. So I did. That decision changed my life."
It was through jiu-jitsu that Sonya met her husband, Mark Plavcan, who was also her first BJJ coach. Mark has been a tremendous influence in Sonya's progression in the sport, being together from her very first tournament back in 2000, during the early stages of submission grappling in the United States. "Times were very different" Sonya references, "the first tournament I did was (…) far from professional. There weren't a lot of women in the sport. I remember competing at tournaments where the women were put in the men's divisions because there weren't any other female competitors close to their size."
A competitor throughout her jiu-jitsu career, Sonya had the input not only of her husband Mark but also Jorge Gurgel and Romero Cavalcanti (Jacaré) of Alliance – a team the Plavcan's joined in 2009.
Well in her 40s, Sonya was grappling against athletes 20 years younger and of higher rank, an example of this was her performance at the IBJJF Pans in 2011: "There were no Master divisions for the women, and the brown and black belts still competed in the same category. So at 43 years of age, I competed in the adult purple belt division. Mackenzie Dern had just turned 18 and took gold in our division that year." said Plavcan. Finally, the following year, the federation opened a Master 1 female division, where Sonya placed 3rd in spite of having undergone surgery to her hip just months prior to the tournament.
"There was no specific event that started the whole problem with my hip." Sonya said, in reference to her health struggles, "I just remember having discomfort that eventually, over a couple of years, got worse to the point of being in constant pain. It went undiagnosed for several years and the pain continued to get worse". After many trips to the doctor Plavcan finally discovered what caused her joint aches through an MRI: a tear in the labrum due to congenital hip dysplasia. "The surgeon told me I had done all of the right things, and the fact that I had been so active and had good muscle mass to support the joint had kept me from needing hip surgery in my 20's."
Her first surgery, on September 2011 ended up not having the desired effect, cortisone shots followed, a decision Sonya took being fully aware of the dangers that came with such a move, "Cortisone can soften the cartilage and cause faster wearing, but my pain was that bad" she reasoned. The cortisone improved Plavcan's well being dramatically for a couple months and helped Sonya get fit enough to compete at the IBJJF Pans on March 2012 "with a tolerable level of pain". Unfortunately, after the tournament, the pain worsened and X-ray confirmed there was no cartilage left on the joint. This ultimately meant hip replacement surgery. "When I asked about BJJ [after diagnose], the doctor told me competition was out of the question after hip replacement. The risk of dislocation was too high (…) I sat there crying, I told him I still wanted to be able to train hard and compete. His response was 'you can't be an athlete forever'".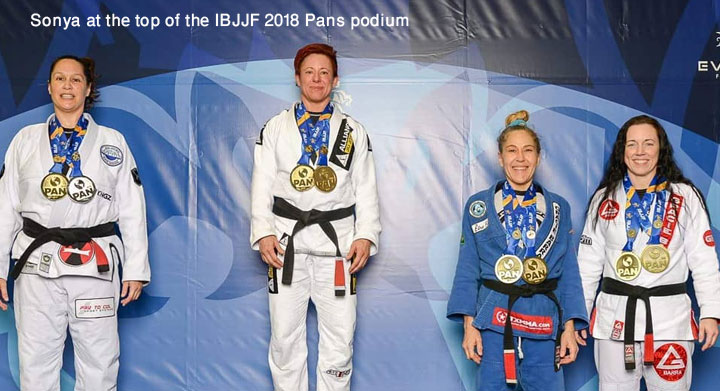 Not one to quit easily, Sonya carried out her own research, and after a few months of reading into the subject, Sonya found the answer to her prayers: "On August 2012 I went to Chennai, India and had hip replacement surgery. My surgeon, Dr. Vijay Bose, is one of the top hip surgeons in the world. The technology being used in Europe and Asia was better than what we had here in the United States and Dr. Bose promised me a new hip with no restrictions, including competition." And he was correct, "not only did I recover, but have won all of my major titles post-hip replacement surgery. It was three months post-surgery before I was allowed to start doing technique again. I did a lot of PT and strength training during that time and was still on the mat everyday teaching. It took probably a full year before I felt 100%."
Since returning to the tournament scene, Mrs Plavcan received her black belt from the legendary Romero Cavalcanti (2016) and has had some very noticeable wins in the IBJJF circuit, such as World Master Champion (2016 weight + absolute, 2017 and 2018 Master 4), Pans Champion (2017 Master 1, 2018 Master 4) and a few Opens. "The BJJ mindset has taught me there is always a solution to keep you moving forward", Sonya referenced of her achievements.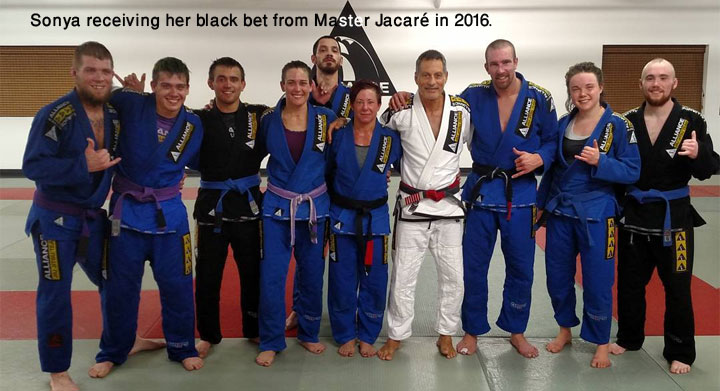 With an incredible story as a competitor, Sonya is also a coach at the Twisted Fitness gym, an academy she co-owns with her husband Mark since 2003, after leaving her career in Chemical Engineering to focus on BJJ. TF is the largest and longest-running BJJ academy in Madison, and we highly recommend a visit.