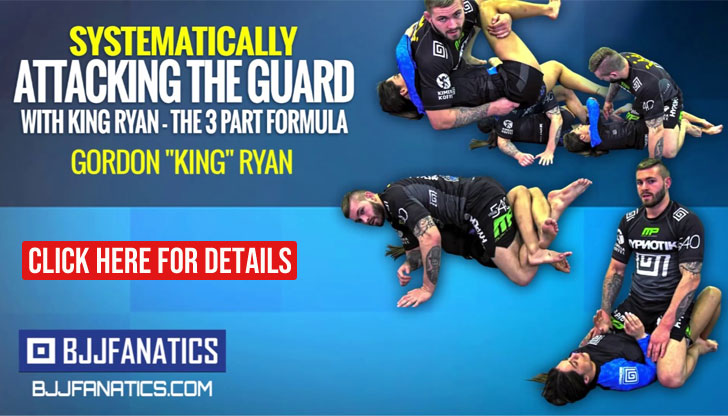 The more recent generation of grappling fans may be unfamiliar with the current ADCC North American Trials champion (88 kilogram division) James Brasco, but rest assured the multifaceted grappler is dead set on making certain they will remember his name for years to come.
A fitness model and former NCAA wrestler from Pennsylvania, Brasco abandoned his home state 12 years ago in an attempt to perfect his ground game with the legendary Pablo Popovitch in Fort Lauderdale, Florida. Brasco quickly became one of Pablo's top students, a label proved with historic performances at no-gi events such as the ADCC trials – where he reached the finals on two occasions prior to 2016.
2011 marked James' last solid year of competing in jiu jitsu's international circuit. A year when he placed 3rd at the IBJJF No-Gi World Championship and earned a spot at the ADCC finals in England – the 3rd shot at gold in his career, where he competed in the 99kg division weighing only 87kg (due to Popovitch being in the 88kg category). Later that year personal issues saw Brasco remove himself from competition "I took a good 6 months off, or more to get over some personal problems I had" said James, who ended up taking a mixed martial arts fight (MMA) in 2012.
Although many hard core grappling fans counted on Brasco's return to the sport of grappling for the 2013 ADCC held in Beijing – China, that thought never crossed James' mind. Being an animal rights activist, working particularly close with dogs and shelters in the Florida area such as the Palm Beach Animal control as well as MDAS, visiting a country with such a poor track record on the subject was not up for debate: "I had no interest or desire to travel to China [for the ADCC]. I don't like their eating practices there." said Brasco to BJJ Heroes on 2016.
In 2014 Brasco's instructor Pablo Popovitch left the United States. Without his mentor by his side James decided to take a job as a grappling coach for an MMA gym (Palm Beach Boxing) and in the meantime focused his efforts to an MMA career – a career he started years before, and which had earned him a Global Cage Fighting title in 2010.
"I needed to get my MMA in before it was too late. I was training with Fight Sports and the Avengers but that all kind of dispersed after Pablo left. West Palm Beach did not have the quality of training they had down south though. I mostly trained with the guys I coached while also concentrating on my students' careers – match making and game planning for all their fights. It was a great experience." 
While focusing on MMA Brasco worked with different teams and coaches, but as time progressed the project of having his own healthy MMA career started getting murky:
"I had a few fights that got cancelled or did not come through during that time. It was very frustrating because I knew I was leaving some good titles on the table. I felt my jiu jitsu was still progressing but I was cheating myself in that area (…) I was bitter with the bad luck I was dealt, such as two cut losses I wanted to get back. So it was a very weird time where I was not real focused in one direction. I can't tell you how frustrating MMA is with injuries and bad judging. Throw in the shady promoters and it is enough to drive you crazy."
In the back of James Brasco's mind echoed the words of his mentor "Pablo ended up being correct about concentrating on BJJ and opening a school versus chasing MMA." . He decided to plan his return to grappling for March 2015, but when the second ADCC Trial (in Denver) got cancelled he had a reality check and quit the life of an athlete to go and work a "serious job". Although he was working full office hours and with little time to train, James decided to compete at the other trials in Fort Lauderdale – Florida, where he matched up against a youngster that would become one of the rising stars of our sport: "I was not ready but had to give it a shot and entered. I was lucky enough to run into a guy I never heard of at that point named Gordan Ryan, in the quarter finals. I was looking ahead at Kyle Griffin (…) I lost to a sweep with five seconds left. That loss does not look do bad now (laughs)".
At the end of 2016 James decided to get back to grappling in a big way. A valiant effort for the 43 year old who will leave it all on the mats to establish a legacy he's been hunting for decades. He is training with the Moncaio brothers, where many of his former training partners at BJJ Centre are training now, to achieve his goal "I know how good I am and am anxious to prove it. Many people like Cyborg and Pablo told me the things I could achieve. I did not fully get it. Now I realise it, I guess I'm a slow learner "
With the belief in himself, talent and years of competitive experience, expect Brasco to be a challenge to the podium at the ADCC finals in Helsinki – Finland next year, or as James would put it: "This is a title I needed to come back and shoot for. Give myself a fair shake. I think this is perfect"
– All quotes in this article are from an interview done with Mr Brasco on November 2016.