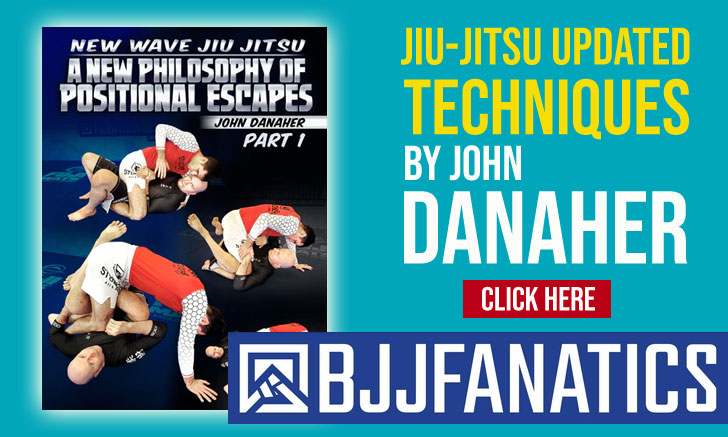 Leon Larman is a French grappler and a black belt in jiu-jitsu under Julien Gaillard, who worked extensively with other instructors such as David Touzet, Julien Castanier, and Caio Terra while representing the Caio Terra Association in this sport's international circuit. Larman earned the reputation of being one of the top competitors in Europe through his consistent wins in the Old Continent, particularly with the International Brazilian Jiu-Jitsu Federation's league.
Leon Larman Jiu-Jitsu
Full Name: Léon Taffa Loic Larman
Nickname: N/A
Lineage: Carlos Gracie > Helio Gracie > Robin Gracie > Julien Gaillard > Leon Larman
Main Achievements:
Polaris Squads 2 Champion (2020)
1st Place IBJJF Florence Open (2018)
1st Place IBJJF Geneve Open (2018 / 2019)
1st Place IBJJF Paris Open (2018 / 2019)
1st Place IBJJF Dublin Open (2018)
2nd Place IBJJF Rome Open (2019)
2nd Place IBJJF London Fall Open (2019)
3rd Place IBJJF Paris Open (2019*)
Main Achievements (Colored Belts):
2nd Place European Open Juvenile (2013)
Favorite Position/Technique: Berimbolo
Weight Division: Peso Leve (76,00 kg / 168.0 lbs)
Team/Association: Caio Terra Association
Leon Larman Biography
Leon Larman was born on April 18, 1997, in the southern France city of Montpellier, and growing up further north in the small town of Brissac.
Although not a sporty kid during the early stages of his childhood, Leon took a shine to jiu-jitsu when he first accompanied his father (an avid BJJ hobbyist) to a grappling academy at the age of 9. Closely followed by coach David Touzet, Larman quickly showed potential for the sporting aspect of this martial art, earning a silver medal at the 2013 European Championship as a juvenile.
After earning his purple belt, Leon moved back to Montpellier for a short period, then training under Julien Castanier, who promoted the young athlete to brown belt. Larman's studies would then lead him to Toulon, where he partnered up with one of France's most prestigious black belts, Mr. Julien Gaillard, who awarded Leon his black belt midway through 2018.
Shortly after being promoted to black belt, Leon Larman decided to pursue his true passion – jiu-jitsu, and place his academic studies on hold. This mission drove him to California, USA, where he befriended Caio Terra, becoming a part of the well-known coach's workgroup at the Caio Terra Association headquarters.
Leon Larman Grappling Record
48 WINS
BY POINTS


BY ADVANTAGES




BY SUBMISSION




BY DECISION




BY PENALTIES




BY DQ



31 SUBMISSIONS WINS
#214eb8
Choke from back
55
17
21 LOSSES
BY POINTS


BY ADVANTAGES




BY SUBMISSION




BY DECISION




BY PENALTIES




BY DQ



4 SUBMISSIONS LOSSES
#214eb8
Bread cutter choke
25
1
Leon Larman Fight History
ID
Opponent
W/L
Method
Competition
Weight
Stage
Year
17971

Osvaldo Moizinho

Osvaldo Moizinho
L
Pts: 4x2
Geneva Open
76KG
SF
2018
18772

Sebastien Lecoq

L
Footlock
French National
ABS
F
2019
18896

Gianni Grippo

Gianni Grippo
L
Choke
European Open
76KG
R2
2019
20266

Tiago Nova

L
Points
Brasileiro
76KG
R2
2019
20627

Levi J-Leary

L
DQ
World Champ.
76KG
R2
2019
22044

A. Molinaro

L
DQ
London FO
76KG
F
2019
22131

Alexandre Molinaro

Alexandre Molinaro
L
Points
Rome Fall Open
76KG
F
2019
22159

Italo Moura

Italo Moura
L
Points
European NoGi
73KG
4F
2019
22638

Eldar Rafigaev

Eldar Rafigaev
L
Referee Decision
Paris Open
ABS
SF
2019
23100

Jonnatas Gracie

Jonnatas Gracie
L
Bread cutter choke
European Open
76KG
4F
2020
23631

Natan Chueng

Natan Chueng
L
Pts: 2x1
Grand Slam LDN
77KG
4F
2020
23637

Pedro Neto

L
Referee Decision
Grand Slam LDN
77KG
RPC
2020
28730

Romao Carvalho

L
Pts: 3x3
Portugal Pro
77KG
F
2021
29207

Espen Mathiesen

Espen Mathiesen
L
Pts: 5x4
World Pro
77KG
4F
2021
29503

Levi Jones

Levi Jones
L
Pts: 0x0, Adv
World Champ.
76KG
8F
2021
35642

Lucas Rodrigues

Lucas Rodrigues
L
Pts: 2x2, Adv
London FO
76KG
F
2022
37198

Andy Murasaki

Andy Murasaki
L
Katagatame
European Open
76KG
4F
2023
38398

Pablo Lavaselli

Pablo Lavaselli
L
Pts: 2x0
Pan American
76KG
4F
2023
39951

Julio Arantes

L
N/A
Paris Open
ABS
4F
2023
40277

Elijah Dorsey

Elijah Dorsey
L
Pts: 5x0
World Champ.
76KG
R1
2023
44669

Mathias Luna

Mathias Luna
L
Pts: 2x1
World Pro
77KG
R1
2023
17344

Ayub magomadov

W
Triangle
Florence Open
70KG
SF
2018
17345

Ayub magomadov

W
Verbal tap
Florence Open
70KG
F
2018
17879

Walter Barnes

W
Choke from back
Paris Fall Open
76KG
SF
2018
17880

Matheus Fernandes

W
Choke from back
Paris Fall Open
76KG
F
2018
18520

Azzedine Taj

W
Pts: 4x2
Dublin Open
76KG
SF
2018
18521

Youssef Fahmi

W
Triangle
Dublin Open
76KG
F
2018
18767

Youssef Fahmi

W
Triangle
French National
76KG
SF
2019
18768

Souk Khampasath

W
Choke from back
French National
76KG
F
2019
18769

N/A

W
Points
French National
ABS
R1
2019
18770

N/A

W
Choke from back
French National
ABS
4F
2019
18771

Kenji Sette

W
Choke from back
French National
ABS
SF
2019
18773

David Thomas

W
Choke from back
Open Paris
94KG
SF
2019
18774

Geiel Gomes

W
Choke from back
Open Paris
94KG
F
2019
18895

Bruno Tchola

W
Choke from back
European Open
76KG
R1
2019
20488

Rafael Colonhese

W
Triangle
Paris Spring Open
76KG
F
2019
21528

Tomer Aldroy

W
Pts: 4x2
Geneve Open
76KG
SF
2019
21529

Tommi Pulkkanen

W
Referee Decision
Geneve Open
76KG
F
2019
22043

Rafael Colonhese

W
Points
London FO
76KG
SF
2019
22128

N/A

W
Choke from back
Rome Fall Open
76KG
4F
2019
22130

Marcus Phelan

Marcus Phelan
W
Choke from back
Rome Fall Open
76KG
SF
2019
22156

N/A

W
Armbar
European NoGi
73KG
R1
2019
22626

Rafael Colonhese

W
Triangle
Paris Open
76KG
SF
2019
22627

Tyrone Connor

W
Choke from back
Paris Open
76KG
F
2019
22633

N/A

W
Choke from back
Paris Open
ABS
R1
2019
22635

N/A

W
Points
Paris Open
ABS
4F
2019
23095

Natan Chueng

Natan Chueng
W
Pts: 6x6, Adv
European Open
76KG
R1
2020
23620

Breno Maciel

W
Referee Decision
Grand Slam LDN
77KG
R1
2020
23621

Bruno Borges

W
Armbar
Grand Slam LDN
77KG
R2
2020
23635

Robert Henek

W
Pts: 2x0
Grand Slam LDN
77KG
RPC
2020
24366

Adam Adshead

W
Choke from back
Polaris Squads 2
ABS
RR
2020
24367

Sam Gibson

W
Choke from back
Polaris Squads 2
ABS
RR
2020
24377

Tyrone Elliot

W
Choke from back
Polaris Squads 2
ABS
RR
2020
24378

Sam Gibson

D
---
Polaris Squads 2
ABS
RR
2020
28729

Bruno Trigueiros

W
Pts: 3x1
Portugal Pro
77KG
SF
2021
29202

Yan Cabral

W
Choke from back
World Pro
77KG
R1
2021
29376

Bryn Jenkins

W
Referee Decision
Polaris 18
77KG
SPF
2021
29494

AJ Agazarm

AJ Agazarm
W
Pts: 6x0
World Champ.
76KG
R1
2021
35639

Samuel Khan

W
N/A
London FO
76KG
4F
2022
35640

Jobson Apolinario

W
N/A
London FO
76KG
SF
2022
36013

Youngseung Cho

Youngseung Cho
W
Triangle
Rome Open
76KG
F
2022
36029

Pierre Manzo

W
Submission
Rome Open
ABS
R1
2022
36034

Youngseung Cho

Youngseung Cho
W
Submission
Rome Open
ABS
SF
2022
36035

Julian Stonjek

W
Submission
Rome Open
ABS
F
2022
37191

Ariel Tabak

Ariel Tabak
W
N/A
European Open
76KG
R1
2023
38389

Carlos Henrique

Carlos Henrique
W
Pts: 0x0, Adv
Pan American
76KG
8F
2023
39942

Luis Araujo

W
Choke from back
Paris Open
76KG
SF
2023
39944

Sean Whyte

W
N/A
Paris Open
76KG
F
2023
45119

Tim Hinrichs

W
Submission
Paris Open
82KG
SF
2023
45120

Matheus Rangel

W
Submission
Paris Open
82KG
F
2023
Leon Larman Vs Tyrone Elliott