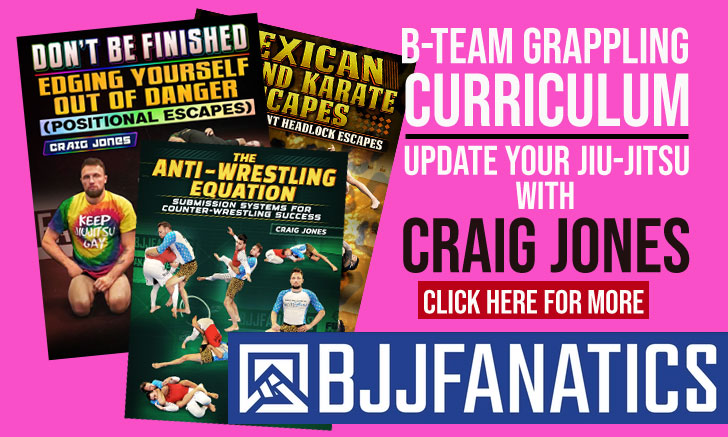 Matheus Costa is a Brazilian jiu-jitsu black belt under Guto Vicente and a representative of Julio César's GF Team. Well known within Brazil's national grappling circuit, Matheus is revered for his aggressive style and finishing accuracy attributes that helped him earn medals at important tournaments such as the CBJJ Brazilian Nationals (Brasileiro) with and without the gi (NOGI), as well as IBJJF's Rio International Open, Curitiba International Open and several other prestigious events.
Matheus Costa Jiu-Jitsu
Full Name: Matheus Guilherme da Costa
Nickname: N/A
Lineage:  Carlos Gracie > Helio Gracie > Orlando Barradas > Augusto Vicente > Matheus Costa
Main Achievements:
1st Place IBJJF Rio Winter Open (2017)
1st Place IBJJF Curitiba Fall Open (2017)
1st Place UAEJJF Petrópolis National Pro (2016*)
1st Place IBJJF Curitiba Winter Int. Open (2016)
2nd Place IBJJF Brazilian Nationals (2019)
2nd Place UAEJJF Petrópolis National Pro (2016)
3rd Place CBJJ Brazilian Nationals (2017)
3rd Place CBJJ Brazilian Nationals NOGI (2016)
3rd Place IBJJF Rio Summer Open (2016)
Main Achievements (Colored Belts):
3rd Place CBJJ Brasileiro (2012 purple)
3rd Place IBJJF European Open (2015 brown)
Favorite Position/Technique: Overhook-Armlock
Weight Division: Peso Leve (76,00 kg / 168.0 lbs)
Team/Association: GF Team
Matheus Costa Biography
Matheus Costa was born on January 27, 1994, in Niterói, a municipality of the state of Rio de Janeiro in the southeast region of Brazil. He started learning how to grapple at the age of 8 through judo, a sport he practiced for 2 years.
Matheus' early teens coincided with a time when the (now defunct) Japanese mixed martial arts promotion Pride Fc was at the peak of its popularity. Influenced by the good performances of jiu-jitsu athletes such as Rodrigo Minotauro and Ricardo Arona inside the ring, Matheus set his sights on BJJ. Although his parents tried to veto Matheus' decision – believing jiu-jitsu was too violent for their son, Costa managed to convince them to accept his decision in exchange for higher grades at school.
Instructor Guto Vicente was Matheus' first instructor, himself a direct student of two historic Niterói figures – Luis Carlos and Master Barradas (RIP). Vicente graded Costa through all belts, including his black belt, Which Matheus received on June 17, 2015.
The decision to become a jiu-jitsu pro-athlete occurred as a brown belt, but working with a smaller team made it harder for Costa to reach his full potential. Understanding this issue, and with his instructor's approval, Matheus decided to join GF Team on June 2016.
Cover photo by Arena Jiu Jitsu.

Matheus Costa Grappling Record
39 WINS
BY POINTS


BY ADVANTAGES




BY SUBMISSION




BY DECISION




BY PENALTIES




BY DQ



23 SUBMISSIONS WINS
#5AD3D1
Choke from back
17
4
#f58822
Amassa pao choke
4
1
29 LOSSES
BY POINTS


BY ADVANTAGES




BY SUBMISSION




BY DECISION




BY PENALTIES




BY DQ



14 SUBMISSIONS LOSSES
#86e620
Choke from back
14
2
#fad11b
Choke f/ omoplata
7
1
#224aba
Bow and arrow
7
1
#ff9124
Crucifix choke
7
1
#bf1f6c
No arm triangle
7
1
Matheus Costa Fight History
ID
Opponent
W/L
Method
Competition
Weight
Stage
Year
8215

Ricardo Rocha

L
Pts: 2x2, Adv
Floripa Open
76KG
F
2015
8231

Jhonny Loureiro

Jhonny Loureiro
L
Triangle
Floripa NoGi Open
79KG
4F
2015
8647

Celso Vinicius

Celso Vinicius
L
Choke from back
Grand Slam RJ
77KG
SF
2015
8650

Rafael Mansur

Rafael Mansur
L
Pts: 6x3
Grand Slam RJ
77KG
3RD
2015
9174

Jaime Canuto

Jaime Canuto
L
Armbar
Rio Summer Open
82KG
SF
2016
9767

Jhonny Loureiro

Jhonny Loureiro
L
Armbar
Brasileiro
82KG
4F
2016
9825

Renato Cardoso

Renato Cardoso
L
Armbar
Brasileiro
ABS
RD
2016
11064

Gabriel Rollo

Gabriel Rollo
L
Armbar
Grand Slam RJ
77KG
4F
2016
11344

Luan Carvalho

Luan Carvalho
L
Points
Petropolis Pro
77KG
F
2016
11745

Rodrigo Conceicao

Rodrigo Conceicao
L
Points
ADCC RJ
77KG
R1
2017
11800

Jhonny Loureiro

Jhonny Loureiro
L
Points
Manaus Nat. Pro
77KG
4F
2017
12768

Michael Langhi

Michael Langhi
L
DQ
Brasileiro
76KG
SF
2017
13109

Francisco Iturralde

Francisco Iturralde
L
Kneebar
World Champ.
76KG
R1
2017
14338

Talles Silva

L
Pts: 0x0, Adv
Grand Slam RJ
77KG
R1
2017
16226

Rodrigo Conceicao

Rodrigo Conceicao
L
Pts: 6x2
Brasileiro
76KG
8F
2018
16507

Lucas Lepri

Lucas Lepri
L
Choke f/ omoplata
World Champ.
76KG
R3
2018
17042

Pedro Palhares

L
Choke from back
Orlando Open
82KG
F
2018
17522

Jeremy Jackson

Jeremy Jackson
L
Footlock
Atlanta SMO
76KG
SF
2018
17575

Kauan Barboza

Kauan Barboza
L
Pts: 2x0
Grand Slam LA
77KG
4F
2018
18547

Fabricio Barbarotti

Fabricio Barbarotti
L
Points
BH Sp Open
82KG
SF
2018
20283

Ygor Rodrigues

Ygor Rodrigues
L
Pts: 2x0
Brasileiro
76KG
F
2019
21011

Wellington Luis

Wellington Luis
L
Bow and arrow
SP BJJ Pro
82KG
4F
2019
21792

Leonardo Travagin

L
N/A
Brasileiro NoGi
79KG
SF
2019
22745

Bruno Panozo

L
Points
Porto Alegre Open
82KG
F
2019
24716

Yan Lucas

Yan Lucas
L
Pts: 4x3
Grand Slam RJ
77KG
4F
2020
24722

Leonardo Lara

Leonardo Lara
L
Crucifix choke
Grand Slam RJ
77KG
RPC
2020
24923

Wellington Costa

L
Injury
South American
82KG
R1
2020
33320

Uilton Moreira

L
No arm triangle
Rio WO
88KG
4F
2022
43049

Gabriel Costa

Gabriel Costa
L
RNC
Brasileiro NoGi
85KG
R1
2023
8213

Sandro Vieira

W
Armbar
Floripa Open
76KG
4F
2015
8214

Luis Siqueira

W
Submission
Floripa Open
76KG
SF
2015
8636

Ricardo Rocha

W
Pts: 2x2, Adv
Grand Slam RJ
77KG
R1
2015
8640

Renan Gomes

W
Armlock
Grand Slam RJ
77KG
8F
2015
8645

Philipe Arimatea

W
Pts: 2x0
Grand Slam RJ
77KG
4F
2015
8852

Patrick Almeida

W
Armbar
Top Strike 3
N/A
SPF
2015
8853

Tiano Martins

W
Armbar
Confere 8
76KG
SPF
2015
9172

Pedro Alcântara

W
Points
Rio Summer Open
82KG
4F
2016
9757

George da Silva

W
Points
Brasileiro
82KG
R1
2016
9764

Bruno de França

W
Armlock
Brasileiro
82KG
8F
2016
11042

Luca Abayan

W
Pts: 5x0
Grand Slam RJ
77KG
R1
2016
11060

Talles Silva

W
Referee Decision
Grand Slam RJ
77KG
8F
2016
11345

Luan Carvalho

Luan Carvalho
W
Adv
Petropolis Pro
ABS
SF
2016
12754

Edward Hohl

W
Amassa pao choke
Brasileiro
76KG
R1
2017
12755

Caio Cipriano

W
Choke from back
Brasileiro
76KG
R2
2017
12764

Fabio Caloi

Fabio Caloi
W
Toe hold
Brasileiro
76KG
4F
2017
12991

Andre Luiz

W
Choke
Curitiba Fall Open
76KG
4F
2017
12995

Mateus Garcia

W
Armlock
Curitiba Fall Open
88KG
F
2017
13252

Mauricio Fernandes

W
Choke
Rio Winter Open
76KG
R1
2017
13253

Lucas Costa

W
Armbar
Rio Winter Open
76KG
4F
2017
13255

Pedro Fernandes

W
Choke from back
Rio Winter Open
76KG
SF
2017
13257

Rodrigo Conceicao

Rodrigo Conceicao
W
Pts: 10x10, Adv
Rio Winter Open
76KG
F
2017
13739

Magno Mota

W
Armlock
Brasileiro Equipes
82KG
SF
2017
13740

Leo Lara

W
Choke from Back
Brasileiro Equipes
82KG
F
2017
16218

Matheus Carvalho

W
Armlock
Brasileiro
76KG
R1
2018
16496

Oliver Lovell

W
Pts: 8x4
World Champ.
76KG
R2
2018
17040

Edson Silva

W
Armlock
Orlando Open
82KG
SF
2018
17250

Steven Silva

W
Armlock
Florida States
88K
F
2018
17251

R. Cadena

W
Triangle
Florida States
ABS
SF
2018
17252

R. Dias

W
Choke from back
Florida States
ABS
F
2018
18545

Vagner Nascimento

W
N/A
BH Sp Open
82KG
4F
2018
20263

Thales Oliveira

W
Points
Brasileiro
76KG
R1
2019
20280

Vitor Moraes

W
Botinha
Brasileiro
76KG
4F
2019
20282

Bruno Bressan

W
Pts: 9x2
Brasileiro
76KG
SF
2019
21789

Lucas Queiroz

W
N/A
Brasileiro NoGi
79KG
R1
2019
21791

Eduardo Simoes

W
N/A
Brasileiro NoGi
79KG
4F
2019
24699

Evandro Filho

W
Pts: 3x2
Grand Slam RJ
77KG
R1
2020
24712

Jonas Bruno

W
Pts: 3x0
Grand Slam RJ
77KG
8F
2020
24922

Lucas Silva

W
Omoplata
South American
82KG
R1
2020
Matheus Costa vs Mateus Garcia