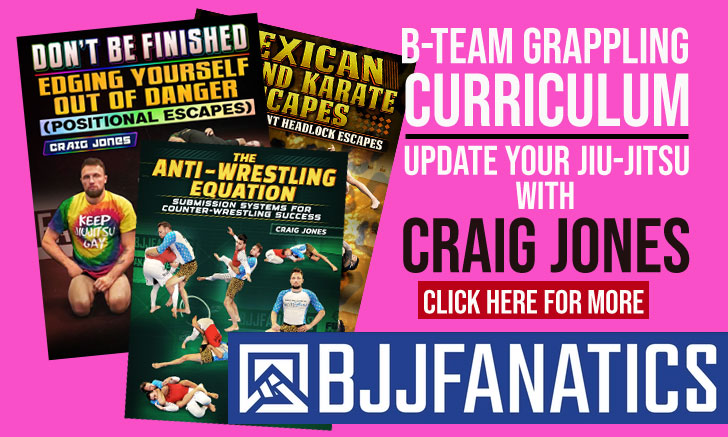 APRIL 23, 2022, SANTA CRUZ, CALIFORNIA, held another edition of the International Brazilian Jiu-Jitsu Federation's (IBJJF) Open, one of two tournaments held by the organization on American soil this weekend.
Being in California, the home of so many important BJJ teams, it was only natural to expect a few big players on the mats this weekend, and indeed we did. Few of more importance than the current featherweight world champion, Isaac Doederlein.
Doederlein had been absent from the mats since his historic performance at the 2022 IBJJF World Championships – nearly a year ago – where he conquered his first black belt world title and became a part of North American grappling's history books. On the mats this weekend, Doederlein did not have a ton of matches but did face two very capable opponents in veteran Pedro Serrano and rising star Zach Kaina. Despite the prowess of his peers, Isaac dominated the interactions and beat both athletes via submission.
Back to competition was also Gabriel Almeida, an athlete we last saw compete in September 2022, at the ADCC Las Vegas Open. Gabriel had 27 matches last year but was yet to compete in 2023. His performance was, as expected, exciting and worth the wait as the dynamic athlete was able to impose his aggressive scramble style on his way to a gold medal.
And as we are on the subject of returns, we could not leave out 2020's Pan American silver medal, Jackson Nagai, the brother of Sam Nagai. Jackson had a terrific start to his black belt career but had not been seen in the competitive arena since the 2021 World Championships(!). Known for being an aggressive athlete, Nagai had a fantastic final match against Rehan Muttalib, placing a 40-point lead on the scoreboard against a very solid athlete.
If the IBJJF awarded medals for Strange Moment Of The Tournament (SMOTT, if I may), that would certainly go to Atos' Daniel Sathler. The talented lightweight was having a fun back-and-forth clash with Jonata Gomes (Jansen Gomes' older brother), but decided to slap the Checkmat representative, right in front of the referee, and was awarded a DQ for the move.
Also at the tournament were names like Caio Vinicius, Ronaldo Junior, Reon Niwa, Rodnei Barbosa, Jordan Vaisman,  Jessa Khan, Thamara Ferreira, etc.
MALE / ADULT / BLACK / ROOSTER (127.00LB)
#1 Matheus Azancot (Ares BJJ)
MALE / ADULT / BLACK / LIGHT-FEATHER (141.60LB)
#1 Jordan Vaisman (AOJ)
#2 Rodnei Barbosa (CheckMat)
#3 Reon Niwa (AOJ)
MALE / ADULT / BLACK / FEATHER (154.60LB)
#1 Isaac Doederlein (Aliance)
#2 Zach Kaina (AOJ)
#3 Pedro Serrano (Gracie Barra)
#3 Thiago Calixto (Atos)
MALE / ADULT / BLACK / LIGHT (168.00LB)
#1 Jonata Gomes (CheckMat)
#.. Daniel Sathler (Atos *DQ*)
#3 João Mendes (Atos)
#3 Daniel Diniz (CheckMat)
MALE / ADULT / BLACK / MIDDLE (181.60LB)
#1 Jackson Nagai (CheckMat)
#2 Rehan Muttalib (UACTP)
#3 Gerson Oliveira (Gracie Barra)
#3 Victor Silverio (Gracie Barra)
MALE / ADULT / BLACK / MEDIUM-HEAVY (195.00LB)
#1 Ronaldo Júnior (Atos)
#2 João Cizeski (Gracie Barra)
#3 Carlos Feitosa (CheckMat)
#3 Elder Cruz (CheckMat)
MALE / ADULT / BLACK / HEAVY (208.00LB)
#1 Gabriel Almeida (CheckMat)
#2 Filipe Pimentel (Qatar/Vision)
#3 Caio Vinicius (Gracie Barra)
#3 Thiago Andrade (Unique Logic)
MALE / ADULT / BLACK / SUPER-HEAVY (222.00LB)
#1 Bruno Bressan & Jackson Douglas closed the division for CheckMat
#2
#3 Erick Barreto (Infight)
#3 Mair Amaral (Gracie Barra)
MALE / ADULT / BLACK / ULTRA-HEAVY
#1 Paulo Lanzillotti (CheckMat)
#2 Tanner Rice (American JJ Syndicate)
#3 Lukas Pollard (Garth Taylor)
#3 Renato Tagliari (CheckMat)
MALE / ADULT / BLACK / OPEN CLASS
#1 Jonata Gomes & Renato Tagliari closed the division for Checkmat
CheckMat
#2
#3 João Cizeski (Gracie Barra)
#3 Thiago Andrade (Unique Logic HQ)
FEMALE / ADULT / BLACK / LIGHT-FEATHER (118.00LB)
#1 Jessa Khan (AOJ)
#2 Kaimana Newman (Brasa)
FEMALE / ADULT / BLACK / FEATHER (129.00LB)
#1 Adele Fornarino (Dominance)
#2 Heather Morgan (Atos)
FEMALE / ADULT / BLACK / LIGHT (141.60LB)
#1 Nathalie Ribeiro (CheckMat)
#2 Elizabeth Liera (Atos)
#3 Jenna Garcia (Alliance)
FEMALE / ADULT / BLACK / MIDDLE (152.60LB)
#1 Thamara Ferreira (Brasa)
FEMALE / ADULT / BLACK / MEDIUM-HEAVY (163.60LB)
#1 Elizabeth Mitrovic (Alliance)
#2 Isa Bruno (Impact JJ)
FEMALE / ADULT / BLACK / HEAVY (175.00LB)
#1 Bárbara Pires (CheckMat)
#2 Thamires Monteiro (CheckMat)
FEMALE / ADULT / BLACK / SUPER-HEAVY
#1 Mayara Custódio (CheckMat)
#2 Kylie Jazlyn Lasater (TRUJITSU)
FEMALE / ADULT / BLACK / OPEN CLASS
#1 Thamara Ferreira (Caio Terra)
#2 Mayara Custódio (CheckMat)
#3 Elizabeth Mitrovic (Alliance)
#3 Kylie Lasater (TRUJITSU)