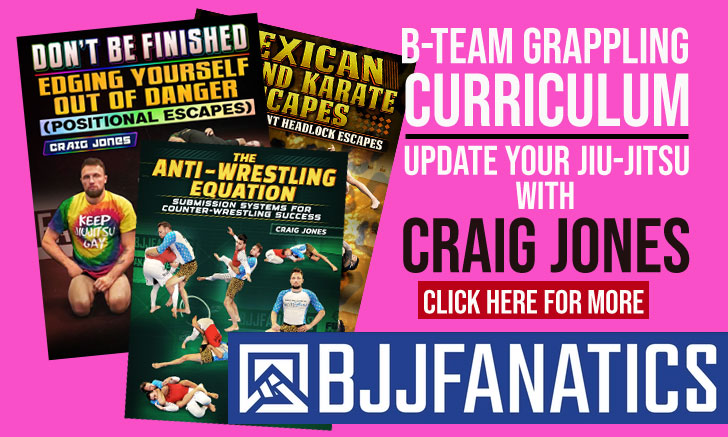 Arya Esfandmaz is a British grappler, founder of the Pure Jiu-Jitsu Academy, and a black belt in both judo and jiu-jitsu, the latter awarded by Lúcio Rodrigues (Lagarto), who also worked extensively with Roger Gracie in London, England. Although Esfandmaz spent extended periods of his career competing in the Asian circuit, he gained his notoriety when competing in Europe by conquering important medals on the International Brazilian Jiu-Jitsu Federation (IBJJF) league, namely in the European Open and British National Championships.
Arya Esfandmaz Jiu-Jitsu
Full Name: Arya Esfandmaz
Nickname: N/A
Lineage: Carlos Gracie > Helio Gracie > Carlos Gracie Jr. > Lúcio Rodrigues > Arya Esfandmaz
Main Achievements:
1st Place IBJJF European Open NoGi (2016)
1st Place IBJJF British Nationals (2017)
1st Place IBJJF Copenhagen Open (2017)
2nd Place IBJJF European Open (2018)
2nd Place UAEJJF Grand Slam, TYO (2018)
3rd Place IBJJF European Open (2019)
3rd Place IBJJF Asian Open (2017)
3rd Place IBJJF Tokyo Open (2018)
Main Achievements (Brown Belt):
1st Place UAEJJF Grand Slam, TYO (2015)
1st Place IBJJF London Fall Open (2015)
1st Place TUFF Invitational Championship (2015)
2nd Place UAEJJF World Pro Championship (2015)
2nd Place IBJJF London Winter Open (2015)
3rd Place IBJJF European Open (2015)
Favorite Position/Technique: Well Rounded
Weight Division: Super-Pesado (100,50 kg / 222.0 lbs)
Team/Association: Pure JJ
Arya Esfandmaz Biography
Arya Esfandmaz was born on May 31, 1989, in London, England, United Kingdom.
Although Arya was born in the UK, his father had been a dedicated Iranian wrestler in his own youth, prior to his move to Europe and believed combat sports helped shape the personalities of his children. Unable to find a good wrestling club in London, Mr. Esfandmaz senior opted to sign his son to judo instead. Arya was 4 years old when he joined one of England's most prestigious judo clubs, the Budokwai – the oldest Japanese martial arts club in Europe.
Although initiated in martial arts through judo, in London – a sport in which he would earn the rank of black belt at the age of 20 – when Arya Esfandmaz moved to South Korea, he decided to add the local martial art of taekwondo to his sporting activities. It was also while living in the Asian country that the young Englishman first tried mixed martial arts.
While training mixed martial arts in Korea, Arya sparred with a few Japanese grapplers who opened his eyes towards the effectiveness of groundwork in MMA. This experience led him to seek a jiu-jitsu club upon his return to London, first training with Luiz Tosta when he was 18 years old, and shortly after moving to Gracie Barra in London Bridge, where he trained for many years prior to his shift to the team's Fulham affiliate – under the guidance of Lúcio Rodrigues (Lagarto).
It was Lagarto who promoted the young Londoner to black belt, a rank he earned in late 2015. His relationship with team GB would end in 2017, when Arya decided to make some changes to his training, then moving to Roger Gracie's academy.
In 2019, after a few years of coaching for other gyms, Arya Esfandmaz opened his own academy, Pure Jiu-Jitsu, in West London, with the full approval of his instructor, Roger Gracie.
Arya Esfandmaz Grappling Record
29 WINS
BY POINTS


BY ADVANTAGES




BY SUBMISSION




BY DECISION




BY PENALTIES




BY DQ



14 SUBMISSIONS WINS
#214eb8
Choke from back
36
5
#224aba
Bow and arrow
7
1
18 LOSSES
BY POINTS


BY ADVANTAGES




BY SUBMISSION




BY DECISION




BY PENALTIES




BY DQ



3 SUBMISSIONS LOSSES
Arya Esfandmaz Fight History
ID
Opponent
W/L
Method
Competition
Weight
Stage
Year
8973

Alexandro Ceconi

L
Armbar
European Open
100KG
4F
2016
9065

Alan Finfou

Alan Finfou
L
Points
UK National Pro
94KG
F
2016
9067

Alan Finfou

Alan Finfou
L
Points
UK National Pro
ABS
F
2016
9546

R. Evangelista

R. Evangelista
L
Pts: 16x0
World Pro
ABS
8F
2016
9646

Isaac Dul

L
Toe hold
World Pro
94KG
8F
2016
11509

Isaque Bahiense

Isaque Bahiense
L
Pts: 11x2
European Open
ABS
8F
2017
11627

Mahamed Aly

Mahamed Aly
L
Pts: 14x4
European Open
100KG
4F
2017
12072

Adam Wardzinski

Adam Wardzinski
L
Pts: 16x2
Grand Slam LDN
94KG
SF
2017
12075

Jackson Sousa

Jackson Sousa
L
Pts: 23x0
Grand Slam LDN
94KG
3RD
2017
14145

Maximiliano Campos

L
Pts: 2x0
London FO
ABS
SF
2017
14955

Nelton Pontes

Nelton Pontes
L
Pts: 18x0
European Open
100KG
F
2018
16575

Patrick Gaudio

Patrick Gaudio
L
Pts: 24x2
World Champ.
94KG
8F
2018
17026

Rudson Mateus

Rudson Mateus
L
Pts: 9x0
Grand Slam TYO
94KG
F
2018
17941

Jackson Sousa

Jackson Sousa
L
Points
London FO
100KG
F
2018
18935

Fellipe Andrew

Fellipe Andrew
L
Katagatame
European Open
100KG
SF
2019
22726

Devhonte Johnson

Devhonte Johnson
L
Referee Decision
Polaris 12
104KG
SPF
2019
24368

Adam Wardzinski

Adam Wardzinski
D
---
Polaris Squads 2
ABS
RR
2020
24376

Adam Wardzinski

Adam Wardzinski
D
---
Polaris Squads 2
ABS
RR
2020
31150

Yatan Bueno

Yatan Bueno
L
Pts: 9x0
Grand Slam LDN
120KG
R1
2022
35281

John Hansen

L
Referee Decision
GrappleFest 13
ABS
SPF
2022
6693

Robson Gracie

Robson Gracie
W
Points
London WO
100KG
SF
2015
6694

Chris Bowe

W
Points
London WO
100KG
F
2015
9066

Thiago Borges

Thiago Borges
W
Choke from back
UK National Pro
ABS
SF
2016
9138

Karim Khalifa

W
Points
London WO
100KG
SF
2016
9420

Fabricio Carvalho

W
Points
Rome Open
100KG
4F
2016
9421

Angelo Marino

W
Points
Rome Open
100KG
SF
2016
9536

Antonio Junior

W
Pts: 2x0
World Pro
ABS
R2
2016
9640

Karol Migo

W
Pts: 2x0
World Pro
94KG
R1
2016
9643

Antonio Junior

W
Points
World Pro
94KG
R1
2016
10758

M. Maciejewski

W
Choke from back
London Pro
100KG
F
2016
12070

Alexander Bayer

W
Wristlock
Grand Slam LDN
94KG
4F
2017
13276

Florent Minguet

W
Choke from back
British National
100KG
F
2017
13990

Raphael Souza

W
Points
Copenhagen Open
100KG
SF
2017
13991

Thomas johanessen

W
Points
Copenhagen Open
100KG
F
2017
14140

Dean Liebenberg

Dean Liebenberg
W
Armbar
London FO
100KG
RR
2017
14141

Dean Liebenberg

Dean Liebenberg
W
Kneebar
London FO
100KG
F
2017
14142

Sebastian Brosche

Sebastian Brosche
W
Footlock
London FO
ABS
4F
2017
14952

Marek Zborg

W
Triangle
European Open
100KG
4F
2018
17024

Yuji Harai

W
Triangle
Grand Slam TYO
94KG
SF
2018
18932

Ruben Fonseca

W
Points
European Open
100KG
4F
2019
19538

Jamie Hughes

W
Bow and arrow
Polaris 9
100KG
SPF
2019
20901

Alan Vitor

W
Choke from back
British National
O100KG
F
2019
24359

Tommi Pulkkanen

D
---
Polaris Squads 2
ABS
RR
2020
24380

Dinu Bucaleț

D
---
Polaris Squads 2
ABS
RR
2020
30733

Omar Frederick

W
Pts: 3x0
BRUM Pro
120KG
SF
2022
30734

Wissam Suliman

W
Referee Decision
BRUM Pro
120KG
F
2022
33288

Aled Rees

W
Choke from back
Polaris 20
ABS
SPF
2022
43182

Wayne Samways

W
Kimura
Polaris 25
ABS
SPF
2023
45406

Joshua Palombella

W
Pts: 2x0
ADCC UK
O100KG
4F
2023
45407

Dave Weston

W
Pts: 6x0
ADCC UK
O100KG
SF
2023
45408

Przemyslaw Mysia

W
Submission
ADCC UK
O100KG
F
2023