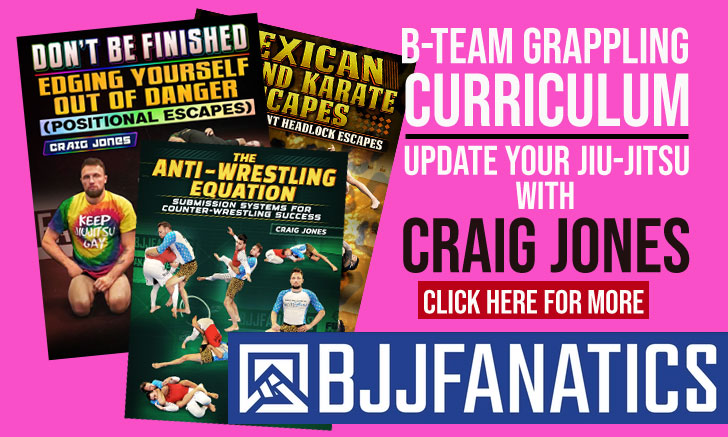 Rodrigo Fajardo, also known as "Pimpolho", is a Brazilian Jiu Jitsu black belt under Gustavo Muggiati and an illustrious representative of the Gracie Barra Academy in Curitiba, Brazil. One of the top medium heavyweights of his generation, Rodrigo Fajardo broke out during the mid 2000s with wins at the European Open, the Brazilian National Championship and the South American Championship.
Rodrigo Fajardo Jiu Jitsu
Full Name: Rodrigo Fajardo
Nickname: "Pimpolho" is the name attributed to a small and restless child. The name was given due to Rodrigo Fajardo's demeanor as a kid.
Lineage: M. Maeda > Carlos Gracie > Helio Gracie > Carlos Gracie Jr > Gustavo Muggiati > Rodrigo Fajardo
Main Achievements:
IBJJF European Champion (2011)
CBJJ Brazilian National Champion (2007 brown, 2002 blue)
IBJJF South American Champion (2011/2009 black, 2007 brown)
CBJJ Brazilian National Teams Champion (2004 purple)
IBJJF South Brazil Champion (2011/2010/2009 black)
CBJJ Brazilian National Championship Runner-up (2004 purple)
CBJJ Brazilian National Championship Runner-up (2010/2009 black, 2005 purple)
IBJJF Pan American Championship 3rd Place (2017)
Favourite Position/Technique: Triangle & Toe Hold
Weight Division: Meio Pesado (88kg/194lbs)
Team/Association: Gracie Barra – Curitiba
Rodrigo Fajardo "Pimpolho" Biography
Rodrigo Fajardo was born on the 29th of March, 1986 in Curitiba, Brazil.
Martial arts appeared in Rodrigo's life as a desperate attempt from his parents to give Pimpolho's restless nature some exercise, and possibly fade out a little of his excess energy.
Fajardo's grandfather trained jiu jitsu in the 1940's. When he found out of what his daughter in law had planned for Rodrigo, he intervened and pressed Mrs Fajardo to put his grandson on a BJJ school. This happened when Rodrigo was 14 years old (year of 2000).
Gustavo Muggiati was Rodrigo's first coach and the man who promoted Fajardo through all his belts, including the black belt on December 2007. After several podium spots at an international level and wins in the Brazilian National stage, Fajardo decided to start working with personal trainer, Guilherme Paiva to raise his game to the highest level. This hard work reaped its rewards with "Pimpolho's" win at the European Open Championship in 2012, arguably one of the most coveted medals in the official IBJJF tournament schedule.
Banner photo taken by William Burkhardt of BJJ Pix
Rodrigo Fajardo vs Nivaldo Oliveira