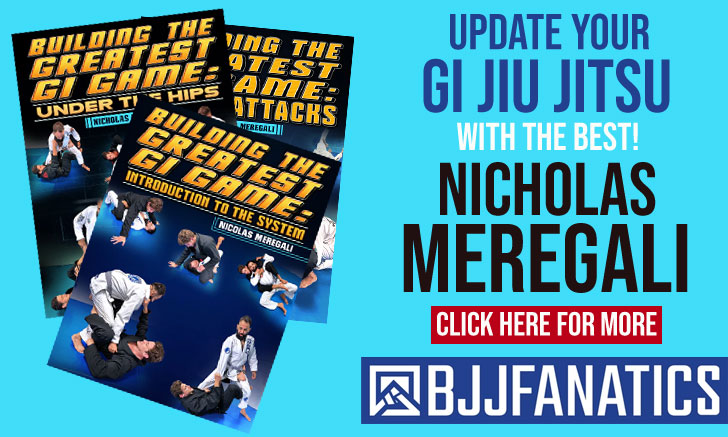 Danilo Cherman is a Brazilian jiu jitsu black belt under André Pederneiras of Nova União (NU) and a pioneer for the team in the field of mixed martial arts (MMA), having fought in historic promotions such as Shooto (Japan), Fury FC (Brazil) and Cage Rage (UK). In the sport of jiu jitsu Danilo Cherman conquered titles in tournaments such as the CBJJO World Cup, CBJJ's Brasileiro (Brazilian Nationals) and FJJ-Rio's State Championships among many others.
Danilo Cherman Jiu Jitsu
Full Name: Danilo Cherman Goltsman
Nickname: From when Danilo started training jiu jitsu, he was commonly referenced as "CP". This was due to Cherman's resemblance with a local black belt by the name of Carlos Pedro. As Danilo's name and recognition grew in the sport of BJJ, the CP epithet slowly died out.
Lineage:  Mitsuyo Maeda > Carlos Gracie > Carlson Gracie > André Pederneiras > Danilo Cherman
Main Achievements:
CBJJO World Cup Champion (2003 brown, 2002 purple)
CBJJ Brazilian National Champion (2000 blue)
CBJJO Brazilian Cup Champion (2002 purple)
IBJJF Brazilian National Teams Champion (2001/2000 blue)
CBJJ Brazilian National Championship Runner-up (1999 blue)
CBJJ Brazilian National Championship 3rd Place (2001 purple)
Favorite Position/Technique: Open Guard
Weight Division: Peso Leve (76,00 kg / 168.0 lbs)
Team/Association: Nova União
Danilo Cherman Biography
Danilo Cherman was born on January 21, 1983 in Rio de Janeiro – Brazil, spending his infancy in the Copacabana neighbourhood and moving to the equally famous burg of Flamengo at the age of 13.
While growing up Danilo's uncle (Orlando Jorge) was a big jiu jitsu enthusiast who trained under Renato "Charuto" Veríssimo at André Pederneira's academy. Through his uncle's influence, Cherman decided to enrol in BJJ, doing so at the age of 14/15 – first choosing Leonardo Castello Branco as his instructor. Danilo's time at Castello Branco was short lived as he would move to André Pederneira's gym only 3 months into his jiu jitsu training.
Cherman's jiu jitsu grew side by side with that of legends of this sport/martial art such as Thiago Fernandes, Kiki Melo, Vitor Shaolin and many others, with Danilo being an important piece of that extraordinary team built by Pederneiras (later working also with Wendell Alexander, after the merge of both instructors' academies).
Going through the belt system under Pederneiras' guidance, Danilo Cherman was promoted to black belt by the famous Nova União leader on August 2003, shortly after his victory at the World Cup. This came at a time when the CBJJO World Cup had an equivalent importance to the IBJJF World title in the jiu jitsu world, thanks to a historic feud between the two federations. A quarrel that led to huge changes to this sport's landscape, including the split in the Alliance academy and the birth of Brasa Clube de Jiu Jitsu, Master Team and TT (later leading to Checkmat and Atos).
Although Danilo Cherman gave preference to jiu jitsu, the aforementioned feud between the two federations (IBJJF/CBJJ vs CBJJO) brought serious repercussions to some of the athletes. The fact that Nova União stood by CBJJO's side and refused to participate in IBJJF events meant less exposure for their competitors. Adding to this corrosive environment NU, also started dipping their toes in the world of mixed martial arts (MMA) at the time, with Vitor Shaolin leading the platoon. By 2002 Cherman decided to follow his idol's footsteps, making his debut that year at the Vitoria Extreme Fighting 1 (VEF) with two fights in one night.
As an MMA fighter Danilo became one of Shooto Japan's top athletes, later moving on to other historic combat promotions. One of Cherman's most memorable matches was that against Jean Silva of London Shootfighters at Cage Rage (2006), a pioneering British promotion. Danilo's win over the highly praised fighter granted him the next title shot in CR. Unfortunately for Cherman the promotion was bought soon after by the Ultimate Fighting Championship (UFC) who closed down the event.
Disenchanted with MMA and struggling to make a decent living inside the cage, Danilo chose to hang his 4 ounce gloves in 2010. Cherman had been living in the USA (Connecticut) since 2008, coaching at the Lion's Den academy and chose to commit himself fully to teaching jiu jitsu. Danilo Cherman would later open THE CAGE, a prime training centre in CT.
Danilo Cherman Highlight