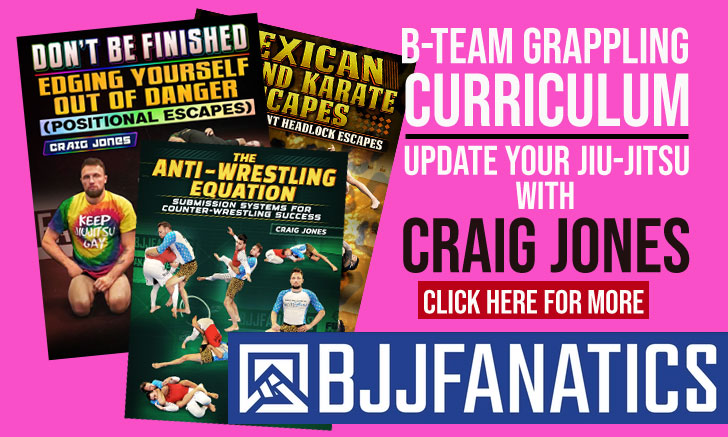 Lucas Rodrigues is a professional grappler from Brazil and a jiu-jitsu black belt under Guilherme Mendes (Art Of Jiu-Jitsu [AOJ], Costa Mesa, California, USA) who also worked extensively with Alan do Nascimento "Finfou" at the Allstars Training Center (Stockholm, Sweden). Rodrigues first gained notoriety in the colored belt divisions of the sport where he conquered the International Brazilian Jiu-Jitsu Federation (IBJJF) World titles in the blue and purple belt divisions, a good form he carried through to the pro division. Lucas is also the older brother of another jiu-jitsu ace, Mateus Rodrigues.
Lucas Rodrigues Jiu-Jitsu
Full Name: Lucas Batista Rodrigues
Nickname: N/A
Lineage: Carlos Gracie > Carlson Gracie > André Pederneiras > Ramon Lemos > Guilherme Mendes > Lucas Rodrigues
Main Achievements:
1st Place IBJJF European Open NOGI (2022)
Main Achievements (Colored Belts):
1st Place IBJJF World Championship (2018 purple)
1st Place IBJJF World Championship NOGI (2016 blue, 2017 purple)
1st Place IBJJF European Open NOGI (2019 brown)
2nd Place IBJJF European Open (2020 brown)
3rd Place IBJJF World Championship (2019/ 2021 brown)
3rd Place IBJJF World Championship NOGI (2018 brown)
Main Achievements (Juvenile):
2nd Place CBJJ Brazilian Nationals (2014)
3rd Place CBJJ Brazilian Nationals (2015)
3rd Place IBJJF World Championship (2015)
Favorite Position/Technique: Guard
Weight Division: Peso Leve (76,00 kg / 168.0 lbs)
Team/Association: Art Of Jiu-Jitsu (AOJ)
Lucas Rodrigues Biography
Lucas Rodrigues was born on January 07, 1998, in the city of São Paulo, but moved to Curitiba in the Brazilian state of Paraná, as a toddler.
Well-known to the martial arts community for being the birthplace of the Chute-Boxe Academy, a groundbreaking gym from the Pride FC era of mixed martial arts, is Curitiba. The city where Rodrigues grew up and the place where Lucas's father, Silvio Rodrigues, also known as "Urutum", developed as a cage-fighter.
The proximity to their father and the Chute-Boxe training environment soon led Lucas and his younger brother Mateus Rodrigues to start training, joining the team's extensive MMA program with striking, wrestling, and jiu-jitsu classes, the latter with coach Goiti Yamaguchi.
The two brothers gradually became more attracted to jiu-jitsu than the striking portions of their training, keeping their focus on the mats though with wildly diverging idols. Mateus became obsessed with the Mendes Brothers after coach Yamaguchi showed him an instructional DVD set by Guilherme and Rafael Mendes. At the same time, Lucas was a bigger fan of Rodolfo Vieira and Leandro Lo's style of grappling.
Mateus' fascination for the Mendes Brothers had him sending several (unanswered at first) messages to the duo via social media, asking for an opportunity to train at their Art Of Jiu-Jitsu training center in Costa Mesa, California. The Rodrigues brothers also visited NS Brotherhood's gym in their quest for a more challenging gym they could find, but ultimately decided against moving to São Paulo.
In 2016 while doing the IBJJF World No-Gi camp, Lucas met Alan "Finfou" Nascimento, who invited him to move to Sweden and train at his academy there. Lucas accepted the offer, moving at the start of 2017, around the same time his brother's request to join AOJ's juvenile program (Believe & Achieve) was finally read and accepted.
While at AOJ, Mateus Rodrigues spoke to coach Guilherme about his brother, Lucas. Mendes also invited the older Rodrigues, an offer that – after discussing the opportunity with Finfou – Lucas agreed to accept.
Although training at and representing AOJ on the international circuit, Lucas Rodrigues always maintained a close relationship with Alan Finfou's team and Sweden, spreading his time between Brazil, the USA, and the Scandinavian country. During these times, Rodrigues met a student of Nascimento, whom he married in 2019.
The good form shown by Lucas Rodrigues throughout his colored belt career, eventually led to his black belt promotion, from the hands of Guilherme Mendes, on December 2021.
Lucas Rodrigues Grappling Record
17 WINS
BY POINTS


BY ADVANTAGES




BY SUBMISSION




BY DECISION




BY PENALTIES




BY DQ



14 SUBMISSIONS WINS
#5AD3D1
Choke from back
14
2
#f58822
Triangle armlock
7
1
#ff9124
Inside heel hook
7
1
#bf1f6c
Arm in Ezekiel
7
1
2 LOSSES
BY POINTS


BY ADVANTAGES




BY SUBMISSION




BY DECISION




BY PENALTIES




BY DQ



2 SUBMISSIONS LOSSES
Lucas Rodrigues Fight History
ID
Opponent
W/L
Method
Competition
Weight
Stage
Year
37182

Fabricio Andrey

Fabricio Andrey
L
Kneebar
European Open
70KG
SF
2023
39936

Jun Yong Cho

L
Submission
Paris Open
70KG
F
2023
33214

Sebastian Palmdahl

W
Pts: 17x0
BJJ Nation
NA
SPF
2022
33217

Gabriel Azevedo

W
Triangle
Floripa WO
70KG
4F
2022
33218

Carlos Eduardo

W
Choke from back
Floripa WO
70KG
SF
2022
33219

Rafael Nascimento

W
Pts: 12x2
Floripa WO
70KG
F
2022
35633

Aleksandr Cassen

W
RNC
Finnish open
NA
4F
2022
35634

Kim Lipsanen

W
Armbar
Finnish open
NA
SF
2022
35635

Roni Silvennoimen

W
Armbar
Finnish open
NA
F
2022
35638

Ben Thompson

W
Armbar
London FO
76KG
4F
2022
35641

Sean White

W
Cross choke
London FO
76KG
SF
2022
35642

Leon Larman

Leon Larman
W
Pts: 2x2, Adv
London FO
76KG
F
2022
36066

Hanhee Kim

W
Triangle armlock
European NG
73KG
R1
2022
36072

Romao Carvalho

W
Guillotine
European NG
73KG
4F
2022
36074

Marcus Phelan

Marcus Phelan
W
Triangle
European NG
73KG
SF
2022
36076

Ilias Dikelis

W
Inside heel hook
European NG
73KG
F
2022
37176

Artur Oliveita

W
RNC
European Open
70KG
R1
2023
37178

Wilhiam Mateus

W
Arm in Ezekiel
European Open
70KG
4F
2023
39935

Claudio Macedo

W
Choke from back
Paris Open
70KG
SF
2023