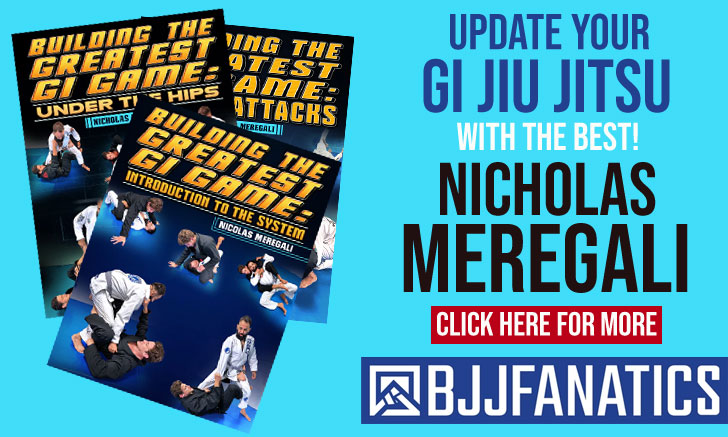 Jacob Couch, commonly known as The Hillbilly Hammer, is a professional grappler and a jiu-jitsu black belt under Heath Pedigo of the Pedigo Submission Fighting team, a squad also labeled as The Daisy Fresh. Couch first made waves in the sport as a colored belt, competing against veteran names of the sport, successfully, in submission-grappling's professional events while also conquering numerous gold medals on the International Brazilian Jiu-Jitsu Federation (IBJJF) and the Abu Dhabi Jiu-Jitsu Pro circuits.
Jacob Couch Jiu-Jitsu
Full Name: Jacob Lee Couch
Nickname: Unlike the traditional Brazilian/Portuguese nicknames, whose origins tend to be based on banter among friends and/or family, Couch's nickname, The Hillbilly Hammer spawns from a combat sports tradition, a promotional name with less of a backstory, aside from Jacob's place of birth and job description.
Lineage: Carlos Gracie > H. Gracie > Rickson Gracie > Rodrigo Vaghi > Heath Pedigo > Jacob Couch
Main Achievements:
3rd Place ADCC East Coast Trials (2021)
3rd Place WNO Tournament (2021)
Main Achievements (Colored Belts):
1st Place IBJJF World Championship NOGI (2018 blue, 2021/2022 brown)
1st Place IBJJF Pan Championship NOGI (2020** purple, 2022**)
1st Place AJP Grand Slam, MIA (2020 purple)
2nd Place IBJJF World Championship NOGI (2019* purple)
2nd Place IBJJF Pan Championship NOGI (2019 purple, 2021 brown)
2nd Place IBJJF Pan Championship (2020 purple)
3rd Place IBJJF World Championship NOGI (2018 blue*, 2019 purple, 2021* brown)
* Absolute
** Weight and Absolute
Favorite Position/Technique: Closed Guard
Weight Division: Peso Pesado (94kg/207lbs)
Team/Association: Pedigo Submission Fighting
Jacob Couch Biography
Jacob Couch was born on February 3rd, 1999, in Hazard, Kentucky, United States of America.
Competitive sports entered Couch's life in 6th grade when he joined the A.B. Combs Elementary School's football team. Although he loved the sport, he was forced to quit the team due to lack of transportation, but the love for the challenge remained very much alive in his heart.
Jacob joined his school's wrestling team as a freshman. A short-lived experience that lasted 3 months, prior to him finding out about submission-grappling.
When Couch was 15 years old he became a target of bullying. Seeing his struggles, two friends of Jacob – brothers Ken and Stone Beverly – suggested that he should join a local MMA gym, which he enjoyed from the get-go. Despite his lack of financial resources, Jacob was allowed to pay half-fee so he could train.
At the mixed martial arts gym, Jacob started learning jiu-jitsu under the guidance of Donald Neace, who saw Couch through to the blue belt level, and later with Adam Gomez.
In 2019, while at the IBJJF No-Gi Pan American Championship, Jacob Couch befriended a few students of Heath Pedigo. These newfound friends invited the Kentucky native to come and train with them at their (now famous) training room in Mount Vernon, Illinois, even offering to drive Couch there, as the young athlete did not own a vehicle.
Couch visited the Daisy Fresh facility – Pedigo Submission Fighting – in 2019 where his relationship with the workgroup grew even stronger, leading to his decision to stay and move to Illinois. Jacob was a purple belt at the time.
While training at Pedigo Submission Fighting, with some of the top athletes in the nation, Couch's grappling skills shined through even further than they had in the past. After multiple successes in the colored belt divisions, coach Heath Pedigo promoted his student, Jacob Couch, to the rank of black belt. A celebration that took place while The Hillbilly Hammer stood on the podium of the IBJJF No-Gi World Championship, on December 15, 2022.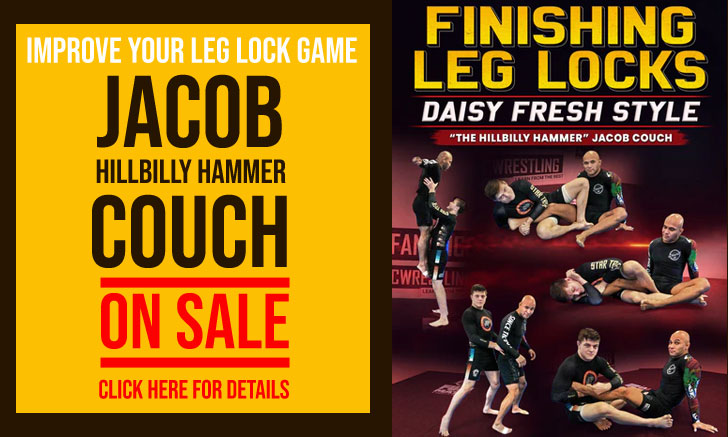 NOTE REGARDING JACOB COUCH'S GRAPPLING RECORD
Traditionally BJJ Heroes has only accounted for an athlete's individual black belt matches in our record displays as they signify an athlete's entry into our sport's elite division. Jacob Couch, however, is a special case as he's been competing against and beating top-shelf athletes in the pro-grappling circuit since he was a colored belt. This has left BJJ Heroes with a delicate predicament of defining when to start accounting for the young prodigy's match records.
As we saw some of these matches as a fundamental part of Jacob's entrance into the sport's rankings, we have opted to include all his pro-division matches from brown belt onwards, on our display (see below). The reader of this page is to keep in mind that every match prior to 2022 was fought when The Hillbilly Hammer was still a colored belt.
Jacob Couch Grappling Record
34 WINS
BY POINTS


BY ADVANTAGES




BY SUBMISSION




BY DECISION




BY PENALTIES




BY DQ



23 SUBMISSIONS WINS
#214eb8
Inside heel hook
30
7
#d1212a
Outside heel hook
9
2
#f58822
Straight ankle lock
4
1
#224aba
Anaconda choke
4
1
9 LOSSES
BY POINTS


BY ADVANTAGES




BY SUBMISSION




BY DECISION




BY PENALTIES




BY DQ



5 SUBMISSIONS LOSSES
#5AD3D1
Reverse triangle
20
1
Jacob Couch Fight History
ID
Opponent
W/L
Method
Competition
Weight
Stage
Year
27904

Mica Galvao

Mica Galvao
L
Armbar
WNO Champ.
84KG
SF
2021
27921

Jon Blank

Jon Blank
L
Reverse triangle
WNO Champ.
84KG
RPC
2021
28914

Giancarlo Bodoni

Giancarlo Bodoni
L
RNC
ADCC EC Trials
88KG
SF
2021
31297

Gordon Ryan

Gordon Ryan
L
Pressure
WNO 12
O92KG
SPF
2022
31382

Harrison Woods

L
Pts: 3x0
ADCC WC Trials
88KG
8F
2022
34994

Andrew Tackett

Andrew Tackett
L
Pts: 2x0
ADCC Vegas
ABS
SF
2022
37825

Igor Tanabe

Igor Tanabe
L
RNC
Unrivaled 2
SPF
90KG
2023
40018

Izaac Michel

L
Referee Decision
WNO 18
84KG
SPF
2023
42445

Ryan Aitken

L
Referee Decision
ADCC Chicago
91KG
F
2023
27902

Roberto Jimenez

Roberto Jimenez
W
Inside heel hook
WNO Champ.
84KG
4F
2021
27923

William Tackett

William Tackett
W
Referee Decision
WNO Champ.
84KG
3RD
2021
28447

Hunter Colvin

W
Armbar
WNO 10
O92KG
SPF
2021
28877

Corbin Crisp

W
Kneebar
ADCC EC Trials
88KG
R1
2021
28886

Donald Marcelin

W
Points
ADCC EC Trials
88KG
R2
2021
28896

Micah Bakefield

W
Outside heel hook
ADCC EC Trials
88KG
R3
2021
28905

Achilles Rocha

W
Triangle
ADCC EC Trials
88KG
R4
2021
28912

Joseph Watson

W
RNC
ADCC EC Trials
88KG
4F
2021
28916

John Salter

John Salter
W
Pts: 0x0, Pen
ADCC EC Trials
88KG
3RD
2021
29824

David Garmo

David Garmo
W
Inside heel hook
WNO 11
93KG
SPF
2022
30708

Santeri Lilius

Santeri Lilius
W
Referee Decision
GrappleFest 11
90KG
SPF
2022
31356

Charles Hiersche

W
Triangle
ADCC WC Trials
88KG
R2
2022
31367

Joshua Baerwolf

W
Pts: 5x0
ADCC WC Trials
88KG
R3
2022
31375

Kevin Crane

W
Referee Decision
ADCC WC Trials
88KG
R16
2022
32812

Tom Breese

W
Referee Decision
GrappleFest 12
NA
SPF
2022
34208

Jacob Rodriguez

W
Referee Decision
WNO 14
NA
SPF
2022
34961

Angel Verduzco

W
Inside heel hook
ADCC Vegas
91KG
R2
2022
34966

Daniel Ontiveros

W
Inside heel hook
ADCC Vegas
91KG
8F
2022
34970

Brian Guevara

W
Inside heel hook
ADCC Vegas
91KG
4F
2022
34974

Gabriel Almeida

Gabriel Almeida
W
Inside heel hook
ADCC Vegas
91KG
F
2022
34992

Jeferson Guaresi

Jeferson Guaresi
W
Triangle
ADCC Vegas
ABS
4F
2022
35113

Jean Baptiste

W
Triangle
Grapplefest
NA
SPF
2022
35278

Silviu Nastasa

W
Referee Decision
GrappleFest 13
95KG
SPF
2022
36170

Bruno Matias

Bruno Matias
W
Guillotine
WNO
84KG
SPF
2022
39203

Mackenzie Morales

W
RNC
Chicago SPNG
91KG
4F
2023
39207

Yousef Ghoul

W
Smother tap
Chicago SPNG
91KG
SF
2023
39208

David Garmo

David Garmo
W
Points
Chicago SPNG
91KG
F
2023
39209

Mackenzie Morales

W
Triangle
Chicago SPNG
ABS
4F
2023
39212

Daniel McGuire

W
Smother tap
Chicago SPNG
ABS
SF
2023
39213

Alexander Seaver

W
Inside heel hook
Chicago SPNG
ABS
F
2023
41513

Alejandro Tolmos

W
Referee Decision
Austin NGO
91KG
F
2023
42439

Yousef Al-Ghoul

W
Straight ankle lock
ADCC Chicago
91KG
8F
2023
42442

Sean Yadimarco

W
Anaconda choke
ADCC Chicago
91KG
4F
2023
42443

David Garmo

David Garmo
W
Outside heel hook
ADCC Chicago
91KG
SF
2023