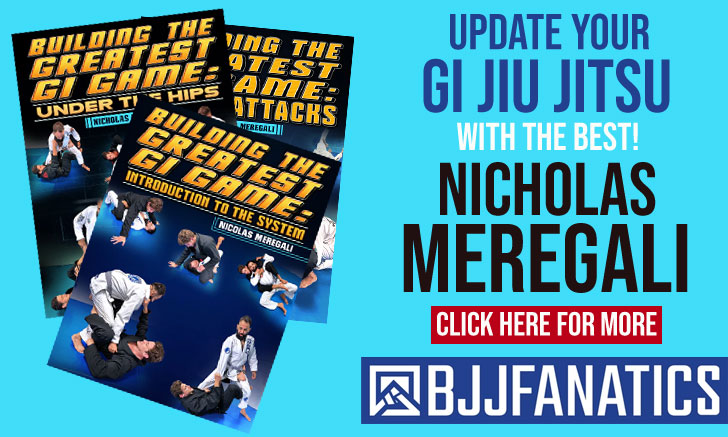 Rose-Marie El Sharouni is a Dutch grappler and a jiu-jitsu black belt under Leonardo Vieira, who represents Team Checkmat and the Brazilian Jiu-Jitsu Academy Amsterdam (Netherlands) in the sport's international circuit. Despite spending many of her competitive years splitting her time between a medical career and the mats, El Sharouni still maintained a high rate of success in the sport, earning multiple medals in the International Brazilian Jiu-Jitsu Federation (IBJJF) and the Abu Dhabi Jiu-Jitsu Pro (AJP) tours, while beating some of the top-ranked athletes on the light-featherweight division.
Rose El Sharouni Jiu-Jitsu
Full Name: Rose-Marie el Sharouni
Nickname: N/A
Lineage: Carlos Gracie > Helio Gracie > Rolls Gracie > Romero Cavalcanti > Leonardo Vieira > Rose-Marie El Sharouni
Main Achievements:
#1 AJP Ranked European Player (2022)
2nd Place IBJJF Pan Championship (2023)
2nd Place IBJJF European Open (2022)
2nd Place AJP Abu Dhabi World Pro (2021)
3rd Place IBJJF World Championship (2021 / 2022)
3rd Place IBJJF European Open (2020 / 2023)
Main Achievements (Colored Belts):
1st Place IBJJF European Open (2015 blue, 2019 brown)
3rd Place IBJJF World Championship (2018 brown)
Favorite Position/Technique: Spider-Guard
Weight Division: Peso Peso Pluma (53.5kg / 118 lbs)
Team/Association: Checkmat
Rose El Sharouni Biography
Rose El Sharouni was born on September 28, 1991, in Heerlen, Netherlands, but soon moved to Utrecht (also in the Netherlands).
Martial arts entered Rose's life early on, first by way of judo, which she started at the age of 6 and practiced all the way to 12 despite her dislike for the sport. During her pre-teens, El Sharouni found traditional jiu-jitsu, which she favored over judo. For this reason, she shifted her focus toward TJJ.
At 16 Rose joined a Brazilian jiu-jitsu workshop that was being held at her TJJ gym, attending the event out of curiosity. After the session, the young Dutch martial artist realized BJJ was more fun than she expected and decided to pursue more of this novel combat sport, which quickly became a big part of her extracurricular life as she went on to train under the guidance of Mathieu Peters, a camp she maintained all the way to purple belt.
Rose El Sharouni joined a medical school as a blue belt, spending her time between training and studying for the next few years. Later, going through an internship and residency at a hospital while training and competing regularly.
Rose's hard work led to her black belt promotion from the hands of Leonardo Vieira on 14 July 2019.
Although it was Checkmat's team leader, Leo Vieira, who promoted El Sharouni, most of her sports progression was done researching and training with her teammates, Kiren Newadj and Remo Corstjens, who founded the Brazilian Jiu Jitsu Academy Amsterdam in 2015 as blue belts.
In 2022 Rose El Sharouni decided to pause her medical career to pursue jiu-jitsu on a full-time schedule, coaching, training, and competing.
The cover photo was taken by Jan Lago.
Rose Sharouni Grappling Record
41 WINS
BY POINTS


BY ADVANTAGES




BY SUBMISSION




BY DECISION




BY PENALTIES




BY DQ



13 SUBMISSIONS WINS
#214eb8
Choke from back
23
3
#224aba
Straight ankle lock
8
1
24 LOSSES
BY POINTS


BY ADVANTAGES




BY SUBMISSION




BY DECISION




BY PENALTIES




BY DQ



12 SUBMISSIONS LOSSES
#214eb8
Choke from back
33
4
#f58822
Hashimoto choke
8
1
Rose Sharouni Fight History
ID
Opponent
W/L
Method
Competition
Weight
Stage
Year
21933

Vanessa English

Vanessa English
L
Points
Lisbon Open
ABS
SF
2019
22639

Larissa Campos

Larissa Campos
L
Triangle
Paris Open
58KG
F
2019
23153

Anna Rodrigues

Anna Rodrigues
L
Choke from back
European Open
53KG
SF
2020
23665

Talita Alencar

Talita Alencar
L
Pts: 5x1
Grand Slam LDN
55KG
4F
2020
23670

Gabriela Fechter

L
Pts: 7x0
Grand Slam LDN
55KG
3RD
2020
27995

Serena Gabrielli

Serena Gabrielli
L
Pts: 3x0
EU Cont. Pro
55KG
RR
2021
28382

Rafaela Rosa

L
Referee Decision
France Pro
55KG
F
2021
29258

Anna Rodrigues

Anna Rodrigues
L
Pts: 4x2
World Pro
55KG
F
2021
29616

Tammi Musumeci

Tammi Musumeci
L
Choke from back
World Champ.
52KG
SF
2021
30660

Mayssa Bastos

Mayssa Bastos
L
Armbar
European Open
53KG
F
2022
31172

Anna Rodrigues

Anna Rodrigues
L
Pts: 3x2
Grand Slam LDN
55KG
SF
2022
32400

Anna Rodrigues

Anna Rodrigues
L
Pts: 3x2
Grand Slam AD
55KG
SF
2022
32404

Laurie Oliveira

L
Armbar
Grand Slam AD
55KG
RPC
2022
33059

Anna Rodrigues

Anna Rodrigues
L
Armbar
World Champ.
53KG
SF
2022
34667

Anna Rodrigues

Anna Rodrigues
L
Kimura
Grand Slam MIA
55KG
SF
2022
34672

Gabriela Pereira

Gabriela Pereira
L
Pts: 11x0
Grand Slam MIA
55KG
3RD
2022
36422

Anna Rodrigues

Anna Rodrigues
L
Choke from back
World Pro
55KG
F
2022
37280

Brenda Larissa

Brenda Larissa
L
Choke
European Open
53KG
SF
2023
38272

Anna Rodrigues

Anna Rodrigues
L
Hashimoto choke
AJPGD LDN
55KG
SF
2023
38485

Mayssa Bastos

Mayssa Bastos
L
Pts: 4x4, Adv
Pan American
53KG
F
2023
39735

Galina Duvanova

L
Pts: 6x4
ADGS ABD
55KG
4F
2023
40412

Jessa Khan

Jessa Khan
L
Armbar
World Champ.
53KG
SF
2023
44778

Tamara Toros

L
Pts: 4x3
World Pro
55KG
4F
2023
44786

O. Zhuravleva

L
Choke from back
World Pro
55KG
RPC
2023
19862

Serena Gabrielli

Serena Gabrielli
W
Choke from back
Rome Open
53KG
RR
2019
19863

Serena Gabrielli

Serena Gabrielli
W
Ezekiel
Rome Open
53KG
RR
2019
22035

Georgina Galvao

W
Ezekiel
London FO
58KG
RR
2019
22036

Georgina Galvao

W
Points
London FO
58KG
RR
2019
23513

Sayuri Batista

W
Adv
Netherlands Pro
55KG
F
2020
23664

Weronika Nitecka

W
Pts: 6x0
Grand Slam LDN
55KG
R1
2020
23669

Elina Moestam

W
Pts: 6x5
Grand Slam LDN
55KG
RPC
2020
27996

Antonia Iaia

W
Choke from back
EU Cont. Pro
55KG
RR
2021
28381

Aneta Pokorna

W
Pts: 11x0
France Pro
55KG
SF
2021
29254

Rebecca Hughes

W
Pts: 2x0
World Pro
55KG
4F
2021
29257

Liisi Vaht

W
Pts: 4x0
World Pro
55KG
SF
2021
29615

Ann Kneibb

W
Pts: 7x0
World Champ.
52KG
4F
2021
30658

Naomi Matthews

W
Pts: 2x0
European Open
53KG
SF
2022
30757

Cornelia Rossier

W
Pts: 10x6
Amsterdam Pro
62KG
RR
2022
30758

Meshy Rosenfeld

W
Triangle
Amsterdam Pro
62KG
RR
2022
31170

Alicja Stypulkow

W
Armbar
Grand Slam LDN
55KG
4F
2022
31175

Alexa Yanes

W
Pts: 4x1
Grand Slam LDN
55KG
RPC
2022
31177

Rafaela Rosa

W
Pts: 4x3
Grand Slam LDN
55KG
3RD
2022
31795

Rafaela Rosa

W
Pts: 5x3
Porto Pro
55KG
F
2022
32397

Maha Alhanaee

W
Triangle
Grand Slam AD
55KG
4F
2022
33054

Andreza Costa

W
Pts: 2x2, Adv
World Champ.
53KG
4F
2022
33144

Rafaela Rosa

W
Pts: 2x1
Cascais Pro
55KG
F
2022
34665

Maha Alhanaee

W
Armbar
Grand Slam MIA
55KG
4F
2022
34671

Eliana Carauni

Eliana Carauni
W
Botinha
Grand Slam MIA
55KG
RPC
2022
36419

Chingwen Huang

W
Pts: 11x0
World Pro
55KG
4F
2022
36420

Liisi Vaht

W
Pts: 1x0
World Pro
55KG
SF
2022
36514

Barbara Hale

W
Pts: 14x0
Netherlands Pro
55KG
SF
2022
36515

Laurie Rocha

W
Pts: 4x1
Netherlands Pro
55KG
F
2022
36523

Delfina Francisco

W
Botinha
Brussels Pro
55KG
RR
2022
36525

Rafaela Rosa

W
Pts: 1x0
Brussels Pro
55KG
RR
2022
37277

Raquel Ferreira

W
Choke from back
European Open
53KG
4F
2023
38269

Laura Peretti

W
Pts: 2x0
AJPGD LDN
55KG
4F
2023
38276

Emily Nicholson

W
Pts: 3x0
AJPGD LDN
55KG
3RD
2023
38482

Raquel Silva

W
N/A
Pan American
53KG
4F
2023
38484

Thamires Aquino

W
Pts: 7x0
Pan American
53KG
SF
2023
39739

Dayane Bazzoni

W
Submission
ADGS ABD
55KG
RPC
2023
39741

Liisi Vaht

W
Pts: 1x0
ADGS ABD
55KG
RPC
2023
39742

Galina Duvanova

W
Pts: 4x1
ADGS ABD
55KG
3RD
2023
40404

Mara Kelly

W
Pts: 13x0
World Champ.
53KG
8F
2023
40409

Andreza Costa

W
Straight ankle lock
World Champ.
53KG
4F
2023
44774

Gabriela Pereira

Gabriela Pereira
W
Pts: 3x3
World Pro
55KG
R1
2023