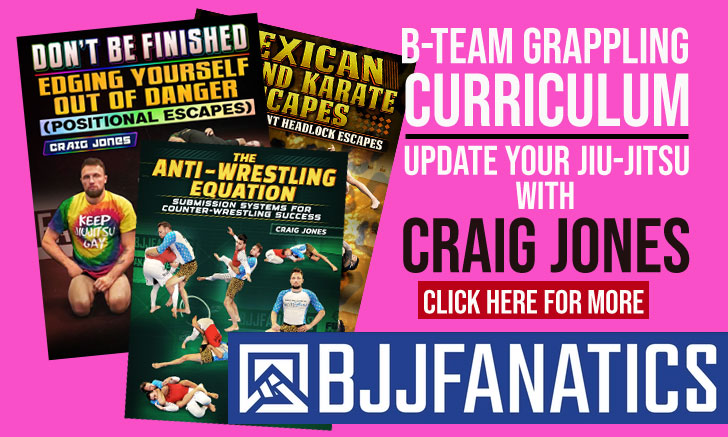 John Combs is an American-born Brazilian jiu-jitsu black belt under the illustrious Amal Easton, being one of the top athletes produced inside the Easton Training Centre in Colorado. A former collegiate wrestler, Combs started making an impact in jiu-jitsu as a purple belt by conquering medals in important tournaments such as the IBJJF World and Pan American Championships. A standard he maintained as he progressed through the ranks of the sport.
John Combs Jiu-Jitsu
Full Name: John Taylor Combs
Nickname: n/a
Lineage: C. Gracie > Helio Gracie > Carlos Gracie Jr. > Renzo Gracie > Amal Easton > John Combs
Main Achievements:
1st Place ADCC US WC Trials (2019)
1st Place IBJJF Denver Open (2018**)
1st Place IBJJF Austin Open (2017)
1st Place UAEJJF Grand Slam No-Gi, LA (2016)
2nd Place FIVE Super League (2016)
2nd Place Guatemala Open (2016)
3rd Place IBJJF Pans Championship NOGI (2021)
Main Achievements (Colored Belts):
1st Place IBJJF Pans Championship (2016 brown)
1st Place UAEJJF US National Pro (2016** brown)
1st Place IBJJF Las Vegas Open (2016 brown)
2nd Place IBJJF Las Vegas Open (2016* brown)
3rd Place IBJJF World Championship (2014/2015 purple)
3rd Place IBJJF Pan Championship (2015 purple, 2016* brown)
* Absolute
** Weight and absolute
Favorite Position/Technique: Guillotine
Weight Division: Peso Médio (82kg/181lbs)
Team/Association: Easton Training Centre
John Combs Biography
John Combs was born on April 7, 1991, in Cleveland, OH – United States of America, though he moved to Agoura Hills – California early on, where he grew up.
Although John had a few karate lessons during his childhood, wrestling was his first sporting passion, a discipline he started as a skinny 14-year-old. Combs' first steps as a wrestler were done in the 130 lbs division, though he moved up in weight with every passing year, finishing his junior college career (2012) as a 165 lbs athlete. During this period John Combs placed 4th NCWA Nationals (2011) making him an All-American Wrestler.
Combs' introduction to jiu-jitsu took part in 2007, though at the time his focus was totally geared towards wrestling, and as a consequence, his BJJ experience fell through quickly. John returned to gi work in January 2010, after his friend Jonathan Lipnicki (who trained BJJ) challenged him to a wrestling match. In this friendly contest, Combs quickly took his friend down and proceeded to pin him, but that didn't stop Jonathan who managed to sink a kimura lock on Combs. That submission sold John to jiu-jitsu.
During his high school, John trained jiu-jitsu irregularly. It was only while already attending the University of Colorado Boulder that he joined the Easton Training Centre, this way being introduced to an outlined grappling program.
Going up through the ranks at ETC, Combs was awarded all belts by different coaches inside the team, including former UFC light heavyweight contender Eliot Marshal, who promoted John to blue belt. Also James Smith (purple), Mike Tousignant (brown), and lastly, the team's leader Amal Easton, who led John's black belt ceremony in June 2016, after an incredible campaign as brown belt.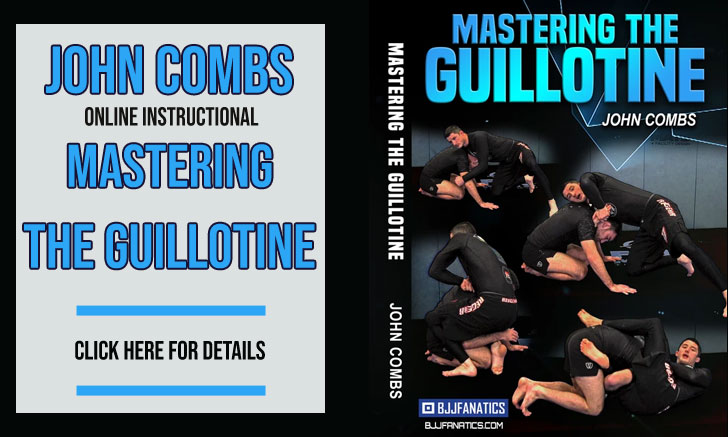 John Combs Grappling Record
106 WINS
BY POINTS


BY ADVANTAGES




BY SUBMISSION




BY DECISION




BY PENALTIES




BY EBI/OT



79 SUBMISSIONS WINS
#5AD3D1
Arm in guillotine
10
8
#fad11b
Choke from back
5
4
#fad223
Reverse triangle
1
1
#03861f
Flying triangle
1
1
#03b41f
Triangle shoulder lock
1
1
#03c61f
Inside heel hook
1
1
66 LOSSES
BY POINTS


BY ADVANTAGES




BY SUBMISSION




BY DECISION




BY PENALTIES




BY EBI/OT



37 SUBMISSIONS LOSSES
#214eb8
Inside heel hook
19
7
#d1212a
Choke from back
8
3
#22c9a5
Straight ankle lock
3
1
#fad223
Mounted triangle
3
1
#03b41f
Choke f/ omoplata
3
1
John Combs Fight History
ID
Opponent
W/L
Method
Competition
Weight
Stage
Year
10162

Diego Borges

Diego Borges
L
Pts: 4x0
Copa Podio
86KG
GP
2016
10172

Claudio Calasans

Claudio Calasans
L
Guillotine
Copa Podio
86KG
GP
2016
10177

Erberth Santos

Erberth Santos
L
Mounted triangle
Copa Podio
86KG
GP
2016
10373

Josh Hinger

Josh Hinger
L
Armbar
Ch. Summer Open
82KG
SF
2016
10382

Josh Hinger

Josh Hinger
L
Armbar
Ch. Summer Open
ABS
4F
2016
10442

Brian Morizi

L
Choke from back
Grand Slam LA
77KG
R1
2016
10704

G. Batista

L
Pts: 11x2
Guatemala Open
O76KG
F
2016
11125

DJ Jackson

DJ Jackson
L
Guillotine
F2W 18
82KG
SPF
2016
11279

Edwin Najmi

Edwin Najmi
L
Estima lock
5 Super League
77KG
F
2016
11316

Yan Lucas

Yan Lucas
L
Pts: 5x2
Long Beach Open
ABS
4F
2016
11988

AJ Agazarm

AJ Agazarm
L
Pts: 2x0
LA National Pro
77KG
4F
2017
12195

Clark Gracie

Clark Gracie
L
Choke f/ omoplata
Pan American
82KG
8F
2017
12503

Ian Murray

L
Inside heel hook
ADCC WC Trials
77KG
R2
2017
12692

Andris Brunovskis

Andris Brunovskis
L
Kneebar
F2W 31
82KG
SPF
2017
12986

Gilbert Burns

Gilbert Burns
L
EBI/OT
SUG 4
88KG
SPF
2017
13347

Marcio Andre

Marcio Andre
L
Points
American Nats
76KG
SF
2017
13374

Daniel Hampton

L
Choke from back
American Nats
ABS
R1
2017
13490

Joao Rocha

Joao Rocha
L
Armbar
Austin Open
ABS
4F
2017
13645

Thomas Keenan

L
Referee Decision
F2W 45
82KG
SPF
2017
13769

Manuel Ribamar

Manuel Ribamar
L
Pts: 4x2
San Diego Pro
82KG
R1
2017
13806

Renato Canuto

Renato Canuto
L
Pts: 2x0
Grand Slam LA
77KG
4F
2017
13815

Yan Lucas

Yan Lucas
L
Pts: 2x0
Grand Slam LA
77KG
3RD
2017
14396

Jonathan Satava

Jonathan Satava
L
Pts: 10x0
GT Open
82KG
SPF
2017
14506

Diego Ramalho

Diego Ramalho
L
Referee Decision
F2W 56
82KG
SPF
2017
14674

AJ Agazarm

AJ Agazarm
L
Pts: 2x0
NoGi Worlds
73KG
4F
2017
14869

Renato Canuto

Renato Canuto
L
Pts: 4x2
European Open
ABS
R1
2018
14910

Michael Langhi

Michael Langhi
L
Armlock
European Open
76KG
R1
2018
15019

Kauan Barboza

Kauan Barboza
L
Referee Decision
LA Open
82KG
SF
2018
15033

Gustavo Batista

Gustavo Batista
L
Footlock
LA Open
ABS
4F
2018
15352

Leandro Lo

Leandro Lo
L
Pts: 6x0
Pan American
ABS
R2
2018
15393

Vitor Oliveira

Vitor Oliveira
L
Pts: 6x0
Pan American
76KG
R1
2018
15720

Enrico Cocco

Enrico Cocco
L
Inside heel hook
F2W 68
77KG
SPF
2018
17569

Victor Silverio

Victor Silverio
L
Referee Decision
Grand Slam LA
77KG
R1
2018
18712

Roberto Abreu

Roberto Abreu
L
Pts: 4x2
NoGi Worlds
ABS
R2
2018
19591

Levi Jones

Levi Jones
L
Choke from back
Pan American
76KG
8F
2019
20422

Gialysson Freitas

Gialysson Freitas
L
Pts: 14x2
Atlanta SPO
82KG
F
2019
20504

Michael Liera

Michael Liera
L
Pts: 9x2
Denver Open
82KG
F
2019
20623

Lucas Lepri

Lucas Lepri
L
Ezekiel
World Champ.
76KG
R2
2019
21852

DJ Jackson

DJ Jackson
L
Pts: 5x0
ADCC
77KG
R1
2019
22524

Jonnatas Gracie

Jonnatas Gracie
L
EBI/OT
BJJ Fanatics
ABS
R1
2019
23521

Oliver Taza

Oliver Taza
L
Inside heel hook
BJJ Fanatics GP
77KG
SF
2020
23774

Valdir Araujo

Valdir Araujo
L
Pts: 4x2
Jitz King
84KG
4F
2020
23808

Roberto Jimenez

Roberto Jimenez
L
Kimura
3CG Kumite III
81KG
SF
2020
23817

Andrew Wiltse

Andrew Wiltse
L
Referee Decision
F2W 146
82KG
SPF
2020
23899

Carlos Souza

L
Kneebar
SUBVERSIV 3
82KG
4F
2020
25030

William Tackett

William Tackett
L
Referee Decision
F2W 160
84KG
SPF
2021
25775

PJ Barch

PJ Barch
L
Inside heel hook
Emerald City
84KG
SF
2021
26154

Andrew Wiltse

Andrew Wiltse
L
Pts: 0x0, Adv
NoGi Pan Am.
85KG
SF
2021
26616

Mica Galvao

Mica Galvao
L
Guillotine
3CG MW GP
85KG
4F
2021
28850

Alan Sanchez

Alan Sanchez
L
Guillotine
ADCC EC Trials
77KG
R4
2021
30926

Alan Sanchez

Alan Sanchez
L
Dead orchard
EBI 19
77KG
4F
2022
31447

AJ Agazarm

AJ Agazarm
L
Referee Decision
ADCC WC Trials
77KG
R4
2022
33844

PJ Barch

PJ Barch
L
Cross face
SO Series VII
77KG
SF
2022
34876

Sebastian Rodriguez

Sebastian Rodriguez
L
Guillotine
Elevated GRPL
ABS
SPF
2022
34943

David Porter

L
Inside heel hook
ADCC Vegas
83KG
R1
2022
34989

Kevin Crane

L
Footlock
ADCC Vegas
ABS
8F
2022
36849

Igor Feliz

Igor Feliz
L
Pts: 4x0
NoGi Worlds
79KG
SF
2022
37827

Jon Blank

Jon Blank
L
Triangle
Tampa NGO
85KG
F
2023
39341

Ethan Vistro

L
Inside heel hook
ADCC OC
83KG
R1
2023
39356

Oliver Taza

Oliver Taza
L
Aoki lock
ADCC OC
83KG
RPC
2023
39978

Davis Asare

L
Straight ankle lock
ADCC Denver
83KG
4F
2023
40852

Oliver Taza

Oliver Taza
L
Kneebar
ADCC Dallas
83KG
F
2023
43136

Max Hanson

L
RNC
Enigma Inv
77KG
SF
2023
43583

Kieran Kichuk

Kieran Kichuk
L
Inside heel hook
ADCC ECTrials
77KG
8F
2023
44360

E. Said

L
Submission
ADCC Florida
83KG
R2
2023
44374

Ben Eddy

L
Submission
ADCC Florida
83KG
RPC
2023
10170

Danilo Borovic

W
Pts: 12x4
Copa Podio
86KG
GP
2016
10231

Hayward Charles

W
Guillotine
F2W 7
82KG
SPF
2016
10372

Jonathan Correa

W
Armbar
Ch. Summer Open
82KG
4F
2016
10472

Sergio Silva

W
Guillotine
G. Slam NG LA
83KG
F
2016
10689

Richie Martinez

Richie Martinez
W
Armbar
Guatemala Open
82KG
SPF
2016
10702

Unknown

W
Guillotine
Guatemala Open
O76KG
4F
2016
10703

Unknown

W
RNC
Guatemala Open
O76KG
SF
2016
11275

Brian Morizi

W
Guillotine
5 Super League
77KG
4F
2016
11278

Sean Roberts

Sean Roberts
W
Referee Decision
5 Super League
77KG
SF
2016
11312

Yan Lucas

Yan Lucas
W
Guillotine
Long Beach Open
82KG
SF
2016
11313

Piter Frank

W
Armbar
Long Beach Open
82KG
F
2016
11879

Steve Patterson

W
Armbar
F2W 26
82KG
SPF
2017
12184

Marcos Tinoco

Marcos Tinoco
W
Guillotine
Pan American
82KG
R1
2017
12489

Chris Hargett

W
Guillotine
ADCC WC Trials
77KG
R1
2017
13344

Victor de Matos

W
Reverse triangle
American Nats
76KG
4F
2017
13484

David Raab

David Raab
W
Guillotine
Austin Open
82KG
SF
2017
13485

Igor Paiva

Igor Paiva
W
Flying triangle
Austin Open
82KG
F
2017
13814

Mateus Garcia

W
Choke from back
Grand Slam LA
77KG
RR
2017
14397

Unknown

W
Arm in guillotine
GT Open
ABS
4F
2017
14398

Aloisio P.

W
Choke from back
GT Open
ABS
SF
2017
14665

Luis Henrique

W
Guillotine
NoGi Worlds
73KG
R1
2017
14671

Daniel Seth

W
Darce choke
NoGi Worlds
73KG
R2
2017
15016

Douglas Kallin

W
Arm in guillotine
LA Open
82KG
4F
2018
15030

Nichollas Grene

W
Pts: 2x0
LA Open
ABS
R1
2018
15066

Alexis Alduncin

Alexis Alduncin
W
Botinha
Mexico Pro
77KG
SF
2018
15067

Alberto Serrano

W
Arm in guillotine
Mexico Pro
77KG
F
2018
15347

Charles McGuire

W
Armbar
Pan American
ABS
R1
2018
15992

Bruno Machado

W
Referee Decision
Denver Open
82KG
SF
2018
15993

Gabriel Rocha

W
Referee Decision
Denver Open
82KG
F
2018
15999

Hugo Valdemar

W
Guillotine
Denver Open
ABS
R1
2018
16001

Rafael Vasconcelos

Rafael Vasconcelos
W
Guillotine
Denver Open
ABS
4F
2018
16002

Marcus Wilson

W
Choke from back
Denver Open
ABS
SF
2018
16411

Aleksandar Rajajic

W
Referee Decision
F2W 74
82KG
SPF
2018
16751

Brandon Bergeron

W
Arm in guillotine
F2W 78
82KG
SPF
2018
18706

Jared Dopp

Jared Dopp
W
Arm in guillotine
NoGi Worlds
ABS
R1
2018
19090

Tom Gallicchio

W
Triangle
ADCC WC Trials
77KG
R1
2019
19093

Kevin Melendrez

W
RNC
ADCC WC Trials
77KG
R2
2019
19097

Ryan Fillingame

W
RNC
ADCC WC Trials
77KG
R3
2019
19100

Max Rohskopf

W
RNC
ADCC WC Trials
77KG
4F
2019
19104

Stephen Simms

W
Pts: 3x2
ADCC WC Trials
77KG
SF
2019
19105

W. Tacket

W
Guillotine
ADCC WC Trials
77KG
F
2019
19589

Felipe Linhares

Felipe Linhares
W
Pts: 14x2
Pan American
76KG
R1
2019
20421

Jake Mackenzie

Jake Mackenzie
W
Pts: 4x4, Adv
Atlanta SPO
82KG
SF
2019
20502

Thomas Keenan

W
Choke from back
Denver Open
82KG
SF
2019
20609

Jeremy Jackson

Jeremy Jackson
W
Pts: 6x4
World Champ.
76KG
R1
2019
20980

Dan Martinez

W
Pts: 14x2
Jitz King
85KG
SPF
2019
23172

Kody Steele

Kody Steele
W
RNC
JitzKing
82KG
SPF
2020
23207

Pedro Rocha

Pedro Rocha
W
Arm in guillotine
Kasai Pro 7
84KG
SPF
2020
23517

Matheus Gonzaga

Matheus Gonzaga
W
Arm in guillotine
BJJ Fanatics GP
77KG
4F
2020
23769

Jake Watson

Jake Watson
W
Guillotine
Jitz King
84KG
R1
2020
23805

P. Leclerc

W
Points
3CG Kumite III
81KG
4F
2020
23838

Aaron Wilson

W
Arm in guillotine
F2W 147
79KG
SPF
2020
23884

Ruben Rivera

W
Kimura
F2W 150
80KG
SPF
2020
23890

Henrique Nobrega

W
Referee Decision
SUBVERSIV 3
82KG
R1
2020
24308

T. Cellamare

W
RNC
Subversiv 4
81KG
R1
2020
24319

Hugo Marques

Hugo Marques
W
Triangle
Subversiv 4
81KG
4F
2020
24324

Kody Steele

Kody Steele
W
Referee Decision
Subversiv 4
81KG
SF
2020
24329

Nick Ronan

W
Referee Decision
Subversiv 4
81KG
3RD
2020
24618

Saul Viayra

W
RNC
American NGN
79KG
SF
2020
24619

Carlos Souza

W
Darce choke
American NGN
79KG
F
2020
24994

Pedro Marinho

Pedro Marinho
W
Points
Third Coast
88KG
SPF
2020
25584

Andy Cordova

W
RNC
3CG 6 Absolute
85KG
SPF
2021
25763

Danny Stolfi

W
EBI/OT
Emerald City
84KG
R1
2021
25771

JM Holland

W
Guillotine
Emerald City
84KG
4F
2021
25978

JM Holland

W
Katagatame
SUBVERSIV 5
81KG
4F
2021
26145

Stanley Rosa

W
Pts: 37x2
NoGi Pan Am.
85KG
R1
2021
26151

Valdir Araujo

Valdir Araujo
W
Pts: 6x2
NoGi Pan Am.
85KG
4F
2021
28823

Ezekiel Broughard

W
Triangle
ADCC EC Trials
77KG
R2
2021
28835

Nick Newell

W
Guillotine
ADCC EC Trials
77KG
R3
2021
29778

Bobby Malof

W
Referee Decision
Kumite
75KG
F
2021
29779

Brendan Barry

W
Guillotine
BJJ Fanatics
82KG
RR
2021
29780

Brendan Barry

W
Guillotine
BJJ Fanatics
82KG
RR
2021
29998

Emilio Pereira

W
Katagatame
Sapateiro
ABS
4F
2022
29999

Adrian Nez

W
Armbar
Sapateiro
ABS
SF
2022
30000

Sam Barboza

W
Guillotine
Sapateiro
ABS
F
2022
30760

Bill Cooper

Bill Cooper
W
Guillotine
F2W 196
83KG
SPF
2022
30922

Ivan Leyva

W
Guillotine
EBI 19
77KG
R1
2022
31406

Drew Palomo

W
RNC
ADCC WC Trials
77KG
R1
2022
31424

David Lohrey

W
Guillotine
ADCC WC Trials
77KG
R2
2022
33837

Mike Flach

W
Kimura
SO Series VII
77KG
R1
2022
33842

Michael Salazar

W
EBI/OT
SO Series VII
77KG
4F
2022
34191

Jim Alers

W
Triangle shoulder lock
Sapateiro Inv
93KG
R1
2022
36846

Francisco Cuneo

Francisco Cuneo
W
RNC
NoGi Worlds
79KG
4F
2022
37824

Michael Delavega

W
Guillotine
Tampa NGO
85KG
4F
2023
37825

Enrique March

W
RNC
Tampa NGO
85KG
SF
2023
39354

Jesus Romero

W
RNC
ADCC OC
83KG
RPC
2023
39355

Kade Moffitt

W
Pts: 3x2
ADCC OC
83KG
RPC
2023
39975

Daniel Fu

W
RNC
ADCC Denver
83KG
R1
2023
39982

Clayton Wimer

W
Pts: 6x0
ADCC Denver
83KG
RPC
2023
39983

Oliver Vickery

W
Guillotine
ADCC Denver
83KG
RPC
2023
39985

Mohamed Ibrahim

W
Inside heel hook
ADCC Denver
83KG
RPC
2023
39986

Davis Asare

W
Triangle
ADCC Denver
83KG
3RD
2023
40840

Anthony Robinson

W
Guillotine
ADCC Dallas
83KG
R1
2023
40846

J. Nakashima

W
Guillotine
ADCC Dallas
83KG
8F
2023
40849

D. Smith

W
Guillotine
ADCC Dallas
83KG
4F
2023
40851

Sam Kilmer

W
Pts: 3x0
ADCC Dallas
83KG
SF
2023
42449

Brandon Wilson

W
RNC
ADCC Chicago
83KG
R1
2023
42450

Ernesto Rivera

W
Referee Decision
ADCC Chicago
83KG
4F
2023
42451

Cameron Hurd

W
Guillotine
ADCC Chicago
83KG
SF
2023
42452

Nathan Haddad

W
Pts: 5x2
ADCC Chicago
83KG
F
2023
43131

Michael Medeiros

W
Armbar
Enigma Inv
77KG
R1
2023
43132

Sam Kilmer

W
Pts: 5x0
Enigma Inv
77KG
4F
2023
43539

Jon Wilson

W
Guillotine
ADCC ECTrials
77KG
R1
2023
43557

Sam Senuk

W
RNC
ADCC ECTrials
77KG
R2
2023
44371

Steve Perez

W
RNC
ADCC Florida
83KG
RPC
2023
44373

D. Gonzales

W
Submission
ADCC Florida
83KG
RPC
2023