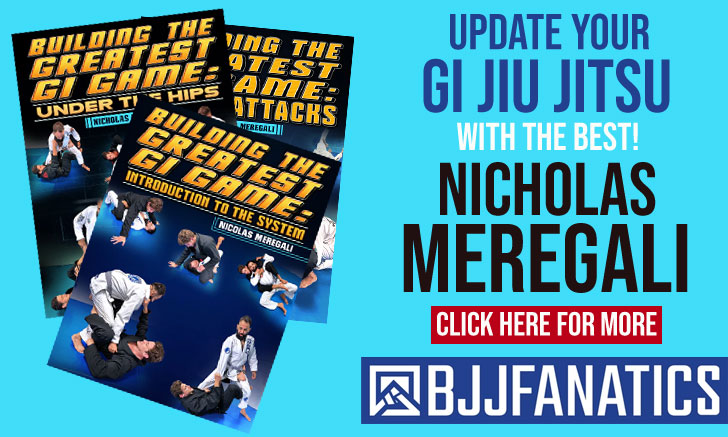 Marcelo Azevedo, also known by his nickname "Uirapuru" is a Brazilian Jiu Jitsu black belt under the illustrious Vinicius Draculino, who filled in Draculino's boots as head coach of Gracie Barra Belo Horizonte head quarters after the departure of the famous instructor to the United States. Marcelo Uirapuru is an accomplished grappler with wins in important Jiu Jitsu tournaments such as the IBJJF Mundial and World No Gi Championships, having also vast experience in MMA.
Marcelo Uirapuru Jiu Jitsu
Full Name: Marcelo Santos Azevedo
Nickname: The name Uirapuru carried over to Jiu Jitsu and MMA from Marcelo's Capoeira days. When Marcelo Azevedo trained capoeira at the age of 10, his instructor used to have a book with him named "1001 Animals from All Over the World". Anyone who started classes at this gym was told to open the book on a random page, and whichever page they landed on they would be nicknamed the animal on that page. Marcelo opened on the Uirapuru ( Musician Wren in English).
Lineage:  Mitsuyo Maeda > Carlos Gracie Sr. > Helio Gracie > Carlos Gracie Junior > Vinicius Magalhães > Marcelo Azevedo
Main Achievements:
IBJJF World Champion No Gi (2008 Master)
IBJJF World Master & Seniors Champion (2012 Senior 1)
IBJJF International Masters & Seniors (2012 Senior 1)
CBJJ Brazilian National Teams Champion (2004)
IBJJF World Championship 3rd Place (2004 black)
IBJJF World No-Gi Championship 3rd Place (2009**/2008 Master)
Brazilian Nationals 3rd Place (2003/2004)
Main Achievements (Colored Belts):
IBJJF World Champion (2002 brown)
CBJJ Brazilian National Champion (1998 blue, 2000 purple)
IBJJF Pan American Champion (1999 blue, 2000 purple)
CBJJ Brazilian National 2nd Place (2002 brown)
IBJJF World Championship 3rd Place (2001** brown)
* Absolute
** Weight and absolute
Favourite Position/Technique: Triangle and "Botinha" (straight footlock)
Weight Division: Meio Pesado (88kg/194lbs)
Team/Association: Gracie Barra – BH
Marcelo Azevedo "Uirapuru" Biography
Marcelo Azevedo, or Marcelo Uirapuru, was born on the 7th of July, 1975 in Belo Horizonte (State of Minas Gerais) Brazil. He started training Capoeira at the age of 10, but by the time he reached 16, the word had spread about Royce Gracie and his amazing deeds in the UFC, where he won the first two editions of the event, being the lightest athlete in the tournament. It was around the same time that Vinicius Magalhães, AKA Draculino had moved into Belo Horizonte to help develop the sport in Minas Gerais and further broaden the Gracie Barra franchise.
Knowing that a big name of the sport such as Draculino was in town, Marcelo Uirapuru immediately sought Vinicius' school. Marcelo remained by Draculino's side from white belt to black belt, earning his black belt on the 17th of December 2002 after a long list of achievements in the lower levels.
Marcelo Uirapuru also ventured into MMA for a an extensive period. He's start in a new contact sport was not a very auspicious one, with three losses against top level competition such as Renato Sobral (former UFC fighter and title contender), Alexandre "Vaca" (the experienced power house from Kimura Nova Uniao) and Eduardo Conceição (Jamelão), as well as fights against Jorge Rivera and Rory Markham (both former UFC) early on. Marcelo did end up balancing his record with a decent victorious run further along in his career.
Although Marcelo Azevedo lived all over the world including Europe (Spain and Holland) and the US (Houston) where he taught BJJ, he eventually settled down in his native town of Belo Horizonte, the state capital of Minas Gerais, where he took over his Master's position as head coach of the Gracie Barra headquarters. There he has helped develop the games of world champions such as Pablo Silva, Felipe Preguiça and many others.
After many years stationed in BH, Azevedo would return to the United States to head a Gracie Barra academy in Pearland.
Marcelo Azevedo Highlight

Marcelo Azevedo vs Andre McLaughlin

Marcelo Azevedo vs Carlos Alexandre "Pescoço"