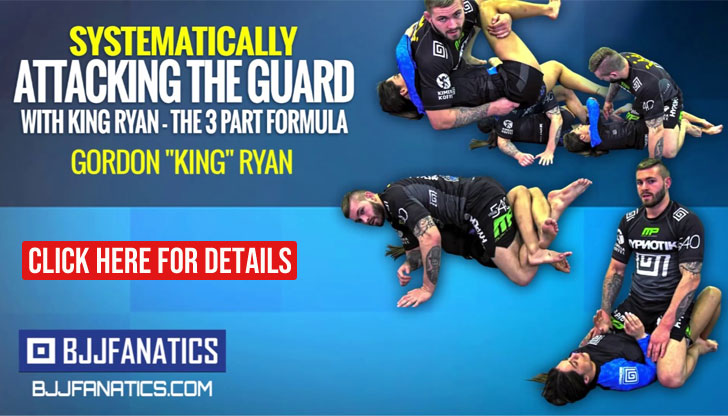 Roberto Godoi is a Brazilian Jiu Jitsu black belt by Waldomiro Perez (Junior). Godoi was one of the top competitors of his generation and one of the big names to come out of the Sao Paulo grappling circuit, being also founder of one of the strongest teams in the region, The Macaco/Godoi (today Godoi Jiu JItsu), Godoi is also famed for his bitter break up with his team partner Jorge "Macaco" Patino in 2001, a break up that made the headlines of many magazines and turned into a heated rivalry on and off the mats.
Roberto Godoi Jiu Jitsu
Full Name: Roberto Godoi
Nickname: n/a
Lineage: Mitsuyo Maeda > Carlos Gracie > Helio Gracie > Rickson Gracie > Marcelo Behring > Waldomiro Perez > Roberto Godoi
Main Achievements:
IBJJF World Master Champion (2014* Master 2, 2016** Master 3)
IBJJF World No-Gi IBJJF Champion (2008** Master)
IBJJF Pans Champion (2000 adult, 2008/2009*/2010 Master, 2011/2012/2013**/2014** Master 2, 2015**/2016/2017** Master 3)
IBJJF Master & Seniors International Champion (2008 Master, 2011**/2012** Master 2)
CBJJ Brazilian National Champion (2007 adult, 2009**/2010** Master, 2012 Master 2, 2016 Master 3)
IBJJF World Master Championship 2nd Place (2013/2014/2015 Master 2)
IBJJF World No-Gi IBJJF Championship 2nd Place (2015 Master 3)
IBJJF Pans Championship 2nd Place (1997 adult, 2010 Master, 2016 Master 3)
CBJJ Brazilian National Championship 2nd Place (2002 adult, 2013/2016 Master 3)
IBJJF World Championship 3rd Place (1997/2000/2002)
IBJJF World No-Gi IBJJF Championship 3rd Place (2015* Master 3)
IBJJF Pans Championship 3rd Place (1997*/2001/2002/2004 adult, 2007/2009 Master, 2012 Master 2)
IBJJF South American Masters Championship 3rd Place (2017 Master 3)
IBJJF World Master Championship 3rd Place (2013* Senior 1)
Weight Category: Pesado (94kg-207lbs)
Team/Association: Godoi Jiu Jitsu
Roberto Godoi Biography
Roberto Godoi was born in Sao Paulo, Brazil. He started training Jiu Jitsu in 1988 with the late Marcelo Behring, one of the great Jiu Jitsu figures of the 1980's. Godoi trained under the wild Behring for the duration of one year until Marcelo decided to move to Australia. He then began training with the founder of Companhia Atlética Paulista (Cia Paulista) Valdomiro Perez who was a brown belt under Behring at the time.
In 1992 Jorge Patino "Macaco" who was a school friend and neighbour of Godoi decided to join Perez's BJJ academy also. Patino was a Rugby player who also practised Judo while Godoi was already a purple belt at the time, with two Brazilian national titles under his belt.
In 1994 Roberto opened an affiliate school of the Cia Paulista in partnership with Valdomiro Perez and Jorge Patino. That partnership lasted for one year until Macaco and Godoi decided to cut their bond with the Cia Paulista. Roberto and Jorge perused their careers as athletes during the following year, both premiering in MMA, Macaco made a staggering total of 5 fights that year winning the belt of the "Circuito de Lutas" while Roberto Godoi also won 2 fights by submission in 1995.
On 1996 (a year after the break) they returned to teaching BJJ, opening their own gym, the Academia Macaco/Godoi. Their team was extremely successful for the following 4 years, winning 4 Paulista (Sao Paulo State) championships on a row, beating many of the strong competitors such as Ryan Gracie Academy, Alliance and Cia Paulista, a truly remarkable feature for such a fresh team. Their partnership seemed to work perfectly with both Jiu Jitsu men's schedules, "Macaco" always competing elevating the academy's name while also teaching a class, and Roberto Godoi taking his low key profile though being an immensely important figure teaching most of the athletes.
In 2001 the shock break up occurred, the two parted in less then amicable terms over money arrangements. Patino went on to open his "Macaco Gold Team" while Roberto opened the "Godoi Jiu Jitsu". Many of the fighters followed Godoi, people like Marco Barbosa, Bruno Frazatto and Roberto Tozi. Jorge took offence on the fighters that did not follow his footsteps which aggravated further an already troubled relationship. The two coaches exchanged harsh words on many occasions. Godoi claimed that "Macaco" used to call him Master when they owned the Macaco/Godoi, while Patino replied "when we meet I knock him out and I offer him my hand for Godoi to get back up I will then ask him: Do you want my hand master?". Godoi also stated on another interview: "what he has is envy, Macaco is acting like a betrayed woman"
With such grief being yelled from both sides a match between the two was inevitable, and it did happen. In jiu jitsu it happened twice, with one fight going to Macaco by advantages and the other going to Godoi by sweep on the final of the Sao Paulo State Championship. In 2006 the two were offered a large sum of money to fight in an MMA main event. The offer was accepted in a fight were Macaco TKO'ed Godoi on the second round.
Today Godoi does seminars throughout the World and has his own academy in Sao Paulo.
Roberto Godoi vs Macaco Patino