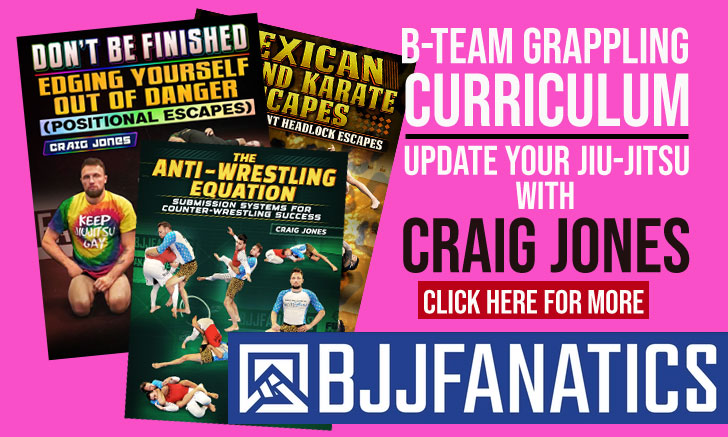 Gabriel Vella is a Brazilian jiu jitsu black belt under Ryan Gracie who was one of the top competitors of his generation. Vella became a well known representative of the state of Sao Paulo (Brazil) during the late 1990's, a decade when the sport was dominated by Rio de Janeiro. Gabriel Vella was linked to a few different BJJ academies, but particularly Ryan Gracie Academy and Alliance.
Gabriel Vella Jiu Jitsu
Full Name: Gabriel Vella de Freitas
Nickname: n/a
Lineage: Mitsuyo Maeda > Carlos Gracie > Carlos Gracie Jr > Ryan Gracie > Gabriel Vella
Main Titles:
World Champion (2009, 2002)
Pan American Champion (2010, 2004, 2000 – brown belt division, 1998 – purple belt division)
World No-Gi Champion (2008)
Brazilian National Champion (1998 – purple belt division)
World Pro Cup Champion (2010)
Weight Category: Pesadíssimo (Over 221lbs)
Favourite Position/Technique: Guard Passing, Baseball Choke
Team/Association: Gracie Elite/Ryan Gracie
Gabriel Vella Biography
Gabriel Vella de Freitas was born on the 30th of April 1981 in Sao Paulo. Gabriel came from a sporting family (his father Luiz Otavio Batista de Freitas was a South American Swimming Champion) and it did not come as a surprise that him and his brother Thiago were sports fanatics as well from an early age, practicing several sports such as Water Polo, Team Handball, Football (soccer), Karate and Judo.
When Gabriel was 14 years old he found Jiu Jitsu (BJJ). He was training Judo at the time while his brother had started training BJJ at Ryan Gracie's gym in Sao Paulo (the Gracie's first in that state). Gabriel came over to check his brother's (Thiago) training. Ryan saw the young Vella standing at the side of the mat and invited him to train. Gabriel took the invite and liked the training so much he joined the gym.
Gabriel and his brother were hooked to BJJ from the get go, they started training two times per day and were terrorizing the lower belt divisions by 1997 with their aggressive style always looking for the finish. This success did not pass unnoticed by the media who soon started requesting interviews with the wiz kid from Sao Paulo. At the time Sao Paulo had very few fighters that got close to competing with the elite of Rio de Janeiro, the exceptions were Godoi and Patino "Macaco", but this new breed of fighters led by the Vella brothers would bring a little of the attention to Sao Paulo.
In 2000 after sweeping pretty much every important trophy there was to win in the lower belt divisions, Gabriel Vella was awarded his Black Belt from the hands of Ryan Gracie. In 2003 after winning the World Title in 2002 he decided to test BJJ's efficiency by shifting to MMA. Straight off the bat he found himself competing with Yuki Kondo, the king of pancrase, a fight that ended in a draw.
Gabriel Vella spent the new few years away from the main stream competitive Jiu Jitsu. having difficulties in finding the drive to fight at the Ryan Gracie academy. He ended taking drastic measures to ensure the progression of his BJJ career by shifting to their Sao Paulo rivals, the Alliance, who at the time had a more professional team that provided a coverage impossible to obtain at the Gracie Academy. Though criticized by the BJJ community he left and found his competitive edge again winning the Nogi World tournament and reaching the finals of many important tournaments.
Though Gabriel Vella found success at Alliance, his ideas clashed with those of the Alliance management leading him to eventually leave the group and return to RGA, then led by Celso Vinicius (who took over after the death of Ryan Gracie).
Gabriel Vella Grappling Record
19 WINS
BY POINTS


BY ADVANTAGES




BY SUBMISSION




BY DECISION




BY PENALTIES




BY DQ



4 SUBMISSIONS WINS
#214eb8
Baseball choke
50
2
7 LOSSES
BY POINTS


BY ADVANTAGES




BY SUBMISSION




BY DECISION




BY PENALTIES




BY DQ



0 SUBMISSION LOSSES
Gabriel Vella Fight History
ID
Opponent
W/L
Method
Competition
Weight
Stage
Year
1823

Andre Galvao

Andre Galvao
L
Points
Super Challenge
ABS
4F
2007
1989

Alexandre Ribeiro

Alexandre Ribeiro
L
Points
World Champ.
ABS
SF
2008
2031

Braga Neto

Braga Neto
L
Pts: 2x2, Adv
NoGi Worlds
ABS
F
2008
2585

Bernardo Faria

Bernardo Faria
L
Pts: 2x0
Pan American
ABS
4F
2010
2644

Ricardo Abreu

Ricardo Abreu
L
Pts: 2x0
World Pro.
O92KG
F
2010
2896

Antonio Peinado

Antonio Peinado
L
Points
Pan American
O100KG
SF
2011
4521

DJ Jackson

DJ Jackson
L
Pts: 2x0
Pan American
ABS
R2
2013
682

Hugo Carioni

W
Baseball choke
World Champ.
100KG
R1
2002
683

Lucio Linhares

W
Cross choke
World Champ.
100KG
4F
2002
686

Roberto Tozi

Roberto Tozi
W
Baseball choke
World Champ.
100KG
SF
2002
975

Adriano Maciel

W
Pts: 2x0
BB Challenge 3
100KG
SPF
2004
1007

Eduardo Telles

Eduardo Telles
W
Pts: 0x0, Adv
Pan American
94KG
SF
2004
1818

Eduardo Telles

Eduardo Telles
W
Referee Decision
Super Challenge
ABS
R1
2007
1970

Eduardo Paulista

W
Points
World Champ.
O100KG
R1
2008
1977

Daniel Aguilar

W
Armbar
World Champ.
ABS
R1
2008
2027

Andre Freitas

W
Pts: 7x0
NoGi Worlds
O100KG
4F
2008
2028

Bruno Paulista

Bruno Paulista
W
Referee Decision
NoGi Worlds
O100KG
SF
2008
2030

Rodrigo Cavaca

Rodrigo Cavaca
W
Pts: 2x0
NoGi Worlds
O100KG
F
2008
2050

Fabricio Werdum

Fabricio Werdum
W
Points
Capital Challenge
O99KG
SF
2008
2052

Charles Cachoeira

W
Points
Capital Challenge
O99KG
F
2008
2123

Charles Cachoeira

W
Points
Brasileiro
ABS
SF
2009
2370

Marcel Fortuna

Marcel Fortuna
W
Pts: 2x0
World Champ.
O100KG
4F
2009
2372

Andre Freitas

W
Pts: 8x0
World Champ.
O100KG
SF
2009
2373

Rodrigo Cavaca

Rodrigo Cavaca
W
Pts: 0x0, Adv
World Champ.
O100KG
F
2009
2573

Luiz Theodoro

W
Adv
Pan American
O100KG
F
2010
4515

Matt Jubera

W
N/A
Pan American
ABS
R1
2013
Gabriel Vella vs Tererê