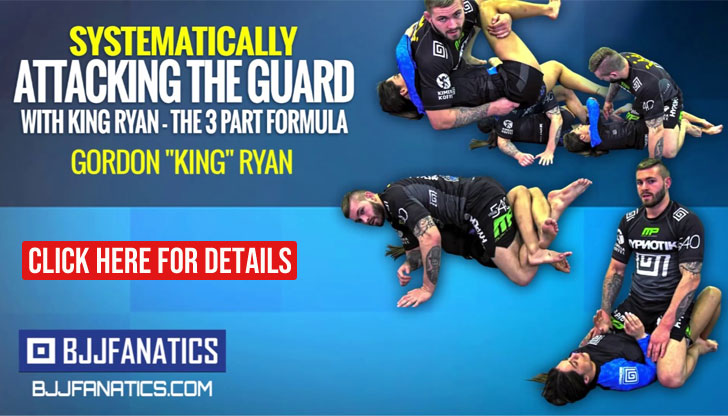 Eduardo Venâncio, also known in the Jiu Jitsu world as 'Brigadeiro', is a black belt in Judo and Brazilian Jiu Jitsu under the legendary Ricardo De La Riva (BJJ), widely regarded as one of the top grappling coaches of his generation. During his career as an instructor Brigadeiro graded over 100 black belts, including the very first female black belt IBJJF World Champion – Thaís Ramos.
Eduardo Brigadeiro Jiu Jitsu
Full Name: Eduardo Venâncio
Nickname: Brigadeiro (Portuguese for Brigadier) which is also a popular Brazilian sweet. The name started due to Eduardo's grandfather who was a brigadier in the Brazilian navy, and also because Venâncio was addicted to the sweets when he was young.
Lineage: Mitsuyo Maeda > Carlos Gracie > Carlson Gracie > Ricardo De La Riva > Eduardo Venâncio
Main Achievements:
IBJJF Long Beach Int. Open Champion (2016* Master 3)

IBJJF Atlanta Summer Int. Open Champion (2016* Master 3)
IBJJF Miami Fall Int. Open 3rd Place (2016 Master 3)
IBJJF World Championship 3rd Place (1996)
Favourite Position/Technique: Guard passer
Weight Division: Pesado (94kg/207lbs)
Team/Association: Brigadeiro Jiu Jitsu
Eduardo 'Brigadeiro' Venâncio Biography
Eduardo Venâncio was born on the 12th of November, 1974 in Rio de Janeiro, Brazil. He started training Judo from an early age, being a tough competitor and reaching his black belt in the Japanese martial art by the age of 16.
It was at his Judo club that he was first introduced to Jiu Jitsu, by Cláudio França. França, who was a BJJ blue belt at the time, trained Judo regularly at the club and sometimes showed a few BJJ positions to the Judocas. Eduardo's interest in BJJ was limited at this time.
Brigadeiro's deposition towards BJJ changed after an altercation inside the Riviera Country Club in Barra da Tijuca when himself and a good friend of his by the name of 'Tuninho' ran into trouble with Ryan Gracie and 'Jamelão' – two well known teen competitors Jiu Jitsu's circuit. The fight was mediated by Ralph Gracie and the result of the scrap propelled Eduardo's desire to seek Jiu Jitsu training.
Shortly after this incident, Cláudio França earned his purple belt and started (coincidentally) coaching at this same Riviera Club, naming the class: Riviera Jiu Jitsu. Shortly after Cláudio (with Joe Moreira) organized the first Copa Riviera (Riviera Cup of Jiu Jitsu), Brigadeiro fought and placed second in the tournament, earning his 'instructor's blue belt' the following day.
Eduardo Venâncio trained mainly with França, Joe Moreira and 'Marção' Vinicius, until the trio slowly migrated to the United States. Brigadeiro had also been coaching since he was a blue belt, and being one of the top members of França's gym he decided to continue the work on his own, thus starting the Brigadeiro Jiu Jitsu association. As he was still climbing the ranks of BJJ himself, Brigadeiro also sought Ricardo De La Riva to be his instructor earning his black belt from the guard master at the age of 20.
Brigadeiro's work continued, expanding to Paraná and Brasilia while creating one of the toughest BJJ schools in the country. The school has progressed year by year internally and on an international level with academies spread all over the world. He was also one of the first to travel to Europe where he helped spread the Jiu Jitsu gospel through seminars.
By the end of 2015 Eduardo gave start to a new journey in life. Looking to expand to the profitable North American Market Brigadeiro moved to the State of Florida, settling in Jacksonville. The new challenge motivated Venâncio to return to competition in the Masters division, which he did in 2016 and 2017.