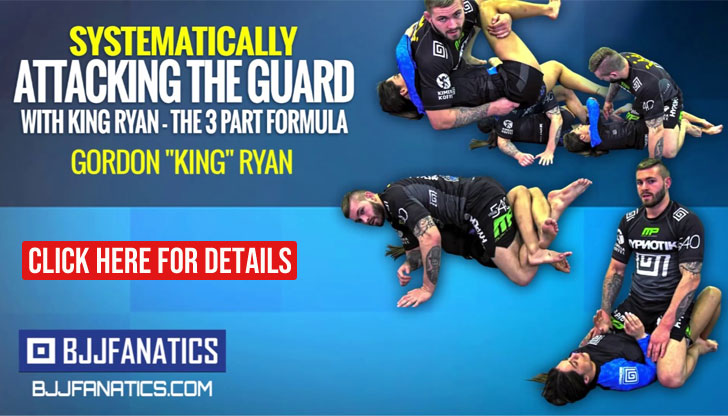 Santeri Lilius is a jiu-jitsu black belt under Roger Gracie and the co-founder of the LiliusBarnatt Martial Arts Academy, located in the Costa Del Sol – Spain. Originally from Finland, Santeri became a familiar face on the European competitive grappling scene after solid performances on the International Brazilian Jiu-Jitsu Federation (IBJJF) circuit, where he won several International Opens.
Santeri Lilius Jiu-Jitsu
Full Name: Santeri Lilius
Nickname: N/A
Lineage:  Carlos Gracie > Helio Gracie > Carlos Gracie Junior > Roger Gracie > Santeri Lilius
Main Achievements:
1st Place ADCC European Trials (2022)
1st Place IBJJF European Open NOGI (2022)
1st Place IBJJF Rome Open (2016)
1st Place IBJJF Berlin Open (2015)
1st Place IBJJF Berlin Open NoGi (2015 / 2016)
1st Place IBJJF Madrid Open (2019)
1st Place IBJJF Spanish Nationals (2019)
1st Place IBJJF Spanish Nationals NOGI (2016)
2nd Place IBJJF Spanish Nationals (2016)
2nd Place IBJJF London Fall Open (2015 / 2016)
2nd Place UAEJJF Grand Slan, LDN (2017)
2nd Place SBJJL Finnish Open (2016)
3rd Place IBJJF World Championship NOGI (2022)
3rd Place IBJJF European Open (2020)
3rd Place UAEJJF Grand Slan, LDN (2020)
Main Achievements (Colored Belts):
2nd Place IBJJF European Open (2014 brown)
3rd Place IBJJF European Open (2015 brown)
Favorite Position/Technique: Estima Lock
Weight Division: Peso Pesado (94kg/207lbs)
Team/Association: LiliusBarnatt Martial Arts
Santeri Lilius Biography
Santeri Lilius was born on June 26, 1991, in a small Finnish town named Karkola, growing up in Lahti, also in Finland.
As a child, Santeri was committed to ice hockey, a very popular sport in his home country which he played competitively up until his 14th birthday at the junior national level. As a 15-year-old Lilius chose to swap the ice rings for the mats, then joining a Gensei Ruy Karate school.
It was while training karate that the young martial artist discovered jiu-jitsu. His sensei was an avid fan of BJJ and made an effort to incorporate a few useful grappling techniques on to his curriculum, this experience would ramp Santeri up to join a local mixed martial arts school. MMA was booming at the time and Lilius loved the sport and aspired to someday follow a career as a cage-fighter.
Unfortunately, during his early days training MMA, Lilius broke a rib from a kick he received while sparring. The incident drove Santeri's parents to cancel his membership and veto his training, fearing for the young man's safety. Although gutted about his parents' decision, Lilius decided then to join a jiu-jitsu school (where there were no strikes) with the intention of waiting until he was 18YO (adulthood), when he could re-sign for MMA.
It was in the early months of 2008 that Santeri joined the classroom of Raimo Posti and Marko Kallioinen, both blue belts instructors at the time, who represented the Lucio Linhares team. From there Lilius trained at a variety of locations, being promoted by several instructors of different squads, with his black belt promotion occurring in 2015, from the hands of Roger Gracie.
After finishing his studies at the Sports Institute of Finland, Lilius was offered a job, working as a jiu-jitsu coach in the South of Spain, an offer grabbed with both hands by the young grappler. It would take Santeri 5 years to gather the funds to found his own gym in the region, in a partnership with UFC veteran cage fighter Luke Barnatt. The two formed the LiliusBarnatt Martial Arts dojo, located in the famous Mediterranian beach area of Costa Del Sol Torremolinos, Spain.
Santeri Lilius and his partner, and fellow BJJ black belt, Emilia Tuukkanen are also revered for their work outside the jiu-jitsu mats, in the dog shelters of Southern Spain, a work BJJ Heroes reported on in the past – check here for that coverage.
Santeri Lilius Grappling Record
74 WINS
BY POINTS


BY ADVANTAGES




BY SUBMISSION




BY DECISION




BY PENALTIES




BY DQ



40 SUBMISSIONS WINS
#224aba
Inside heel hook
5
2
#ff9124
Bow and arrow
5
2
#22c9a5
Choke from mount
3
1
#fad223
Outside heel hook
3
1
#03861f
Triangle armbar
3
1
#039a1f
Straight ankle lock
3
1
32 LOSSES
BY POINTS


BY ADVANTAGES




BY SUBMISSION




BY DECISION




BY PENALTIES




BY DQ



17 SUBMISSIONS LOSSES
#214eb8
Choke from back
18
3
#d1212a
Triangle armbar
12
2
#224aba
Bow and arrow
6
1
#bf1f6c
Inside heel hook
6
1
#22c9a5
Baseball bat choke
6
1
#fad223
Monted triangle
6
1
Santeri Lilius Fight History
ID
Opponent
W/L
Method
Competition
Weight
Stage
Year
7036

Darragh OConaill

Darragh OConaill
L
Baseball bat choke
Rome Open
88KG
SF
2015
8826

Luca Anacoreta

Luca Anacoreta
L
Armbar
London FO
88KG
F
2015
8830

Luca Anacoreta

Luca Anacoreta
L
Armbar
London FO
ABS
SF
2015
8833

C. Negromonte

C. Negromonte
L
Triangle armbar
London FNGO
85KG
F
2015
9134

Diego Ramalho

Diego Ramalho
L
Points
London WO
88KG
F
2016
9996

Otavio Sousa

Otavio Sousa
L
Choke from back
World Champ.
82KG
R2
2016
10750

Luca Anacoreta

Luca Anacoreta
L
Choke from back
London F. Open
88KG
SF
2016
11291

Horlando Monteiro

Horlando Monteiro
L
Pts: 4x2
Berlin Open
82KG
RR
2016
11293

Horlando Monteiro

Horlando Monteiro
L
Monted triangle
Berlin Open
82KG
F
2016
11596

Bruno Borzani

L
Submission
European Open
88KG
R1
2017
12024

Jackson Sousa

Jackson Sousa
L
Kneebar
London WO
ABS
SF
2017
12068

C. Negromonte

C. Negromonte
L
Ezekiel
Grand Slam LDN
85KG
F
2017
13138

Manuel Ribamar

Manuel Ribamar
L
Pts: 19x0
World Champ.
82KG
R1
2017
14930

Tommy Langaker

Tommy Langaker
L
RNC
European Open
82KG
R2
2018
15170

Bradley Hill

L
Referee Decision
Polaris 6
84KG
SPF
2018
15333

Henrique Cardoso

Henrique Cardoso
L
Bow and arrow
London WO
88KG
SF
2018
15465

Mathias Ribeiro

L
Referee Decision
Spanish Nat.
82KG
F
2018
15846

Max Lindblad

Max Lindblad
L
Choke from back
Finnish Open
82KG
F
2018
17960

C. Negromonte

C. Negromonte
L
Pts: 8x0
German Nat. Pro
85KG
F
2018
18921

Horlando Monteiro

Horlando Monteiro
L
Triangle armbar
European Open
88KG
4F
2019
19541

Eduardo Rios

Eduardo Rios
L
Referee Decision
Polaris 9
85KG
SPF
2019
20992

Thiago Sa

Thiago Sa
L
Pts: 2x9
Spanish Nats
94KG
SF
2019
21396

C. Negromonte

C. Negromonte
D
---
Battle Grapple
85KG
SPF
2019
22179

Adam Wardzinski

Adam Wardzinski
L
Pts: 13x9
European NoGi
91KG
SF
2019
22190

Devhonte Johnson

Devhonte Johnson
L
Pts: 6x0
European NoGi
ABS
R1
2019
23048

Fellipe Andrew

Fellipe Andrew
L
Triangle
European Open
ABS
R2
2020
23130

Bruno Lima

Bruno Lima
L
Pts: 0x0, Adv
European Open
88KG
SF
2020
23657

Jackson Sousa

Jackson Sousa
L
Pts: 9x4
Grand Slam LDN
94KG
SF
2020
30708

Jacob Couch

Jacob Couch
L
Referee Decision
GrappleFest 11
90KG
SPF
2022
31143

Catriel Oliveira

Catriel Oliveira
L
Pts: 1x0
Grand Slam LDN
94KG
SF
2022
35033

Lucas Barbosa

Lucas Barbosa
L
Pts: 3x0
ADCC
88KG
R1
2022
36882

Andre Porfirio

Andre Porfirio
L
Kneebar
NoGi Worlds
91KG
SF
2022
38526

Luke Griffith

L
Inside heel hook
GrappleFest
92KG
SPF
2023
42512

Nicky Ryan

Nicky Ryan
D
---
Quintet 4
ABS
NA
2023
7035

Gareth Neal

W
Pts: 4x2
Rome Open
88KG
SF
2015
8804

Ertan Balaban

W
Bow and arrow
Berlin Open
88KG
SF
2015
8805

Radoslaw Turek

W
Injury
Berlin Open
88KG
F
2015
8809

Radoslaw Turek

W
Estima lock
Berlin NoGi Open
85KG
SF
2015
8810

Marco Machado

W
Triangle armbar
Berlin NoGi Open
85KG
F
2015
8825

Francisco Caraballo

W
Toe hold
London FO
88KG
SF
2015
8827

Hassine Azarkan

W
Toe hold
London FO
ABS
4F
2015
8838

Jesse Vuorio

W
Toe hold
Primates II
ABS
4F
2015
8839

Harri Paakkola

W
Straight ankle lock
Primates II
ABS
SF
2015
8840

S. Brosche

W
Triangle
Primates II
ABS
F
2015
9132

Marcos Filho

W
Katagatame
London WO
88KG
SF
2016
9418

Julien Crazier

W
Estima lock
Rome Open
88KG
SF
2016
9419

Max Carvalho

Max Carvalho
W
Pts: 4x0
Rome Open
88KG
F
2016
9990

Alessandro Silva

W
Pts: 6x4
World Champ.
82KG
R1
2016
10749

Gareth Neale

W
Pts: 7x0
London F. Open
88KG
4F
2016
11292

Felipe Cancado

W
Toe hold
Berlin Open
82KG
RR
2016
11294

Felipe Cancado

W
Toe hold
Berlin NGO
85KG
F
2016
12022

Pedro Bessa

W
Pts: 4x2
London WO
ABS
4F
2017
12063

Mathias Ribeiro

W
Pts: 6x6, Adv
Grand Slam LDN
85KG
4F
2017
12067

Bradley Hill

W
Pts: 2x0
Grand Slam LDN
85KG
SF
2017
14928

Raphael Silva

W
Pts: 6x2
European Open
82KG
R1
2018
15461

Guillermo Pons

W
RNC
Spanish NGN
85KG
SF
2018
15462

Auyb Magomedov

W
Pts: 0x0, Adv
Spanish NGN
85KG
F
2018
15464

Arthur Pucci

W
Pts: 4x2
Spanish Nat.
82KG
SF
2018
15841

Tore Erevik

W
Referee Decision
Finnish Open
82KG
R1
2018
15843

Toni Toivanen

W
Estima lock
Finnish Open
82KG
4F
2018
15845

Tuomas Ylinampa

W
Pts: 4x2
Finnish Open
82KG
SF
2018
17958

Z. Abderrahman

W
Estima lock
German Nat. Pro
85KG
SF
2018
18217

Pedro Farkas

W
RNC
Lisbon Open
88KG
F
2018
18510

Pedro Bessa

W
Referee Decision
Polaris 8
82KG
SPF
2018
18918

Philippe Pomaski

Philippe Pomaski
W
Pts: 2x0
European Open
88KG
R1
2019
20994

Angel Cicero

W
Pts: 3x0
Spanish Nats
ABS
4F
2019
20995

Thiago Sa

Thiago Sa
W
Estima lock
Spanish Nats
ABS
SF
2019
20996

Alex Cabanes

W
Pts: 6x4
Spanish Nats
ABS
F
2019
22176

Charles Mcguire

W
RNC
European NoGi
91KG
4F
2019
22618

Ivan Grade

W
Bow and arrow
Madrid Open
94KG
SF
2019
22619

Guilherme Jardim

W
Pts: 4x0
Madrid Open
94KG
F
2019
23035

Thomas Julien

W
Estima lock
European Open
ABS
R1
2020
23040

Thomas Julien

W
Footlock
European Open
ABS
R1
2020
23121

Alec Baulding

Alec Baulding
W
Pts: 12x4
European Open
88KG
R1
2020
23126

Angel Cicero

W
Choke from mount
European Open
88KG
4F
2020
23525

Stuart Cooper

W
Katagatame
Grapplefest 8
90KG
SPF
2020
23654

Matko Kvesic

W
Katagatame
Grand Slam LDN
94KG
4F
2020
23660

Pedro Elias

Pedro Elias
W
Pts: 6x5
Grand Slam LDN
94KG
RPC
2020
23661

Stan Varshavskiy

W
Pts: 10x0
Grand Slam LDN
94KG
3RD
2020
24066

Taylor Pearman

D
---
Polaris Squads
ABS
RR
2020
24075

Darragh OConaill

Darragh OConaill
D
---
Polaris Squads
ABS
RR
2020
26325

Fernando Mera

W
Katagatame
ADCC Spain
ABS
4F
2021
26326

Seba Santana

W
RNC
ADCC Spain
ABS
SF
2021
26327

Dimitris Marga.

W
Heel hook
ADCC Spain
ABS
F
2021
31142

Adam Wardzinski

Adam Wardzinski
W
Pts: 4x4
Grand Slam LDN
94KG
4F
2022
32282

Mehdad Kavand

W
DQ
ADCC EU Trials
88KG
R1
2022
32284

Manuel Pilato

W
Heel hook
ADCC EU Trials
88KG
R2
2022
32287

Freddie Barker

W
Pts: 4x2
ADCC EU Trials
88KG
R3
2022
32289

Adam Niedzwiedz

W
Referee Decision
ADCC EU Trials
88KG
8F
2022
32292

Ben Dyson

W
Pts: 3x0
ADCC EU Trials
88KG
4F
2022
32293

Piotr Frechowicz

W
Armbar
ADCC EU Trials
88KG
SF
2022
32295

Bruno Lima

Bruno Lima
W
Pen
ADCC EU Trials
99KG
F
2022
36106

Bradley Hill

W
RNC
European NG
91KG
R1
2022
36109

Antonio Stanic

W
RNC
European NG
91KG
4F
2022
36111

Hunter Colvin

W
RNC
European NG
91KG
SF
2022
36113

Janis Riekstins

W
Pts: 6x0
European NG
91KG
F
2022
36875

Juan Escudero

W
RNC
NoGi Worlds
91KG
8F
2022
36879

Alejandro Tolmos

W
Pts: 4x0
NoGi Worlds
91KG
4F
2022
41599

Alvaro Martinez

W
Inside heel hook
ADCC SPA Cup
91KG
SF
2023
41600

Abimael Garcia

W
RNC
ADCC SPA Cup
91KG
F
2023
41601

Rafael Rodriguez

W
RNC
ADCC SPA Cup
ABS
R1
2023
41602

Roger Dominguez

W
Inside heel hook
ADCC SPA Cup
ABS
4F
2023
41603

Artem Shevchuk

W
Outside heel hook
ADCC SPA Cup
ABS
SF
2023
41604

Caue Leal

W
RNC
ADCC SPA Cup
ABS
F
2023
42605

Faris Lamkadem

W
Pts: 3x0
ADCC EU Trials
88KG
R2
2023
42606

Mantas Daublys

W
Pts: 3x0
ADCC EU Trials
88KG
16F
2023
42614

Kris Leeson

W
Pts: 2x0
ADCC EU Trials
88KG
8F
2023
42618

Roger Lopez

W
Pts: 2x0
ADCC EU Trials
88KG
4F
2023
42620

Christopher Wojcik

W
Pts: 3x0
ADCC EU Trials
88KG
SF
2023
42622

Tuomas Simola

W
Armbar
ADCC EU Trials
88KG
F
2023