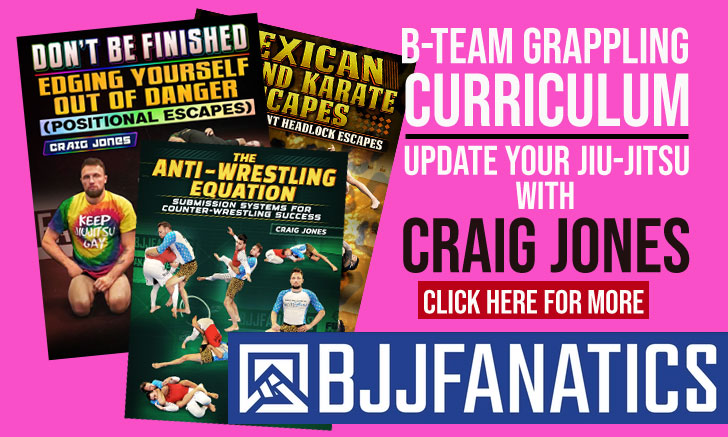 Sebastian Serpa is a jiu-jitsu black belt under the Mahecha Brothers (Kevin Mahecha & Brian Mahecha) of Mushin BJJ who worked extensively with Michel "Buiú" Pereira at the Carlson Gracie Academy in Miami, Florida. Sebastian Serpa became recognized as one of his generation's foremost light-featherweights while competing in the colored belt divisions of the International Brazilian Jiu-Jitsu Federation (IBJJF) circuit, particularly during his brown belt campaign (2021), a time when the Floridian conquered World and Pan American titles.
Sebastian Serpa Jiu-Jitsu
Full Name: Sebastian Ernesto Serpa
Nickname: N/A
Lineage: Carlos Gracie > Helio Gracie > Carlson Gracie > André Pederneiras > João Roque > Jonatas Gurgel > Kevin Mahecha & Brian Mahecha > Sebastian Serpa
Main Achievements:
1st Place IBJJF World Championship (2021 brown)
1st Place IBJJF Pan Championship (2021 brown)
3rd Place IBJJF Pan Championship (2020 purple)
3rd Place IBJJF American Nationals (2020 purple, 2021 brown)
3rd Place AJP Grand Slam, MIA (2021 brown)
Main Achievements (Juvenile):
3rd Place IBJJF World Championship (2017)
3rd Place IBJJF Pan Championship (2017**)
* Absolute
** Weight and Absolute
Favorite Position/Technique: Crab-Ride / Berimbolo
Weight Division: Peso Pluma (64,00 kg / 141.5 lbs)
Team/Association: Carlson Gracie / Mushin BJJ
Sebastian Serpa Biography
Sebastian Serpa was born on February 03, 2001, in Miami, Florida, where he was raised.
Growing up, Sebastian's father was a big fan of martial arts and combat sports, being particularly uncompromising in his belief that everyone should know how to defend himself, credence he applied to his son. Following that premise, Sebastian started visiting a local boxing gym with his dad during his childhood.
After a few tries at the Sweet Science, it was clear that boxing was not something Serpa wanted to pursue, therefore a search for a new martial art began. Right around this time, Sebastian found a leaflet for a nearby jiu-jitsu school and was intrigued about grappling. That gym was Carlson Gracie Miami and Sebastian was 8 years old when he joined.
Michel Pereira, also known as "Buiu" was Sebastian's first instructor and the person who led the young Miami native from white to brown belt.
Early in 2019, however, then purple belt Sebastian Serpa was told of a tough open mat session led by the Mahecha Brothers, Brian, and Kevin, in their garage every Sunday. A training session that was open to athletes of various teams and backgrounds. Intrigued by the training, Sebastian started attending and was immediately impressed with the level of grappling in the room, particularly with the skill level of the Mahecha's.
With time, Sebastian started training more and more with Brian and Kevin, to the point that the Miami-based duo took over Serpa's training, promoting him to black belt midway through December 2021, after Sebastian conquered his first world title.
Sebastian Serpa Grappling Record
35 WINS
BY POINTS


BY ADVANTAGES




BY SUBMISSION




BY DECISION




BY PENALTIES




BY DQ



8 SUBMISSIONS WINS
#214eb8
Choke from back
38
3
#d1212a
Straight ankle lock
13
1
20 LOSSES
BY POINTS


BY ADVANTAGES




BY SUBMISSION




BY DECISION




BY PENALTIES




BY DQ



0 SUBMISSION LOSSES
Sebastian Serpa Fight History
ID
Opponent
W/L
Method
Competition
Weight
Stage
Year
31780

Joao Oliveira

L
Pts: 6x5
Orando Pro
69KG
F
2022
32495

Ismael Santos

Ismael Santos
L
Pts: 6x6, Adv
Atlanta SPO
70KG
4F
2022
32879

Diego Oliveira

Diego Oliveira
L
Pts: 0x0, Adv
World Champ.
64KG
4F
2022
33665

Rodrigo Gortari

L
Referee Decision
ABC Champ.
NA
F
2022
33749

Samuel Nagai

Samuel Nagai
L
Pts: 4x2
Orlando SMO
70KG
F
2022
34517

Pedro Dias

Pedro Dias
L
Pts: 4x2
Chicago SMO
70KG
F
2022
34576

Omar Alfadhli

L
Pts: 2x1
Grand Slam MIA
62KG
4F
2022
35195

Ismael Santos

Ismael Santos
L
Pts: 10x10, Adv
Atlanta FO
70KG
F
2022
36175

Eduardo Roque

Eduardo Roque
L
Pts: 2x0
Nashville Open
70KG
F
2022
36188

Chris Passarrello

L
N/A
Nashville Open
ABS
SF
2022
36298

Meyram Maquine

Meyram Maquine
L
Pts: 3x1
World Pro
62KG
R1
2022
36314

Jonas Andrade

Jonas Andrade
L
Pts: 2x1
World Pro
62KG
3RD
2022
37156

Malachi Edmond

Malachi Edmond
L
Referee Decision
European Open
64KG
4F
2023
37775

Joao Pedro

L
Pts: 2x0
Tampa Open
70KG
4F
2023
38347

Yuta Shimada

Yuta Shimada
L
Pts: 4x4, Adv
Pan American
64KG
4F
2023
39461

Fabricio Andrey

Fabricio Andrey
L
Referee Decision
Brasileiro
70KG
4F
2023
39847

Diego Oliveira

Diego Oliveira
L
Adv
Houston Open
70KG
F
2023
40197

Diogo Pinheiro

L
Pts: 4x2
World Champ.
64KG
8F
2023
41016

Joao Oliveira

L
Pts: 4x3
Jacksonville Pro
69KG
F
2023
42860

Artur Oliveira

L
Pts: 2x2
ADGS Miami
69KG
8F
2023
31779

Antonio Buchwald

W
Pts: 2x0
Orando Pro
69KG
SF
2022
32874

Huthayfah Penney

W
Pts: 4x4, Adv
World Champ.
64KG
8F
2022
33662

Carlos Alvarez

W
Armbar
ABC Champ.
NA
R1
2022
33663

Justin Diaz

W
Pts: 2x0
ABC Champ.
NA
4F
2022
33664

Felipe Porto

W
Pts: 2x0
ABC Champ.
NA
SF
2022
33744

Michael Mehl

W
Choke from back
Orlando SMO
70KG
R1
2022
33745

Daniel Proano

W
Choke from back
Orlando SMO
70KG
4F
2022
34515

Emilio Hernandez

Emilio Hernandez
W
DQ
Chicago SMO
70KG
SF
2022
34583

Faris Kashmeeri

W
Pts: 5x0
Grand Slam MIA
62KG
RPC
2022
34585

Shoya Ishiguro

W
Pts: 8x4
Grand Slam MIA
62KG
RPC
2022
34587

Omar Alfadhli

W
Pts: 10x3
Grand Slam MIA
62KG
3RD
2022
35190

Giovanni Marcelo

W
Choke from back
Atlanta FO
70KG
4F
2022
35194

Emilio Hernandez

Emilio Hernandez
W
Pts: 4x2
Atlanta FO
70KG
SF
2022
35782

Suraj Budhram

W
Pts: 5x0
Miami FO
70KG
SF
2022
36174

Emilio Hernandez

Emilio Hernandez
W
N/A
Nashville Open
70KG
SF
2022
36185

Joseph Watson

W
N/A
Nashville Open
ABS
4F
2022
36309

Americo Mutunda

W
Toe hold
World Pro
62KG
RPC
2022
36310

A. Almudhri

W
Toe hold
World Pro
62KG
RPC
2022
36311

Huseyn Abaszada

W
Pts: 7x4
World Pro
62KG
RPC
2022
36312

Wanki Chae

Wanki Chae
W
Pts: 2x0
World Pro
62KG
RPC
2022
37152

Huthayfa Penney

W
Pts: 8x6
European Open
64KG
R1
2023
38341

Cleber Sousa

Cleber Sousa
W
DQ
Pan American
64KG
8F
2023
39216

Suraj Budhram

W
Straight ankle lock
Miami Open
70KG
SF
2023
39218

Joao Oliveira

W
Pts: 2x2, Adv
Miami Open
70KG
F
2023
39456

Ismael Santos

Ismael Santos
W
Pts: 2x0
Brasileiro
70KG
R1
2023
39846

Felipe Brito

W
Points
Houston Open
70KG
SF
2023
40192

Huthayfah Penney

W
Pts: 4x2
World Champ.
64KG
R1
2023
41015

Henrique Lima

W
Pts: 4x3
Jacksonville Pro
69KG
SF
2023
41356

Giovanni Carvalho

W
Toe hold
AJP US Nat
69KG
RR
2023
41357

An Vu

W
Pts: 1x0
AJP US Nat
69KG
F
2023
41532

Joao Oliveira

W
Referee Decision
Orlando SMO
70KG
SF
2023
41533

Pedro Dias

Pedro Dias
W
Pts: 0x0, Adv
Orlando SMO
70KG
F
2023
42117

Emilio Hernandez

Emilio Hernandez
W
Points
Chicago SMO
70KG
RR
2023
42119

Pedro Dias

Pedro Dias
W
Points
Chicago SMO
70KG
RR
2023
42378

Pedro Nakano

W
Referee Decision
Blue Collar
NA
SPF
2023