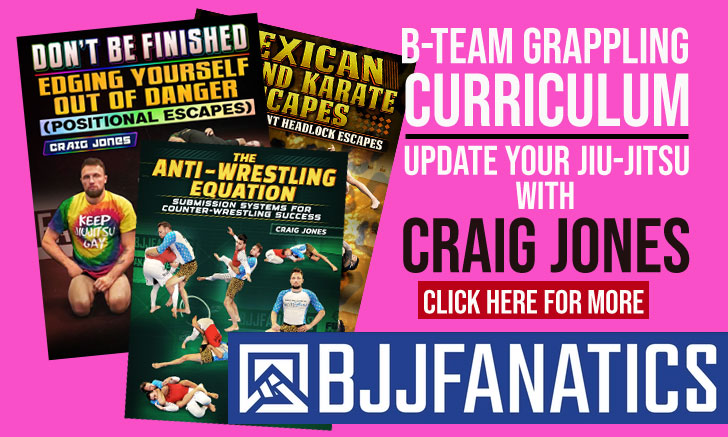 Lucas Leite is a highly decorated Brazilian jiu-jitsu competitor, famous for his half guard skills, who fights for the Checkmat Academy. Since Lucas Leite was graded as a black belt by Leonardo Vieira, he has been a regular presence in BJJ and submission grappling podiums around the world competing sometimes as a heavyweight (under 94kg/221lbs), two weight categories above his natural weight (around 78-80kg). In 2007 Lucas Leite moved from his native Brazil to the United States where he formed one of the strongest Checkmat academy camps in the USA.
Lucas Leite Jiu-Jitsu
Full Name: Lucas Jonas Gomes Leite
Nickname: "Loucura" means craziness in Portuguese, because of Lucas Leite's wild character.
Lineage: Carlos Gracie > Helio Gracie > Rolls Gracie > Romero Cavalcanti > Leonardo Vieira > Lucas Leite
Main Achievements:
1st Place IBJJF World No-Gi Championship (2014/2011/2009)
1st Place IBJJF Pan Championship (2015/2014/2012/2009)
2nd Place IBJJF World Championship (2011/2013/2015)
2nd Place IBJJF World No-Gi Championship (2013)
2nd Place UAEJJF Abu Dhabi Pro Championship (2012)
2nd Place IBJJF Pan Championship (2014/2011)
3rd Place IBJJF World Championship (2014/2012/2009)
Main Achievements (Colored Belts):
1st Place IBJJF World Championship (2007/2005 brown belt)
1st Place IBJJF Pan American Championship (2007 brown belt)
1st Place G. Quest Pro Division Championship (2007)
1st Place FPJJ Sao Paulo State Championship (2006 brown)
1st Place IBJJF European Open (2006 brown)
* Absolute
** Weight and absolute
Weight Division: Peso Pesado (94/221lbs), Peso Médio (82kg-181lbs) & Peso Leve (76kg-167lbs)
Favorite Position/Technique: Half Guard
Association/Team: Checkmat BJJ
Lucas Leite Biography
Lucas Leite was born on the 3rd of November 1982 in Sao Paulo, Brazil. Lucas Leite practiced a few sports growing up, but he found out about jiu-jitsu when he was around 12 years old, through a VHS cassette that displayed the first Ultimate Fighting Championship (UFC), seeing Royce Gracie's tremendous display of technique opened young Lucas Leite's eyes to jiu-jitsu and he decided to try it.
The late Ryan Gracie was Lucas Leite's first jiu-jitsu instructor, Leite trained at Ryan's academy for a few years, but he was not an active competitor and took the sport as a hobby. Getting closer to his mid-teens, Lucas Leite lacked the motivation to keep training and eventually abandoned the sport for a whole year. When Lucas Leite decided to return to the mats (at the age of 18), his family had relocated, and it was hard to commute to Ryan Gracie's gym, instead, Lucas decided to join Leozinho Vieira's gym, this proved to be a major turning point in Lucas Leite's life.
Training alongside a legendary competitor such as Leo Vieira, Lucas Leite started getting more motivated to become a serious competitor. Leo Vieira is one of the top instructors in the world and helped Lucas Leite develop his (now) famous half guard. He also showed Lucas Leite that he could make a decent living from BJJ and was a major influence in Lucas Leite's decision of becoming a professional competitor and coach.
In 2007 he came to the United States to compete and teach. His gym in California (Upland) became one of the main poles for the Checkmat BJJ team in the USA, the team often puts training camps together for big competitions from his academy, with Lucas Leite as one of the head coaches.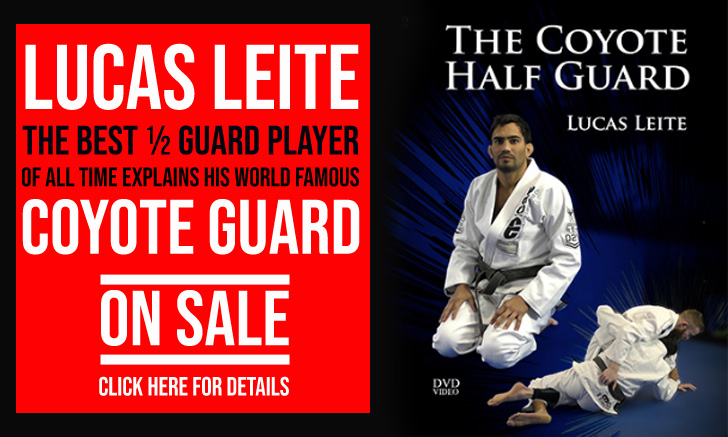 Lucas Leite Grappling Record
58 WINS
BY POINTS


BY ADVANTAGES




BY SUBMISSION




BY DECISION




BY PENALTIES




BY DQ



12 SUBMISSIONS WINS
#214eb8
Choke from back
67
8
#d1212a
Choke from mount
8
1
26 LOSSES
BY POINTS


BY ADVANTAGES




BY SUBMISSION




BY DECISION




BY PENALTIES




BY DQ



8 SUBMISSIONS LOSSES
#fad11b
Choke from back
13
1
Lucas Leite Fight History
ID
Opponent
W/L
Method
Competition
Weight
Stage
Year
1417

Fredson Alves

L
Ezekiel
World Champ.
76KG
R1
2006
1644

Daniel Moraes

Daniel Moraes
L
Points
ADCC Trials
77KG
SF
2007
1790

Marcio Feitosa

Marcio Feitosa
L
Pts: 2x0
NoGi Pan Am.
76KG
F
2007
1871

Gustavo Campos

Gustavo Campos
L
Pts: 5x4
Pan American
82KG
SF
2008
1932

Victor Estima

Victor Estima
L
Armbar
World Champ.
82KG
R1
2008
2194

Otavio Sousa

Otavio Sousa
L
Pts: 4x0
Pan American
ABS
4F
2009
2345

Marcelo Garcia

Marcelo Garcia
L
Pts: 6x0
World Champ.
82KG
SF
2009
2556

Abmar Barbosa

Abmar Barbosa
L
Armbar
Pan American
82KG
SF
2010
2611

Gilbert Burns

Gilbert Burns
L
N/A
No Gi Worlds
79KG
SF
2010
2635

Roberto Abreu

Roberto Abreu
L
Points
No Gi Worlds
ABS
SF
2010
2695

Claudio Calasans

Claudio Calasans
L
Points
World Champ.
82KG
4F
2010
2886

Claudio Calasans

Claudio Calasans
L
Wristlock
Pan American
82KG
F
2011
3151

Marcelo Garcia

Marcelo Garcia
L
Pts: 2x0
World Champ.
82KG
F
2011
3796

Claudio Calasans

Claudio Calasans
L
Pts: 2x0
World Pro.
82KG
F
2012
4063

Otavio Sousa

Otavio Sousa
L
Pts: 6x4
World Champ.
82KG
SF
2012
4367

Keenan Cornelius

Keenan Cornelius
L
Armbar
World Expo
ABS
SPF
2013
4814

Rodolfo Vieira

Rodolfo Vieira
L
Brabo choke
World Champ.
94KG
F
2013
5017

Romulo Barral

Romulo Barral
L
Points
ADCC
88KG
4F
2013
5123

Murilo Santana

Murilo Santana
L
Adv
NoGi Worlds
ABS
SF
2013
5618

Luiz Panza

Luiz Panza
L
Armbar
World Pro.
ABS
R1
2014
5667

Braulio Estima

Braulio Estima
L
Pts: 3x0
World Pro.
94KG
R1
2014
5841

Dimitrius Souza

Dimitrius Souza
L
Adv
World Champ.
94KG
4F
2014
6962

Keenan Cornelius

Keenan Cornelius
L
Pts: 4x2
Marianas Open
ABS
SF
2015
7503

Alexandre Ribeiro

Alexandre Ribeiro
L
Pts: 4x2
World Champ.
94KG
F
2015
10016

Marcos Tinoco

Marcos Tinoco
L
Pts: 2x2, Adv
World Champ.
82KG
4F
2016
13193

Nicholas Meregali

Nicholas Meregali
L
Choke from back
World Champ.
94KG
4F
2017
1563

Paulo Guillobel

Paulo Guillobel
W
Pts: 2x0
GQ All Star Pro
72KG
4F
2007
1567

Rany Yahya

Rany Yahya
W
Pts: 8x3
GQ All Star Pro
72KG
SF
2007
1568

Bill Cooper

Bill Cooper
W
Points
GQ All Star Pro
72KG
F
2007
1613

Rafael Barbosa

Rafael Barbosa
W
Pts: 7x2
Pan American
76KG
F
2007
1789

Joao Cunha

W
RNC
NoGi Pan Am.
76KG
SF
2007
1935

Diego Gamonal

W
Points
World Champ.
82KG
R1
2008
2009

Rodrigo Teixeira

W
Referee Decision
NoGi Worlds
79KG
R1
2008
2170

Jay Pages

W
Choke from back
Pan American
82KG
4F
2009
2174

Augusto Vieira

W
Points
Pan American
82KG
SF
2009
2175

Kron Gracie

Kron Gracie
W
Pts: 7x0
Pan American
82KG
F
2009
2340

Kron Gracie

Kron Gracie
W
Pts: 2x0
World Champ.
82KG
4F
2009
2419

Diego Gamonal

W
Points
NoGi Worlds
79KG
8F
2009
2421

Mike Jarmilo

W
Pts: 2x0
NoGi Worlds
79KG
4F
2009
2423

Murilo Santana

Murilo Santana
W
Pts: 2x0
NoGi Worlds
79KG
SF
2009
2425

Carlos Ferreira

W
Pts: 8x0
NoGi Worlds
79KG
F
2009
2548

Carlos Sievert

W
Choke from back
Pan American
82KG
R1
2010
2552

Adriano Silva

Adriano Silva
W
Points
Pan American
82KG
4F
2010
2628

Roberto Alencar

Roberto Alencar
W
Points
No Gi Worlds
ABS
8F
2010
2634

Leandro Leite

W
Points
No Gi Worlds
ABS
4F
2010
2817

Bill Cooper

Bill Cooper
W
Points
Grapplers Quest
82KG
F
2010
2885

Gilbert Burns

Gilbert Burns
W
Adv
Pan American
82KG
SF
2011
3042

Sylvio Augusto

W
Pts: 15x0
World Champ.
82KG
RDS
2011
3051

Gabriel Goulart

Gabriel Goulart
W
Referee Decision
World Champ.
82KG
RDS
2011
3117

Vinicius Corrales

Vinicius Corrales
W
Pts: 2x2, Adv
World Champ.
82KG
4F
2011
3141

Clark Gracie

Clark Gracie
W
Pts: 6x0
World Champ.
82KG
SF
2011
3363

Joao Moncaio

W
Points
No Gi Worlds
94KG
4F
2011
3387

Roberto Alencar

Roberto Alencar
W
Adv
No Gi Worlds
94KG
F
2011
3649

Ricardo Mesquita

W
Pts: 8x2
Pan American
94KG
R2
2012
3650

Renan Vital

W
Pts: 8x0
Pan American
94KG
SF
2012
3715

DJ Jackson

DJ Jackson
W
Referee Decision
NYC World Trials
83KG
F
2012
3784

Mathias Ribeiro

W
Points
World Pro.
82KG
R1
2012
3789

Rodrigo Fajardo

Rodrigo Fajardo
W
Points
World Pro.
82KG
R2
2012
3790

Adriano Silva

Adriano Silva
W
Points
World Pro.
82KG
4F
2012
3794

Vitor Bonfim

W
Submission
World Pro.
82KG
SF
2012
4042

Juan Pablo Molina

W
Choke from mount
World Champ.
82KG
R2
2012
4051

Bill Cooper

Bill Cooper
W
Pts: 15x0
World Champ.
82KG
8F
2012
4060

Daniel Garcia

Daniel Garcia
W
Pts: 6x0
World Champ.
82KG
4F
2012
4619

Diego Herzog

W
Choke from back
Pan American
88KG
4F
2013
4811

Roberto Alencar

Roberto Alencar
W
Pts: 16x0
World Champ.
94KG
4F
2013
4813

Alexandre Ribeiro

Alexandre Ribeiro
W
Referee Decision
World Champ.
94KG
SF
2013
5012

Josh Hayden

W
Points
ADCC
88KG
R1
2013
5114

Neiman Gracie

W
Points
NoGi Worlds
94KG
SF
2013
5121

AJ Agazarm

AJ Agazarm
W
Adv
NoGi Worlds
ABS
4F
2013
5402

John Slater

W
Choke from back
Pan American
94KG
4F
2014
5404

Roberto Alencar

Roberto Alencar
W
Choke from back
Pan American
94KG
SF
2014
6054

Morris Ayala

W
Pts: 0x0, Adv
NoGi Worlds
94KG
4F
2014
6057

Tim Spriggs

Tim Spriggs
W
Pts: 8x0
NoGi Worlds
94KG
SF
2014
6865

Vitor Schlosser

W
Choke from back
Pan American
94KG
R2
2015
6872

Vitor Toledo

Vitor Toledo
W
Pts: 8x0
Pan American
94KG
4F
2015
6875

Rodrigo Silva

W
Pts: 5x0
Pan American
94KG
SF
2015
6877

Lucas Rocha

Lucas Rocha
W
Pts: 20x2
Pan American
94KG
F
2015
6960

Terence Aflague

W
Cross choke
Marianas Open
ABS
4F
2015
7493

Herico Hesley

W
Choke from back
World Champ.
94KG
8F
2015
7497

Eduardo Inojosa

W
Referee Decision
World Champ.
94KG
4F
2015
7502

Tim Spriggs

Tim Spriggs
W
Referee Decision
World Champ.
94KG
SF
2015
9999

Darragh OConaill

Darragh OConaill
W
Pts: 9x2
World Champ.
82KG
R2
2016
10009

Vinicius Marinho

Vinicius Marinho
W
Choke from back
World Champ.
82KG
8F
2016
13192

Rodrigo Ribeiro

Rodrigo Ribeiro
W
Pts: 0x0, Adv
World Champ.
94KG
8F
2017
Lucas Leite vs Xande Ribeiro

Lucas Leite vs John Slater

Lucas Leite Highlight