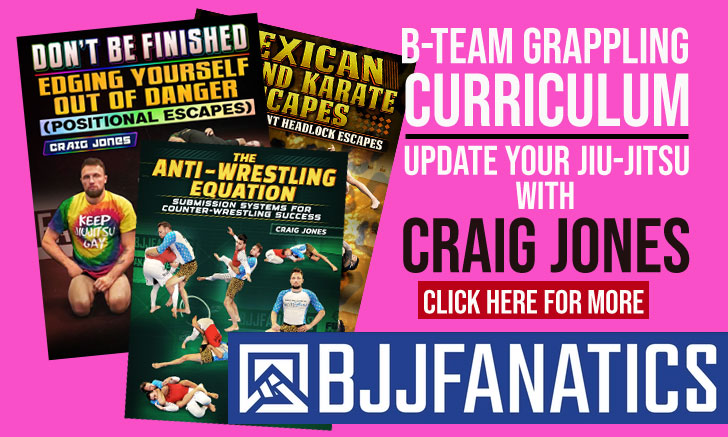 One of the most star studded grappling leagues in the world, the ACB JJ (often referenced as Berkut) is about to release it's 5th show of 2017. This time a No-Gi jiu jitsu extravaganza in Moscow- Russia between some of the top 60 kilogram as well as 95 kilogram athletes in the sport.
Although the under 60 kg division is strong, with the cream of the crop of the rooster and light-feather weight classes, all eyes will likely be zoomed in on the 95 kilogram division ,one of the best line-ups produced this year where BJJ juggernauts will battle. Men such as Felipe Pena, Erberth Santos, Jackson Sousa, Adam Wardzinski, and more.
Every match here could very well equate to a main event in any major grappling show around the globe. Not to miss! Below is an introduction to each of the challengers at ACB 9 Grand Prix.
ACB JJ Grand-Prix NO-GI 60 kg and 95 kg
Title: ACB JJ 9
Date: December 9.
Location: Moscow – Russia
Free Live Stream: YouTube (ACB JJ Channel)
⠀⠀
60,00 kg / 132.2 lbs List of Participants
SAMIR CHANTRE (Ares JJ)
Trying to finish 2017 on a positive note will be Samir Chantre, who didn't have a great run over the past 12 months. Super talented and experienced, Chantre has seen it all in this sport and should be unphased by the pressure, being our pick to go through to the final on his side of the brackets. The Ares JJ academy co-founder should have in Miyao and Tanquinho his stiffest competition, but this division is pretty stacked and there are no easy matches.
MILTON BASTOS (Ares JJ)
Another tough Ares representative is Milton Bastos, a common appearance in the world's very best Masters tournaments – particularly in the IBJJF circuit. Although usually a guard player in a grappling environment Bastos is a decorated freestyle wrestler, a skill that will likely come in handy under ACB rules (no guard pulling for 1st minute).
Milton Bastos is fast, explosive and tends to work the finish. Although not a clear favourite to win the belt on offer December 9, he will be entertaining and will be a serious challenge to all on the roster.
LAERCIO FERNANDES (Alliance)
The former Givanildo Santana standout has been working with ADCC champion Rubens Charles (Cobrinha) for quite some time, two highly skilled coaches from whom he surely benefited greatly.
Over the past 3 years Fernandes has taken a step back from competition himself to focus on his academy, but for those who are new to the sport, make no mistake, Laercio is the real deal. A former IBJJF No-Gi World silver (2011) and bronze (2012) medal and an European and American National champion with the gi, Fernandes will be a tough puzzle to solve. The big question mark will be if the time away from mainstream competition will have an effect on the performance. We will find out.
RAFAEL 'BARATA' FREITAS (Gracie Barra)
Another former world title contender who has taken a step back from competition to focus on his schools is Rafael de Freitas, also known by his nickname "Barata". Fretas is a black belt best known for his patented shoulder lock submission (Baratoplata). On the mats Barata has conquered important titles such as the Pan American (2011) and the World No Gi Championship (2016 Masters).
AUGUSTO 'TANQUINHO' MENDES (Soul fighters)
Together with Joao Miyao, Tanquinho will be the man to beat at the 60 kilogram tournament this December. With an almost unsweapable base and a great mind for game planning, Augusto is also dropping a weight class for this tournament and should be the stronger athlete on the division. A pretty scary weight cut by BJJ standards but likely a routine challenge for the UFC fighter, who competes at a similar weight in mixed martial arts.
JOAO MIYAO (Unity JJ)
The current 60 kilogram ACB gi tournament champ is back, this time hoping to add the No-Gi strap to his long list of accomplishments. Miyao is arguably the favourite to win the tournament having previously beaten almost every name on this roster (exceptions to Tanquinho and Milton Bastos who he has never faced).
The Berimbolo/Crab Ride magician has one of the hardest styles to match on on mats, flawless movement, relentless pace, technique in abundance and one of the most resilient minds in the game today.
TOMOYUKI HASHIMOTO (Carpe Diem)
One of the most talented rooster-weights in the world today is "Passport" Hashimoto, a highly skilled guard player with a keen eye for strategy. Given the size disadvantage Tomoyuki will likely give away and the fact that we have never seen him compete without the gi, we could say the Japanese contender is not one of the strongest candidates to the podium, but don't count the man from Carpe Diem out just yet. His guard is virtually impossible to pass and in grappling, under this different ACB rule-set anything can happen.
MAYKO ARAUJO (Checkmat)
The second ACB JJ GP appearance for Checkmat man Araújo. This has been a busy year for the former IBJJF No-Gi Pans medal placer, with the birth of his first child and the opening of his own gym. Although a skilled contender, Araújo will need to focus 100% on the task at hand in order to pose a threat to the podium, if his day-to-day life allows this to happen, we may see great performances from Mayko.
95,00 kg / 209.5 lbs  List of Participants
JACKSON SOUSA (Checkmat)
The first challenger on the list for the 95 kilogram belt in this talent rich line-up is London based competitor Jackson Sousa, black belt under Ricardo Vieira and one of the busiest men in the European grappling circuit. After a few great performances at the ADCC in September, "Jack" is riding high on a 17 match winning streak.
Intelligent, agile and a natural born competitor, the Checkmat heavyweight will be a podium challenger.
ABDURAKHMAN BILAROV (Team Abubakarova)
One of Dagestan's most well known grapplers is powerhouse Abdurakhman Bilarov, a veteran of the ACB Grand Prix. Not as well known to the mainstream public as some of the other athletes on the roster, Bilarov is a true talent with wins over big names such as Rodrigo Cavaca, Claudio Calasans and Jackson Sousa.
During May's GP tournament Bilarov was stopped by Erberth Santos, a razor thin match decided by a referee decision. Abdurakhman will be more experienced this time around and his wrestling ability will come in hand on the 9th.
MICHAEL PEREZ (Atos)
Super talented fresh new black belt in the scene out of Atos San Diego is Mike Perez, an ADCC vet who specializes in No-Gi. Perez participated in the 8th edition of ACB a few weeks ago as a last minute replacement, and even though he lost by a penalty against the champion – Patrick Gaudio, his good performance earned him a 2nd shot at gold, now in his natural weight class.
Perez is stocky and very agile, a tough athlete to score on with great submission defence. Although the least experienced black belt on the 95 kilogram brackets, Perez has all the elements to be the Dark Horse of the tournament.
LUCAS BARBOSA (Atos)
The mega talented Lucas "Hulk" is making his ACB debut on the 9th of December, and although he is competing a weight class above his natural weight, you can expect his aggressiveness to give the big boys a hard time.
FELIPE PENA (Gracie Barra)
Being the current ADCC open weight champion, it is reasonable to assume Preguica as the favourite to the ACB -95 kilogram belt. Particularly considering the grinding nature of the tournament.
Preguica is a grappler of the highest order with an excellent guard and crushing top pressure. The only area of his game that may lack some fine tuning is his takedown/throws, a kink that could come to play with these rules.
ERBERTH SANTOS (Esquadrao JJ)
One of the toughest super heavyweights in the world today, ACB will be Santos' very first pro event since leaving the Almeida team to form his own, "Esquadrao Jiu Jitsu" (which translates to JJ Squad). Erberth is not known as a No-Gi specialist by any stretch of the imagination, this tournament will be a great way to assess the big man's skills without the gi, in a "all subs allowed" rule-set.
ADAM WARDZINSKI (Checkmat)
Currently Europe's most active/successful black belts is Wardzinski, whose style of grappling allows a smooth transition from gi to no-gi. Many will know Adam from his top notch butterfly guard, which he combines with the Single Leg X in perfection.
Wardzinski is also one of the most accurate heavyweight submission players in the game. A joy to watch, keep your eyes on Adam.
⠀⠀⠀
Superfights
LEONID GATOVSKY vs DARRAGH O'CONAILL
ALI MAGOMEDOV vs ALEX CABANES