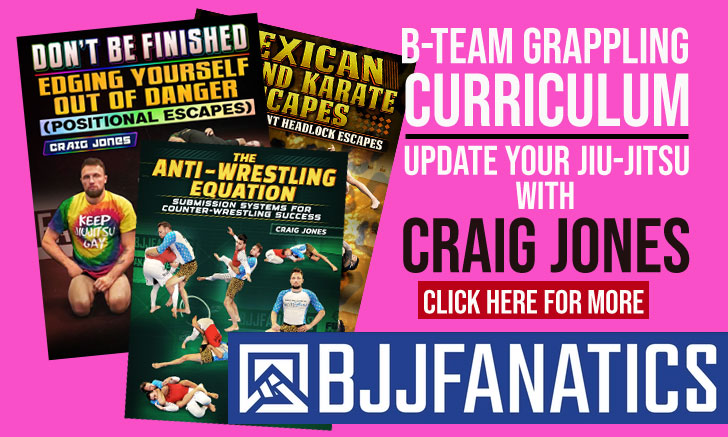 This article is a translation of the post published on Protocolo BJJ's Facebook page (check Portuguese version here). Protocolo is a growing voice for the jiu jitsu community in Brazil being one of the best pages dedicated to our sport in the social media sphere.
Have You Ever Seen Such an Unusual Podium?
In the juvenile division of the World Championship the Associação Oriente academy placed second as a team. A standard result, but not under these circumstances.
Gracie Barra showed up with around 100 juvenile competitors, the Associação Oriente showed up with the three that are standing in that podium (see banner). You might be asking yourself: "why is the team's representative not on the stand collecting the trophy?"
For that you will need to read this incredible tale:
Daniel Junior is a prodigy, a rising star in the Associação Oriente de Jiu Jitsu. A juvenile blue belt Pan American and Brazilian National champion, the kid has also competed at the JPA adult lightweight division (76kg/168lbs), a division he won being 16 years old and 66kg (145lbs).
Although he is acknowledged as a prodigy in our sport, he receives no sponsorship, having in his dad and his coach his main financial and mental support. Daniel's success has recently been followed by two other younger athletes from the same team, Pedro Dalton and Jefferson Ramos.
Pedro and Jefferson sold raffle tickets to support their trip for the World Championship. They didn't collect enough money to eat or pay for a hotel, but a friend of their coach offered accommodation for all for one week, so they could also train throughout the days leading up to the tournament. They decided to make the trip.
It was then that the USA started testing the heart and will of the three teens. As they arrived at Los Angeles, the kids instructor and guardian was barred and not allowed in the country (E.N.: much like happened with black belt Brazilian national champion Luan Carvalho) and ended up being deported leaving 3 underage kids alone in a foreign country. Without knowing how to get to the aforementioned "coache's friend's house", which was very far, and with very little money, the boys decided to contact two friends, Kauan Barbosa and Celso Ricardo asking for help.
These two were training at Carlson Gracie Academy in Torrance – CA but drove down and picked up the three youngsters. Unfortunately the gym they were training at was full and had no vacancy for the boys to sleep, they were taken to a hotel which left them with no money left for food.
To make matters worst, they had a few days left and nowhere else to train as the Carlson Gracie gym had a few athletes of the same category. With little money, nowhere to train and with an impending weight cut, Daniel, the eldest of the boys, decided to contact an acquaintance, Henrique who is brother in law of Lucas Leite (Checkmat).
Lucas Leite opened the doors of his gym, Checkmat – La Habra and offered his team as sparring, so the boys did the weight cut and made it to the competition.
Being only 3 athletes, they knew they need to stand out.
Jefferson Ramos was champion at featherweight, blue juvenile and placed third in the absolute.
Pedro Dalton placed third at lightweight and absolute.
Daniel Junior confirmed his talent being crowned World lightweight and absolute champion in the under 17 year old category.
Cutting through the hardship, their performances led to a second place overall in the juvenile division in front of many well known teams that brought a whole lot more athletes. Congratulations to all those involved that helped these athletes through this hard battle.
They left as teenagers, but they returned as men.