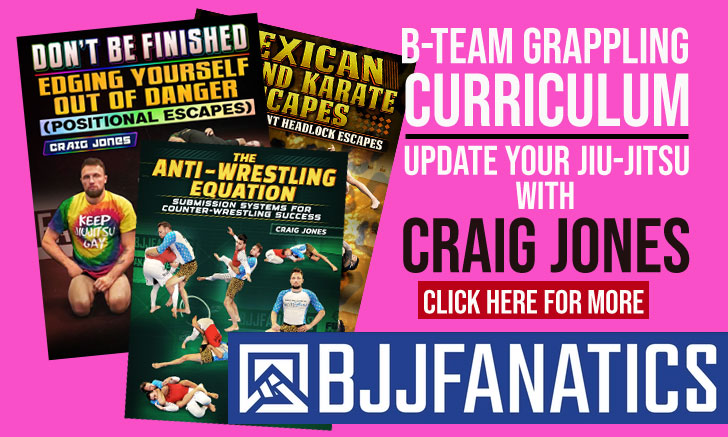 SEPTEMBER 22, 2018, CALIFORNIA was home to one of grappling's most popular events: The United Arab Emirates Jiu Jitsu Federation's (UAEJJF) Grand Slam Tour, Los Angeles.
As referenced in our Grand Slam build up, the tournament gathered great talent from all across the grappling planet, with big, well-established names and those now building their reputation in the black belt division. One of those rising stars was Caio Caetano of Ns Brotherhood. As referenced in our aforementioned preview of the event, the young Leandro Lo black belt was coming in hot from an unbeaten run in Brazil, and he did not disappoint. Caetano beat some big names on his way to a gold medal, including Leo Lara and Vitor Silverio, proving he has the talent to go far in this game.
Other names who stood out today were those of ZR Team member Gabriel Sousa, and Alliance's Gianni Grippo, both winning their divisions and beating the favorites to take gold home.
Gabriela Pessanha, in the female 90-kilogram division, was another big name to stand out in the female category. The young Infight Japan team member looked solid throughout the tournament, beating one of the sport's biggest stars – Nathiele de Jesus, on her way to a victorious, and dominant final match.
FULL RESULTS (MALE DIVISIONS)
56 KILOGRAMS
Final – Jorge Nakamura def. José Carlos Lima by choke from back
3rd PLace – Bebeto Oliveira de. Santos Rivera by advantages
62 KILOGRAMS
Final – Gabriel Sousa def. Hiago George by 2×0 pts
3rd PLace – Pedro Dias def. Rene Lopez by 2×0 pts
69 KILOGRAMS
Final – Gianni Grippo def. Paulo Miyao by 2×0 pts
3rd PLace – Thiago Macedo def. Vitor Matos by 4×2 pts
77 KILOGRAMS
Final – Caio Caetano def. Vitor Silverio by referee decision
3rd PLace – Leonardo Lara def. Bruno Tosto by 2×0 pts
85 KILOGRAMS
Final – Manuel Ribamar def. Rudson Mateus by referee decision
3rd PLace – Diego Ramalho def. Dante Leon by 2×0 pts
94 KILOGRAMS
Final – Gustavo Batista def. Kaynan Duarte by 2×0
3rd PLace – Adam Wardzinski def. Anton Milenko by 11×2 pts
110 KILOGRAMS
Final – Erberth Santos def. Max Gimenis by toe hold
3rd PLace – Tanner Rice def. Matheus Filipe by Advantage
FULL RESULTS (FEMALE DIVISIONS)
49 KILOGRAMS
Mayssa Bastos beat Luna Barea at "best of 3" (2x)
55 KILOGRAMS
Final – Nathiele Ribeiro def. Amanda Monteiro by advantage
3rd Place Match, default Trang Pham
62 KILOGRAMS
Final – Gabi McComb def. Nikki Sullivan by 4×2 pts
3rd PLace – Bianca Basilio def. Catherine Perret by 4×0 pts
70 KILOGRAMS
Final – Thamara Silva def. Samantha Cook by referee decision
3rd PLace – Elizabeth Excell def. Kayla Patterson by Advantage
90 KILOGRAMS
Final – Gabrieli Pessanha def. Kendall Reusing by 2×0 pts
3rd PLace – Izadora Silva