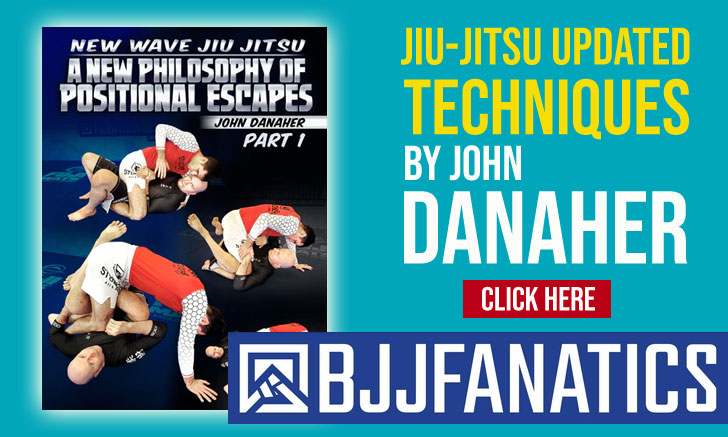 The 6th Edition of the Polaris Jiu Jitsu Invitational is all set to go and once again the United Kingdom based promotion used one of their strongest assets – that of supreme matchmaking to produce another exciting grappling card.
Known as a truly multicultural grappling show, the Polaris Invitational has spared no efforts to showcase the best jiu jitsu athletes from all corners of the world. This diversity manifests the promotion's willingness to distance itself from the norm which includes a strong support for the female division, a category often overlooked by other pro jiu jitsu outlets. Another possible sign of where the organization is heading is the lack of gi matches on the main card, which will be an 100% no-gi endevour.
POLARIS 85KG TITLE ON THE LINE
One of the most exciting novelties for Polaris this year is the inclusion of championship belts to the event structure. This fresh new element will start this February with the title match for the 83,90 kg (185 lbs) men's no-gi division between Australian leg locker Craig Jones and US pressure passing machine Jake Shields.
Polaris 6 will also feature two tournament style contender matches in the 55,00 kg (121.2 lbs) female division – the winners of which will meet at Polaris 7 for the title. The matches will be: Chelsea Leah (Atos HQ) vs Ffion Davies (CF24/ECJJA) and Gezary Matuda (ATT) vs Serena Gabrielli (Flow).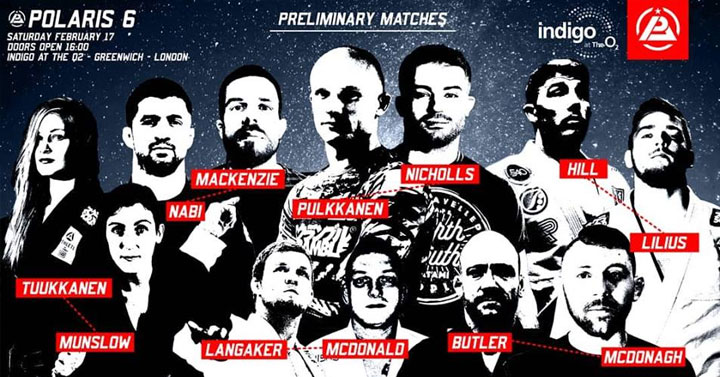 Emilia Tuukkanen [FIN] vs Leoni Munslow [UK]
(Gi Match)
Finish featherweight black belt Emilia Tuukkanen will go up against BJJ School's Leoni Munslow of London, England.
A proud member of the London Fire Brigade, Munslow will have the size, experience and hometown advantage, but do not count Tuukkanen out just yet. Emilia has plenty of talent and international experience herself having competed in professional events in the past – namely Copa Podio. Tuukkanen trains at a strong camp in the South of Spain (Lilius Barnatt BJJ and MMA) and is a full time athlete making her pro debut at black belt.
Jay Butler [UK] vs Sean McDonagh [UK]
(Gi Match)
We do not know a whole lot about these two athletes, both black belts and both from the United Kingdom, Buttler is a representative of Roger Gracie's Academy while McDonagh is a Gracie Barra athlete and coach. Two teams well represented in England which have repeatedly brought forward high level talent.
Santeri Lilius [FIN] vs Bradley Hill [UK]
(Gi Match)
A serious barn burner of a match, Finland's Santeri Lilius is one of the top representatives of Lúcio Lagarto's gym who currently runs his own academy in Torremolinos, Spain. The Brit Bradley Hill is one of Braulio Estima's most accomplished and technical students who can play well from top and bottom, being also well versed in the submission only mindset.
Lilius and Hill have met in competition in the past, at last year's UAEJJF Grand Slam in London with a narrow victory for Santeri, however that was under the strict boundaries of the 6 minute time frame imposed by the Grand Slam, we expect this to be a different style of match.
Both competitors have well balanced games and like to push the pace of the match, so you can expect a good show from two of the top middleweights in Europe today.
Tommy Lanagaker [NOR] vs Charlie Macdonald [UK]
(Gi Match)
Tough match ahead for British black belt Charlie McDonald against one of the most aggressive middleweights in the game today, Mr Tommy Langaker of Norway. Both athletes give preference to the guard, with the Viking having the more dynamic game playing preferably from his collar and sleeve structure.
Jake Mackenzie [CAN] vs Yousuf Nabi [UK]
(Gi Match)
A long time ago the Jake Mackenzie traded his home country of Canada for Brazil to focus full time on his grappling career. Today he is revered as one of the top jiu jitsu competitors in the world, with arguably the best half guard in the business.
At Polaris 6 Mackenzie will face Yousuf Nabi, the head coach of Elements BJJ in Brighton – England and a former student of De La Riva black belt Miad Najafi. Always testing himself around Europe, Nabi is a regular podium placement in the sport's international Masters division, he will be giving up an advantage in age and experience but not in competitive drive and willingness to test his own boundaries. Another interesting match-up by the event organizers.
Ross Nicholls [UK] vs Tommi Pulkkanen [FIN]
(Nogi Match)
Both athletes are known mainly for their gi skills, which make the choice of making this a no-gi match a puzzle. This may very well be down to Nicholls who has more recently professed his love for no-gi, particularly after his wars against Oliver Taza last year. Ross will be facing one of the new European faces of the black belt lightweight division, Mr Tommi Pulkkanen who is often referenced as Mr Spaghetti for his "leg vine" influenced style.
This match may very well turn out to be a fight between the old school style of BJJ vs the new "Berimbolo Generation". Who will win? Most definitely the fans.
Marco Canha [BRA] vs Ashleigh Grimshaw [UK] (Nogi Match)
Tremendous match ahead between veteran MMA fighter and Team Titan representative Ash Grimshaw versus one of the top jiu jitsu practitioners in the UK, Checkmat's own Marco Canha.
Grimshaw is a nogi specialist with 29 professional MMA matches (9 submission wins), bringing great athleticism, killer instinct, showmanship and the grit of a cage fighter to the table. Marco, on the other hand is a slick BJJ practitioner with a very entertaining grappling style and the accolades to back it up. An avid competitor, Marco is also the head coach of one of the top jiu jitsu academies in England – Fight Zone London.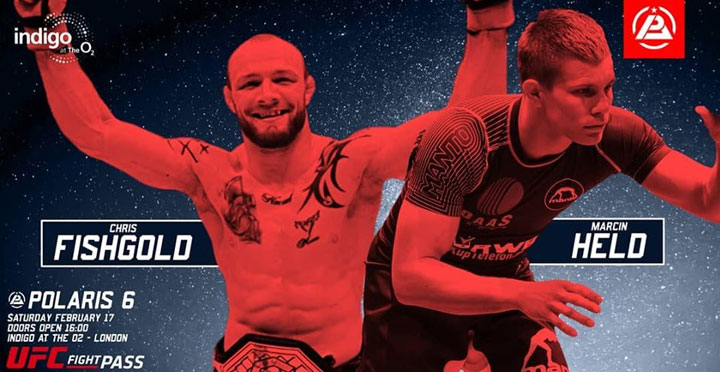 Chris Fishgold [UK] vs Marcin Held [POL]
(Nogi Match)
Another interesting match between two veteran cage fighters with solid grappling backgrounds. Their combined MMA records have over 20 submission wins, though their approach to jiu jitsu differs substantially. Fishgold is the more traditional MMA style grappler, very positionally sound while Held brings more creativity to the table, particularly in the leglock department.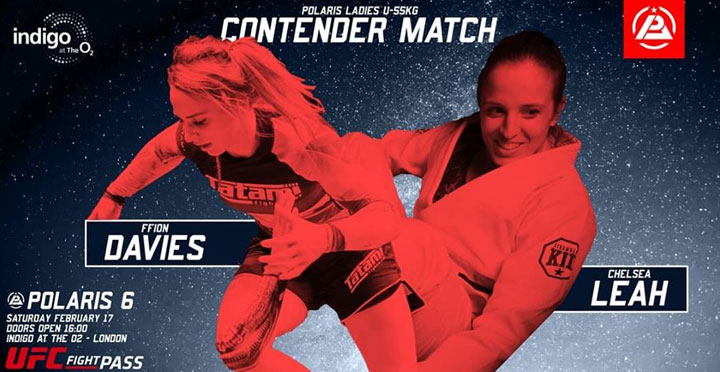 Chelsea Leah [USA] vs Ffion Davies [UK]
(Nogi – Contender match)
The first contender match of the night will be between the American black belt Chelsea Leah of Atos, and Welsh phenom Ffion Davies. The winner of this match will be fighting later in the year for Polaris' 55 kilogram female belt.
Chelsea has a substantial advantage in experience, being a multiple time IBJJF Nogi Worlds medalist at black belt, but oddly enough we would argue that brown belt Davies is the odds on favorite given her terrific form over the past couple of years.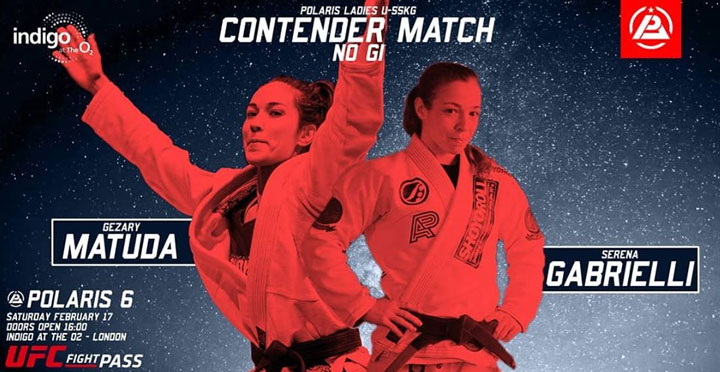 Gezary Matuda [BRA] vs Serena Gabrielli [ITA]
(Nogi – Contender match)
A star in the making is the Brazilian Gezary Matuda who will be going up against one of the most successful jiu jitsu athletes ever produced in Italy in Serena Gabrielli.
Both competitors are known as masters of the gi, being also very submission oriented – Matuda with her deadly armbar and Gabrieli with her back takes. Expect the two time IBJJF World Champion Matuda to be the favorite in this match, with more experience, size, speed and power, Gabrielli on the other hand is coming out of a very positive performance at the European Open where she won gold.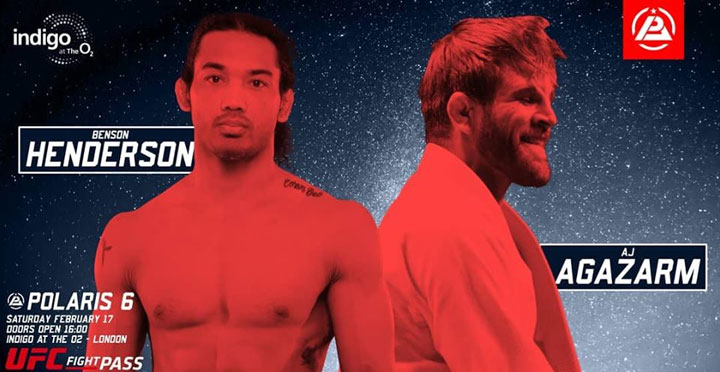 Benson Henderson [USA] vs AJ Agazarm [USA]
(Nogi Match)
Impossible not to get excited for this match. Two of America's most exciting competitors in their own fields.
Ben is a seasoned MMA fighter and former UFC lightweight champion who has made grappling his home, having used it to win matches inside the cage as well as in jiu jitsu events. Agazarm on the other hand is a full time grappler, known for his controversial smack talking as much as for always putting his body on the line. Love him or hate him, you cannot deny this man's courage and willingness to go up against much larger adversaries.
ADCC medalist AJ Agazarm will have the sharpest jiu jitsu on the mat while Henderson will likely bring the bigger engine in terms of horsepower. Both athletes are extremely durable, we expect you will be at the edge of your seat for this one.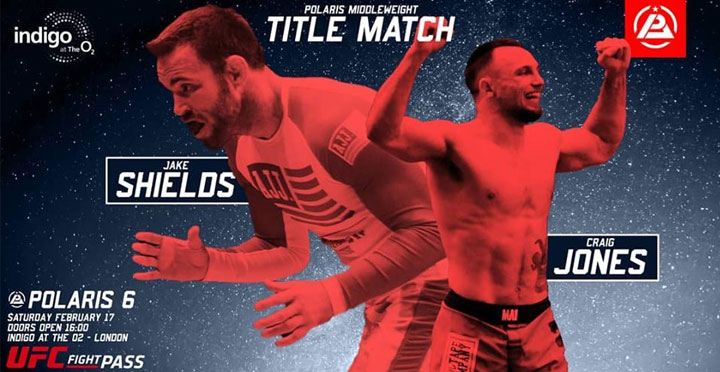 Jake Shields [USA] vs Craig Jones [AUS]
(Nogi – Title Match)
A very interesting clash between two nogi specialists that is also provides a major style vs style match-up.
Veteran MMA fighter and ADCC medalist Jake Shields' formidable grinding style will meet that of Australian guard playing wizard Craig Jones. On paper Jake has the upperhand, a tried and tested "American Jiu Jitsu" of solid wrestling and fundamentals BJJ where top position is key which helped the American conquer world titles at ROTR, Strikeforce, Elite XC and Shooto.
On the other side of the mats the young Australian Craig Jones will bring a flexible guard with great movement and outstanding instinct for leg entanglements, something he is well known for since his performance at the 2018 ADCC in Finland. Aside from his unique leg entries, Jones has also a very dangerous triangle – all things Shields has seen plenty of training at the Renzo Gracie Academy. Will he be able to hold Jones and surpass the Aussie man's creativity? We will soon find out.