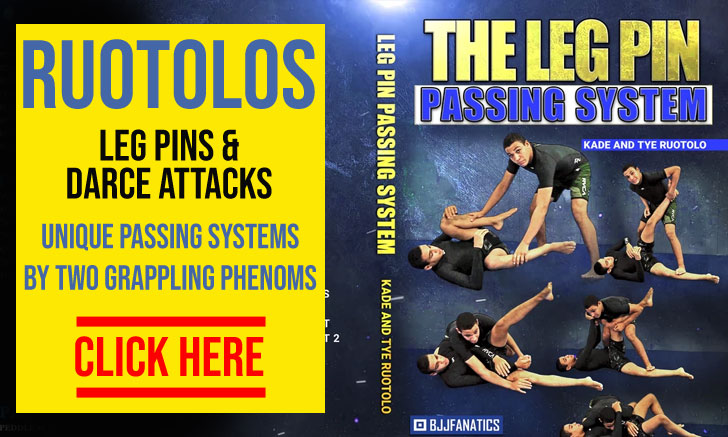 Eduardo Tinoco is a Brazilian jiu jitsu black belt under Gustavo and Caio Almeida, being a representative of the Almeida JJ (AJJ) academy when competing in the sport's Brazilian circuit (and the Atos JJ internationally, a team to which the Almeida association is affiliated). Tinoco broke out as one of jiu jitsu's hottest prospects back in 2017 (as referenced by BJJ Heroes) after conquering his first International Brazilian Jiu Jitsu Federation (IBJJF) World Championship title as a brown belt, a year when he also achieved medals at the South American, Brazilian Nationals (Brasileiro) and the Rio de Janeiro Grand Slam (UAEJJF).
Eduardo Tinoco Jiu Jitsu
Full Name: Eduardo Bernardo Tinoco
Nickname: N/A
Lineage: Mitsuyo Maeda > Carlos Gracie > Helio Gracie > Carlos Gracie Junior > Ryan Gracie > Gabriel Vella > Caio Almeida > Gustavo Almeida > Eduardo Tinoco
Main Achievements:
CBJJE World Champion (2018)
Main Achievements (Colored Belts):
IBJJF World Champion (2017 brown)
IBJJF South American Champion (2017 Brown)
IBJJF São Paulo BJJ Pro Champion (2017 brown)
IBJJF São Paulo Open Champion (2017 brown)
UAEJJF Grand Slam Tour, RJ Champion (2017 brown)
UAEJJF Brazil National Pro Champion (2016 purple)
FPJJ São Paulo State Champion (2016 brown)
CBJJ Brazilian National Championship 2nd Place (2016 brown)
CBJJ Brazilian National Championship 3rd Place (2017/2016* brown)
Favorite Position/Technique: Slide in collar choke
Weight Division: Peso Médio (82,30 kg/181.5 lbs)
Team/Association: Almeida JJ
Eduardo Tinoco Biography
Eduardo Tinoco was born in 1995 in São Paulo, growing up in the Eastern side of the well known Brazilian state.
Tinoco's training started early in life through the hands of coach Carlos Alexandre (also known as Alê) at Academia Colisão (Colision Academy). Eduardo stayed with professor Alê up until his purple belt, a time when he joined the Almeida brother's academy (Gustavo, Caio and Diogo) – working mainly with Gustavo.
At the time when Tinoco joined the Almeida brothers' work group the team competed under the Ryan Gracie Academy banner, this being who Tinoco represented during that period. When both teams split on September 2016 Tinoco remained under Almeida JJ in Brazil's national circuit, often representing Atos JJ internationally (given that the Almeida's paired up with the well known California based team).
After a tremendous year as a brown belt, Tinoco was promoted to black belt by his coaches Gustavo and Caio Almeida. A ceremony that took place on December 10, 2017.
Eduardo Tinoco Grappling Record
9 WINS
BY POINTS


BY ADVANTAGES




BY SUBMISSION




BY DECISION




BY PENALTIES




BY DQ



5 SUBMISSIONS WINS
#214eb8
Choke from back
60
3
#86e620
Mounted X choke
20
1
3 LOSSES
BY POINTS


BY ADVANTAGES




BY SUBMISSION




BY DECISION




BY PENALTIES




BY DQ



0 SUBMISSION LOSSES
Eduardo Tinoco Fight History
ID
Opponent
W/L
Method
Competition
Weight
Stage
Year
15089

Renato Cardoso

Renato Cardoso
L
Pts: 2x0
ACB S. American
85KG
R1
2018
17484

Alef Brito

Alef Brito
L
Points
Sao Paulo Open
82KG
4F
2018
17910

Felipe Cesar

Felipe Cesar
L
Pts: 2x0
Curitiba SPO
82KG
4F
2018
15038

Willian Lopes

W
Mounted X choke
Copa Sao Paulo
85KG
F
2018
15727

Alex Coelho

W
Choke from back
Circuito Paulista
ABS
F
2018
15728

Joao Chiozzi

W
Choke from back
Circuito Paulista
82KG
SF
2018
15729

Stefano Correa

W
Adv
Circuito Paulista
82KG
F
2018
16768

Robson Sa

W
Points
Mundial CBJJE
82KG
4F
2018
16769

Wellington Pesce

W
Submission
Mundial CBJJE
82KG
SF
2018
16771

Enrique March

W
Choke from back
Mundial CBJJE
82KG
F
2018
17477

Pedro Alcantra

W
Points
Sao Paulo Open
82KG
R1
2018
17907

Caio Caetano

Caio Caetano
W
Points
Curitiba SPO
82KG
R1
2018
Eduardo Tinoco 2016 São Paulo State Final