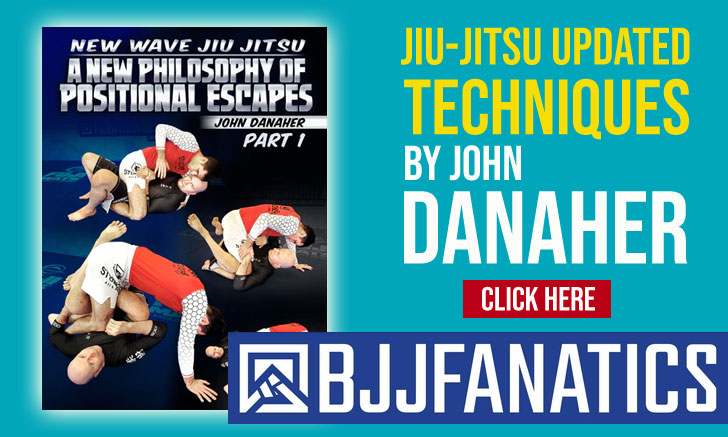 Santeri Lilius and Emilia Tuukkanen are two extraordinary human beings, but although their unusual story spawned from their jiu jitsu life, the couple's very first steps in this sport followed a similar narrative to that of 1000's of practitioners. Santeri first started grappling in a mixed martial arts class, though a broken rib and his parent's dislike for cage-fighting ended Lilius' octagon aspirations early on, leading him to his very first gi. Emilia, on the other hand, entered martial arts through muay Thai, a sport she practised avidly before gearing her efforts towards BJJ.
Both native of Finland, Santeri and Emilia started making a dent in Europe's Grappling circuit early on, competing from their local Roger Gracie Academy affiliate. Santeri (today a black belt under Roger) has in his resume important medals at the European Open (2014 silver, 2015 bronze), as well as an European No-Gi Open title (2012), while Emilia conquered back to back European titles (2013 and 2014). Their talent earned them jobs away from the cold Finnish weather, on the beautiful and sunny Costa del Sol – in Spain, where they own the Lilius Barnatt Martial Arts in collaboration with UFC veteran Luke Barnatt, a gym located in Torremolinos (near Malaga).
The gym's ethos (as expected) falls into that of their own "We welcome everyone to train here, no BJJ politics allowed!" said Emilia Tuukkanen, who teaches the women's program there while being also a sports instructor & paddle surf teacher. Santeri takes the lead of the advanced BJJ classes.
Though extremely efficient at their jobs, it is their work off the mats that brings us to write this piece. That work started before moving to spain, while vacationing in this same South European country, where the abundance of stray dogs caught their attention. Stray dogs are highly uncommon in Finland, and witnessing the blasé attitude displayed by locals towards this epidemic of starving animals roaming the street was too much for Santeri and Emilia to look away. They adopted their own dog (Culo), a 66lbs pitbull during that holiday.
When they moved to Spain, the problem hadn't improved. And once again, the good samaritans of Finland decided to make a difference: "After we moved here, we just kept finding homeless dogs from the streets and started rescuing them." said Emilia, "we encountered dogs in need of help almost weekly".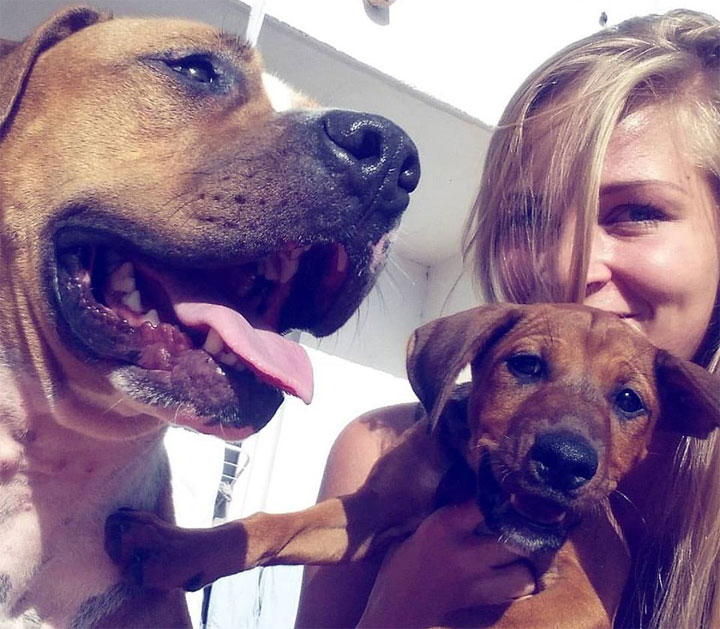 The altruistic work performed by this amazing couple started with street dogs "Our first rescues were dogs found from streets that we took to vets to check their microchips, since many of them had just escaped or got lost and were then reunited with their families.", but it didn't take long until they fostered their first dog, a podenco puppy named Karma "She lived with us for almost two months while we looked for a home for her. She is now living in Finland with an amazing family." said Emilia.
Spain is renowned in the dog world for great quality, hard working, dogs but unfortunately the quality of the dogs has clashed with a generalised poor track record of its population towards animal care, as outlined by Tuukkanen: "many treat their pets as a piece of furniture that is easy to throw away when it is not pleasing anymore. We have thousands of hunting dogs abandoned here after every hunting season, lucky ones get thrown away alive, unlucky ones are hanged or drowned. It is not unusual to find puppies in plastic bags thrown to the trash, or just kicked out of a car. There are a lot of people trying to make the situation better, but the old attitudes are tough to break."
This mentality and the dismissive attitude shared by the Spanish government, has lead to countless shelters filled to the brim: "We always have dogs in need of adoption from literally every breed and mix imaginable" said Santeri, who also mentioned that if any of our readers are looking to raise a pet, "you can message us directly and we can guide you to the right shelter or person. I suggest to check with your local pounds and shelters if they have a suitable dog for you first, and if you don't want to commit to adoption, you can always foster."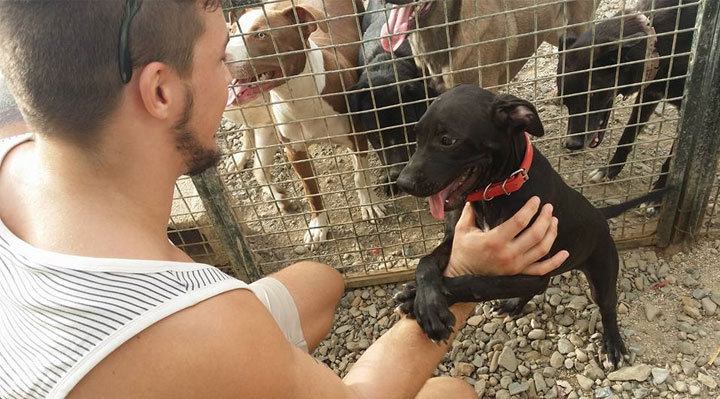 The stray dog situation is a real problem in countries such as Spain and it's neighbour Portugal, where 1000's of dogs are kicked out of their homes every year. Shelters are constantly overrun and in need of money as well as material help. According to Emilia "the most important thing is to raise awareness and share those sad pictures of homeless dogs. Don't buy a dog, when there are so many in need of rescuing."
If interested in reaching out to Santeri and Emilia's, please check their social media profiles:
Emilia Tuukkanen
FB: /EmiliaTuukkanenBJJ
ITG: @emiliatuukkanen
TW: – –
Santeri Lilius
FB: /SanteriLiliusBJJ
ITG: @santerililius
TW: @santerililius