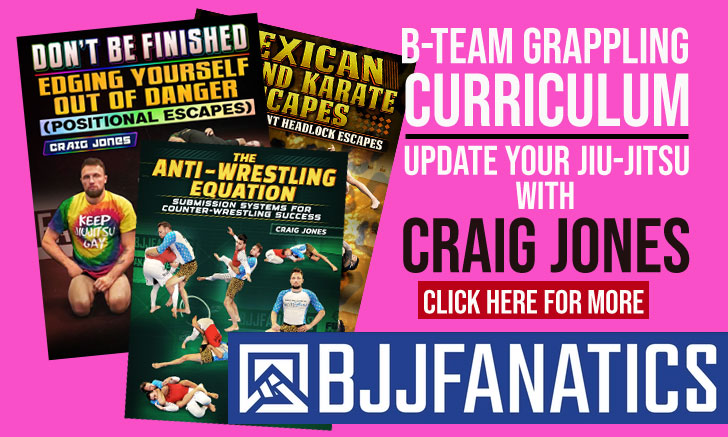 Idealized and produced by one of Japan's biggest combat sports representatives, the IQ Grappler/Gracie Hunter himself – Mr Kazushi Sakuraba, Quintet hopes to bring grappling to the limelight of professional sports in the Land of the Rising Sun, and it is getting off to a good start.
With the backing of UFC FightPass the "Quintet: Grappling Team Survival Match" is set for April 11, 2018 and it will not be your average jiu jitsu show, being a Sakuraba production you can bet there are some plot twists to this grappling tournament.
Going back to time immemorial judo team clashes, Quintet hopes to bring back the kachinuki style of tournament (also referenced as 'nuki-jiai' or even 'nuki-sho-bu'). In this type of event the winner of the first match, goes on to fight the next opponent, and the next until he looses or draws. Then the next person on the team takes his/her place, this means that a powerful first member could possibly beat all five opponents. But there are more changes. Below is the bulk of new concepts brought forward in bullet points:
QUINTET INVITATIONAL RULES:
– No-Gi Matches, rash guard is required
– 10 minute sub-only
– If weight difference between challengers is over 15 kg, the match will be 5 minutes only
– No heel hooks allowed (boo)
– Limited time allowed in closed guard
– Each team has 5 members
– The total weight of the team will not exceed 420 kilograms (926lbs)
To start the event the promotion put together 4 teams, out of which the Quintet champions will be crowned. The teams consist of representatives from Judo and Sambo as well as Polaris (the well known British based pro jiu jitsu invitational) and Haleo (a Japanese sports and fitness brand). The tournament will run as follows:
Semi Finals:
Polaris Team vs Sambo Team
Haleo Team vs Judo Team
Below are the teams and the names booked in for the tournament.
SAMBO TEAM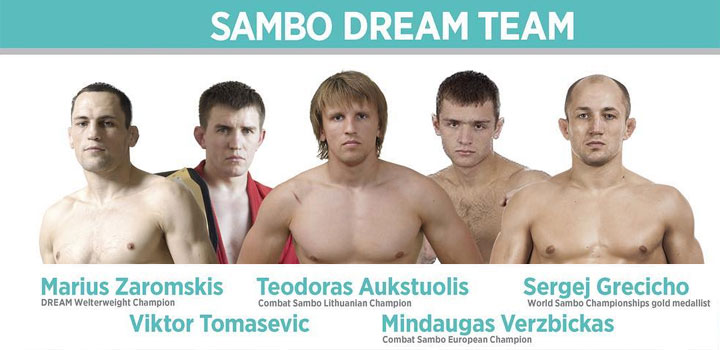 To the mainstream audience the most familiar name on Sambo's side will likely be Marius Zaromskis. The 37 year old Lithuanian has had a long mixed martial arts (MMA) career, most of which spent competing on Japanese soil. Although known for the most part for his acrobatic striking skills, Marius does possess a sambo background and competed in several no-gi tournaments in Europe over the years.
Even though Zaromskis will likely be the more well known face on this group, expect 32 year old Sergej Grecicho to bring in the highest sambo pedigree. Grecicho is a Lithuanian Combat Sambo expert, and MMA fighter who earned 3 gold medals at the Sambo World Championships. He also is World Pankration Champion.
The Sambo team is 100% Lithuanian, and in it you will also find 2012 World Sambo bronze medal Viktor Tomasevic (32YO), Mindaugas Veržbickas – 2x LT Combat Sambo champion as well as the big powerful ultra-heavyweight (and Europe's Combat Sambo champion) Teodoras Aukstuolis (26YO).
POLARIS TEAM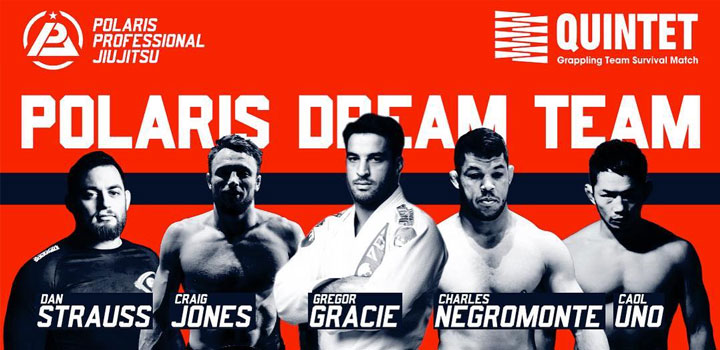 Leading the Polaris team will be the promotion's middleweight champion, Mr Craig Jones. The Aussie is mostly known for his masterful heel hooks but will have to make ends meet without his most reliable weapon as this is a banned submission at Quintet.
Jones will be backed by the veteran Gregor Gracie, a man who has competed in every grappling rule set under the sun, Roger Gracie Academy instructor Charles Negromonte, British athlete Daniel Strauss and MMA legend Caol Uno. Although combining a wealth of talent, the Polaris squad is the only out of the 4 to chose against including a natural ultra-heavyweight in the team. Bold tactics by the most international team.
JUDO TEAM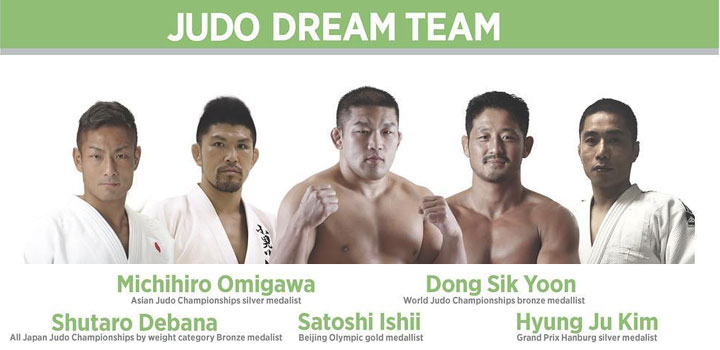 The Judo team will consist of judoka from Japan and South Korea, all of which were once at the top of the heat in this sport.
One of the strongest assets of the team will be 31 year old Satoshi Ishii, a very powerful ultra-heavyweight who holds a gold medal at the 2008 Summer Olympic Games (Beijing, China). The olympian has All Japan titles in judo and a good mixed martial arts record, being well versed without the gi.
Ishii will be joined by judo world medalists Yoon Dong-sik (44YO) and Hyung Ju Kim (42YO). Two huge South Korean names in the sport, as well as Michihiro Omigawa (2x Asian Games medalist and former UFC contracted fighter) as well as Shutaro Debana.
HALEO TEAM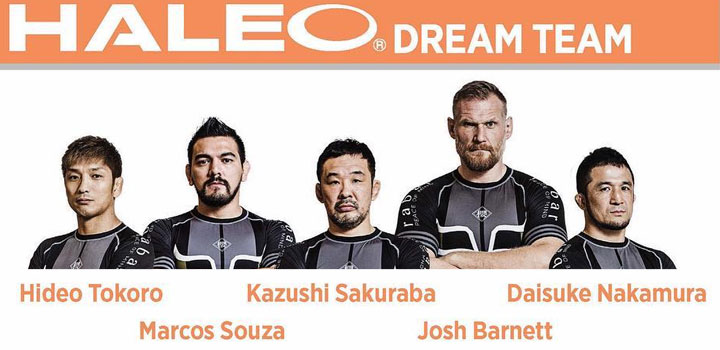 Leading the Haleo team is the legendary IQ Grappler, Mr Kazushi Sakuraba who is 48 years old. The combat veteran and MMA legend will be joined by former UFC champion and Strikeforce Grand Prix finalist Josh Barnett, arguably the biggest name in catch wrestling today.
Not far behind in popularity will be another huge name in MMA. 37 year old Daisuke Nakamura, one of the most exciting grapplers to have ever competed in the cage. The shoot fighter and king of the armbar has been regarded as a high level grappler throughout all his career and seeing him compete in this setting is truly exciting.
Joining Saku, Barnet and Nakamura will be Hideo Tokoro, a man with a wealth of combat experience, being a Bellator, Rizin and Dream veteran, as well as Marcos de Souza of Bonsai BJJ, one of the top jiu jitsu competitors residing in Japan.