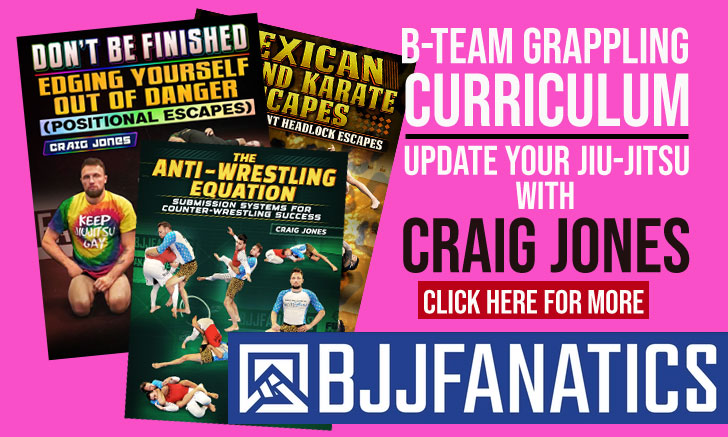 JANUARY 21, 2017. Great showing by the Danaher Death Squad representatives at the Sapateiro Invitational 6 absolute tournament, a sub-only style jiu jitsu event that gathered some of the top no-gi specialists in the United States for a chance to compete for the US$10k on offer today.
Though 'roughly packaged', with no media contact, a low budget venue and a poorly constructed stream feed, the tournament made up for all its flaws thanks to a fantastic card. The line-up did suffer a couple of last minute exits (Jeff Monson and Hector Lombard) due to unfortunate circumstances, but the substitutes (Kevin Gallagher + Antonio "Cara de Sapato" Carlos Junior) were of a very high standard and didn't let down the promotion's fans.
As expected the poster-boy for submission only jiu jitsu, Gordon Ryan was one of the stars at the event but this time the well known student of John Danaher was not the sole representative of Renzo Gracie's famed BJJ academy, as he was accompanied by team mate Mathew Tesla. Tesla had tremendous performances on the mats today, proving that Danaher Death Squad's talent pool is not restricted to Ryan, Tonon and Cummings any longer.
Mathew reached the final against Gordon Ryan with the two entertaining a high paced match. In the end it was Gordon who came out the victor with a reverse triangle, a position he tried to implement throughout the tournament.
SAPATEIRO INVITATIONAL FULL RESULTS
Round1
Antonio Carlos Jr. defeated Marcel Goncalves
Gordon Ryan defeated Bryan Brown
Jimmy Friedrich defeated Juan Caballero
Jesseray Childrey defeated John Blank
Richie Martinez defeated Chase Davis
Matthew Tesla by WO
Dan Martinez defeated Enrico Cocco
1/4 Finals
Gordon Ryan defeated Antonio Carlos Jr. with a reverse triangle
Jesseray Childrey defeated Jimmy Friedrich with an estima lock
Richie Martinez defeated Kevin Gallagher by fastest submission in EBI OT
Matthew Tesla defeated Dan Martinez with an inside heel hook
Semi Final
Gordon Ryan defeated Jesseray Childrey with a footlock
Matthew Tesla defeated Richie Martinez with an outside heel hook
Final
Gordon Ryan defeated Matthew Tesla with a reverse triangle