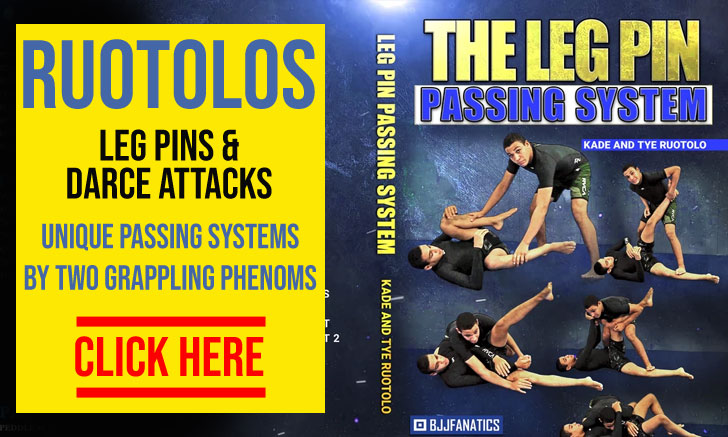 The men's black belt rooster-weight division (57kg – 127lbs) of the IBJJF World Jiu Jitsu Championship is often regarded as an uneven category, with the championship being bound to end in the hands of one or two athletes.
Though historically incorrect, considering we've had 12 different rooster weight champions since the start of the "Mundial" 21 years ago – meaning more champs than the lightweights (10), featherweights (7) and same as the majority of weight classes, there certainly has been a strangle hold in this weight class for the past 9 years, since Bruno Malfacine and Caio Terra entered the black belt division.
Joao Miyao was the first to add some spice to this weight class back in 2014. After two failed attempts at gold (2014/15) he looks stronger than ever, having put in an immeasurable amount of work since his controversial loss against Malfacine at last year's final. Going up against the elite of jiu jitsu in a variety of weight classes and rulesets with and without the gi. Truly one of the most hard working, and active competitors in the world today.
But don't expect the World Championship to be "just" a three men showdown. 2016 marks the entry of a new and extremely talented generation of rooster-weights, a much awaited breath of fresh air in this fast paced division.
This new generation is led by three black belts, Rodnei Barbosa (Zenith BJJ/Paulo Rezende), Lucas Pinheiro (Checkmat) and Tomoyuki Hashimoto (Carpe Diem). All three coming out of stellar brown belt campaigns, having already shown their black belt worth this year: Rodnei by winning the Brazilian National title, Pinheiro earning a silver medal at the Pan American Championships and Hashimoto winning his first Japanese title as a black belt.
All three newcomers, possess different sets of talents in very clear cut jiu jitsu games. Barbosa being one of the best half guard players in the sport today, Pinheiro who is very well rounded but has in his accurate guard passing one of his strongest weapons, and the traditional technical Japanese guard player in Hashimoto.
With that said, the "peso galo" has many more points of attraction this year, including the debut of Tiago Barros at 127lbs. The highly accomplished Cicero Costha black belt will be a tough challenge for anyone in the division, as will Gracie Barra's veteran, Rafael "Barata" and the super talented Koji Shibamoto, one of the most underrated athletes in the sport.
All in all, expect the rooster-weight to be one of the most challenged divisions this year and one to keep an eye on if you are a fan of fast scrambles and highly technical jiu jitsu.
ROOSTER WEIGHT BRACKETS