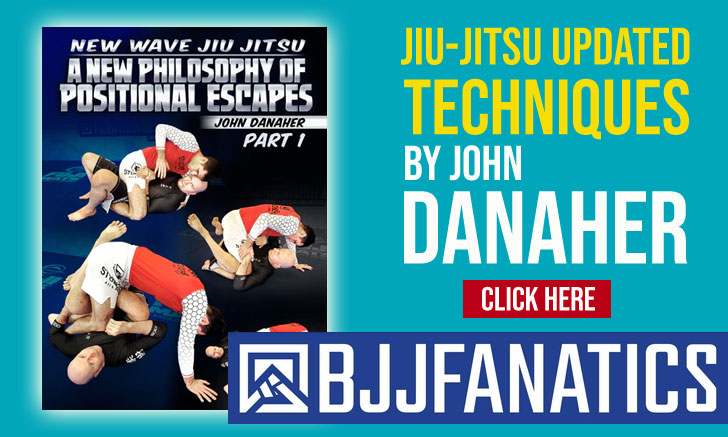 The story of Yusuf Mohammed could have been like that of any other jiu jitsu practitioner. Born in North London "Mo" – as he is referenced by his friends, was drawn to martial arts during his childhood days by his father, a Somalian war refugee who was well aware of the benefits that could come from solid understanding of self defense.
With grandiose dreams of becoming a big name fighter, at the age of 9 Yusuf mustered the courage to enter a karate dojo, a combat style he practiced for a few years up to when he found jiu jitsu.
During his late teens, while browsing the internet Mohammed discovered mixed martial arts (MMA), and through it, jiu jitsu. Understanding grappling's importance in cage fighting Mo sought the closest grappling gym he could find to improve that aspect of his game, jump-starting his BJJ journey at a small academy in an industrial estate located in Edmonton, North London.
Jiu jitsu started progressively consuming more of Mo's time, when he wasn't training he found himself daydreaming of training or researching the sport. Soon the 4 evening classes per week provided by his gym were not enough. While researching for academies Yusuf came across Fightzone London, one of the biggest BJJ gyms in England:
"Fightzone stood out to me, they offered up to 4 jiu jitsu classes per day and were under the banner of Checkmat, an internationally acclaimed team with some of the best jiu jitsu guys on planet. I had no doubts, Fightzone London was the place I had to be." Mo said in an interview to BJJ Heroes.
Under the tutelage of coach Marco Canha at FZL Mo Yusuf became even more convinced jiu jitsu was his calling in life: "Marco's attention to detail, strategic approach to jiu jitsu and vast knowledge of positions and techniques amazed me." said Mohammed, who then, at this point in time came by that same crossroad which almost every hard nosed grappling addict stumbles with at some point in his life. "Can I make a career out of this?"
Being the oldest boy in a total of 8 siblings, raised by a strict Muslim family, Yusuf knew he had to set an example for his younger brothers. He also knew that his parents had a clear and well drawn out plan for his adult life, one that involved a university degree in engineering. These factors provided a tough battle between intuition and reason inside Mohammed's head: "I began my internal dialogue of confidence in achieving my goals conflicted by self doubt, convincing myself it to be possible to make a career out of something I so passionately enjoyed".
While still dabbling with self doubt Mo was invited by his instructor Marco to become an assistant coach for the Fightzone kids program. His first 'Monday to Friday' in BJJ only cemented young Mohammed's beliefs: "As much as I value education and desired to study engineering; I could not shake the feeling that it would be the wrong decision, I felt in my gut that I had found my calling." said Mo, who managed to convince his parents to let him pursue his dream – although "many found a full time white belt a strange sight, and along the way I came to converse with many people who advised against pursuing jiu jitsu as a career. Nonetheless my motivation remained."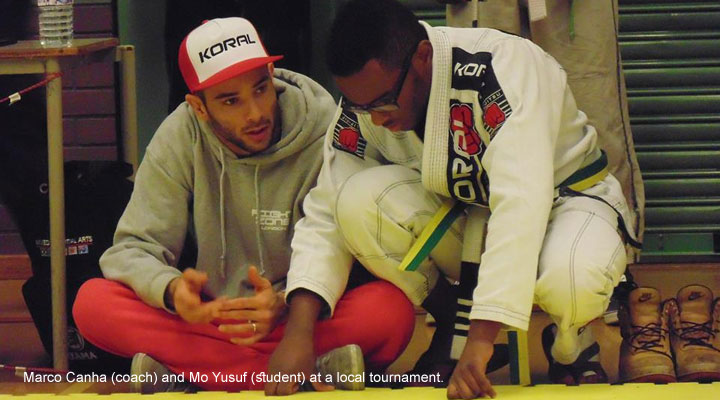 Training and competing full time Mo's career started taking off, earning him his blue belt from Marco Canha. He also started travelling with the Fightzone kids team, taking his first trip to California, USA in 2016 to help coach the team at the International Brazilian Jiu Jitsu Federation (IBJJF) Pan Kids Championships. This was another very important landmark in young Yusuf's life as he managed to experience the buzz surrounding the sport on that side of the globe, and train at the Checkmat Headquarters with some of the elite grapplers in the world.
Deciding that California was where he needed to be to become the best version of himself, Mo returned to London and "joined a plastering course at Goldtrowel Plastering School and began working in order to save money to travel. During this time I was hardly training, I spent 6 months doing this before I was able to go back to California". The money he saved working in construction helped him return to the US in 2017 on time to earn a silver medal at the IBJJF World Jiu Jitsu Championship.
Mo Yusuf has since conquered many more medals while competing in the US circuit, under the guidance of Leozinho Vieira, head-coach of Checkmat. This included at the Jiu Jitsu world league OC Championships, IBJJF San Diego BJJ Pro, IBJJF Las Vegas Open and more. He has has also been promoted to purple belt by Leo.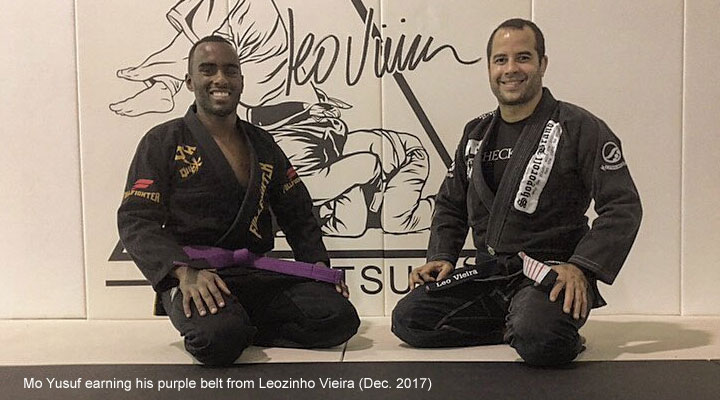 As we mentioned on the first line of this piece, "the story of Yusuf Mohammed could have been like that of any other jiu jitsu practitioner", what made his a different one were the life changing choices and hard work put in that led to his success. Mo was not born in wealth, he is a first generation Englishman raised by a working family who had a dream of one day becoming a black belt world champion. With the tenacity shown thus far, he might just do it.
Cover photo by Jacob Castillo.