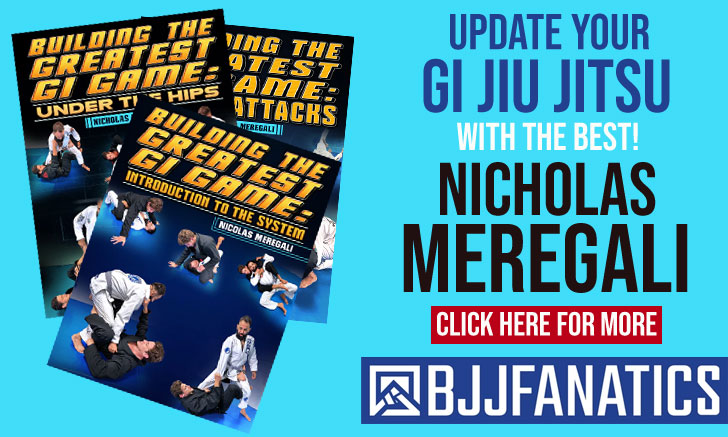 In Brazilian jiu jitsu the first 12 male black belts outside Brazil are well known, and have been for a few decades. They are called the "BJJ Dirty Dozen". On the other hand, and although women have been graded as black belts outside Brazil since 2002, the female equivalent of this dozen has never been researched and put forward to the grappling community.
Given that this website was designed with the intent to represent the individuality within this martial art, we believed this list was long overdue and got the research going. BJJ Heroes would like to express our gratitude for the invaluable efforts of BJJ Legends own Kris Shaw. Aside from being a badass black belt and an important part in the development of the gentle art in the US, Kris was an amazing source in the process of piecing this article together, without whom many of the facts here displayed would not have come through.
Without further ado…
First Female Black Belts in BJJ Outside Brazil
12. CINDY HALES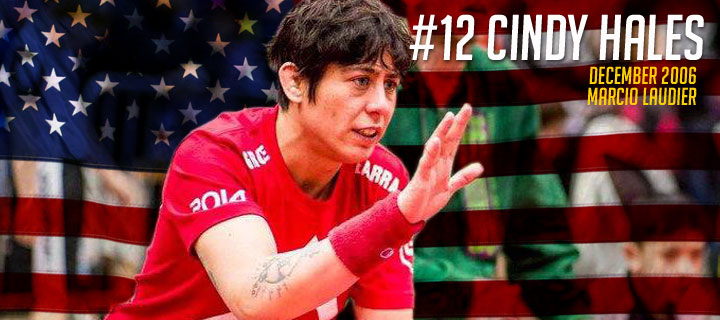 Graded on: December 6, 2006
Graded by: Marcio Laudier
Country: USA
Nicknamed "Sleeper" in her mixed martial arts career, Cindy Hales started training during the spring 2001 with Marcelo Alonso in Tacoma, Washington. As Alonso moved back to Brazil for an extended stay, Hales switched camps and (re)started training with Rodrigo Lopes and "Mamazinho" (Márcio Laudier), earning her black belt from both coaches in 2006.
In MMA Hales' only recorded loss was agains the veteran Megumi Fuji, one of women's MMA biggest stars, ever.
11. SUE ARBOGAST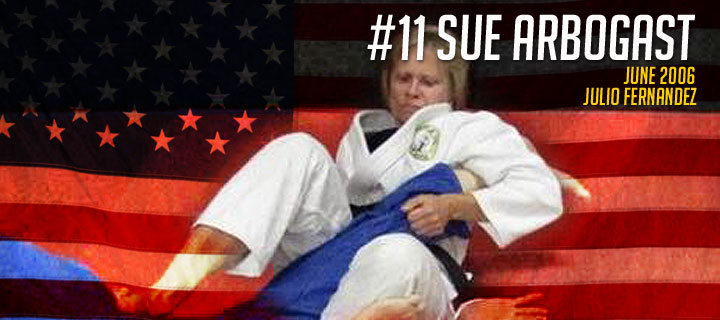 Graded on: June 2006
Graded by: Julio Foca
Country: USA

Arbogast initiated her martial arts training back in 1984, having trained in a variety of styles, from karate to gung fu and ultimately Brazilian jiu jitsu, which she started in 1996 under Carlson Gracie black belt Julio "Foca" Fernandez, co founder of Revolution BJJ.
Sue is the founder/instructor of Montpelier Martial Arts holding black belts in Korean and Okinawan karate, having also developed "Strike Back," a full impact self defense program for women.
10. MEGUMI FUJII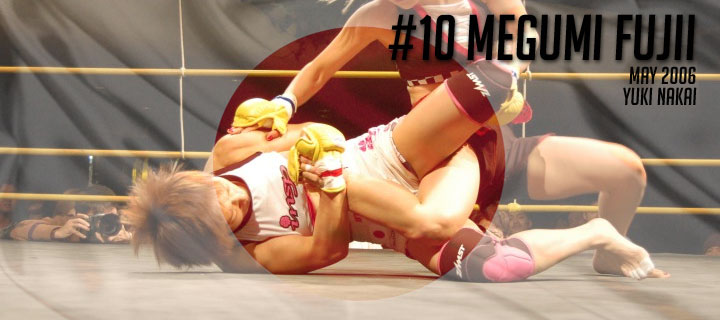 Graded on: May 2006
Graded by: Yuki Nakai
Country: Japan

Arguably the most accomplished competitor on the list, Megumi Fujii truly is one of the top grapplers to have ever entered an MMA arena, regardless of gender, country or size. To assess Megumi's worth, she went unbeaten from 2004 to 2010, defeating the toughest women on the planet, including Erica Montoya, Michelle Tavares, Mei Yamaguchi, Carla Esparza and many others.
Megumi Fujii collected arms throughout her career (13 wins by armbar) but was well known for her toe hold, a position dubbed "the Megulock" by many in the MMA circuit.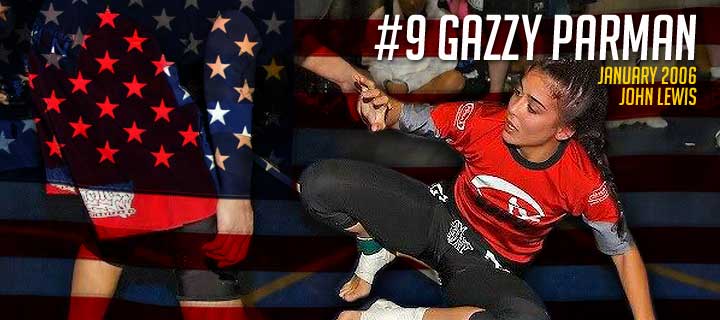 Graded on: January 2006
Graded by: John Lewis
Country: USA

Often remembered as the first "enfant terrible" in women's jiu jitsu, Ghazaleh "Gazzy" Parman was also one of the most successful competitors of her time, whose star power earned the mediatic Dana White's attention and support.  Parman was a UFC sponsored female athlete, and may have been the very first woman backed by the world's biggest MMA organization as well as the first female sponsored by Tapout.
Gazzy Parman started jiu jitsu on January 1998, being involved in the competitive scene from the get-go. Her willingness to compete led her to important medals including 2003 – Abu Dhabi/U.S.A. Trials Submission Wrestling Tournament Champion, 2005 – ADCC (Abu Dhabi Combat Club) invitee ranked 4th in the World, and one of 8 women to be invited to ADCC lightweight division that year, where Parman earned a bronze medal.
Gazzy was also a 17x Grapplers Quest champion, World Champion (CBJJO) and World No Gi Champion (IBJJF). Among her many accomplishments, Parman was also the 1st Female Grappler Hall of Fame Inductee and 1st Female American Black Belt under team Nova Uniao.
More recently Parman was invited to represent American Samoa for the 2012 FreeStyle Wrestling Olympic pre qualifiers.
8. JOCELYN CHANG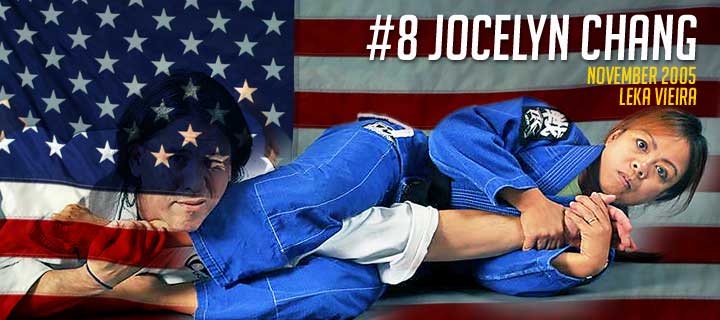 Graded on: November 2005
Graded by: Leka Vieira
Country: USA

Jocelyn Chang is a true warrior and an inspirational figure in the sport of Brazilian jiu jitsu. At the age of 39 (2009) Chang was diagnosed with breast cancer. Jocelyn underwent double mastectomy, 5 months of chemotherapy, and 30 days of radiation. And only 2 weeks after the radiation treatment was finished, she was back on the mat training and coaching.
A strong character in a small frame (Jocelyn is 4'9″), Chang earned the respect of all around her, including her coach Leka Vieira, who awarded her the black belt in 2005. Last we heard of Jocelyn, she was teaching at the Let's Roll BJJ Academy in Torrance, California.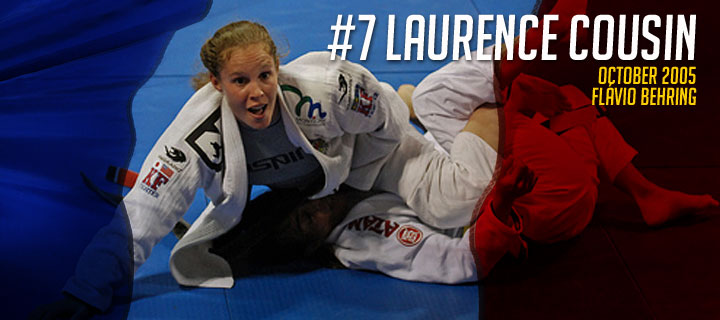 Graded on: October 2005
Graded by: Flávio Behring
Country: France

The French Laurence Cousin Fouillat is one of Europe's most highly regarded grapplers, being not only the 1st European female black belt in Brazilian Jiu Jitsu, but also the 2nd non Brazilian black belt (regardless of gender) to win a gold medal at the World Jiu Jitsu Championships (2007), an honour shared with Rafael Lovato Jr who also earned his world title that year as well.
Among Laurence's long list of achievements, her two world titles (IBJJF in 2007 as a black belt and CBJJO 2005 as a brown belt) stand out the most.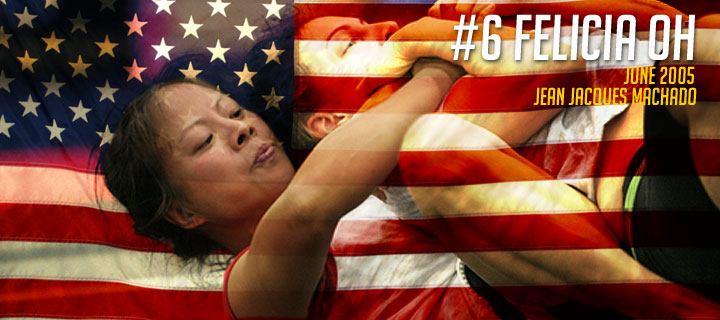 Graded on: June 2005
Graded by: Jean Jacques Machado
Country: USA

Felicia Linda Oh started training jiu jitsu on November 2000 at 33 years of age, making quick progress at Jean Jacques Machado's school in Tarzana, CA. Being a true athlete, Oh quickly excelled in competition, earning medals in the US Open (champion: 2003), Copa Pacifica (champion: 2003) and Pan American Championship (3rd place: 2003) and among her most notable wins were his victories over Letícia Ribeiro and Mefumi Fujii at the 2007 ADCC (at 39 years of age).
Her competitive success led to her black belt, which she earned in an impressive 4.5 years of training.
5. KRIS SHAW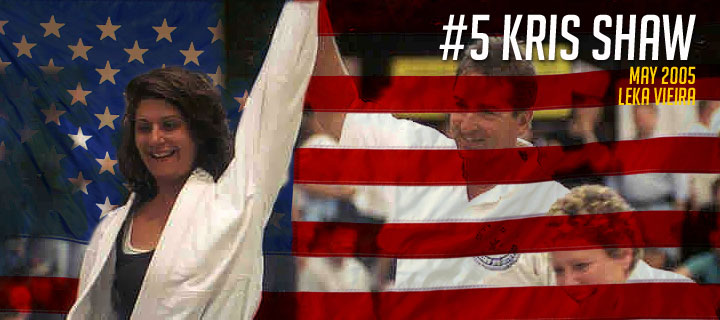 Graded on: May 2005
Graded by: Leka Vieira
Country: USA

Originally from Texas, Kris started training jiu jitsu back in 1997 at Reality Combat. Shaw moved to California for work related reasons continuing her progress at Rigan Machado's academy, where she trained from 1998-2004.
When the legendary Leka Vieira opened her "women's only" academy, the first of its kind in the northern hemisphere, Kris followed her becoming one of the main figures in the team. Her hard work and determination paid off competitively, where she earned significant titles, including an open weight championship at the 2000 International Masters and Seniors tournament (blue belt).
In 2007 Kris Shaw founded the BJJ Legends magazine. One of the first mags totally dedicated to jiu jitsu in the US.
4. KATHY BROTHERS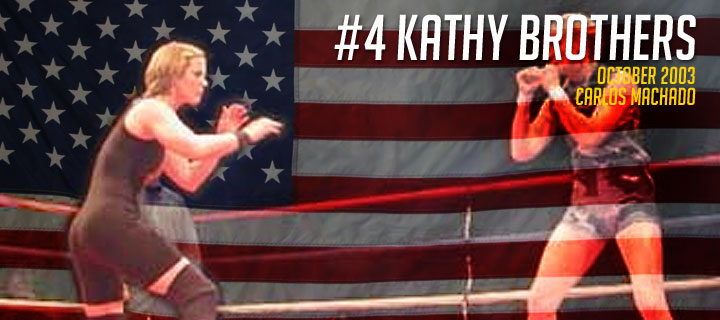 Graded on: October 2003
Graded by: Carlos Machado
Country: USA

Another pioneering figure in the American grappling landscape. Dallas' own Kathy Brothers trained under some of the leading jiu jitsu figures in the US, including UFC champion Royce Gracie and the Machado brothers.
Not much is known of her competitive accolades in jiu jitsu, though she competed in the early stages of women's MMA, becoming a World Free-Fighting champion and a World Pancration Council champion.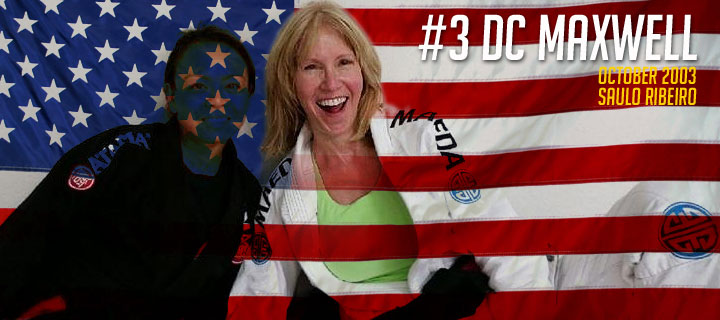 Graded on: 1st week of October, 2003
Graded by: Saulo Ribeiro
Country: USA

DC Maxwell was a very important figure in the development of jiu jitsu in the East Coast of the United States, a work started together with her ex-husband Steve Maxwell at the Maxercise training centre. DC was also involved in helping Relson Gracie establish his gym in Hawaii, and although she started training well in her 30's (38 to be more precise) she still managed to earn important medals such as 3 Pan American titles (1999 & 2000 blue, 2002 purple) as well as the International Masters medals (Champion in 2003 brown, 2004 black absolute; silver medal in 2001 purple). DC Maxwell is also the mother of former professional jiu jitsu athlete Zak Maxwell
2. AIKA SATO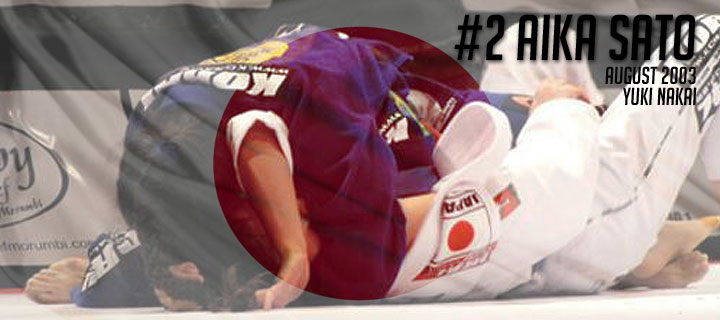 Graded on: 24th of August 2003
graded by: Yuki Nakai
Country: Japan

Not only was Aika Sato the first female black belt from Japan, she was also the first Japanese athlete to medal at the World Championships for 3 consecutive years (2001-2003), being one of the most accomplished jiu jitsu players ever produced in the Land of the Rising Sun. Sato was part of Paraestra's history, having enrolled in the famous Tokyo academy on January 23, 1998 right as Yuki Nakai first opened its doors.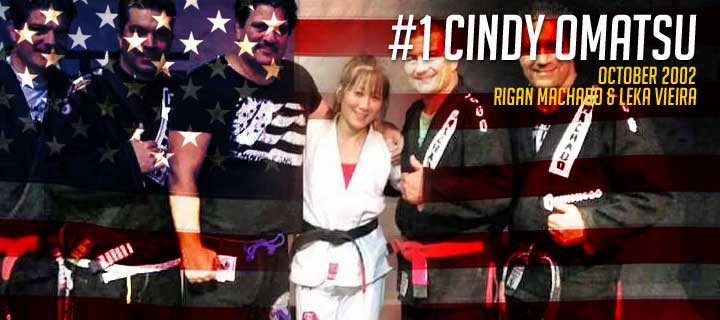 Graded on: October 2002
Graded by: Leka Vieira & Rigan Machado
Country: USA

Cynthia Omatsu, commonly known as Cindy Omatsu, was the first female black belt outside Brazil to earn the grade of black belt. Born in California, US and raised by Japanese parents, Omatsu started her jiu jitsu training in the mid 1990s, having taken part in the aforementioned Leka Vieira team for which she earned a Pan American bronze medal in 2001 (brown belt).
Other Pioneering Female Black Belts:
Yvone Duarte: first female black belt in Brazil
Graded by Osvaldo Alves on October 1990
Helen Currie: first female black belt in the UK
graded by Chris Haueter on May 2007
Penny Thomas: first female black belt in South Africa
Graded by Luis Herédia on July 2008
Devi Ahuja: first female black belt in Norway
Graded by Eduardo Rios on August 2010
Emily Kwok: first female black belt in Canada
Graded by Ricardo Almeida on December 2008
Monica Vanessa Silva: first black belt in Portugal
Graded by Sandro Lima on January 2011
Rosângela Conceição: first female world champion (1998)