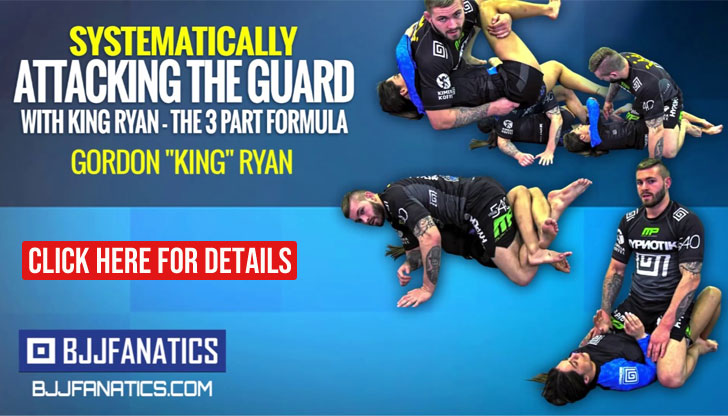 Another historic night for submission only grappling occurred on September 11-2016, as the Eddie Bravo Invitational (EBI) marched on to its 8th edition. During the build up to the event, many believed the tournament lacked the high standard of talent shown on previous occasions, particularly in the absolute tournament. That being said, EBI's match-makers did not disappoint and paired up some very exciting, fast paced matches.
With most of the tournament's competitors being foot-lock specialists, we hoped to see some serious lower limb exchanges, and indeed we did with the vast majority of match ending submissions going by way of heel hook.
One of the footlock specialists on deck, and heavy favourite to win the event was Gordon Ryan who dominated his side of the brackets adapting his jiu jitsu to each adversary, attacking the feet of opponents such as Matt Arroyo (R1) and Kyle Chambers (SF), and Kyle Griffin (F), but showing his diverse game against 10th Planet athlete Mike Hillebrand. Whom he beat using his kimura trap to the back transition. Ryan breezed through the middleweight tournament without breaking a sweat (exception made to the semi final where he was taken to overtime), finishing his challengers in seconds, showing that he is destined for great things in the sport, and certainly worthy of tougher competition.
On the other side of the bracket Felipe Fogolin was on fire putting forward (in our opinion) two fight of the night performances, first against Joe Baize and later in his semi final loss versus Kyle Griffin, one of the most exciting overtimes in the tournament. In the end Robert Drysdale brown belt, Kyle Griffin took the win and made the final against Ryan being submitted in less than 1 minute by the Renzo Gracie team prodigy.
Confirm the full results of EBI 8 Middleweight Tournament below:
EBI 8 EVENT
Location:
Orpheum Theatre
842 S Broadway, Los Angeles, CA 90014
Date:
September 11, 2016 (Sunday)
Round 1
Gordon Ryan def. Matt Arroyo via inside heel hook
Mike Hillebrand def.Aaron Johnson  via inside heel hook
Josh Hayden def. Kyle Chambers  via outside heel hook
Devhonte Johnson def. Lucas Rocha via overtime (fastest submission)
Eduardo Telles def. Matt Secor via overtime (quickest escapes)
Kyle Griffin def. Quentin Rozenwieg via straight ankle-lock
Joe Baize def.  Ezra Lenon via outside heel hook
Felipe Fogolin def. Greg Soto via knee-bar (dog-bar)
1/4 Final
Gordon Ryan def. Mike Hillebrand via RNC
Josh Hayden def. Devhonte Johnson via injury (knee twist)
Kyle Griffin def. Eduardo Telles via inside heel hook
Felipe Fogolin def. Joe Baize via palm-to-palm cross face from the back
Semi Final
Gordon Ryan def. Josh Hayden via overtime (1st round submission)
Kyle Griffin def. Felipe Fogolin via inside heel hook
Final
Gordon Ryan def. Kyle Griffin via overtime (1st round submission)
Super-Fight
Liz Carmouche def. Maria Henderson via outside heel hook