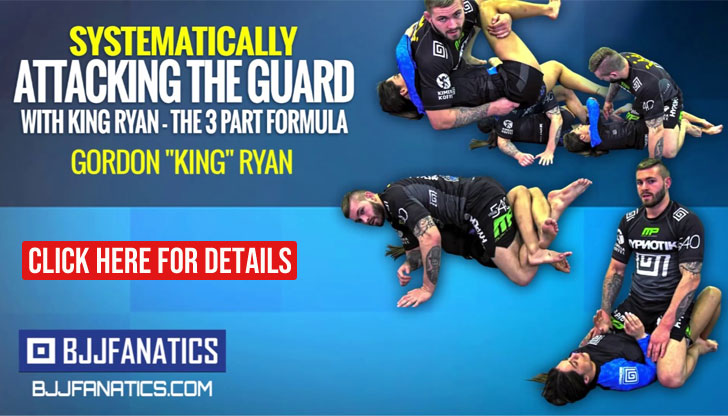 Adam Ferrara is a Brazilian jiu jitsu black belt under AJ Sousa, being also one of the top representatives of the GF Team academy in the United States of America. Widely accomplished in Gi and No-Gi competition, Adam and his brother Jake (another highly accomplished grappler) are known for incorporating high level wrestling to their jiu jitsu approach, a style often defined as American jiu jitsu.
Adam Ferrara Jiu Jitsu
Full Name: Adam Paul Ferrara
Nickname: N/A
Lineage: M. Maeda > C. Gracie > Crolin Gracie > Jorge Popovitch > Pablo Popovitch > AJ Sousa > Adam Ferrara
Main Achievements:
2nd Place IBJJF Houston Int. Open (2018)
3rd Place IBJJF Cincinnati Int. Open (2017)
3rd Place IBJJF Pans No-Gi Championship (2017 black)
Main Achievements (Colored Belts):
1st Place IBJJF Pans No-Gi Championship (2015 brown)
1st Place UAEJJF US National Pro (2017 brown)
1st Place IBJJF Boca Raton Open (2015/2014 purple)
1st Place IBJJF Miami Spring Open (2016 brown)
1st Place IBJJF Long Beach Open (2013 purple)
1st Place IBJJF Dallas Open (2013 blue)
1st Place FIVE Grappling (2014 purple)
2nd Place IBJJF World No-Gi Championship (2015 brown)
2nd Place IBJJF Pans Championship (2017 brown)
Favorite Position/Technique: Toe hold
Weight Division: Peso Pluma (64,00 kg / 141.5 lbs)
Team/Association: GF Team
Adam Ferrara Biography
Adam Ferrara was born on May 25, 1990 in Columbus, Ohio – United States of America.
Ferrara started learning the grappling trade through wrestling, a sport he pursued after he graduated from school, influenced by his younger brother Jake – who at the time was already a local wrestling standout. Adam started at a local club for which he competed for a couple of years before joining a mixed martial arts (MMA) academy named 'The Armory' in Florida. The BJJ class there was led by big names of the sport such as Rodrigo Cavaca, Gabriel Rollo (Palito), Marcus Almeida (Buchecha), and Marlon Moraes, and soon Adam was drawn to the gi.
The Armory project was short lived at this same venue where Adam and his younger brother Jake Ferrara started their jiu-jitsu training. The space was then taken over by Pablo Popovitch who became a coach to the Ferrara brothers for a while, awarding each their blue belts. Unfortunately, this initial academy was financially unstable and, as it crumbled, Adam and Jake switched camps joining Emyr Bussade's gym – American Top Team (ATT).
At Emyr's American Top Team the siblings earned their purple belts. It was also there that they met Jonatas Gurgel (Tagarela), another well respected ATT instructor who worked with countless high-level competitors. Adam and Jake soon started spending more time with Tagarela, preparing for big and small events. Being highly regarded as a coach, Jonatas' gym was often visited by many local top tier black belts. This was the case of AJ Sousa, who also became a regular help to the Ferrara's game, awarding them their brown belts in a combined effort with Tagarela.
AJ Sousa's influence grew stronger as the two brothers progressed through the brown belt category. The fact that Sousa joined the GF Team affiliation led his and Tagarela's camps to grow slightly apart on a competitive level. The Ferrara's then opted to become associated with AJ who guided them to important titles in their respective divisions. These achievements would lead to their black belts – a ceremony that took place immediately after the IBJJF World Championship, on July 1, 2017.
Adam Ferrara Grappling Record
15 WINS
BY POINTS


BY ADVANTAGES




BY SUBMISSION




BY DECISION




BY PENALTIES




BY DQ



12 SUBMISSIONS WINS
#d1212a
Triangle armbar
8
1
11 LOSSES
BY POINTS


BY ADVANTAGES




BY SUBMISSION




BY DECISION




BY PENALTIES




BY DQ



4 SUBMISSIONS LOSSES
#86e620
Choke from back
25
1
#d1212a
Inside heel hook
25
1
Adam Ferrara Fight History
ID
Opponent
W/L
Method
Competition
Weight
Stage
Year
14004

Joao Miyao

Joao Miyao
L
RNC
No Gi Pan Am.
61KG
SF
2017
14630

Silvio Duran

Silvio Duran
L
Pts: 4x2
Cincinnati Open
70KG
SF
2017
15143

Thiago Macedo

Thiago Macedo
L
Choke from back
Houston Open
70KG
F
2018
15582

Rene Lopez

L
Adv
Chicago Sp. Open
64KG
SF
2018
16391

Thiago Macedo

Thiago Macedo
L
Pts: 2x2, Adv
Miami SPO
70KG
SF
2018
17843

Rodrigo Francioni

Rodrigo Francioni
L
Referee Decision
F2W 89
N/A
SPF
2018
18589

Samir Chantre

Samir Chantre
L
Pts: 0x0, Adv
NoGi Worlds
67KG
R2
2018
20833

John Ortalani

L
Referee Decision
G.I. Gi
77KG
RR
2019
21117

Orlando Castillo

L
Points
Sub Stars
70KG
SPF
2019
23178

Emilio Hernandez

Emilio Hernandez
L
Kneebar
JitzKing
65KG
R1
2020
25033

Junny Ocasio

Junny Ocasio
L
Inside heel hook
F2W 160
61KG
SPF
2021
14001

Tadashi Takashima

W
RNC
No Gi Pan Am.
61KG
4F
2017
14629

Kris Kriebel

W
Toe hold
Cincinnati Open
70KG
4F
2017
15142

Samuel Braga

Samuel Braga
W
Kneebar
Houston Open
70KG
SF
2018
15581

Carlos Perez

W
Toe hold
Chicago Sp. Open
64KG
4F
2018
15722

Rodrigo Oliveira

W
Referee Decision
F2W 68
65KG
SPF
2018
16389

Yijad Moussa

W
Toe hold
Miami SPO
70KG
4F
2018
18585

Ighor Luis

W
Toe hold
NoGi Worlds
67KG
R1
2018
19697

Martin Davilla

W
Calf slicer
F2W 106
70KG
SPF
2019
20832

Clayton Lyon

W
Pts: 10x4
G.I. Gi
77KG
RR
2019
20834

Clay Simon

W
Triangle armbar
G.I. NoGi
70KG
RR
2019
20835

Sky Moischiek

W
RNC
G.I. NoGi
70KG
RR
2019
20836

Zach Delilovik

W
Armbar
G.I. NoGi
70KG
RR
2019
25761

Jason Gates

W
Triangle
Arte Suave
N/A
SPF
2021
25988

Sean Joseph

W
Armbar
SUBVERSIV 5
70KG
SPF
2021
26276

Thomas Waldron

W
N/A
Miami NGO
67KG
SF
2021
Ferrara Brothers Highlight