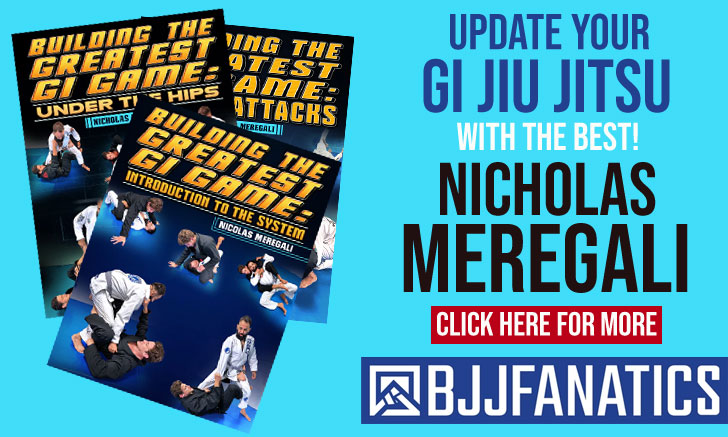 AJ Agazarm is a leading figure of an amazing generation of black belt Brazilian Jiu Jitsu competitors to have come from the United States of America. Being a former D1 wrestler, AJ Agazarm became known in the lower belt divisions of jiu jitsu for his fast paced game, his scrambles and his takedown ability, which earned him numerous titles and his black belt, awarded in 2013 by Eduardo de Lima and Carlos Gracie Junior.
AJ Agazarm Jiu Jitsu
Full Name: AJ Agazarm
Nickname: "Leão" (lion), a name that started being mentioned when AJ began his BJJ training due to his attitude on the mat. "Açaí" is also a name, often associated with Agazarm, this is due to his love for the famous Brazilian berry. He has several recipes for the fruit, and even some tutorials on youtube.
Lineage:  Mitsuyo Maeda > Carlos Gracie Sr. > Helio Gracie > Carlos Gracie Junior (> Eduardo de Lima) > AJ Agazarm
Main Achievements:
IBJJF World No-Gi Champion (2014)
IBJJF Pan American No-Gi Champion (2013)
IBJJF Brazilian National No-Gi Champion (2013)
IBJJF European No-Gi Open Champion (2017/2014**/2013)
ADCC 2nd Place (2017)
ADCC US West Coast Trials 2nd Place (2017)
IBJJF World No-Gi 2nd Place (2017)
IBJJF Pan American No-Gi 2nd Place (2018/2014*)
IBJJF Pan American 2nd Place (2015)
CBJJ Brazilian National No-Gi 2nd Place (2013*)
IBJJF American Nationals 2nd Place (2013**)
IBJJF Rome International Open 2nd Place (2017)
IBJJF European No Gi Open 2nd Place (2017*)
IBJJF Pan American No-Gi 3rd Place (2014/2013*)
IBJJF World No-Gi 3rd Place (2016/2013)
IBJJF European Open 3rd Place (2014)
IBJJF European No-Gi Open 3rd Place (2013*)
Main Achievements (Colored Belts):
IBJJF World Champion (2007 blue)
IBJJF Pan American Champion (2012 brown)
IBJJF American National Champion (2012 brown)
IBJJF Pan American 2nd Place (2013 brown)
IBJJF Pan American No-Gi 2nd Place (2012* brown)
IBJJF Brazilian National 2nd Place (2013* brown)
IBJJF Pan American No-Gi 3rd Place (2012 brown)
IBJJF World Championship 3rd Place (2012 brown)
IBJJF European Open 3rd Place (2013 brown)
CBJJ Brazilian National 3rd Place (2013 brown)
* Absolute
** Weight and absolute
Favorite Position/Technique: Sweep Single Leg Takedown, Lasso Guard
Weight Division: Peso Leve (76kg/168lbs)
Team/Association: Gracie Barra
AJ Agazarm Biography
AJ Agazarm was born in Hollywood, Florida – US.
AJ competed in a wide variety of sports when growing up, becoming acquainted with wrestling in his teens, through a friend and fellow football teammate who believed Agazarm would do well if he applied for the wrestling team. At the time (9th grade) AJ participated in a class but chose to not follow through.
The following year AJ's parents placed him in the public school system ahead of his 10th grade. Agazarm immediately signed up to the swimming and the cross country running team. Shorty after the start of the year AJ noticed a flyer on the school hall, advertising the wrestling team's trials. He decided to participate and made the team, this would represent the beginning of a major shift in AJ's sporting career, as he went on to win important championships during his high school career, these earned him a scholarship to a NAIA school in Williamsburg, KY.
During AJ Agazarm's first year in college, one of his teammates had become involved with mixed martial arts (MMA) and was preparing for a fight. AJ traveled with him to the fight venue on the day of the bout. After one of the competitors failed to show up, and knowing of Agazarm's success in wrestling, the promoter asked AJ if I would be willing to enter the ring. Agazarm accepted, and was successful, winning his fight by way of first round rear naked choke, although by his own admission: "I didn't even know what that was at the time".
Telling his father of his MMA achievement, Agazarm's patriarch asked AJ to start training jiu jitsu, believing it would be more suited for a career in the sport. When AJ returned from college for his summer vacation (2006), his dad took him to a neighbouring Gracie Barra school, led by Eduardo de Lima. During that summer, AJ attended every single one of Eduardo's classes, twice a day for 6 days a week. It was also during that period that Agazarm met Master Carlos Gracie Jr. who was in town for a seminar at Eduardo's school.
The atmosphere of Gracie Barra Clearwater, made AJ feel like he was part of a family, more than 'just' a team of competitors. the coach and the students genuinely cared for one another, which helped Agazarm train harder and move forward in the sport, as he felt he was not only doing it for himself, but for his Master and his comrades.
Carlinhos Gracie was so impressed with AJ's drive and ability to learn, he asked Agazarm if he wanted to move to Brazil with him where he could turn him into a champion. At that time, AJ had his own goals, which included a transfer to the Ohio State University where he could wrestle in Division 1 and earn a degree in finance. For those reasons, he declined the offer
AJ continued training under Eduardo's guidance, being awarded his blue belt after 3 months. He participated in many local tournaments as well as the Pan American Championships in 2007, achieving a gold medal in his first year of Jiu Jitsu.
When he arrived in Ohio to follow his dream, on the summer of 2007, he started training at a Relson Gracie's Academy affiliate there, led by Robin Gieseler. He spent the following two months training with Gieseler in preparation for the World Championship that year, doing his strength and conditioning with Aaron Fry of Team Edge in New Albany, OH. With solid guidance from all coaches AJ won his first world title.
After the 2007 title, Agazarm was approached by Relson Gracie who explained that if he wanted to continue to train at Gieseler's academy, he would have to switch teams. AJ felt very closely bonded with Gracie Barra and professor de Lima, so he chose to to put BJJ on hold for a while.
AJ showed up at the World Championship in 2008 still bearing his blue belt. Upon his arrival, AJ's coach Eduardo was contacted by the federation which informed him that people had written letters complaining, they mentioned that it was unfair for AJ to compete at blue belt again as he had won the division the previous year. As a result, coach de Lima promoted Agazarm to purple belt on the event.
Agazarm continued to compete and train as a purple belt, getting promoted to brown belt in 2011 by Master Carlos and Eduardo de Lima. AJ finished his career at Ohio State, earning his degree in finance, after which Kayron Gracie offered him a job in California at his academy, meaning a second chance to teach and train full time. This time, AJ fully embraced the offer. The opportunity gave him a chance to travel all over the world competing and training in jiu jitsu, establishing himself as one of the top American prospects in the sport, which earned him his black belt in 2013, 7 years after he started Jiu Jitsu. He hit the ground running, winning the Brazilian National No Gi Championship that year, becoming the first foreigner to achieve the title.
[fighter_status id=521]
AJ Agazarm Grappling Record
130 WINS
BY POINTS


BY ADVANTAGES




BY SUBMISSION




BY DECISION




BY PENALTIES




BY EBI/OT



41 SUBMISSIONS WINS
#fad11b
Choke from back
7
3
#f58822
Triangle armbar
5
2
#bf1f6c
Kimura/armbar
2
1
#fad223
Inside heel hook
2
1
87 LOSSES
BY POINTS


BY ADVANTAGES




BY SUBMISSION




BY DECISION




BY PENALTIES




BY EBI/OT



15 SUBMISSIONS LOSSES
#214eb8
Choke from back
40
6
#d1212a
Triangle armbar
7
1
#fad11b
Straight ankle lock
7
1
AJ Agazarm Fight History
ID
Opponent
W/L
Method
Competition
Weight
Stage
Year
4909

Alan Finfou

Alan Finfou
L
Referee Decision
European NoGi
ABS
SF
2013
4923

Claudio Mattos

Claudio Mattos
L
Adv
Rio Open
76KG
F
2013
4945

Vitor Oliveira

Vitor Oliveira
L
Armbar
American Nats
ABS
F
2013
4972

Murilo Santana

Murilo Santana
L
Choke
NoGi Pan Am.
ABS
SF
2013
5001

Leonardo Vieira

Leonardo Vieira
L
Referee Decision
ADCC
77KG
4F
2013
5078

Luiz Panza

Luiz Panza
L
Armbar
Brasileiro NoGi
ABS
F
2013
5105

Marcelo Mafra

Marcelo Mafra
L
Referee Decision
NoGi Worlds
73KG
SF
2013
5121

Lucas Leite

Lucas Leite
L
Adv
NoGi Worlds
ABS
4F
2013
5160

Osvaldo Moizinho

Osvaldo Moizinho
L
Adv
Las Vegas Open
76KG
SF
2013
5256

Francisco Iturralde

Francisco Iturralde
L
Points
European
76KG
SF
2014
5300

James Puopolo

James Puopolo
L
Choke from back
Pan American
ABS
R2
2014
5483

Jonatas Novaes

L
DQ
Chicago SPONG
ABS
SF
2014
5510

Gianni Grippo

Gianni Grippo
L
Pts: 4x0
NY Spring Open
ABS
F
2014
5546

Sandro Vieira

L
DQ
Brasileiro
76KG
4F
2014
5684

Gilbert Burns

Gilbert Burns
L
Points
ADCC Florida
77KG
SPF
2014
5700

Rodolfo Vieira

Rodolfo Vieira
L
Choke from back
World Champ.
ABS
R2
2014
5785

Roberto Satoshi

Roberto Satoshi
L
Choke from back
World Champ.
76KG
8F
2014
5962

Josh Hinger

Josh Hinger
L
Points
Am. Nat. NoGi
ABS
SF
2014
5973

Garry Tonon

Garry Tonon
L
RNC
No Gi Pan Am.
73KG
SF
2014
5995

Jackson Sousa

Jackson Sousa
L
Armbar
No Gi Pan Am.
ABS
F
2014
6004

Ricardo Rezende

Ricardo Rezende
L
Pts: 2x2, Adv
NoGi Worlds
ABS
RDS
2014
6075

Bruno Frazatto

Bruno Frazatto
L
Pts: 0x0, Adv
World Expo
ABS
SPF
2014
6113

Otavio Sousa

Otavio Sousa
L
Choke from back
NYC Pro
82KG
SF
2014
6425

AJ Sousa

AJ Sousa
L
Adv
World Pro Trials
86KG
F
2015
6429

AJ Sousa

AJ Sousa
L
Pts: 6x2
World Pro Trials
ABS
F
2015
6561

Rafael Pereira

L
Pts: 4x2
European
76KG
4F
2015
6762

Bernardo Faria

Bernardo Faria
L
Points
Pan American
ABS
R3
2015
6816

JT Torres

JT Torres
L
Pts: 10x0
Pan American
76KG
F
2015
7106

Lucas Lepri

Lucas Lepri
L
Pts: 2x0
World Pro
75KG
4F
2015
7178

Jackson Sousa

Jackson Sousa
L
Pts: 2x0
World Pro
ABS
R1
2015
7212

Sergio Ardila

Sergio Ardila
L
Pts: 2x0
ADCC US Trials
77KG
4F
2015
7940

Otavio Sousa

Otavio Sousa
L
RNC
ADCC
77KG
R1
2015
7992

Joao Rocha

Joao Rocha
L
Referee Decision
ADCC
ABS
R1
2015
8548

Augusto Mendes

Augusto Mendes
L
Referee Decision
Berkut 2
ABS
SPF
2015
9610

Roberto Satoshi

Roberto Satoshi
L
Pts: 4x0
World Pro
77KG
SF
2016
9613

Jhonny Loureiro

Jhonny Loureiro
L
Pts: 4x4, Adv
World Pro
77KG
3RD
2016
9750

Juan Kamezawa

Juan Kamezawa
L
Pts: 11x2
Brasileiro
76KG
4F
2016
9974

Mansher Khera

Mansher Khera
L
Pts: 4x2
World Champ.
76KG
R1
2016
10907

Marcio Andre

Marcio Andre
L
Pts: 2x2, Adv
NoGi Worlds
73KG
SF
2016
11311

Thiago Macedo

Thiago Macedo
L
Pts: 2x0
Long Beach Open
76KG
F
2016
11319

Nick Schrock

Nick Schrock
L
Pts: 0x0, Adv
Long Beach Open
ABS
SF
2016
11673

Dillon Danis

Dillon Danis
L
EBI/OT
SUG 3
ABS
SPF
2017
11772

Garry Tonon

Garry Tonon
L
Referee Decision
F2W 24
76KG
SPF
2017
11952

Davi Ramos

Davi Ramos
L
Points
ACBJJ 4
75KG
4F
2017
11989

Stephen Martinez

L
Points
LA National Pro
77KG
SF
2017
11998

Isaac Doederlein

Isaac Doederlein
L
Points
LA National Pro
U77KG
F
2017
12146

Joao Alves

L
Pts: 2x0
Pan American
76KG
R1
2017
12298

Jake Mackenzie

Jake Mackenzie
L
Pts: 2x0
Rome Open
76KG
F
2017
12311

Rodrigo Reis

L
Pts: 10x3
Rome Open
ABS
4F
2017
12372

Mahamed Aly

Mahamed Aly
L
Pts: 21x0
European NoGi
ABS
F
2017
12524

Vagner Rocha

Vagner Rocha
L
Referee Decision
ADCC WC Trials
77KG
F
2017
12623

Jonathan Satava

Jonathan Satava
L
Pts: 5x0
WP US Qualifier
77KG
RR
2017
12624

Jonathan Satava

Jonathan Satava
L
Pts: 9x0
WP US Qualifier
77KG
RR
2017
12760

Jose Carlos

Jose Carlos
L
Pts: 22x2
Brasileiro
76KG
R2
2017
12881

Dillon Danis

Dillon Danis
L
Pts: 10x0
Atlanta Spring O.
88KG
F
2017
13094

Osvaldo Moizinho

Osvaldo Moizinho
L
Pts: 2x0
World Champ.
70KG
8F
2017
13268

Ben Henderson

L
Referee Decision
F2W 37
ABS
SPF
2017
13500

Vitor Oliveira

Vitor Oliveira
L
Referee Decision
F2W 41
82KG
SPF
2017
13923

Rubens Charles

Rubens Charles
L
Pts: 3x0
ADCC
66KG
F
2017
14558

Nathan Orchard

L
EBI/OT
SUG 6
76KG
SPF
2017
14580

Renato Canuto

Renato Canuto
D
---
Kasai Pro
70KG
RR
2017
14583

Garry Tonon

Garry Tonon
L
Pts: 2x0
Kasai Pro
70KG
RR
2017
14584

Mansher Khera

Mansher Khera
L
Pts: 2x0
Kasai Pro
70KG
RR
2017
14679

Renato Canuto

Renato Canuto
L
Pts: 0x0, Adv
NoGi Worlds
73KG
F
2017
15175

Ben Henderson

L
Referee Decision
Polaris 6
84KG
SPF
2018
15385

Gianni Grippo

Gianni Grippo
L
Pts: 0x0, Adv
Pan American
70KG
4F
2018
15715

Alexandre Pulga

Alexandre Pulga
L
Referee Decision
F2W 68
77KG
SPF
2018
16466

Osvaldo Moizinho

Osvaldo Moizinho
L
Pts: 10x0
World Champ.
70KG
R1
2018
16936

Inseong Jang

Inseong Jang
L
Pts: 0x0, Adv
Spider Inv. 4F
76KG
SPF
2018
17230

Gilbert Burns

Gilbert Burns
L
Referee Decision
Kasai Pro 3
ABS
SPF
2018
17426

Gianni Grippo

Gianni Grippo
L
Pts: 9x0
No Gi Pan Am.
73KG
F
2018
23730

Osvaldo Moizinho

Osvaldo Moizinho
L
Referee Decision
F2W 140
75KG
SPF
2020
27636

Max Gimenis

Max Gimenis
L
Pts: 7x2
Pan American
O100KG
4F
2021
28331

Max Gimenis

Max Gimenis
L
Pts: 11x0
NoGi Worlds
O97KG
4F
2021
28992

Celso Vinicius

Celso Vinicius
L
Pts: 0x0, Adv
BJJ Stars
76KG
SPF
2021
29374

Jed Hue

L
Referee Decision
Polaris 18
77KG
SPF
2021
29494

Leon Larman

Leon Larman
L
Pts: 6x0
World Champ.
76KG
R1
2021
30565

Marcelo Fausto

Marcelo Fausto
L
Choke from back
European Open
76KG
R1
2022
31461

PJ Barch

PJ Barch
L
RNC
ADCC WC Trials
77KG
4F
2022
31627

Thiago Cintra

L
Triangle armbar
Pan American
70KG
R1
2022
32883

Gabriel Sousa

Gabriel Sousa
L
Pts: 6x2
World Champ.
70KG
R1
2022
33392

Nick Salles

Nick Salles
L
Choke from back
American Nat.
76KG
R1
2022
33432

Marlon Tanaka

L
Straight ankle lock
American Nat.
ABS
R1
2022
35003

Jeremy Skinner

Jeremy Skinner
L
Referee Decision
ADCC
66KG
R1
2022
35515

Andrew Alexander

L
Pts: 4x2
NoGi Pan
73KG
R1
2022
39004

Joshua McKinney

L
Pts: 2x2, Adv
Nashville SPO
82KG
F
2023
39246

Dante Muschamp

L
Pts: 4x2
Miami Open
82KG
4F
2023
40293

Elder Junior

L
Pts: 2x2, Adv
World Champ.
82KG
R1
2023
4899

Daniel Mendonca

W
Choke
Rome Open
76KG
F
2013
4900

Oliver Geddes

Oliver Geddes
W
Pts: 6x0
Rome Open
76KG
SF
2013
4907

Unknown

W
Armbar
European NoGi
ABS
4F
2013
4913

Daniel Mendonca

W
Wristlock
European NoGi
76KG
F
2013
4918

Unknown

W
Choke
Rio Open
76KG
R1
2013
4919

Unknown

W
Points
Rio Open
76KG
4F
2013
4921

Theodoro Canal

Theodoro Canal
W
Pts: 2x0
Rio Open
76KG
SF
2013
4935

Choi Choi

W
Pts: 32x0
American Nats
76KG
4F
2013
4938

Choi Choi

W
Pts: 32x0
American Nats
76KG
4F
2013
4939

Oliver Geddes

Oliver Geddes
W
Pts: 4x0
American Nats
76KG
SF
2013
4942

Antonio Antnioli

W
Pts: 4x0
American Nats
ABS
4F
2013
4943

Samir Chantre

Samir Chantre
W
Points
American Nats
ABS
SF
2013
4947

Denny Prokopos

Denny Prokopos
W
Pts: 4x0
American NNG
76KG
SF
2013
4948

Diogo Freitas

W
Referee Decision
American NNG
76KG
F
2013
4953

James Puopolo

James Puopolo
W
Pts: 9x4
American NNG
ABS
4F
2013
4956

Samir Chantre

Samir Chantre
W
Points
American NNG
ABS
SF
2013
4957

Eduardo Telles

Eduardo Telles
W
Pts: 0x0, Adv
American NNG
ABS
F
2013
4961

Steven Barnett

W
Choke
NoGi Pan Am.
76KG
SF
2013
4962

Nicolas Moraes

W
Toe hold
NoGi Pan Am.
76KG
F
2013
4963

Luciano Cristovao

W
Pts: 6x0
NoGi Pan Am.
ABS
4F
2013
4991

DJ Jackson

DJ Jackson
W
Referee Decision
ADCC
77KG
R1
2013
5068

Unknown

W
Armbar
Brasileiro NoGi
76KG
R1
2013
5069

Unknown

W
Toe hold
Brasileiro NoGi
76KG
4F
2013
5070

Sandro Vieira

W
Pts: 6x2
Brasileiro NoGi
76KG
SF
2013
5071

Kim Terra

Kim Terra
W
Choke
Brasileiro NoGi
76KG
F
2013
5074

Unknown

W
Choke
Brasileiro NoGi
ABS
R1
2013
5075

Kim Terra

Kim Terra
W
Pts: 23x0
Brasileiro NoGi
ABS
4F
2013
5077

Gabriel Lucas

Gabriel Lucas
W
Pts: 9x0
Brasileiro NoGi
ABS
SF
2013
5103

Peter Runez

W
Pts: 4x0
NoGi Worlds
73KG
R1
2013
5120

Enrico Cocco

Enrico Cocco
W
Pts: 4x0
NoGi Worlds
ABS
R1
2013
5252

Uknown

W
Armbar
European
76KG
4F
2014
5481

Ryan Durbin

W
Armbar
Chicago SPONG
82KG
F
2014
5482

Oliver Geddes

Oliver Geddes
W
Pts: 23x0
Chicago SPONG
82KG
SF
2014
5484

Briklin Welch

W
Armbar
Chicago SPO
82KG
F
2014
5485

Briklin Welch

W
Pts: 9x0
Chicago SPO
82KG
SF
2014
5486

Paulo Henrique

W
Pts: 4x0
Rome Open
73KG
SF
2014
5487

Oliver Geddes

Oliver Geddes
W
Points
Rome Open
73KG
F
2014
5488

Ralf Carneburn

W
Choke
European NoGi
73KG
SF
2014
5489

Paulo Henrique

W
Toe hold
European NoGi
73KG
F
2014
5491

Unknown

W
Armbar
European NoGi
ABS
4F
2014
5492

Unknown

W
Pts: 6x0
European NoGi
ABS
SF
2014
5493

Mauricio Henrique

W
Choke
European NoGi
ABS
F
2014
5506

Briklin Welch

W
Pts: 15x2
NY Spring Open
76KG
F
2014
5507

Washington Lima

W
Choke
NY Spring Open
ABS
4F
2014
5509

Antonio Antonioli

W
Pts: 13x6
NY Spring Open
ABS
SF
2014
5545

Unknown

W
Choke
Brasileiro
76KG
R1
2014
5775

Marcel Goncalves

Marcel Goncalves
W
Pts: 4x0
World Champ.
76KG
R1
2014
5988

Jorge Elias

W
Darce choke
No Gi Pan Am.
ABS
R1
2014
5992

Nik Nikolaisen

W
Pts: 4x0
No Gi Pan Am.
ABS
4F
2014
5994

Abraham Marte

Abraham Marte
W
Pts: 4x2
No Gi Pan Am.
ABS
SF
2014
6031

Luiz Rosa

W
Pts: 4x0
NoGi Worlds
73KG
4F
2014
6032

Rafael Benedito

W
Pts: 12x0
NoGi Worlds
73KG
SF
2014
6034

Rodrigo Freitas

Rodrigo Freitas
W
Pts: 2x0
NoGi Worlds
73KG
F
2014
6111

Kevin Mahecha

Kevin Mahecha
W
Pts: 7x5
NYC Pro
82KG
4F
2014
6398

Oliver Geddes

Oliver Geddes
W
Triangle armbar
Polaris
ABS
SPF
2015
6422

Ruben Dario

W
Toe hold
World Pro Trials
86KG
4F
2015
6423

Kevin Mahecha

Kevin Mahecha
W
Points
World Pro Trials
86KG
SF
2015
6428

Unknown

W
Choke
World Pro Trials
ABS
SF
2015
6556

Choi Choi

W
Pts: 14x0
European
76KG
R2
2015
6744

Eduardo Telles

Eduardo Telles
W
Points
Pan American
ABS
R1
2015
6806

Luan Carvalho

Luan Carvalho
W
Pts: 2x2, Adv
Pan American
76KG
R2
2015
6813

Kevin Mahecha

Kevin Mahecha
W
Points
Pan American
76KG
4F
2015
6815

Gabriel Rollo

Gabriel Rollo
W
Pts: 2x0
Pan American
76KG
SF
2015
7084

Rich Ryu

W
Triangle armbar
Ohio Challenge
ABS
4F
2015
7085

Paulo Santana

W
Toe hold
Ohio Challenge
ABS
SF
2015
7086

BJ Nelson

W
Pts: 10x0
Ohio Challenge
ABS
F
2015
7097

Ygor Dantas

W
Points
World Pro
75KG
R1
2015
7100

Alex Cabanes

W
Points
World Pro
75KG
R2
2015
7205

Yao Nkromah

W
Toe hold
ADCC US Trials
77KG
R1
2015
7209

Richie Martinez

Richie Martinez
W
Toe hold
ADCC US Trials
77KG
8F
2015
7801

Karo Parisyan

D
---
Metamoris UG
ABS
SPF
2015
8036

Daniel Strauss

D
---
Polaris 2
94KG
SPF
2015
9411

Jake Shields

Jake Shields
D
---
Polaris 3
82KG
SPF
2016
9585

Kevin Mahecha

Kevin Mahecha
W
Pts: 2x0
World Pro
77KG
R1
2016
9593

Carlos Costa

W
Kimura/armbar
World Pro
77KG
R2
2016
9598

Felipe Cesar

Felipe Cesar
W
Pts: 2x0
World Pro
77KG
8F
2016
9607

Davi Ramos

Davi Ramos
W
Pts: 2x0
World Pro
77KG
4F
2016
9740

Pedro Henrique

W
Submission
Brasileiro
76KG
R1
2016
9748

Robson Borges

W
Armbar
Brasileiro
76KG
8F
2016
10361

Marat Gafurov

W
Referee Decision
Berkut 3
ABS
SPF
2016
10482

Ituã Sales

W
Choke
Brasileiro Equipes
76KG
F
2016
10686

Vagner Rocha

Vagner Rocha
W
DQ
F2W 14
77KG
SPF
2016
10876

Ikuhisa Minowa

W
Triangle
Polaris 4
80KG
SPF
2016
10901

Andreas Perales

W
Armbar
NoGi Worlds
73KG
R2
2016
10904

Enrico Cocco

Enrico Cocco
W
Pts: 2x0
NoGi Worlds
73KG
4F
2016
11310

Nicollas Welker

W
Armbar
Long Beach Open
76KG
SF
2016
11317

Piter Frank

W
Points
Long Beach Open
ABS
4F
2016
11988

John Combs

John Combs
W
Pts: 2x0
LA National Pro
77KG
4F
2017
11991

Bret Russel

W
Pts: 10x0
LA National Pro
77KG
3RD
2017
11994

Ronald Henderson

W
Choke from back
LA National Pro
U77KG
4F
2017
11996

Robert Malof

W
Choke from back
LA National Pro
U77KG
SF
2017
12297

Andreas Perales

W
Points
Rome Open
76KG
SF
2017
12347

Andreas Perales

W
Pts: 44x0
European NoGi
73KG
SF
2017
12349

Ashley Williams

Ashley Williams
W
Pts: 12x0
European NoGi
73KG
F
2017
12368

Jakub Witkowski

W
Triangle
European NoGi
ABS
4F
2017
12370

Muslim Patsarigov

Muslim Patsarigov
W
DQ
European NoGi
ABS
SF
2017
12496

Stanley Rosa

W
Pts: 4x0
ADCC WC Trials
77KG
R2
2017
12505

Issa Able

W
Referee Decision
ADCC WC Trials
77KG
8F
2017
12517

Magid Hage

W
Pts: 6x0
ADCC WC Trials
77KG
8F
2017
12520

Jason Hayden

W
Pts: 2x0
ADCC WC Trials
77KG
4F
2017
12522

Oliver Taza

Oliver Taza
W
Pts: 2x0
ADCC WC Trials
77KG
SF
2017
12752

Samuel Dias

W
Pts: 4x2
Brasileiro
76KG
R1
2017
13086

Caio Nunes

W
Pts: 4x0
World Champ.
70KG
R1
2017
13659

Lloyd Cooper

W
Choke from back
Polaris 5
78KG
SPF
2017
13913

Nicky Ryan

Nicky Ryan
W
Pts: 2x0
ADCC
66KG
E1
2017
13919

Ethan Crelinsten

Ethan Crelinsten
W
Pts: 2x0
ADCC
66KG
4F
2017
13921

Pablo Mantovani

Pablo Mantovani
W
Referee Decision
ADCC
66KG
SF
2017
14036

Phil Baroni

W
EBI/OT
SUG 5
ABS
SPF
2017
14674

John Combs

John Combs
W
Pts: 2x0
NoGi Worlds
73KG
4F
2017
14678

Lachlan Giles

Lachlan Giles
W
Pts: 2x0
NoGi Worlds
73KG
SF
2017
15073

Chai Sirisute

W
Referee Decision
F2W 61
77KG
SPF
2018
15379

Thiago Macedo

Thiago Macedo
W
Pts: 2x2, Adv
Pan American
70KG
8F
2018
15866

Marcos Galvao

Marcos Galvao
W
Inside heel hook
Kasai Pro 2
70KG
SPF
2018
15996

Alex Huddleston

W
Points
Denver Open
O100KG
F
2018
17416

Pierpaolo Chiappe

W
Pts: 0x0, Adv
No Gi Pan Am.
73KG
8F
2018
17423

Daniel Seth

W
Pts: 2x0
No Gi Pan Am.
73KG
4F
2018
17425

Herbert Burns

Herbert Burns
W
Pts: 2x0
No Gi Pan Am.
73KG
SF
2018
22804

Ary Farias

Ary Farias
W
Referee Decision
F2W 133
70KG
SPF
2019
31405

Jacob Morse

W
Pts: 5x0
ADCC WC Trials
77KG
R1
2022
31423

Barry Simms

W
Pts: 2x0
ADCC WC Trials
77KG
R2
2022
31437

Daniel Hernandez

W
Pts: 0x0, Pen
ADCC WC Trials
77KG
R3
2022
31447

John Combs

John Combs
W
Referee Decision
ADCC WC Trials
77KG
R4
2022
31456

Mario Shonkwiler

W
Pts: 5x0
ADCC WC Trials
77KG
8F
2022
32437

Juan Correa

W
Pts: 8x6
SD Open
76KG
R1
2022
32475

Tyler Najjar

W
Pts: 26x0
SD NGO
73KG
SF
2022
32476

Zachary Legates

W
Pts: 4x0
SD NGO
73KG
F
2022
33463

Cody Orrison

W
Pts: 6x2
American NGN
73KG
4F
2022
33465

Daniel Seth

W
Pts: 2x0
American NGN
73KG
SF
2022
33466

Deandre Corbe

Deandre Corbe
W
Pts: 2x0
American NGN
73KG
F
2022
34556

Mikey Zindler

W
Referee Decision
F2W 209
N/A
SPF
2022
39002

Matheus Batista

W
N/A
Nashville SPO
82KG
SF
2023
43548

Josiah Iwamizu

W
Triangle
ADCC ECTrials
77KG
R1
2023
43567

Chris Shaffer

W
Choke
ADCC ECTrials
77KG
R2
2023
AJ Agazarm vs Daniel Mendonca

AJ Agazarm vs Eduardo Telles

AJ Agazarm Highlight

AJ Agazarm Highlight