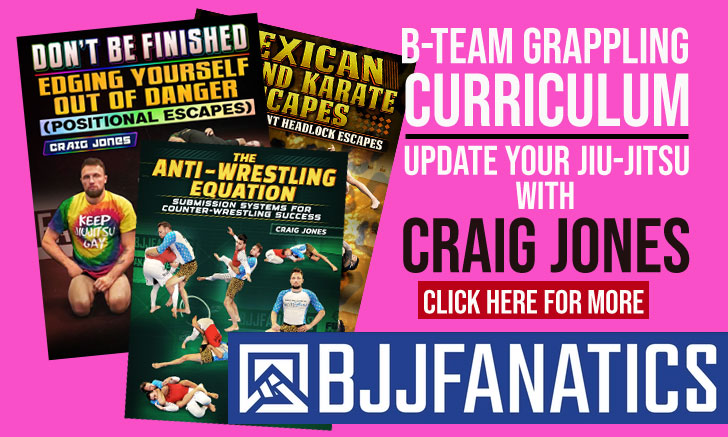 Jared Dopp is an American competitor in the sport of jiu-jitsu and a black belt under Rafael Lovato Junior. Dopp became widely recognized as one of the sport's top athletes after his performance at the 2013 edition of the ADCC World Championships, where he beat the former champion Vinny Magalhaes and other seasoned grapplers, placing 4th overall, while, himself, being a purple belt. As a brown belt Dopp improved on his previous ADCC mark, reaching a silver medal (2015) while also winning the World No-Gi and Pan American Championship. Dopp's achievements are even more remarkable considering he reached all of them while training 2-3x per week while maintaining a position as a chemical engineer.
Jared Dopp Jiu Jitsu
Full Name: Jared Lynn Dopp
Nickname: N/A
Lineage: Carlos Gracie > Helio Gracie > Carlos Gracie Junior > Carlos Machado > Rafael Lovato Junior > Jared Dopp
Main Achievements:
1st Place IBJJF Dallas Open (2015**)
1st Place IBJJF Twin Cities Open (2018)
2nd Place ADCC World Championship (2015)
2nd Place ADCC World Championship NoGi (2016)
4th place ADCC World Championship (2013)
Main Achievements (Colored Belts):
1st Place IBJJF World Championship (2012 blue)
1st Place IBJJF World Championship No-Gi (2014 brown, 2013 purple, 2012 blue)
1st Place IBJJF Pans Championship (2015 brown, 2014 purple, 2012** blue)
2nd Place IBJJF World Championship (2014/2013 purple)
* Absolute
** Weight and absolute
Favorite Position/Technique: Guard Passing
Weight Division: Peso Pesadíssimo (+ 100kg/221lbs)
Team/Association: Alliance
Jared Dopp Biography
Jared Dopp was born on April 3, 1989, in Tahlequah, Oklahoma – USA growing up in Commerce, also in OK.
Throughout his formation years, Dopp played a variety of sports and martial arts, including karate (where Dopp was awarded a black belt under instructor Scotty Baker) and (American) football, a game he played all the way to Midwestern State University, making a career as a linebacker.
Around 2005 Jared was introduced to jiu-jitsu, mainly the self-defense aspect of the martial art, in a class led by his cousin Mike (Mullin), who taught to the local police. These were more informal lessons without the use of the gi and with no sports orientation.
Jared only re-started jiu-jitsu again in 2008, this time dabbing his toes into the sporting side of the martial art. After a few months training Dopp decided to test for his blue belt, doing so at a Renato Tavares seminar in Norman, OK. He passed the test but moved to Wichita Falls, TX shortly after playing 2 more years football (college).
After he finished his football career Jared picked up on mixed martial arts (MMA) at a few different local gyms, where he met Griffin Phillips (2011) of Texoma BJJ, an affiliate gym of Rafael Lovato Junior. Griffin was the first coach to work with Jared on Brazilian jiu-jitsu and the sporting aspect of the martial art, instilling in Jared the desire to compete. It was this drive that led Jared to start training with at Lovato's main academy with Rafael himself on May 2012.
Throughout his jiu-jitsu career as a colored belt, Jared trained 2-3 times per week, exception made to 2013 when Dopp upped his training to 5 times a week with additional 4-5 strength and conditioning sessions per week. The hard work paid off with Jared reaching the semi-finals of the ADCC, an unthinkable feat for a purple belt competing against the elite of the sport.
In 2014 Jared started his chemical engineering degree, returning to his twice a week routine. His competitive consistency was not affected by this as Dopp still managed to medal at the world's top jiu-jitsu events with and without the gi as a brown belt. After medals at the "Worlds" (2014), Pan American (2015) and World No-Gi (2015) as well as a silver medal at the 2015 ADCC championships, Jared Dopp was awarded his black belt by Rafael Lovato Junior on the 6th of October 2015.
NOTE: About Jared Dopp's Record
The individual's grappling record feature available on BJJ Heroes relates to matches in the adult black belt divisions. However, given the extraordinary success of Jared's ADCC campaigns as a lower belt, and considering that the Abu Dhabi Combat Club is well recognized as the prime event in submission grappling, we have decided to add Dopp's purple (2013) and brown belt (2015) runs to his record.
Jared Dopp Grappling Record
29 WINS
BY POINTS


BY ADVANTAGES




BY SUBMISSION




BY DECISION




BY PENALTIES




BY DQ



3 SUBMISSIONS WINS
#214eb8
Choke from back
67
2
#86e620
Mounted triangle
33
1
38 LOSSES
BY POINTS


BY ADVANTAGES




BY SUBMISSION




BY DECISION




BY PENALTIES




BY DQ



8 SUBMISSIONS LOSSES
#214eb8
Inside heel hook
25
2
#5AD3D1
Arm in guillotine
13
1
Jared Dopp Fight History
ID
Opponent
W/L
Method
Competition
Weight
Stage
Year
5049

Joao Rocha

Joao Rocha
L
Points
ADCC
O99KG
SF
2013
5051

Roberto Abreu

Roberto Abreu
L
Points
ADCC
O99KG
3PLC
2013
7908

Orlando Sanchez

Orlando Sanchez
L
Referee Decision
ADCC
O99KG
F
2015
8473

Gustavo Dias

Gustavo Dias
L
Pts: 2x2, Adv
NoGi Worlds
O100KG
4F
2015
8483

Rodrigo Freitas

Rodrigo Freitas
L
Pts: 6x6, Adv
NoGi Worlds
ABS
R1
2015
9077

Mahamed Aly

Mahamed Aly
L
Pts: 11x0
Houston Open
O100KG
F
2016
9081

Mahamed Aly

Mahamed Aly
L
Footlock
Houston Open
ABS
SF
2016
9340

Daniel Priebe

L
N/A
Pan American
100KG
R1
2016
9913

Ezra Lenon

L
Pts: 6x0
Respect Pro
ABS
SPF
2016
10942

Luiz Panza

Luiz Panza
L
Calf slicer
NoGi Worlds
97KG
F
2016
10966

Murilo Santana

Murilo Santana
L
Armbar
NoGi Worlds
ABS
SF
2016
11300

Mahamed Aly

Mahamed Aly
L
Pts: 17x14
Grappling Pro 2
120KG
SF
2016
11301

J. Friedrich

L
Inside heel hook
Grappling Pro 2
120KG
3RD
2016
12084

Admilson Gobi

Admilson Gobi
L
Pts: 4x2
Pan American
ABS
R1
2017
12241

Dany Gerard

Dany Gerard
L
Pts: 15x2
Pan American
100KG
8F
2017
12918

Eliot Marshall

Eliot Marshall
L
Referee Decision
F2W 34
ABS
SPF
2017
13201

Vitor Toledo

Vitor Toledo
L
Referee Decision
World Champ.
100KG
8F
2017
13856

Orlando Sanchez

Orlando Sanchez
L
Referee Decision
ADCC
O99KG
SF
2017
13858

Roberto Abreu

Roberto Abreu
L
Referee Decision
ADCC
O99KG
3RD
2017
14722

Joao Rocha

Joao Rocha
L
Points
NoGi Worlds
O97KG
SF
2017
14741

Jackson Sousa

Jackson Sousa
L
Pts: 0x0, Adv
NoGi Worlds
ABS
4F
2017
15444

Mahamed Aly

Mahamed Aly
L
Pts: 16x0
Pan American
100KG
SF
2018
15601

Gutemberg Pereira

Gutemberg Pereira
L
Pts: 4x4, Adv
Chicago Sp. Open
100KG
F
2018
15609

Horlando Monteiro

Horlando Monteiro
L
Armbar
Chicago Sp. Open
ABS
SF
2018
15955

Matt Leighton

Matt Leighton
L
Referee Decision
Sub Spectrum
ABS
SPF
2018
16589

Mahamed Aly

Mahamed Aly
L
Pts: 6x2
World Champ.
100KG
8F
2018
16618

R. Evangelista

R. Evangelista
L
Pts: 5x0
World Champ.
ABS
RD
2018
16652

B. Lima

L
Pts: 2x0
Copa Podio
O94KG
RR
2018
18692

Yuri Simoes

Yuri Simoes
L
Pts: 19x0
NoGi Worlds
O97KG
4F
2018
18706

John Combs

John Combs
L
Arm in guillotine
NoGi Worlds
ABS
R1
2018
21817

Victor Hugo

Victor Hugo
L
Pts: 4x0
ADCC
O99KG
R1
2019
21907

Tim Spriggs

Tim Spriggs
L
Guillotine
ADCC
ABS
R1
2019
23566

John Hansen

L
N/A
Kansas Open
O100KG
SF
2020
24422

J. Couch

L
Inside heel hook
Sub Spectrum
ABS
4F
2020
31341

Cole Brandt

L
Referee Decision
ADCC WC Trials
99KG
8F
2022
36548

Felipe Cesar

Felipe Cesar
L
Points
NHaven FNGO
ABS
SF
2022
42105

Paulo Simeao

L
N/A
NHaven Open
O100KG
F
2023
42108

Gabriel Costa

Gabriel Costa
L
Pts: 8x4
NHaven Open
ABS
4F
2023
5038

Amir Allam

W
Points
ADCC
O99KG
R1
2013
5045

Vinny Magalhaes

Vinny Magalhaes
W
Pen
ADCC
O99KG
4F
2013
5056

Leo Nogueira

Leo Nogueira
W
Pts: 2x0
ADCC
ABS
R1
2013
7897

Gabriel Lucas

Gabriel Lucas
W
Pts: 2x0
ADCC
O99KG
R1
2015
7904

Rodrigo Cavaca

Rodrigo Cavaca
W
Pts: 2x0
ADCC
O99KG
4F
2015
7906

Joao Rocha

Joao Rocha
W
Pen
ADCC
O99KG
SF
2015
9079

Pedro Araujo

Pedro Araujo
W
Choke from back
Houston Open
ABS
4F
2016
10938

Renato Moraes

W
Pts: 4x0
NoGi Worlds
97KG
4F
2016
10940

Muslim Patsarigov

Muslim Patsarigov
W
Pts: 0x0, Adv
NoGi Worlds
97KG
SF
2016
10962

Gilbert Burns

Gilbert Burns
W
Pts: 4x0
NoGi Worlds
ABS
4F
2016
11296

Vinny Magalhaes

Vinny Magalhaes
W
Pts: 12x9
Grappling Pro 2
120KG
4F
2016
12262

Eliot Kelly

Eliot Kelly
W
Referee Decision
F2W 28
100KG
SPF
2017
12850

Jimmy Lugo

W
Pts: 10x0
Dallas Open
100KG
F
2017
13847

Abdulaev Ruslan

W
Mounted triangle
ADCC
O99KG
E1
2017
13852

Vinny Magalhaes

Vinny Magalhaes
W
Referee Decision
ADCC
O99KG
4F
2017
14720

Joseph Moku

W
Pts: 3x0
NoGi Worlds
O97KG
4F
2017
14730

Vagner Rocha

Vagner Rocha
W
Pts: 0x0, Adv
NoGi Worlds
ABS
R1
2017
15607

Dante Leon

Dante Leon
W
Pts: 6x4
Chicago Sp. Open
ABS
4F
2018
16656

Leonardo Lara

Leonardo Lara
W
Choke from back
Copa Podio
O94KG
RR
2018
16661

Horacio Antunes

W
Pts: 6x0
Copa Podio
O94KG
RR
2018
17876

Michael Zanini

W
Points
Twin Cities Open
ABS
4F
2018
17877

Perez Figueiroa

W
Points
Twin Cities Open
ABS
SF
2018
17878

Piter Frank

W
Pts: 0x0, Adv
Twin Cities Open
ABS
F
2018
18687

Wilson Almeida

W
Pts: 12x0
NoGi Worlds
O97KG
R1
2018
24421

Jacob Johnson

W
Pts: 2x0
Sub Spectrum
ABS
R1
2020
31326

Oscar Feliz

W
Pts: 3x0
ADCC WC Trials
99KG
R1
2022
31328

Antonio Zuazo

W
Referee Decision
ADCC WC Trials
99KG
R1
2022
36546

Huthayfah Penney

W
Points
NHaven FNGO
ABS
4F
2022
42106

Joseph Brewer

W
N/A
NHaven Open
ABS
R1
2023
Jared Dopp vs Ryne Sandhagen

Jared Dopp vs Mahamed Aly

Jared Dopp vs Vinny Magalhaes