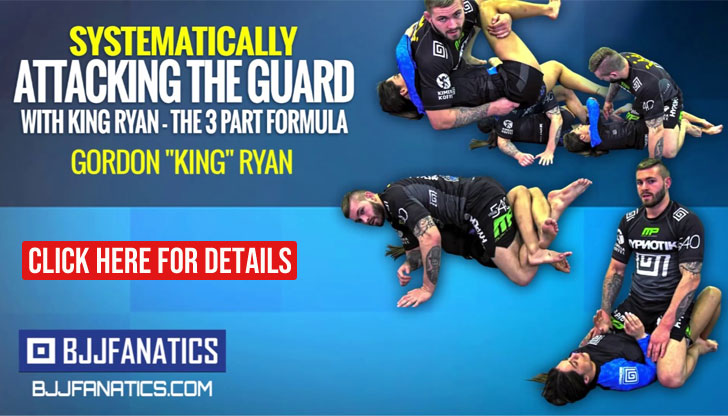 Leonardo Saggioro, often referenced as Leo Saggioro or simply by his nickname 'Cascão' is a Brazilian jiu-jitsu black belt under Ricardo Marques, being also a representative of the Brazilian Top Team (BTT) affiliation in this sport/martial art's competitive circuit. Leo Saggioro is also widely recognized as one of the best featherweights of his generation, with a very distinctive style of grappling based on grinding pressure and a forward-moving half guard.
Leo Saggioro Jiu Jitsu
Full Name: Leonardo Fernandes Saggioro
Nickname: Cascão is a famous comic book character from the collection 'Turma da Mônica' (Monica's Gang) by Mauricio de Sousa. In English, this character is named 'Smudge'. Saggioro was called this from when he was a child due to his haircut, which resembled that of the character.
Lineage: Carlos Gracie > Carlson Gracie > Sergio Souza > Ricardo Marques > Leonardo Saggioro
Main Achievements:
1st Place CBJJ Brazilian Nationals (2013/2012)
1st Place UAEJJF King of Mats (2018)
1st Place UAEJJF Abu Dhabi Pro (2014)
1st Place IBJJF Toronto Open (2016/2015**)
1st Place IBJJF Montreal Open (2015**)
2nd Place IBJJF World Championship (2018 / 2017)
2nd Place IBJJF European Open (2020)
2nd Place CBJJ Brazilian Nationals (2014/2011)
2nd Place CBJJ South American Championship (2011)
3rd Place IBJJF World Championship (2012)
3rd Place IBJJF Pans Championship (2015)
3rd Place FIVE Grappling LW Grand Prix (2017)
Main Achievements (Colored Belts):
1st Place IBJJF World Championship (2008 purple)
2nd Place IBJJF World Championship (2010 brown)
* Absolute
** Weight and absolute
Favorite Position/Technique: Miragaia Position (over-under)
Weight Division: Peso Pena (70,00 kg / 154.5 lbs)
Team/Association: BTT
Leonardo Saggioro Biography
Leonardo Saggioro was born on March 7, 1989, in Juiz de Fora, a city in the southeastern Brazilian state of Minas Gerais, approximately 40 kilometers from the state border with Rio de Janeiro.
Minas Gerais has a short but prosperous history in jiu-jitsu, having in Ricardo Marques one of the states the most revered coaches. It was under the guidance of Marques that Leo Saggioro began his jiu-jitsu career, at the age of 13.
Saggioro started competing early and making a name for himself in his own and the neighboring state of Rio de Janeiro. His reputation rose up to international proportions shortly after his 18th birthday when he conquered his first IBJJF World title as a purple belt.
Continuing a prosperous campaign in the brown belt division, Cascão finally earned his black belt in the second semester of 2010, shortly after another positive performance at the 'Worlds' from the hands of his longtime instructor Ricardo Marques. His impact in this new division was felt almost immediately with a silver medal at the Brazilian nationals (CBJJ Brasileiro).
In 2015 Leonardo Saggioro was invited to Canada where he was offered a full time coaching position at a Brazilian Top Team affiliate school. An offer accepted by the young athlete.
About Leonardo Saggioro's Record
This is a compilation of Leonardo's matches at black belt (adult) in some of jiu jitsu's top events, please note that this grappling record does not account for every single match in Saggioro's career.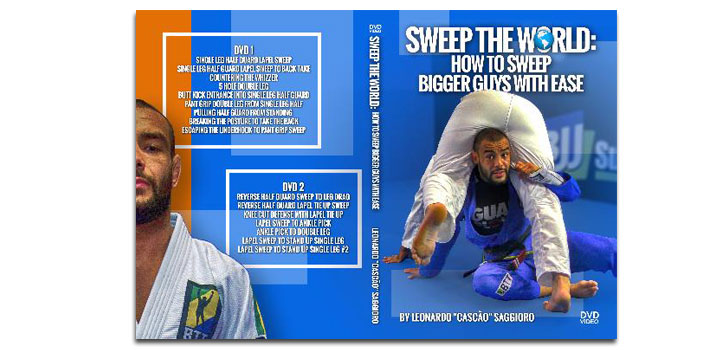 Leo Saggioro Grappling Record
106 WINS
BY POINTS


BY ADVANTAGES




BY SUBMISSION




BY DECISION




BY PENALTIES




BY DQ



42 SUBMISSIONS WINS
#214eb8
Choke from back
38
16
#86e620
Cachecol choke
17
7
47 LOSSES
BY POINTS


BY ADVANTAGES




BY SUBMISSION




BY DECISION




BY PENALTIES




BY DQ



9 SUBMISSIONS LOSSES
#214eb8
Choke from back
11
1
#86e620
Bow and arrow
11
1
#f58822
Triangle armlock
11
1
#ff9124
Inverted triangle
11
1
Leo Saggioro Fight History
ID
Opponent
W/L
Method
Competition
Weight
Stage
Year
2845

Guilherme Mendes

Guilherme Mendes
L
Pts: 0x0, Adv
European
70KG
4F
2011
2957

Bruno Frazatto

Bruno Frazatto
L
Points
Brasileiro
70KG
F
2011
3108

Rafael Mendes

Rafael Mendes
L
Inverted triangle
World Champ.
70KG
4F
2011
3431

Eduardo Pessoa

L
Pts: 0x0, Adv
Copa Podio
76KG
GP
2011
3435

Vinicius Marinho

Vinicius Marinho
L
Pts: 7x0
Copa Podio
76KG
GP
2011
3501

Bruno Frazatto

Bruno Frazatto
L
Triangle
European Open
70KG
4F
2012
3990

Rubens Charles

Rubens Charles
L
Choke from back
World Champ.
70KG
SF
2012
4331

Italo Lins

Italo Lins
L
Points
Carlson Cup
70KG
F
2012
5501

Otavio Sousa

Otavio Sousa
L
Pts: 4x2
WP Montreal
ABS
4F
2014
5544

Paulo Miyao

Paulo Miyao
L
Pts: 4x0
Brasileiro
70KG
F
2014
5771

Isaque Paiva

Isaque Paiva
L
Referee Decision
World Champ.
70KG
4F
2014
5876

Paulo Miyao

Paulo Miyao
L
Pts: 8x0
Rio Open
70KG
F
2014
6133

Paulo Miyao

Paulo Miyao
L
Referee Decision
Rio BJJ Pro
70KG
F
2014
6234

Jaime Canuto

Jaime Canuto
L
Referee Decision
Copa Okinawa
ABS
F
2014
6250

Paulo Miyao

Paulo Miyao
L
Pts: 4x2
South American
70KG
F
2014
6256

Paulo Miyao

Paulo Miyao
L
Pts: 4x2
South American
70KG
F
2014
6799

Osvaldo Moizinho

Osvaldo Moizinho
L
Pts: 0x0, Adv
Pan American
70KG
SF
2015
7428

Gianni Grippo

Gianni Grippo
L
Referee Decision
World Champ.
70Kg
4F
2015
7648

Isaque Paiva

Isaque Paiva
L
Referee Decision
Brazil Nat. Pro RJ
66KG
F
2015
9565

Isaque Paiva

Isaque Paiva
L
Adv
World Pro
69KG
R1
2016
9959

Rafael Mendes

Rafael Mendes
L
Pts: 6x0
World Champ.
70KG
4F
2016
12163

Marcio Andre

Marcio Andre
L
Bow and arrow
Pan American
76KG
8F
2017
13102

Rubens Charles

Rubens Charles
L
Pts: 0x0, Adv
World Champ.
70KG
F
2017
13448

Gianni Grippo

Gianni Grippo
L
Referee Decision
FIVE Super League
70KG
SF
2017
13894

DJ Jackson

DJ Jackson
L
Referee Decision
ADCC
77KG
E1
2017
16483

Jamil Hill-Taylor

Jamil Hill-Taylor
L
Pts: 4x2
World Champ.
70KG
F
2018
18889

Paulo Miyao

Paulo Miyao
L
Referee Decision
European Open
70KG
SF
2019
19580

Matheus Gabriel

Matheus Gabriel
L
Pts: 6x2
Pan American
70KG
4F
2019
20023

Jamil Hill-Taylor

Jamil Hill-Taylor
L
Referee Decision
F2W 109
70KG
SPF
2019
20604

Marcio Andre

Marcio Andre
L
Pts: 2x2, Adv
World Champ.
70KG
4F
2019
23090

Isaac Doederlein

Isaac Doederlein
L
Pts: 2x2, Adv
European Open
70KG
F
2020
24692

Israel Sousa

Israel Sousa
L
Pts: 4x3
Grand Slam RJ
69KG
SF
2020
25610

Marcio Andre

Marcio Andre
L
Pts: 2x0
WP BR Qualifier
69KG
RR
2021
26376

Murilo Amaral

Murilo Amaral
L
Referee Decision
SA Cont. Pro
69KG
SF
2021
26380

Alex Sodre

Alex Sodre
L
Loop choke
SA Cont. Pro
69KG
RPC
2021
27712

Pablo Mantovani

Pablo Mantovani
L
Pts: 5x3
Grand Slam MSK
69KG
F
2021
27948

Fabricio Andrey

Fabricio Andrey
L
Choke
Brasilia Pro
69KG
F
2021
28037

Daniel Junior

Daniel Junior
L
Canto choke
Brasileiro
70KG
SF
2021
28501

Fabricio Andrey

Fabricio Andrey
L
Pts: 2x1
Grand Slam RJ
69KG
SF
2021
28506

Alessandro Botelho

L
Pts: 4x3
Grand Slam RJ
69KG
RPC
2021
29132

Israel Sousa

Israel Sousa
L
Pts: 5x2
BRA Qualifiers
69KG
F
2021
31100

Fabricio Andrey

Fabricio Andrey
L
Triangle armlock
Grand Slam LDN
69KG
SF
2022
32078

Rommel Fernandes

L
Armbar
SA Cont. Pro
69KG
SF
2022
32349

Alex Sodre

Alex Sodre
L
Pts: 3x0
Grand Slam AD
69KG
4F
2022
33952

Victor Nithael

Victor Nithael
L
Pts: 3x3
Grand Slam RJ
69KG
4F
2022
39264

Sebastian Rodriguez

Sebastian Rodriguez
L
Pts: 6x2
Miami Open
ABS
SF
2023
40273

Johnatha Alves

Johnatha Alves
L
Pts: 2x0
World Champ.
76KG
4F
2023
2954

Unknown

W
Submission
Brasileiro
70KG
4F
2011
2956

M. Almeida

W
N/A
Brasileiro
70KG
SF
2011
3438

Helder Medeiros

Helder Medeiros
D
---
Copa Podio
76KG
GP
2011
3466

Willian Salles

W
Triangle
Copa Budo
ABS
F
2012
3838

Unknown

W
Submission
Brasileiro
70KG
4F
2012
3840

Isaque Paiva

Isaque Paiva
W
Choke
Brasileiro
70KG
SF
2012
3841

David Lemes

David Lemes
W
Triangle
Brasileiro
70KG
F
2012
3976

Peter Han

W
Submission
World Champ.
70KG
R2
2012
3984

Justin Rader

Justin Rader
W
Choke
World Champ.
70KG
R3
2012
3986

Osvaldo Moizinho

Osvaldo Moizinho
W
RNC
World Champ.
70KG
4F
2012
4329

Unknown

W
Choke from back
Sol e Neve
70KG
SF
2012
4330

Moises

W
Armbar
Sol e Neve
70KG
F
2012
4336

Unknown

W
Cachecol choke
Carlson Cup
70KG
F
2013
4637

Unknown

W
Choke from back
Brasileiro
70KG
R1
2013
4638

Unknown

W
Choke from back
Brasileiro
70KG
4F
2013
4640

David Lemes

David Lemes
W
Cachecol choke
Brasileiro
70KG
SF
2013
4641

Mario Reis

Mario Reis
W
Referee Decision
Brasileiro
70KG
F
2013
4916

Isaque Paiva

Isaque Paiva
W
Referee Decision
Rio Open
70KG
F
2013
5217

Giovani Mariano

W
Cachecol choke
Barbacena Cup
ABS
F
2014
5494

Gianni Grippo

Gianni Grippo
W
Referee Decision
WP Montreal
70KG
F
2014
5542

Erick Raposo

W
Points
Brasileiro
70KG
SF
2014
5645

Eduardo Goncalves

Eduardo Goncalves
W
N/A
World Pro.
70KG
R1
2014
5646

Marcelino Freitas

Marcelino Freitas
W
N/A
World Pro.
70KG
4F
2014
5647

Gianni Grippo

Gianni Grippo
W
Adv
World Pro.
70KG
SF
2014
5648

Jedrzej Loska

W
Pts: 6x2
World Pro.
70KG
F
2014
6132

Rick Raposo

W
Choke from back
Rio BJJ Pro
70KG
SF
2014
6254

Erick Raposo

W
N/A
South American
70KG
SF
2014
6376

Igor Mocaiber

W
Choke from back
Toronto Open
82KG
F
2015
6377

Chris Kriebel

W
Choke from back
Toronto Open
ABS
SF
2015
6378

Richard Bondoc

W
N/A
Toronto Open
ABS
F
2015
6791

Sergio Hernandez

W
Pts: 3x0
Pan American
70KG
R1
2015
6795

Vitor Paschoal

W
Pts: 5x2
Pan American
70KG
4F
2015
7419

Eduardo Ramos

W
Points
World Champ.
70KG
8F
2015
7423

Jonathan Thomas

Jonathan Thomas
W
Referee Decision
World Champ.
70KG
8F
2015
7643

João Tavares

W
Points
Brazil Nat. Pro RJ
66KG
R1
2015
7646

Leonardo Martins

W
Points
Brazil Nat. Pro RJ
66KG
SF
2015
8521

Michael Wacker

W
Cachecol choke
Montreal Open
70KG
F
2015
8524

Leonardo Costa

W
N/A
Montreal Open
ABS
SF
2015
8525

Lucas Rocha

Lucas Rocha
W
Adv
Montreal Open
ABS
F
2015
8855

John Rickel

W
Cachecol choke
Toronto Open
76KG
SF
2016
8856

Rick Slomba

W
N/A
Toronto Open
76KG
F
2016
10402

Renan Borges

W
N/A
Boston SIO
70KG
SF
2016
10403

Athos Miranda

W
Cachecol choke
Boston SIO
70KG
F
2016
12150

Yan Lucas

Yan Lucas
W
Choke from back
Pan American
76KG
R1
2017
13092

Jonathan Thomas

Jonathan Thomas
W
Pts: 4x2
World Champ.
70KG
8F
2017
13096

Marcio Andre

Marcio Andre
W
Referee Decision
World Champ.
70KG
4F
2017
13100

Gianni Grippo

Gianni Grippo
W
Referee Decision
World Champ.
70KG
SF
2017
13444

Brandon Walensky

Brandon Walensky
W
Cachecol choke
FIVE Super League
70KG
4F
2017
13450

Yago Espindola

W
Referee Decision
FIVE Super League
70KG
3RD
2017
16033

Samuel Canquerino

W
Pts: 8x0
King of Mats
69KG
RR
2018
16036

Hiago George

Hiago George
W
Referee Decision
King of Mats
69KG
RR
2018
16041

Jose Lima

Jose Lima
W
Pts: 0x0, Adv
King of Mats
69KG
RR
2018
16046

Thiago Barreto

Thiago Barreto
W
Pts: 0x0, Adv
King of Mats
69KG
SF
2018
16048

Gianni Grippo

Gianni Grippo
W
Referee Decision
King of Mats
69KG
F
2018
16474

Gilson Nunes

Gilson Nunes
W
Pts: 2x0
World Champ.
70KG
R2
2018
16480

Rafael Mansur

Rafael Mansur
W
Pts: 2x2, Adv
World Champ.
70KG
4F
2018
16482

Osvaldo Moizinho

Osvaldo Moizinho
W
Pts: 2x0
World Champ.
70KG
SF
2018
18884

John Lenno

W
Choke
European Open
70KG
4F
2019
19572

R. Cadena

W
Choke
Pan American
70KG
8F
2019
20600

Joao Neto

Joao Neto
W
Pts: 2x2, Adv
World Champ.
70KG
R2
2019
22232

Isaac Doederlein

Isaac Doederlein
W
Pts: 6x5
KOM
69KG
SPF
2019
23083

Rodrigo Gortati

W
Pts: 4x2
European Open
70KG
R2
2020
23086

Gabriel Marangoni

Gabriel Marangoni
W
Pts: 2x0
European Open
70KG
4F
2020
23089

Gabriel Sousa

Gabriel Sousa
W
Referee Decision
European Open
70KG
SF
2020
24673

Yago Rodrigues

W
RNC
Grand Slam RJ
69KG
R1
2020
24683

Alex Sodre

Alex Sodre
W
Pts: 3x2
Grand Slam RJ
69KG
8F
2020
24689

Walkler Junior

W
Pts: 3x3, Pen
Grand Slam RJ
69KG
4F
2020
24694

Anselmo Gomes

W
Pts: 4x0
Grand Slam RJ
69KG
RPC
2020
24695

Davi Oliveira

W
Pts: 2x0
Grand Slam RJ
69KG
3RD
2020
25288

Joao Oliveira

W
Choke from back
Rio Open
70KG
R1
2021
25293

Matheus Onda

W
DQ
Rio Open
70KG
4F
2021
25297

Diego Sodre

Diego Sodre
W
RNC
Rio Open
70KG
SF
2021
25298

Alex Sodre

Alex Sodre
W
Pts: 13x4
Rio Open
70KG
F
2021
25504

Mauricio Ospina

W
RNC
Grand Slam AD
69KG
R1
2021
25508

Daniel Vieira

W
Pts: 2x2
Grand Slam AD
69KG
4F
2021
25511

Gustavo Azevedo

W
Dogbar
Grand Slam AD
69KG
SF
2021
25513

Israel Sousa

Israel Sousa
W
Pts: 3x2
Grand Slam AD
69KG
F
2021
25609

Francisco Freire

W
Choke from back
WP BR Qualifier
69KG
RR
2021
26358

Erick Valnei

W
Pts: 8x0
SA Cont. Pro
69KG
R1
2021
26367

Breno Nascimento

W
Submission
SA Cont. Pro
69KG
8F
2021
26372

Leandro Lima

W
Choke from back
SA Cont. Pro
69KG
4F
2021
27709

D. Razmadze

W
Pts: 8x0
Grand Slam MSK
69KG
4F
2021
27711

Thiago Macedo

Thiago Macedo
W
Pts: 3x2
Grand Slam MSK
69KG
SF
2021
27943

Iago Santos

W
Pts: 2x0
Brasilia Pro
69KG
4F
2021
27946

Fernando Favari

W
Pts: 7x0
Brasilia Pro
69KG
SF
2021
28032

Wallace Nunes

W
Pts: 3x0
Brasileiro
70KG
4F
2021
28496

Vinicius Pereira

Vinicius Pereira
W
Pts: 2x2
Grand Slam RJ
69KG
8F
2021
28500

Marlus Salgado

W
Pts: 3x2
Grand Slam RJ
69KG
4F
2021
29126

Caio Almeida

Caio Almeida
W
Choke from back
BRA Qualifiers
69KG
4F
2021
29130

Higor Lima

Higor Lima
W
Pts: 6x2
BRA Qualifiers
69KG
SF
2021
29941

Willan Oliveira

W
Choke from back
Guarapari Pro
69KG
4F
2022
29942

Alisson Silva

W
Choke from back
Guarapari Pro
69KG
SF
2022
29943

Marcelo Faria

W
Katagatame
Guarapari Pro
69KG
F
2022
31097

Israel Nascimento

W
Pts: 3x2
Grand Slam LDN
69KG
4F
2022
31103

Leandro Lima

W
Pts: 1x0
Grand Slam LDN
69KG
RR
2022
31104

Romao Carvalho

W
Pts: 6x2
Grand Slam LDN
69KG
3RD
2022
32076

Felipe Negochadle

W
Pts: 9x0
SA Cont. Pro
69KG
4F
2022
33930

Matheus Onda

W
RNC
Grand Slam RJ
69KG
R1
2022
33944

Joao Oliveira

W
Pts: 2x0
Grand Slam RJ
69KG
8F
2022
39234

Enrique Chaluja

W
Cross choke
Miami Open
76KG
4F
2023
39237

Lukete Silva

Lukete Silva
W
Pts: 2x0
Miami Open
76KG
SF
2023
39256

Marco Souza

W
Choke from back
Miami Open
ABS
R1
2023
39260

Roberto Jimenez

Roberto Jimenez
W
DQ
Miami Open
ABS
4F
2023
39756

Ari Pollan

W
Choke from back
Atanta SPO
76KG
SF
2023
39758

Lukete Silva

Lukete Silva
W
Referee Decision
Atanta SPO
76KG
F
2023
40256

Fabricio Barbarotti

Fabricio Barbarotti
W
Choke from back
World Champ.
76KG
R1
2023
40269

Luiz Santos

W
Referee Decision
World Champ.
76KG
8F
2023
Leo Saggioro vs Lucas Rocha (2015)

Leo Saggioro vs Michael Wacker (2015)