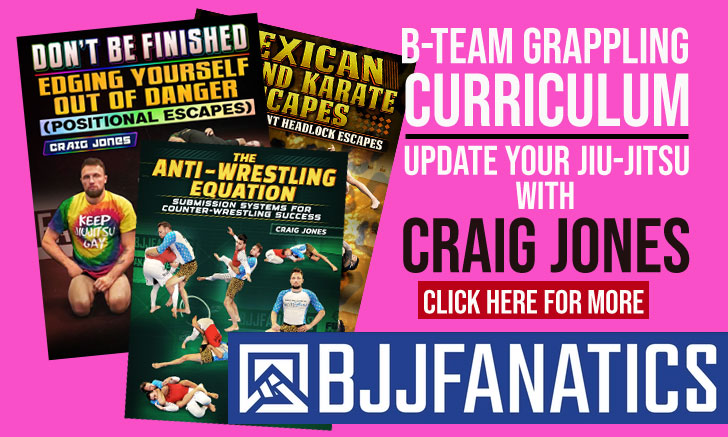 Alexandre Baraúna is a Brazilian jiu jitsu black belt under Ricardo de La Riva and Júlio César Pereira, being also a senior member of the world famous jiu jitsu association: Grappling Fight Team, commonly known as GF Team, a group Baraúna co-founded together with the aforementioned Júlio César and Marcos Bello in 2007. Well known as a leader among the group, coach Baraúna has helped raise the profile of high-end athletes such as Ricardo Evangelista, Alex Costa and Luiz Néstor, to name a few. With the departure of Júlio César to the United States in 2017, Alexandre Baraúna became the team's senior figure and reference in Rio de Janeiro.
Alexandre Baraúna Jiu Jitsu
Full Name: Alexandre Baraúna da Conceição
Nickname: N/A
Lineage 1: Mitsuyo Maeda > Carlos Gracie > Carlson Gracie > Ricardo De La Riva > Alexandre Baraúna
Lineage 2: Mitsuyo Maeda > Luis França > Oswaldo Fadda >  Monir Salomão > Júlio César > Alexandre Baraúna
Main Achievements:
CBJJ Brasileiro Championship 2nd Place (2005 Master 1)
IBJJF International Masters & Seniors 2nd Place (2018 Master 3)
CBJJ Brasileiro Championship 3rd Place (2015 Master 3)
IBJJF Master International Open 3rd Place (2016 Master 3)
Main Achievements (Colored Belts):
IBJJF Pans Champion (1996 purple)
IBJJF World Championship 3rd Place (1998 brown)
CBJJ Brasileiro Championship 3rd Place (1998 brown)
Favorite Position, Technique: N/A
Weight Division: Pesadíssimo (+100,50 kg / +222.0 lbs)
Team/Association: GF Team
Alexandre Baraúna Biography
Alexandre Baraúna was born on February 17, 1974 in Rio de Janeiro, Brazil, growing up in the outskirts of the Marvelous City.
As a child, Alexandre was underdeveloped, an issue that troubled his parents for some time. He was eventually taken to the family doctor for a diagnosis, who then presented two possible solutions to combat the issue: Growth hormones or the regular practice of sports. Alexandre's mother worked in the health industry and was uneasy with the first option, wisely opting for the second. With this in mind, she decided to take her son to his first jiu jitsu class when he was 8 years old.
Baraúna's introduction to jiu jitsu was done by coach Milton at the now extinct Academia Monir, an iconic gym that produced many important figures of BJJ-s 1980's and 1990's era. As a 14-year-old yellow belt, Alexandre had a short break from jiu jitsu, rejoining one year later under the guidance of Rafael Caldeira and Júlio César – two well known black belts produced by Master Monir Salomão, founder of the Monir Academy in Vila da Penha, RJ.
By the time Baraúna earned his purple belt from the hands of César and Caldeira, he had long surpassed his underdevelopment days, then walking around as a 6'3″ (192cm) heavyweight. As the academy did not have any students who could match Alexandre's size, his progression was proving to be a challenge. This issue led coach Júlio to advise his student he would be better served at Ricardo De La Riva's academy in the South Zone of Rio de Janeiro. De La Riva had a good relationship with César, having also some of the top heavyweights in the region, being a perfect match for Baraúna's development, who did indeed thrive while at the DLR academy.
A fantastic tutor, De La Riva stood by Alexandre Baraúna through his brown and black belts, the latter being awarded on February 22, 1999, by Ricardo in the presence of Júlio César – who had never stopped following Alexandre's career.
It was also coach DLR who guided Baraúna through to a short spell coaching in the United States during 1999. Alexandre had initiated his coaching career years prior, as a purple belt, and given his experience, once he reached his black belt Ricardo nominated Baraúna and partner Marcelo Grosso for a coaching position in Florida.
Once Alexandre returned to Brazil, and his hometown, he decided to re-join with Júlio César due to the proximity between the two (both geographical and friendship wise). While with coach César, Baraúna helped establish the Gama Filho brand as one of the best grappling institutions in the nation, until 2007, when the team was forced to change its name due to legal reasons.
Under a new name: GF Team, Baraúna was called to be one of the founding members of the association. A responsibility shared with coaches Júlio César and Marcos Bello, each of who had their own thriving gyms. Three hubs of high-level talent, each producing champions in their own right. Some of Baraúna's top students being Ricardo Evangelista, Alex Costa, Daniel Marcos and Luiz Néstor, to name a few.
While growing the GFT brand as a coach and founder, Baraúna also found time to work for the FBJJ (Federação Brasileira de Jiu Jitsu), an organization which joins forces with the United Arab Emirates Jiu Jitsu Federation (UAEJJF), Baraúna's role as head coordinator of the federation's Brazilian affairs, particularly ruling the refereeing body has been revered throughout his career.
Alexandre Baraúna's CTVA Academy