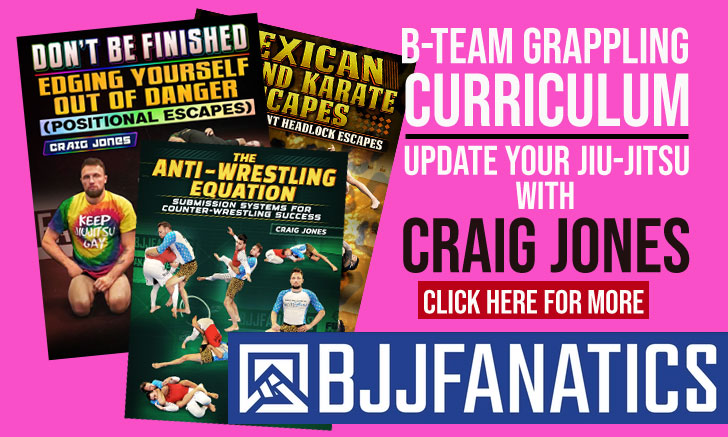 Aurélie Le Vern is a prominent jiu-jitsu athlete from France who competes out of the Six Blades team branch in the French Guiana Region. A black belt under Tyrone Gonsalves, Aurélie Le Vern broke through as one of the top medium heavyweights in the sport after her numerous medals on the International Brazilian Jiu-Jitsu Federation (IBJJF) global circuit.
Aurélie Le Vern Jiu-Jitsu
Full Name: Aurélie Le Vern
Nickname: N/A
Lineage: Carlos Gracie > Helio Gracie > Royler Gracie > Saulo Ribeiro > Alexandre Ribeiro > Tyrone Gonsalves > Aurélie Le Vern
Main Achievements:
3rd Place IBJJF Pan Championship (2023)
3rd Place IBJJF World Championship (2023)
Main Achievements (Colored Belts):
1st Place IBJJF World Championship (2019 blue, 2021 purple, 2022 brown)
1st Place IBJJF European Open (2019* / 2020 blue, 2023 brown)
1st Place IBJJF Pan Championship (2019 blue, 2022** brown)
2nd Place IBJJF World Championship (2021* purple)
3rd Place IBJJF World Championship (2022 brown)
3rd Place IBJJF European Open (2019 blue)
Favorite Position/Technique: Pressure Passing
Weight Division: Meio Pesado (74,00 kg / 175.0 lbs)
Team/Association: Six Blades
Aurelie Le Vern Biography
Aurelie Le Vern was born on July 12, 1991, in Aix-en-Provence near the famous Côte d'Azur region of southern France.
Her life was dedicated to sports from early on, competing at an amateur level in a wide variety of activities, mostly outdoor sports. Among Aurelie's most practiced physical endeavors were rock climbing, mountain biking, skiing, roller skating, motorbiking, paragliding, and high-mountain hiking, to name a few.
After many years dedicated to sports, when looking for a profession to follow in adulthood, young Aurelie opted to pursue physical education, finishing her degree in 2016 at one of her country's top universities. While looking for a position within the highly competitive French public school system, Le Vern found work in the French Guiana, an overseas territory of France on the northeast coast of South America.
After arriving at the remote location, away from friends and family, Aurelie sought to keep herself occupied to fend off the inevitable feeling of being out of place. To kill that time, Le Vern found a martial arts school where she started practicing judo. At this same combat academy, jiu-jitsu classes ensued under the instruction of coach Tyrone Gonsalves.
Aurelie trained in judo for 1 year but, during that period, always felt curious about the BJJ classes. Eventually, her curiosity drove her to try a class, on September 2017.
Le Vern's lifetime of extreme sports helped her adapt quickly to jiu-jitsu. The grip strength and dexterity of over a decade of rock climbing, and the stamina of cycling, had her playing more complex grappling maneuvers quicker than the average person, an evolution that translated well to the competition scene.
Training and competing as often as possible, Aurelie went through the belt ranks of BJJ quickly, earning all her belts from the hands of Gonsalves, including her black belt which she achieved in 5.5 years, at the podium of the 2023 IBJJF European Open (January).
During her first 5 years as a grappling competitor, Aurelie Le Ven followed a hectic schedule, between her school work, helping with the running of the classes with Tyrone at the Six Blades French Guiana Academy, and her own training. This daily routine helped her become one of the top athletes in the jiu-jitsu sporting world but was not a sustainable practice. Therefore, in 2023, Le Vern decided to put her work as a sports teacher on hold to pursue a full-time career in the sport.
Aurelie Vern Grappling Record
18 WINS
BY POINTS


BY ADVANTAGES




BY SUBMISSION




BY DECISION




BY PENALTIES




BY DQ



11 SUBMISSIONS WINS
#d1212a
Choke from back
9
1
#fad11b
Shoulder lock
9
1
3 LOSSES
BY POINTS


BY ADVANTAGES




BY SUBMISSION




BY DECISION




BY PENALTIES




BY DQ



0 SUBMISSION LOSSES
Aurelie Vern Fight History
ID
Opponent
W/L
Method
Competition
Weight
Stage
Year
38512

Amy Campo

Amy Campo
L
Pts: 8x7
Pan American
74KG
SF
2023
40443

Maria Malyjasiak

Maria Malyjasiak
L
Pts: 2x0
World Champ.
74KG
SF
2023
42069

Thalyta Silva

Thalyta Silva
L
Pts: 0x0, Adv
Floripa WO
69KG
F
2023
38507

Elizabeth Mitrovic

W
Pts: 2x0
Pan American
74KG
R1
2023
38508

Maria Malyjasiak

Maria Malyjasiak
W
Pts: 7x0
Pan American
74KG
4F
2023
40438

Izadora Cristina

W
Pts: 5x4
World Champ.
74KG
R1
2023
41457

Julia Boscher

W
Armbar
ADCC SP
70KG
RR
2023
41459

Anna Remneva

W
Pts: 3x0
ADCC SP
70KG
RR
2023
41461

Maria Pereira

W
Armbar
ADCC SP
70KG
RR
2023
41474

Bia Rocha

W
Referee Decision
ADCC SP
ABS
4F
2023
41475

Anna Remneva

W
Katagatame
ADCC SP
ABS
SF
2023
41476

Maria Goncalves

W
Americana
ADCC SP
ABS
F
2023
41869

Stephanie Juliano

W
Cross choke
Vitoria Open
79KG
SF
2023
41870

Amanda Magda

Amanda Magda
W
Choke from back
Vitoria Open
79KG
F
2023
41905

Eduarda Goncalves

W
Pts: 11x0
Vitoria NGO
71KG
RR
2023
41907

Eduarda Goncalves

W
Armbar
Vitoria NGO
71KG
F
2023
42068

Sabatha Lais

W
Americana
Floripa WO
69KG
SF
2023
43092

Karen Suely

W
RNC
Brasileiro NoGi
77KG
F
2023
43095

Mikaela Lima

W
RNC
Brasileiro NoGi
ABS
R1
2023
43100

Roberta Ribeiro

W
Pts: 3x2
Brasileiro NoGi
ABS
SF
2023
43101

Juliana Teixeira

W
Shoulder lock
Brasileiro NoGi
ABS
F
2023