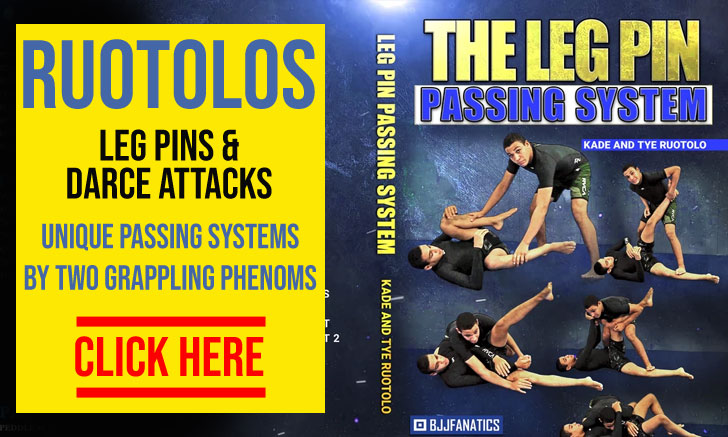 Brian Mahecha is a Brazilian jiu-jitsu black belt under Jonatas Gurgel who first gained notoriety while representing American Top Team (ATT) in the sport's international circuit. Brian is also an inspirational figure for grappling fans across the globe; a cancer survivor who overcame the disease to became one of the leading athletes in jiu jitsu's featherweight division, while also being an important "standard-bearer" for his generation's grappling style, together with his twin brother Kevin Mahecha.
Brian Mahecha Jiu Jitsu
Full Name: Brian Mahecha
Nickname: n/a
Lineage: Carlos Gracie > Carlson Gracie >André Pederneiras > João Roque > Jonatas Gurgel > Brian Mahecha
Main Achievements:
1st Place AJP National Pro (2015**)
1st Place IBJJF Atlanta Open (2016)
2nd Place AJP Grand Slam, LA (2017)
3rd Place IBJJF European Open (2016)
3rd Place IBJJF American Nationals (2015)
3rd Place IBJJF New York Spring Open (2015)
3rd Place IBJJF Miami Open (2015)
3rd Place IBJJF Dallas Open (2021)
Main Achievements (Colored Belts):
1st Place IBJJF Miami Open (2013 brown)
1st Place AJP Abu Dhabi Pro (2013 brown)
3rd Place IBJJF Pan Championship (2012 purple)
3rd Place IBJJF Pan Championship No-Gi (2011 purple)
3rd Place IBJJF Pan Championship (2015 brown)
3rd Place IBJJF New York Summer Open (2013 brown)
3rd Place IBJJF Miami Open (2012 brown)
* Absolute
** Weight and absolute
Favorite Position/Technique: Spider Guard/Leg Drag
Weight Division: Peso Pena (70kg/154lbs)
Team/Association: N/A
Brian Mahecha Biography
Brian Mahecha and his twin brother Kevin were born on October 3rd, 1988 in Manhattan – New York, USA.
Throughout their formative years, both Brian and his brother always felt a strong bond with martial arts, a bond that ultimately drove them to a kung fu and kickboxing club at the age of 15.
Over the next couple of years, the Mahecha brothers emphasized on Kickboxing, beginning a successful career in the sport as junior competitors. One of their biggest achievement being a second placement at the IFK World Championship in 2008 (Brian under international rules – similar to K-1; Kevin under muay Thai rules).
In 2005, while competing in an important kickboxing event, Brian's shoulder started bothering him by popping out and popping back in the socket. This problem aggravated when Brian tried to rehabilitate by himself, through basic rotational exercises, to a point where Brian began losing range of motion.
Brian visited many doctors and did a few MRI's but no one could understand the issue. In the process of trying to find help, Brian met Dr. Thomas H. Temple who at the time was a professor and doctor at the University of Miami Hospital. Doctor Temple discovered Mahecha had a Soft Cell Tissue Sarcoma in his left shoulder on May 1st 2006 – Brian was 17 years old.
On May 10th, 2006 Brian had a successful surgery that removed the cancer, however, in order to do so the surgeons also removed his Infraspinatus Rotator Cuff, part of his Posterior Deltoid, and shaved off part his Scapula. The recovery process made through physical therapy and grueling radiation helped improve Brian's condition, though Mahecha also attributed his improvement to watching his brother train:
"Watching my brother train was the most important part [of recovery process] to me because it reminded me to never forget my goals; to be the best at what I do and to constantly improve and excel. At the time it was Kickboxing and soon that goal would switch to Jiu-Jitsu. A little more than a year after my surgery I got back into competition and felt great. Especially when I started focusing 100% on Brazilian Jiu-Jitsu I realized that my shoulder never had a negative effect on my performance or anything. This realization made me further fall in love with the gentle art. – Brian Mahecha"
Grappling appeared gradually in the Mahecha's lives. The brothers first started playing with ground work through coach Jarett. The 3 (Brian, Kevin and Jarett) would watch Bas Rutten DVD's and try to apply the techniques on each other. That curiosity led the Mahecha's to the American Top Team academy on November 2007, where they were taught by the illustrious Ricardo Libório.
The initial contact with Libório helped cement the brothers interest for jiu jitsu. Another source of inspiration for the Mahechas was coach Emyr "Shark" Bussade who also led many of Brian and Kevin's early grappling classes.
On July of 2008, Kevin and Brian were awarded their blue belts by Master Ricardo Libório. This would be the moment in which both brothers chose to make the decisive switch and commit 100% to Brazilian jiu jitsu, leaving their kickboxing days behind.
Early in 2009 coach Bussade took over Mahecha's tuition, after opening his own American Top Team affiliate in Wellington (awarding their purple belts on December that year). It was at ATT Wellington that the two brothers would start their coaching careers, developing a style of teaching heavily influenced by Emyr Bussade.
In 2012 Brian and Kevin tightened their bond with another prestigious ATT coach, Jonatas "Tagarela" Gurgel in Coconut Creek and Aventura. While training and teaching jiu jitsu relentlessly, Brian also kept a job as a middle school teacher, he would eventually drop the position as a public school teacher to become a full time coach at ATT Aventura.
On June 11th, 2014 the two brothers were promoted to black belts by Jonatas Gurgel.
Visit the Mahecha Brothers techniques website: mahechabjj.com
Brian Mahecha Grappling Record
40 WINS
BY POINTS


BY ADVANTAGES




BY SUBMISSION




BY DECISION




BY PENALTIES




BY DQ



16 SUBMISSIONS WINS
#86e620
Choke from back
6
1
53 LOSSES
BY POINTS


BY ADVANTAGES




BY SUBMISSION




BY DECISION




BY PENALTIES




BY DQ



24 SUBMISSIONS LOSSES
#214eb8
Choke from back
38
9
#fad11b
Bow and arrow
4
1
#f58822
Triangle armbar
4
1
Brian Mahecha Fight History
ID
Opponent
W/L
Method
Competition
Weight
Stage
Year
7011

Gianni Grippo

Gianni Grippo
L
Points
NY Spring Open
70KG
SF
2015
7092

Isaque Paiva

Isaque Paiva
L
Points
World Pro
65KG
4F
2015
7613

Samir Chantre

Samir Chantre
L
Pts: 4x2
American Nat.
70KG
SF
2015
8288

Marcel Goncalves

Marcel Goncalves
L
Referee Decision
Miami Open
76KG
SF
2015
8527

Paulo Silva

L
Pts: 2x2, Adv
IBJJF NY Pro
70KG
4F
2015
8922

Paulo Miyao

Paulo Miyao
L
Choke from back
European Open
70KG
SF
2016
9250

Jon Van Buren

L
Pts: 4x2
Pan American
70KG
8F
2016
9574

Paulo Miyao

Paulo Miyao
L
Points
World Pro
69KG
4F
2016
9948

Jonathan Thomas

Jonathan Thomas
L
Armbar
World Champ.
70KG
R1
2016
10439

Isaac Doederlein

Isaac Doederlein
L
Pts: 6x4
Grand Slam LA
69KG
SF
2016
11550

Isaque Paiva

Isaque Paiva
L
Pts: 4x2
European Open
70KG
8F
2017
12140

Rubens Charles

Rubens Charles
L
Choke from back
Pan American
70KG
4F
2017
12873

Jonathan Buren

L
Points
Atlanta Spring O.
70KG
F
2017
13798

Thiago Macedo

Thiago Macedo
L
Pts: 2x0
Grand Slam LA
69KG
F
2017
14192

Brandon Walensky

Brandon Walensky
L
Armbar
Miami FO
70KG
4F
2017
14401

Silvio Duran

Silvio Duran
L
Pts: 2x0
BJJ NY Pro
70KG
4F
2017
14529

Thiago Macedo

Thiago Macedo
L
Armbar
San Antonio Open
70KG
SF
2017
14904

Gianni Grippo

Gianni Grippo
L
Choke from back
European Open
70KG
4F
2018
15382

Hiroaki Otsuka

L
Pts: 6x6, Adv
Pan American
70KG
8F
2018
15886

Gilson Nunes

Gilson Nunes
L
Triangle
Atlanta Sp. Open
76KG
SF
2018
15894

Matheus Gonzaga

Matheus Gonzaga
L
Choke from back
Boston Sp. Open
70KG
SF
2018
16397

Gilson Nunes

Gilson Nunes
L
N/A
Miami SPO
76KG
F
2018
16697

Richar Nogueira

Richar Nogueira
L
Armbar
American Nat.
70KG
4F
2018
16874

Deandre Corbe

Deandre Corbe
L
Pts: 0x0, Adv
Nashville Open
70KG
SF
2018
17270

Johnny Tama

Johnny Tama
L
Referee Decision
Las Vegas Open
76KG
4F
2018
17858

Gianni Grippo

Gianni Grippo
L
Toe hold
Miami FO
76KG
F
2018
20483

Kalil Silva

L
Points
Miami SPO
ABS
SF
2019
20586

Luciano Queiroz

L
Pts: 5x0
World Champ.
70KG
R1
2019
22204

Lucas Valente

Lucas Valente
L
Armbar
Miami FO
76KG
F
2019
23074

Ariel Tabak

Ariel Tabak
L
Choke from back
European Open
70KG
R1
2020
24144

Matheus Gabriel

Matheus Gabriel
L
Choke from back
Pan American
70KG
8F
2020
25190

Gianni Grippo

Gianni Grippo
L
Pts: 8x6
Dallas Open
70KG
SF
2021
25402

Danilo Moreira

Danilo Moreira
L
Pts: 3x0
Orlando Open
70KG
4F
2021
26254

Danilo Moreira

Danilo Moreira
L
Pts: 6x2
Miami Open
70KG
4F
2021
26535

Felipe Linhares

Felipe Linhares
L
Choke from back
Atlanta Open
70KG
SF
2021
26857

Marcus Beddor

Marcus Beddor
L
Choke from back
Chicago Open
70KG
SF
2021
27231

Fabricio Andrey

Fabricio Andrey
L
Bow and arrow
Grand Slam MIA
69KG
SF
2021
27237

Israel Sousa

Israel Sousa
L
Armbar
Grand Slam MIA
69KG
3RD
2021
27540

Emilio Hernandez

Emilio Hernandez
L
Toe Hold
Pan American
70KG
R1
2021
29014

Samuel Nagai

Samuel Nagai
L
Armbar
JJ CON
70KG
4F
2021
29475

Isaac Doederlein

Isaac Doederlein
L
Choke from back
World Champ.
70KG
8F
2021
30848

Christopher Kriebel

L
N/A
Indianapolis Open
70KG
4F
2022
31233

Yuta Shimada

Yuta Shimada
L
Armbar
Charleston Open
70KG
SF
2022
31624

Joao Mendes

Joao Mendes
L
Pts: 8x4
Pan American
70KG
R1
2022
31983

Bebeto Oliveira

L
Points
Nashville Open
70KG
SF
2022
32747

Ariel Tabak

Ariel Tabak
L
Referee Decision
Houston Open
70KG
F
2022
33671

Samuel Nagai

Samuel Nagai
L
Armbar
Austin SMO
70KG
F
2022
33744

Ismael Santos

Ismael Santos
L
Points
Orlando SMO
70KG
4F
2022
35191

Ismael Santos

Ismael Santos
L
Pts: 10x4
Atlanta FO
70KG
SF
2022
37761

Joao Pedro

L
Pts: 6x4
Tampa Open
70KG
F
2023
38343

Diego Sodre

Diego Sodre
L
Pts: 4x2
Pan American
70KG
8F
2023
39187

Joao Oliveira

L
Triangle armbar
Miami Open
70KG
SF
2023
39648

Emilio Hernandez

Emilio Hernandez
L
Toe hold
Atanta SPO
70KG
SF
2023
7010

Jean Cartagena

W
Armbar
NY Spring Open
70KG
4F
2015
7087

Danilo Barbosa

W
N/A
World Pro
65KG
R1
2015
7612

Vitor Riciotti

W
Choke from back
American Nat.
70KG
4F
2015
8287

Paulo Silva

W
Points
Miami Open
76KG
4F
2015
8596

Spencer Guilliam

W
Points
Houston Nat. Pro
77KG
SF
2015
8598

Kevin Mahecha

Kevin Mahecha
W
Points
Houston Nat. Pro
77KG
F
2015
8599

Jose Portillo

W
Referee Decision
Houston Nat. Pro
O77KG
SF
2015
8601

Kevin Mahecha

Kevin Mahecha
W
Points
Houston Nat. Pro
O77KG
F
2015
8918

T. Tammilehto

W
Armbar
European Open
70KG
4F
2016
9047

Christopher Kriebel

W
Armbar
Atlanta W. Open
70KG
SF
2016
9048

Andre Monteiro

Andre Monteiro
W
Pts: 4x2
Atlanta W. Open
70KG
F
2016
9567

Vinicius de Lima

W
Armbar
World Pro
69KG
R1
2016
9571

Murat Besnek

W
Pts: 2x0
World Pro
69KG
8F
2016
10437

Mario Silva

W
Armbar
Grand Slam LA
69KG
4F
2016
11547

Jakub Witkowski

W
Pts: 4x4, Adv
European Open
70KG
R1
2017
13792

Thiago Lemos

W
Pts: 2x0
Grand Slam LA
69KG
R1
2017
13794

Bruno Carvalho

W
Submission
Grand Slam LA
69KG
4F
2017
13796

Brandon Walensky

Brandon Walensky
W
Pts: 2x0
Grand Slam LA
69KG
SF
2017
14900

Tomoshige Sera

W
Pts: 4x4, Adv
European Open
70KG
R1
2018
16396

Francisco Jackson

W
N/A
Miami SPO
76KG
SF
2018
17035

Deandre Corbe

Deandre Corbe
W
Points
Orlando Open
70KG
SF
2018
17854

Eduardo Mulki

W
Armbar
Miami FO
76KG
4F
2018
17857

Rodrigo Francioni

Rodrigo Francioni
W
Armbar
Miami FO
76KG
SF
2018
20474

Esdras Felix

W
Points
Miami SPO
76KG
4F
2019
20476

Edward Hohl

W
Points
Miami SPO
76KG
SF
2019
22202

Michael Pepio

W
N/A
Miami FO
76KG
SF
2019
24128

Tyson Antillon

W
N/A
Pan American
70KG
R1
2020
25186

Edward Allen

W
Armbar
Dallas Open
70KG
4F
2021
27228

Israel Sousa

Israel Sousa
W
Pts: 5x4
Grand Slam MIA
69KG
4F
2021
27235

Felipe Simplicio

W
Pts: 3x2
Grand Slam MIA
69KG
RPC
2021
29012

Felipe Simplicio

W
N/A
JJ CON
70KG
R1
2021
31230

Giovanni Marcelo

W
Pts: 2x2, Adv
Charleston Open
70KG
4F
2022
31980

Max DeBeen

W
Pts: 14x4
Nashville Open
70KG
4F
2022
32744

Pedro Sousa

W
Armbar
Houston Open
70KG
4F
2022
32746

Ygor Mauricio

W
Points
Houston Open
70KG
SF
2022
33669

Pedro Sousa

W
Armbar
Austin SMO
70KG
SF
2022
35190

Suraj Budhram

W
Armbar
Atlanta FO
70KG
4F
2022
35776

Alan Jurado

W
Clock choke
Miami FO
70KG
SF
2022
37759

Marcos Vinicius

W
Armbar
Tampa Open
70KG
SF
2023
38336

Jean Pierre

W
Armbar
Pan American
70KG
R1
2023
Brian Mahecha vs André Monteiro

Brian Mahecha vs Jacob Sandoval