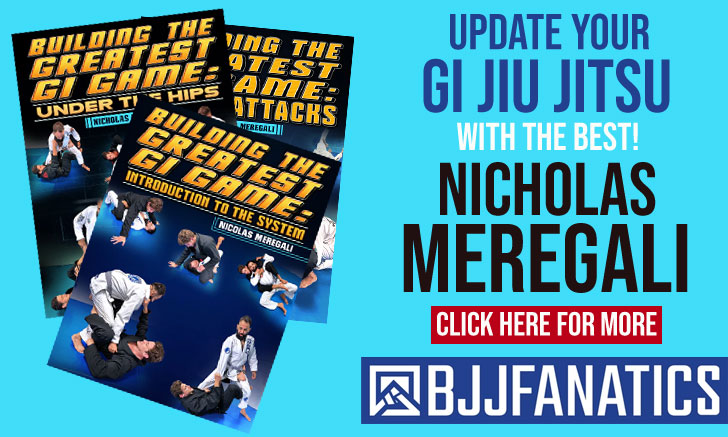 Leonardo Silva Guimarães, commonly known as Leo Silva is a Brazilian jiu-jitsu black belt under Gutemberg Pereira and Dante Leon, who trained extensively with Master Julio César Pereira. One of the top representatives of the GF Team in the sport's international circuit, Silva gained notoriety while competing in the lower belt divisions of the International Brazilian Jiu-Jitsu Federation (IBJJF) circuit, where he conquered important medals, particularly at the World and Pan Championships.
Leonardo Silva Jiu-Jitsu
Full Name: Leonardo da Silva Guimarães
Nickname: N/A
Lineage:  Luiz França > Oswaldo Fadda > Monir Salomão > Júlio César > Gutemberg Pereira / Dante Leon > Leonardo Silva
Main Achievements:
1st Place IBJJF Brazilian Team Nationals (2017 purple)
1st Place IBJJF Washington DC Spring Open (2019 brown)
1st Place IBJJF New York Fall Open (2019 brown)
1st Place IBJJF Cincinnati Open (2019** brown)
1st Place IBJJF Rio BJJ Pro (2016 purple)
2nd Place IBJJF World Championship (2018 brown)
3rd Place IBJJF Pans Championship (2018/2019 brown)
* Absolute
** Weight and absolute
Favorite Position/Technique: Modern Jiu-Jitsu
Weight Division: Peso Leve (76,00 kg / 168.0 lbs)
Team/Association: GF Team
Leonardo Silva Biography
Leonardo Silva Guimarães was born on May 6, 1994, in the city of Itaboraí – Rio de Janeiro, Brazil.
The interest for martial arts sparked early on in Leo's formative years and by the time he was 7 years old, he was already an avid practitioner of tae kwon do (TKD).
Growing up in the golden era for Brazil in mixed martial arts (MMA), a time when his countrymen rule the sport in promotions such as Price Fc and the Ultimate Fighting Championship (UFC), Silva started day-dreaming of becoming an MMA fighter as well. This propelled him to quit TKD after a few years, to follow muay Thai.
At the age of 16, Silva accepted an invitation from a friend to a jiu-jitsu group class at a neighboring outdoors field, where a group of local boys regularly got together to drill a few grappling positions under the supervision of an adult. Leonardo enjoyed the dynamics of grappling and soon enrolled in a local GF Team Academy, where he could have a more structured curriculum, working under the supervision of Luiz "Mestre Branca".
At GF Team, Leo Silva fell in love with jiu-jitsu and decided he would dedicate himself to BJJ. In trying to become the best version of himself, Silva soon joined a different gym as the small GFT affiliate did not offer a full-time training schedule. His time with this new team was equally short-lived, as Leonardo did not find the training to be up to the standard that he had envisioned for himself in order to become a World Champion. Seeking that goal, Leo moved to the neighboring city of Niterói – well known for being much more advanced, jiu-jitsu wise.
Once he settled in the Guanabara Bay city, he joined the local Gracie Humaitá Academy (Alessandro Nunes), where he stayed for the best part of 4 years. Silva's relationship with his coach at GH was not without its ups and downs and, as a purple belt, Leonardo left the academy. The exit coincided with an invitation by Master Julio Cesar Pereira, for joining his team (GFT), offering him a place to stay at the famous "Cachanga" (GFT's fighter house), which Leo accepted.
After Leo earned his brown belt from Master Julio, he was offered by Gutemberg Pereira a chance to be part of the team's affiliate – GF Team TREVO. An offer accepted by Silva. It was at GFT TREVO that Leo Silva would later be promoted to black belt, on August 2019.
Cover photo by Gutemberg Pereira.
Leo Silva Grappling Record
28 WINS
BY POINTS


BY ADVANTAGES




BY SUBMISSION




BY DECISION




BY PENALTIES




BY DQ



4 SUBMISSIONS WINS
#5AD3D1
Choke from back
25
1
37 LOSSES
BY POINTS


BY ADVANTAGES




BY SUBMISSION




BY DECISION




BY PENALTIES




BY DQ



14 SUBMISSIONS LOSSES
#214eb8
Inside heel hook
29
4
#5AD3D1
Reverse triangle
7
1
#224aba
Choke from back
7
1
#bf1f6c
Straight ankle lock
7
1
Leo Silva Fight History
ID
Opponent
W/L
Method
Competition
Weight
Stage
Year
23714

Francisco Iturralde

Francisco Iturralde
L
Armbar
Copa Podio
76KG
RR
2020
23720

Guthierry Barbosa

Guthierry Barbosa
L
Pts: 2x0
Copa Podio
76KG
SF
2020
23995

Ross Keeping

L
Referee Decision
Oklahoma Open
82KG
F
2020
24097

Roberto Jimenez

Roberto Jimenez
L
Reverse triangle
Pan American
ABS
8F
2020
24169

Carlos Souza

L
Estima lock
Pan American
82KG
R1
2020
25957

I. Feliz

L
Points
Artista JJ
75KG
SF
2021
26123

Matheus Gabriel

Matheus Gabriel
L
Pts: 0x0, Adv
NoGi Pan Am.
79KG
R1
2021
26206

Benjamin Silva

L
Inside heel hook
NoGi Pan Am.
ABS
R1
2021
26632

Rafael Lovato

Rafael Lovato
L
Pts: 2x0
Oklahoma Open
ABS
F
2021
26939

Kieran Kichuk

Kieran Kichuk
L
Pts: 2x2, Adv
Austin Open
76KG
SF
2021
26955

Fellipe Andrew

Fellipe Andrew
L
Katagatame
Austin Open
ABS
SF
2021
26961

Alan Sanchez

Alan Sanchez
L
Inside heel hook
Austin NGO
79KG
4F
2021
26975

Bruno Matias

Bruno Matias
L
Pts: 0x0, Adv
Austin NGO
ABS
4F
2021
29491

Jonas Campos

L
Referee Decision
World Champ.
76KG
R1
2021
30681

Kennedy Maciel

Kennedy Maciel
L
Pts: 0x0, Adv
Miami WO
76KG
SF
2022
30696

Suraj Budhram

L
Pts: 4x2
Miami WO
ABS
4F
2022
31238

Rodrigo Gortari

L
Pts: 0x0, Adv
Charleston Open
76KG
SF
2022
32923

Lucas Valente

Lucas Valente
L
Pts: 4x2
World Champ.
76KG
4F
2022
34610

Levi Jones

Levi Jones
L
Pts: 2x0
Grand Slam MIA
77KG
4F
2022
34615

Sebastian Guevara

L
Toe hold
Grand Slam MIA
77KG
RPC
2022
35785

Eduardo Roque

Eduardo Roque
L
Pts: 4x2
Miami FO
76KG
SF
2022
36669

Carlos Henrique

Carlos Henrique
L
Armbar
Waco Open
76KG
SF
2022
36675

Carlos Henrique

Carlos Henrique
L
Pts: 0x0, Adv
Waco Open
ABS
R1
2022
36694

Matheus Galvao

L
Pts: 0x0, Adv
Waco NGO
79KG
SF
2022
36695

Pablo Lavaselli

Pablo Lavaselli
L
Referee Decision
Waco NGO
79KG
SF
2022
36701

Austin Oranday

L
Inside heel hook
Waco NGO
ABS
4F
2022
37552

Dante Muschamp

L
Pts: 2x2, Adv
Atlanta WO
82KG
SF
2023
37785

Kevin Mahecha

Kevin Mahecha
L
Referee Decision
Tampa Open
76KG
F
2023
37795

Roosevelt Sousa

Roosevelt Sousa
L
Choke from back
Tampa Open
ABS
SF
2023
37810

Matheus Galvao

L
Referee Decision
Tampa NGO
79KG
SF
2023
38385

Alef Brito

Alef Brito
L
Pts: 0x0, Pen
Pan American
76KG
4F
2023
38986

Lukete Silva

Lukete Silva
L
Wristlock
Nashville SPO
76KG
SF
2023
40241

Victor Nithael

Victor Nithael
L
Straight ankle lock
World Champ.
76KG
R1
2023
41536

Kevin Mahecha

Kevin Mahecha
L
Referee Decision
Orlando SMO
76KG
SF
2023
41556

Eric Schlosser

L
Pts: 0x0, Adv
Orlando SMO
ABS
R1
2023
41575

Lucas Brito

L
RNC
Orlando SMNGO
79KG
F
2023
42381

JZ Cavalcanti

L
Inside heel hook
Blue Collar
NA
SPF
2023
21498

Breno Bittencourt

Breno Bittencourt
W
Referee Decision
F2W 123
77KG
SPF
2019
22220

Blake Klassman

W
Toe hold
F2W 129
81KG
SPF
2019
23509

R. Aikten

W
Kneebar
Artista JJ
ABS
4F
2020
23709

Jeremy Jackson

Jeremy Jackson
W
Pts: 4x0
Copa Podio
76KG
RR
2020
23710

Kanan Clarke

W
Pts: 0x0, Adv
Copa Podio
76KG
RR
2020
23722

Francisco Iturralde

Francisco Iturralde
W
Pts: 2x0
Copa Podio
76KG
3RD
2020
23994

Pedro Rocha

Pedro Rocha
W
Pts: 2x0
Oklahoma Open
82KG
SF
2020
25954

Pete Yu

W
Points
Artista JJ
75KG
4F
2021
26624

Matheus Galvao

W
Choke from back
Oklahoma Open
76KG
F
2021
26629

Charles McGuire

W
Pts: 18x6
Oklahoma Open
ABS
4F
2021
26631

Damion Oranday

Damion Oranday
W
Referee Decision
Oklahoma Open
ABS
SF
2021
26950

Charles McGuire

W
Pts: 14x6
Austin Open
ABS
R1
2021
26952

Arthur Detanico

Arthur Detanico
W
Pts: 4x4, Adv
Austin Open
ABS
4F
2021
27288

Emilio Hernandez

Emilio Hernandez
W
Pts: 2x0
Kansas Open
76KG
RR
2021
27289

Emilio Hernandez

Emilio Hernandez
W
Pts: 4x0
Kansas Open
76KG
F
2021
32907

Alexandre Molinaro

Alexandre Molinaro
W
Pts: 2x2, Adv
World Champ.
76KG
R1
2022
32916

Pablo Lavaselli

Pablo Lavaselli
W
DQ
World Champ.
76KG
8F
2022
34607

Breno Maciel

W
Pts: 2x1
Grand Slam MIA
77KG
R1
2022
34614

Vinicius Reis

W
Pts: 1x1
Grand Slam MIA
77KG
RPC
2022
37781

Guilherme Higuchi

W
Pts: 0x0, Pen
Tampa Open
76KG
4F
2023
37783

Daniel Diniz

Daniel Diniz
W
Referee Decision
Tampa Open
76KG
SF
2023
38371

Michael Sheenan

W
Pts: 6x4
Pan American
76KG
R1
2023
38381

Jamil Hill-Taylor

Jamil Hill-Taylor
W
Pts: 0x0, Adv
Pan American
76KG
8F
2023
38983

Berbardo Delibero

W
Points
Nashville SPO
76KG
4F
2023
39225

Guilherme Higuchi

W
Armbar
Miami Open
76KG
4F
2023
39227

Ari Pollan

W
Referee Decision
Miami Open
76KG
SF
2023
41534

Ryan Vargas

W
Pts: 0x0, Adv
Orlando SMO
76KG
4F
2023
41573

Enrique Galarza

W
Referee Decision
Orlando SMNGO
79KG
SF
2023